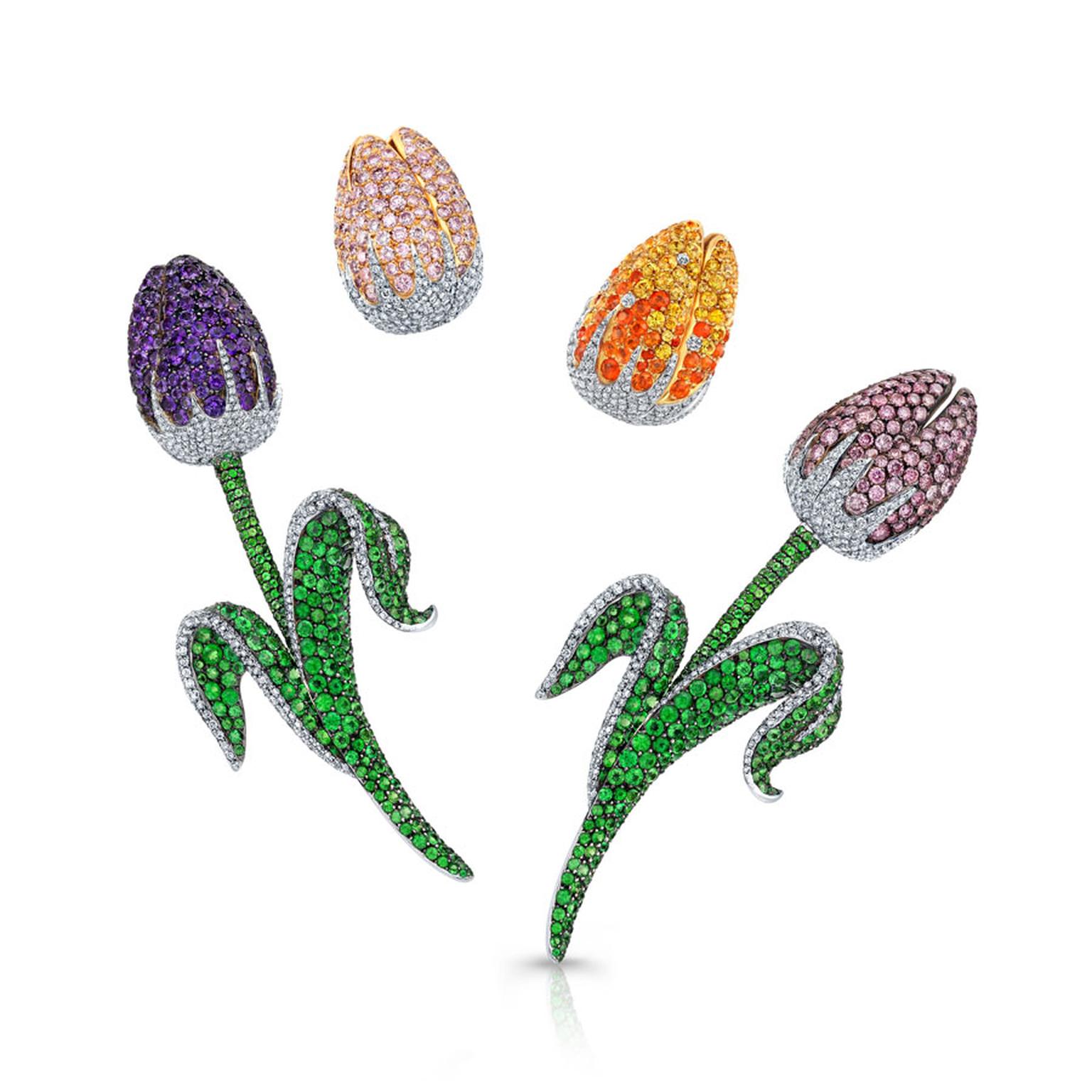 By Daisy Tinker
A long-reverred name in the world of high jewellery, Martin Katz founded his eponymously named company in 1988. In 2013 - 25 years later - Hollywood's favourite jeweller is celebrating a quarter of a century in the business, and to mark the milestone, Katz is inviting customers to view a retrospective of his work at his Beverly Hills salon. The exhibition, entitled MK-XXV with Love, opened earlier this year and features some never-before-seen examples of the designer's most important and original designs.
Clients, celebrities and collectors from all over the globe are among those who have already visited the boutique to see the retrospective of Katz' career. On show are a selection of his often imitated Microband rings, which were responsible for kick-starting the trend for stacking jewellery. Early examples of his micro-pavé creations also form part of the restrospective, each set with thousands of tiny diamonds. Katz was the first jeweller to introduce micro-setting to the US market, and it's this incredible attention to detail for which he has become well known.
The exhibition will also showcase a number of Martin's more dramatic designs, including his acclaimed series of Tulip pins from the Nature Collection. Truly innovative, they feature interchangeable blossom heads, micro-pavéd with diamonds, rubies, amethysts, pink diamonds and yellow sapphires.
Katz continues to seek out the very best gemstones to transform into one-off jewels. His most recent creations include an extraordinary opal ring, encircled by micro-pavé amethysts, tsavorites and diamonds, pavé Paraiba tourmaline earrings, a sunset-orange ring set with a huge 10ct mandarin garnet, and a blindingly sparkly one-of-a-kind fancy pink diamond ring. Katz has a long list of A-list celebrities queueing up to borrow his creations before the major red carpet events, so don't be surprised if these jewels turn up at a Hollywood premiere anytime soon.
Martin Katz "Gardenia" pin micro-set with 1,301 diamonds in platinum, on show as part of the MK-XXV with Love exhibition.

Martin Katz ring set with large opal - one of Katz's latest creations.

Martin Katz ring set with a 10.03ct fancy light yellow cushion diamond, on show as part of the MK-XXV with Love exhibition.

Another of Martin Katz's new designs is this sunset-orange ring, set with 10ct mandarin garnet.

Martin Katz ring set with a fancy pink cushion-cut diamond with surrounding pink and white diamonds.

Pavé Pairaiba tourmaline earrings by Martin Katz.

Martin Katz handcrafted, stackable Microband rings with diamonds and gemstones in white and yellow gold, on show as part of the MK-XXV with Love exhibition.

Martin Katz tulip brooches from the Nature Collection, which are on show as part of the MK-XXV with Love exhibition.