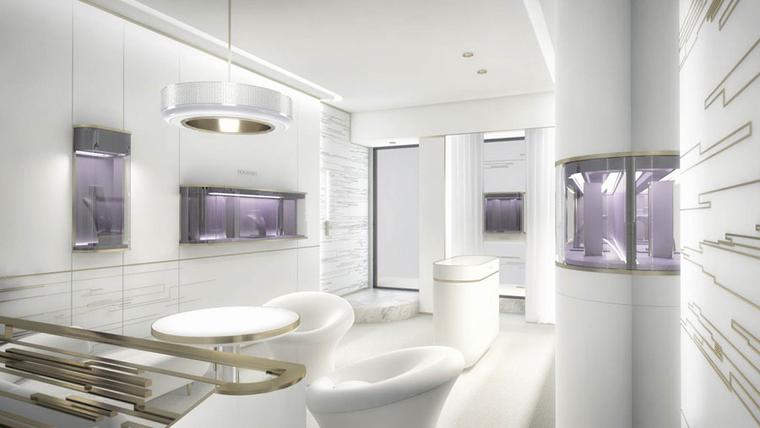 This autumn, Swiss high jeweller Boghossian will open the doors to its first-ever London store. 
Sat amongst the other high-end retailers who populate Bond Street, Boghossian's specially-designed boutique will be dedicated to displaying the brand's high jewellery and Art of Inlay creations. 
A work of art in itself, everything has been designed by architects StudioParisiene specifically for this boutique. Even the tone of lighting has been designed to show off the colours of the jewels to maximum effect. Inspired by the work of German visual artist Gerhard Richter, the boutique will have an illusionistic feel. The two-level space will combine a mixture of textures, lighting and furniture to create a warm and interesting environment. A colour palette of beige, gold and bronze imitate the interior of a jewellery box, in which Boghossian's most spectacular jewels are housed. The focal point of the design will be a large bronze wall-mounted sculpture, inlaid with rock crystal. 
Behind large display cabinets on the ground floor, Boghossian's high jewellery and Art of Inlay collections will take centre stage, as well as the innovative Titanium Fibre and Carbon Fibre collections. Meanwhile, downstairs will be reserved for customers who wish to commission special pieces, where they will receive the undivided attention of the Boghossian jewellery experts.
The Boghossian family has long been in the jewellery industry. In fact, over the last century, four generations of the family have been creating and making exquisite jewels. In 2008, Boghossian was launched, a line of jewellery that combines rare and precious gemstones with unusual designs and technical skill, described as "an alchemy of treasured things". 
Bogh-Art Kashmir sapphire and diamond bracelet.

Diamond butterfly earrings from Boghossian.

Asymmetric yellow diamond and diamond earrings from Boghossian.

In November, Boghossian will open its first store on London's Bond Street.

Boghossian diamond ring.

The interior of Boghossian's new Bond Street boutique is decorated in tones of beige, bronze and gold, punctuated by amethyst, and aims to evoke the interior of a jewellery box.