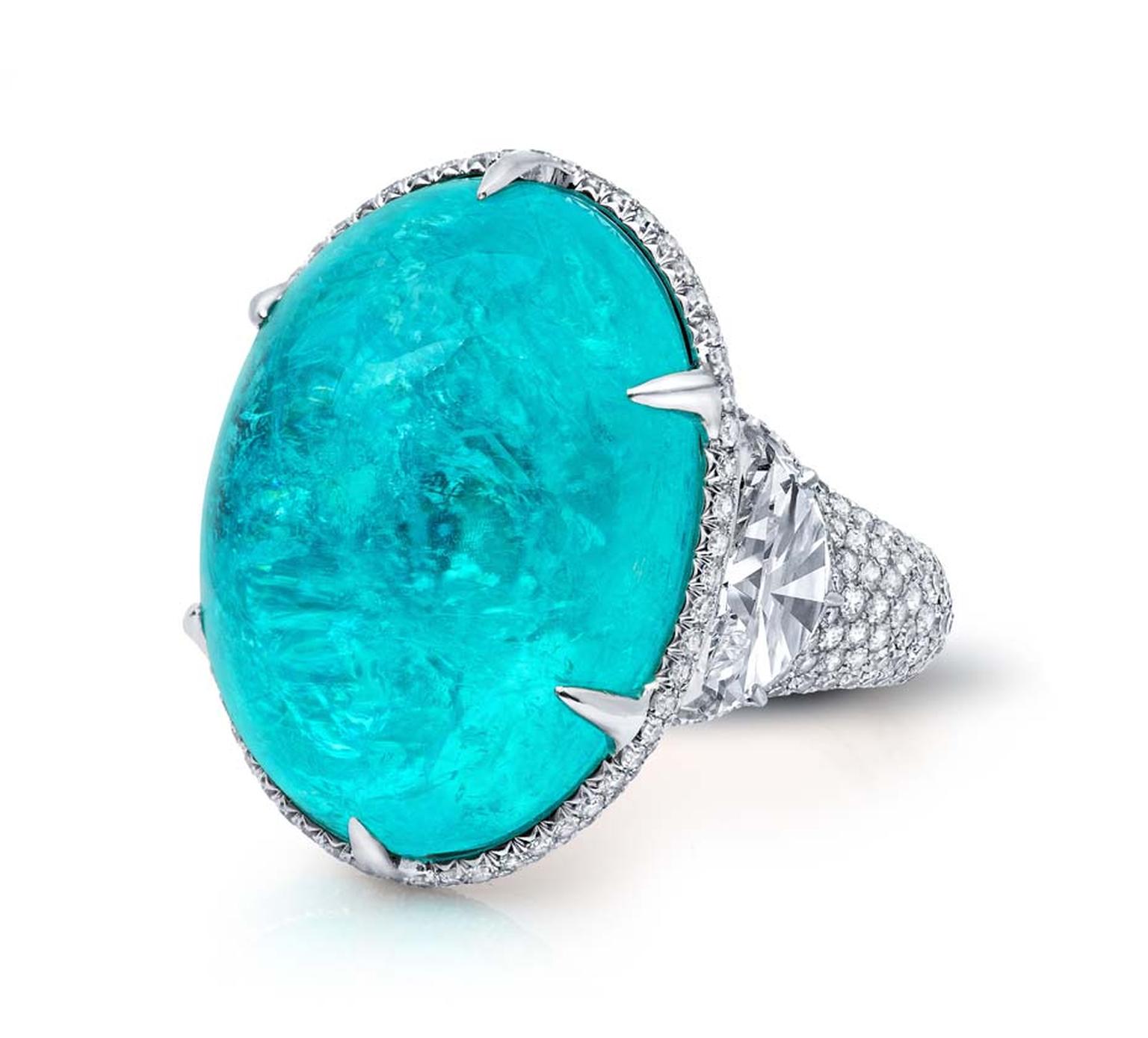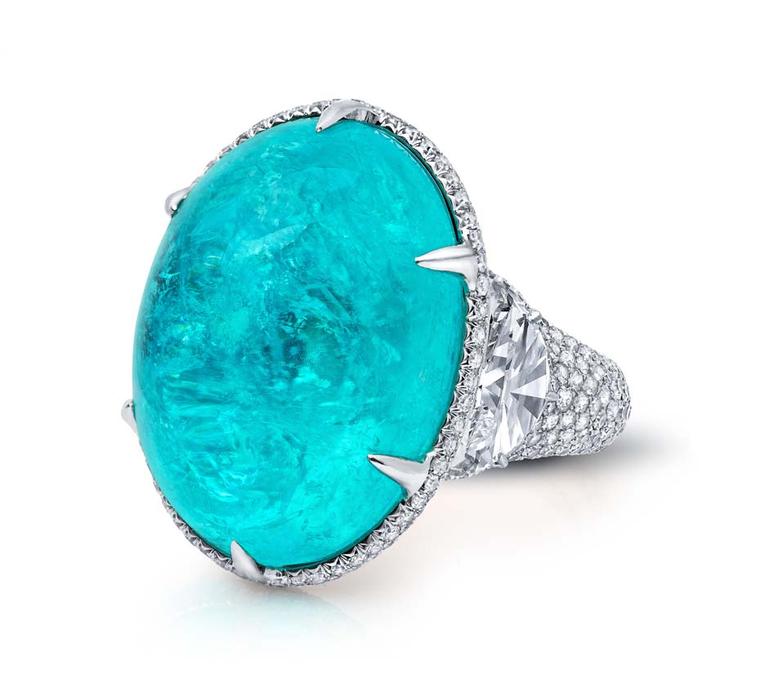 By Åse Anderson
Los Angeles-based Martin Katz has designed a new collection of one-of-a-kind jewels starring gleaming-blue Paraiba tourmalines.
From pretty drop earrings and stunning cabochon cocktail rings to a statement Paraiba tourmaline necklace and bangle, each piece in the collection features vividly colorful examples of Brazilian Paraiba tourmalines.
Read more about the history of Paraiba tourmalines here
"I bought my first Paraiba tourmaline - an important stone, blue without too much of that veil of green - in 2002," says Katz. "but I first started hearing about a mine in Brazil producing tourmalines fetching really high prices back in 1999."
Once demand for the greeny-blue coloured gemstone escalated, the mine's supply dwindled rapidly and the scarcity of the Paraiba tourmaline turned it into an even more precious commodity. With an extraordinary luminous glow, Paraiba tourmalines owe their variety of colors - from neon blue to turquoise and emerald green - to the presence of copper. While the intense hue only become apparent once the stone has been cut, it is widely considered to be one of the most beautiful colored gemstones in the world, and the price of one carat can easily run into five figures.
Martin Katz set up his eponymous brand in 1988 and counts celebrities such as Angelina Jolie, Nicole Kidman, Sandra Bullock and Jessica Biel among his clients. Inspired by his love for vintage jewelry and passion for coloured gemstones, it is not only the world of jewellery making that has benefited from his design prowess. Martin has also created bejeweled Ray-Ban sunglasses, a $5 million diamond bra for Victoria's Secret and, last year, he designed a penthouse suite at the New York Palace Hotel.
View our gallery of Martin Katz jewelry here
The new Paraiba collection of Martin Katz jewelry will be available at the designer's salon in Beverly Hills and at Bergdorf Goodman in New York this spring.
Martin Katz bracelet set with 27 cabochon Paraiba tourmalines accented with diamonds, set in white gold.

The unrivalled beauty of the Brazilian Paraiba tourmaline shines through in this pair of Martin Katz cabochon drop earrings.

Martin Katz's new Paraiba collection, including this one-of-a-kind Paraiba tourmaline cocktail ring, will be available exclusively at his Beverly Hills salon and at Bergdorf Goodman in New York this spring.

Martin Katz Paraiba tourmaline cocktail ring set in white gold with 388 round diamonds.

Martin Katz oval Paraiba tourmaline cocktail ring in white gold, microset with 69 Paraiba tourmalines and diamonds.

Cabochon Paraiba tourmaline cocktail ring in white gold with diamonds from Martin Katz's new Paraiba collection.

Martin Katz pear-shape Paraiba tourmaline earrings in platinum with diamonds, which are detachable from the necklace.

Martin Katz's cabochon Paraiba tourmaline and diamond necklace in platinum features a pair of detachable Paraiba tourmaline earrings, which can be worn alongside the necklace.

Beverly Hills-based Martin Katz shows off his uncompromising craftsmanship in the new Paraiba collection, which showcases vivid turquoise Paraiba tourmalines of perfect clarity that have been collected by Katz over the years.