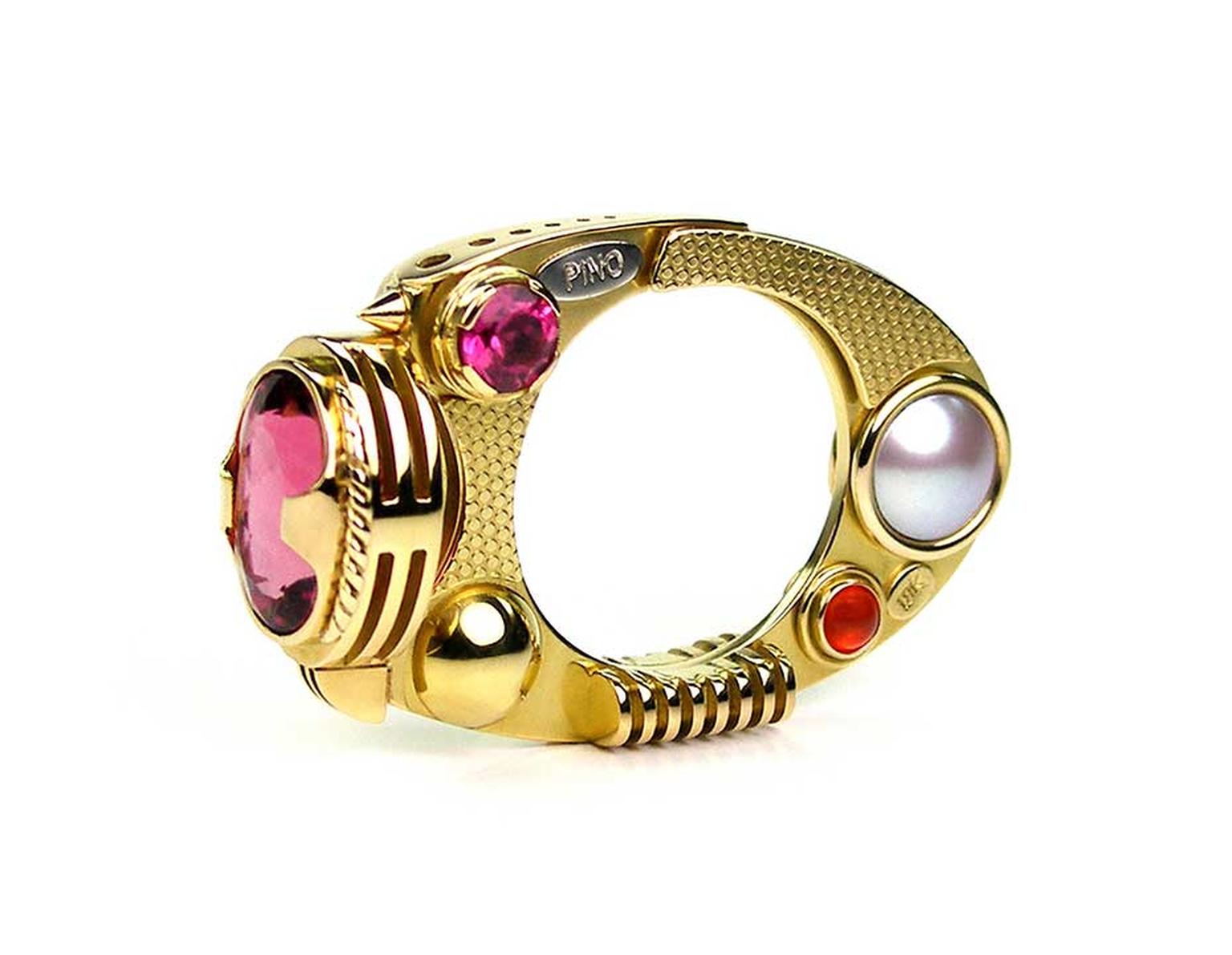 By Tanya Dukes in New York
The corridor of 53rd Street, just west of Fifth Avenue, is usually associated with the tourist magnet Museum of Modern Art (MoMA). But to anyone who counts jewelry as a significant art form, that same street is known as the location of Aaron Faber Gallery, which is celebrating its 40th anniversary with an exhibition of work from leading contemporary jewelry artists.
Run by husband and wife team Edward Faber and Patricia Kiley Faber, the gallery was a refuge for makers of fine art jewelry from the very beginning. Since its founding in 1974, the couple set out to work with artisans who possessed "personal vision, sculptural qualities and bold forms", according to Patricia Kiley Faber. 
Their mission led them to display pieces from names like David Yurman and Takashi Wada very early in their careers. And as Edward Faber cultivated an interest in estate and vintage jewelry, as well as timepieces, those categories became part of the gallery's collection, too. Today it's possible to find the latest art jewelry, an Edwardian brooch and a select offering of watches, especially from Patek Philippe, within a few paces of each other.
More than a retail space for watches and jewelry, Aaron Faber Gallery is an educational resource for learning about the work of artisans from a broad sweep of backgrounds and approaches. Throughout the year it hosts lectures, book signings and trunk shows that give jewelry artists and collectors the chance to meet. In recent weeks the agenda included a round table on the virtues of vintage versus contemporary timepieces and a spotlight on the jewelry of Roland Dubuc, an artist who creates each piece of his work from a single piece of sterling or gold. 
Kiley Faber considers such events "indispensable", especially when it comes to fine art jewelry because such pieces are "conceived and made differently, with a great deal of craftsmanship and a unique point of view".
Of course, the biggest event of the year is a recently installed exhibition celebrating Aaron Faber's 40-year milestone. Works from an all-star cast of more than 20 designers, some of whom have worked with the gallery since the start of their careers, like Tom Munsteiner and Atelier Zobel, will be on display from 1- 25 October 2014.
Atelier Munsteiner, who has worked with Aaron Faber since the start of his career, is exhibiting this yellow gold ring with a 10.62ct tourmaline at the New York gallery.

Known for his illusionistic treatment of space, Claude Chavent's Cubes necklace in gold and silver will be on display during the exhibition to celebrate 40 years of the Aaron Faber Gallery in New York.

Michael Boyd gold earrings with pearl drops.

So Young Park brooch in yellow gold with oxidized silver and white diamonds.

Sydney Lynch one-of-a-kind shell necklace.

Throughout October, the Aaron Faber Gallery in New York is celebrating its 40th anniversary with an exhibition of work from leading contemporary jewelry artists.

Claudio Pino ring in gold with pink tourmalines, pearls and carnelian at the Aaron Faber Gallery.