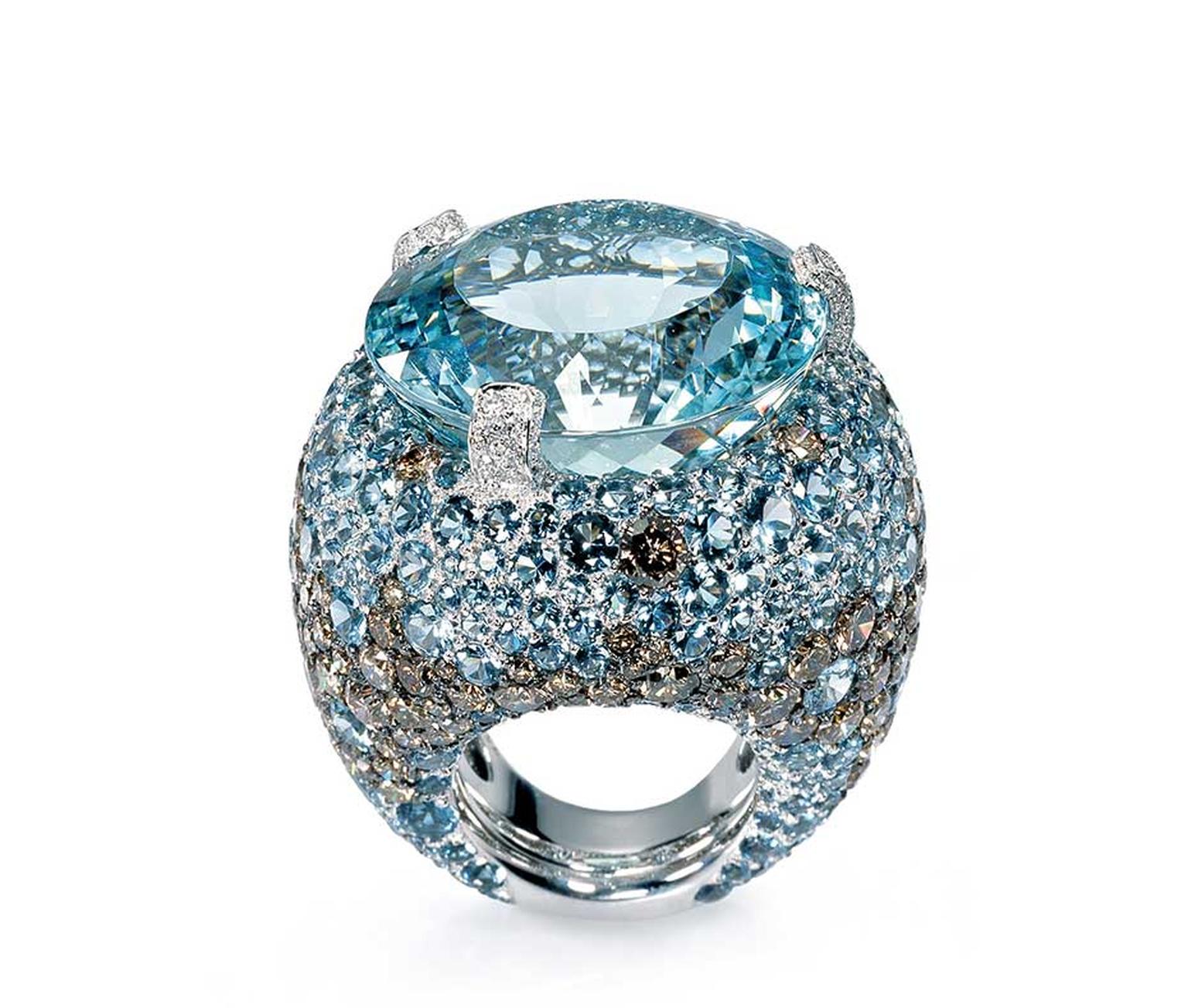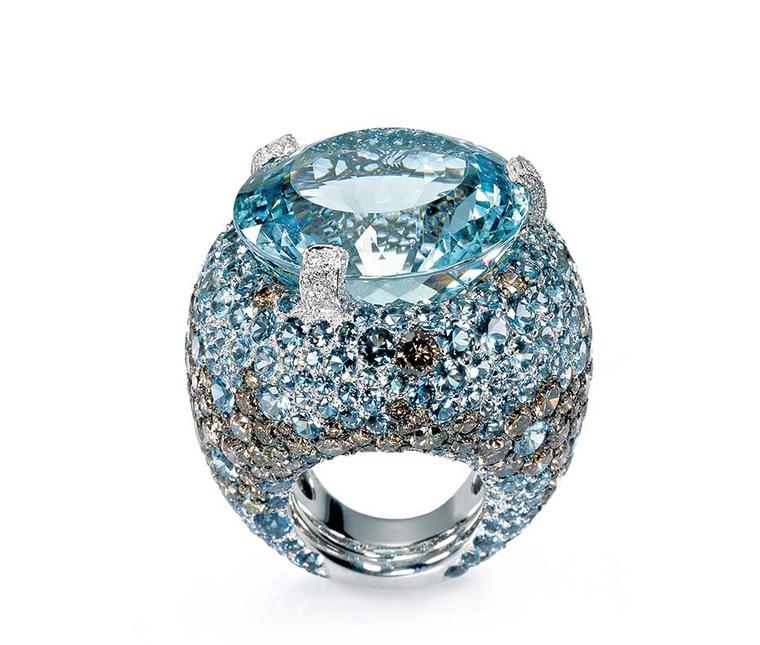 By Leslie Jordan Clary in Nevada
Like its name and its colour, the myths that surround cool, luscious aquamarine all have to do with the sea. Aquamarine is aligned with Neptune, god of the sea, and is the birthstone for March.  Since ancient times it has been considered the sailor's lucky stone. Legends tell how mermaids kept aquamarine hidden in treasure chests offering the gemstone to sailors in distress during storms.
While nearly all gemstones have been attributed healing properties, aquamarine has been mentioned in centuries-old documents as a panacea for arthritis, eye inflammation, sore throats and seasickness.
Aquamarine is a member of the beryl family, which is best known for its vibrant green emeralds. Although both aquamarine and beryl are from the same family, structurally they are very different stones. Both are beryllium aluminium silicates, but while emerald gets its colour from trace amounts of chromium and vanadium, aquamarine's colour comes from iron impurities inside the colourless beryl crystal. Occasionally a cat's eye or star effect occurs with aquamarine. These stones are especially rare and valuable.
Aquamarine is a hard stone with a vitreous lustre. Its colours can range from deep blue to nearly translucent. Because of its unique glitter, many people prefer the lighter stones to those more saturated with blue. Its hardness makes it a favourite among gem cutters, allowing them to experiment with innovative cuts they wouldn't dare try on a softer stone.
Tiffany & Co. designed an elegant 1920s-inspired necklace featuring a 49.59 carat emerald-cut aquamarine with diamonds and platinum and matching platinum drop earrings for the 2013 Great Gatsby film. And earlier this year, a Bulgari necklace featuring a prominent 13.05 carat aquamarine, protected by a coiled, diamond-encrusted snake, was sold to singer Justin Bieber during the Cannes Film Festival's annual amfAR Cinema Against AIDS auction. He outbid actor Leonardo DiCaprio and paid $545,000 for the Serpenti necklace, which he gave as a very generous gift to his mother. 
A one-of-a-kind Louis Vuitton Emprise high jewellery ring in white gold, set with an aquamarine surrounded by diamonds.

Hemmerle earrings featuring aquamarines set into slices of jasper with concrete, copper and gold.

Tiffany & Co. Blue Book Collection platinum bracelet featuring a central emerald cut aquamarine surrounded by a bow tie of diamonds (£81,500).

One-of-a-kind Pomellato Pom Pom collection aquamarine ring surrounded by different cuts of diamonds.

Van Cleef & Arpels white gold Peau d'Âne collection aquamarine ring surrounded by diamonds, sapphires and tourmalines.

Van Cleef & Arpels white gold Peau d'Âne collection aquamarine earrings with diamonds, sapphires and tourmalines.

Van Cleef & Arpels Peau d'Âne collection white gold Colour of Time Dress necklace with round diamonds, tourmalines, sapphires and 12 pear-shaped aquamarines totalling 129.87ct.

The Bulgari Serpenti necklace featuring a diamond encrusted serpent encircling a single aquamarine bought by Justin Bieber for $545,000 at the 2014 amfAR Cinema Against AIDS auction at the Cannes Film Festival. Bieber outbid Leonardo DiCaprio for the one-of-a-kind jewel.

Tiffany's Great Gatsby collection platinum and diamond necklace featuring a 49.59ct emerald cut as well as platinum and diamond earrings with emerald cut aquamarines, as worn in The Great Gatsby film.

Lucie Campbell platinum earrings featuring pear-shaped aquamarine drops with spinel tops, surrounded by diamonds.

The Ode to Enchanted Light aquamarine ring from Alexandra Mor is set with an extraordinary 27.24ct Asscher-cut intense bright blue-green aquamarine.

de GRISOGONO Melody of Colours collection aquamarine ring with diamonds.