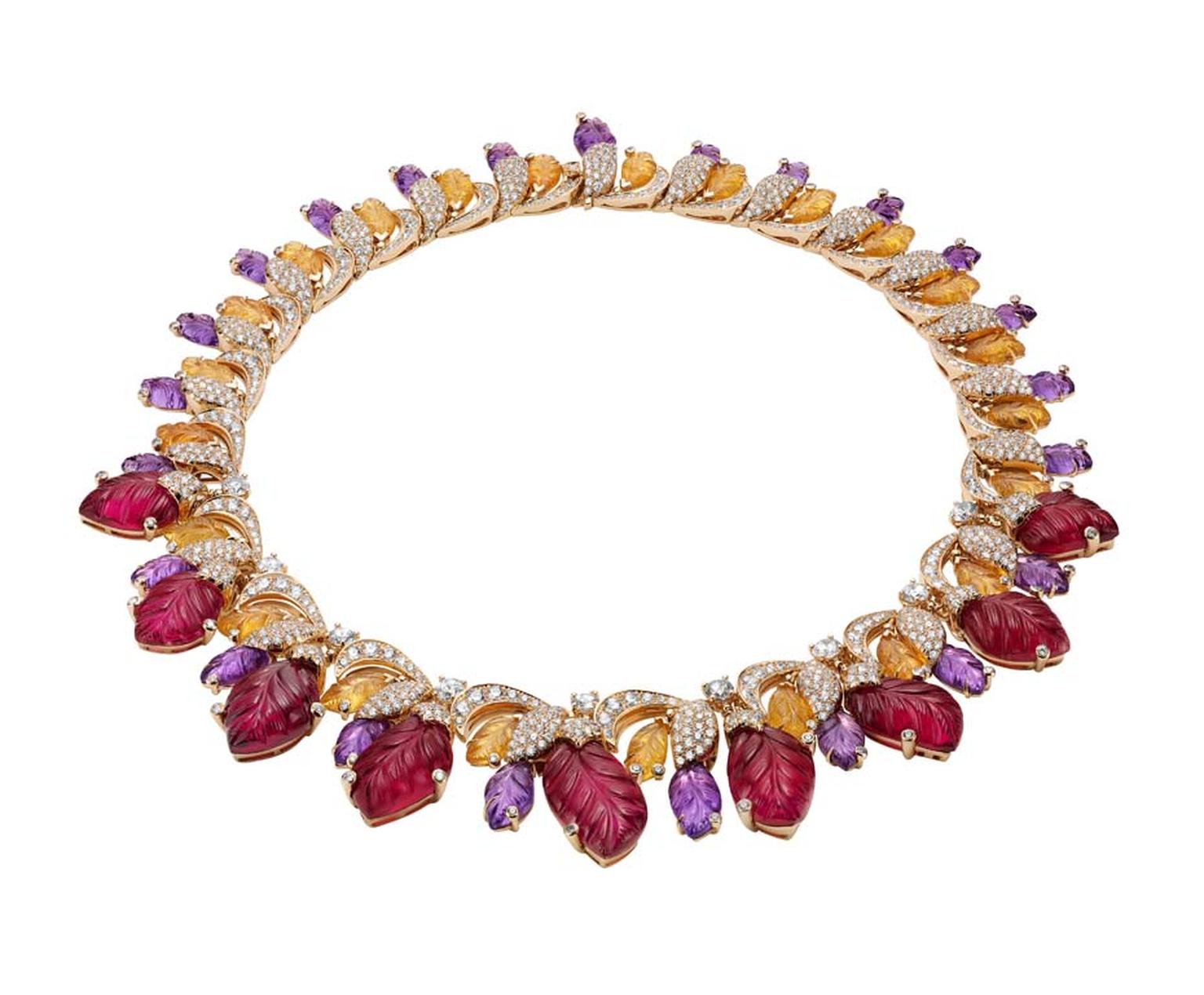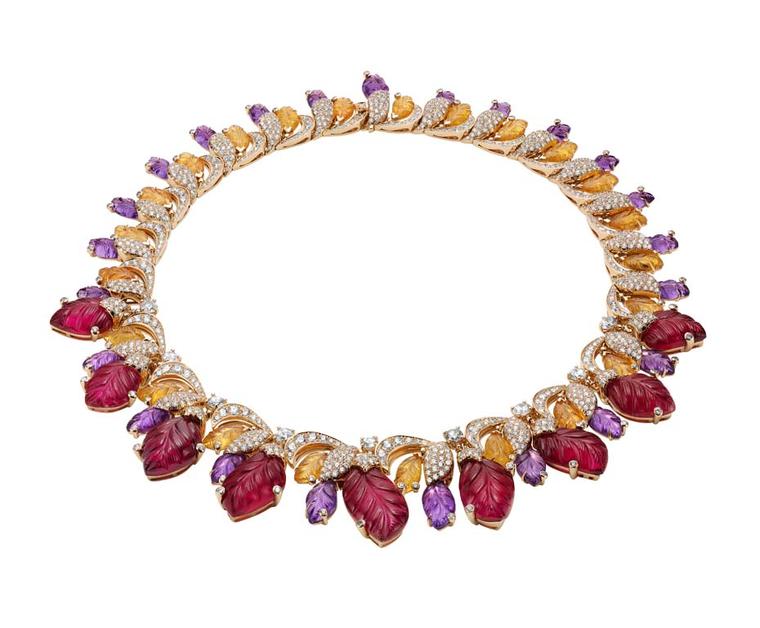 Bulgari celebrates the vibrant and magical changing of the seasons with a new mini collection of four necklaces featuring a delicate, foliage-inspired motif.
In a modern take on the carved stones typical of the 16th century Mughal Empire in South Asia, the leaf-shaped gems are engraved with realistic veining, while the bold colour combinations are in keeping with the luxury jeweller regularly referred to as 'the house of colour'.
Each season is delicately brought to life in an exquisite yet highly wearable necklace, designed to follow the movements of the body. The gentle awakening of nature and the first budding blooms of spring are captured in a pink gold necklace featuring tourmalines and peridots in two vivid shades of green, combined with amethysts.
A yellow gold necklace with emeralds, mandarin garnets and amethysts represents the energy of a seemingly never-ending summer's day. This piece, which first appeared in the Diva collection last summer, was the starting point for this mini collection.
The warm nuances of autumn are evoked by the earthy violet hues of tourmalines and amethysts, accompanied by glowing mandarin garnets. For winter, the leaves are encrusted with a sparkling 'frost' of diamond pave, creating a captivating embroidery of white gold.
Just as in nature, no two leaves or petals are ever exactly the same. Each individual stone in the four necklaces has been sculpted so that it is slightly different from the others. The detailed workmanship involved in the collection is also evident in the tiny diamonds set into each claw, which accentuate the bold colours. A further sprinkling of pavé diamonds connects the stones in all four pieces to ensure that each piece sparkles with the light of the season. 
Bulgari 'Four Seasons Spring' necklace in pink gold with mint tourmalines, peridots, amethyst, round brilliant cut diamonds and pavé-set diamonds.

Bulgari 'Four Seasons Summer' necklace in yellow gold set with emeralds, spessartites, amethysts, round brilliant-cut diamonds and pavé-set diamonds.

Bulgari 'Four Seasons Winter' necklace in platinum with brilliant-cut diamonds and pavé-set diamonds.

Bulgari 'Four Seasons Autumn' necklace in pink gold set with tourmalines, amethysts, spessartite and brilliant-cut and pavé-set diamonds.