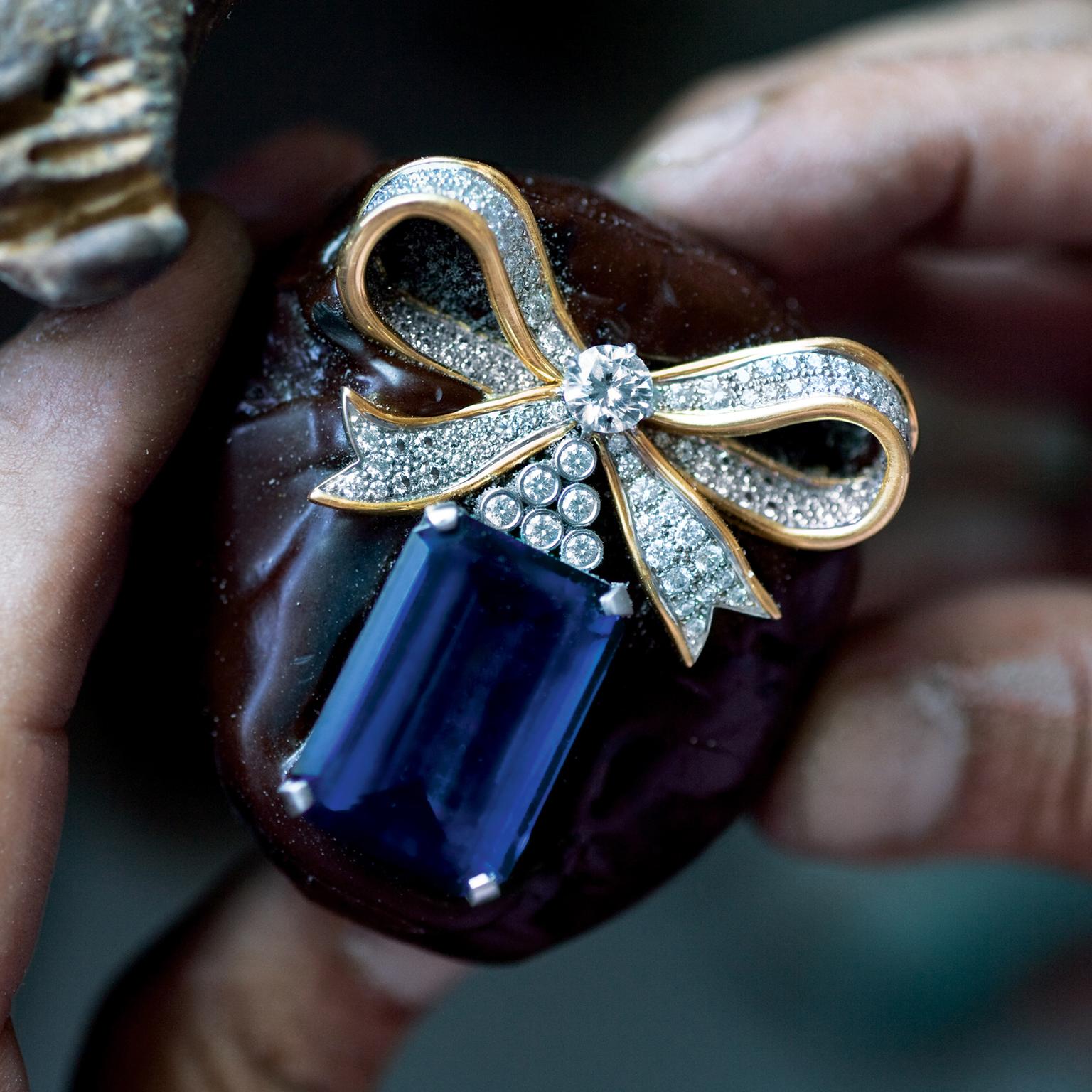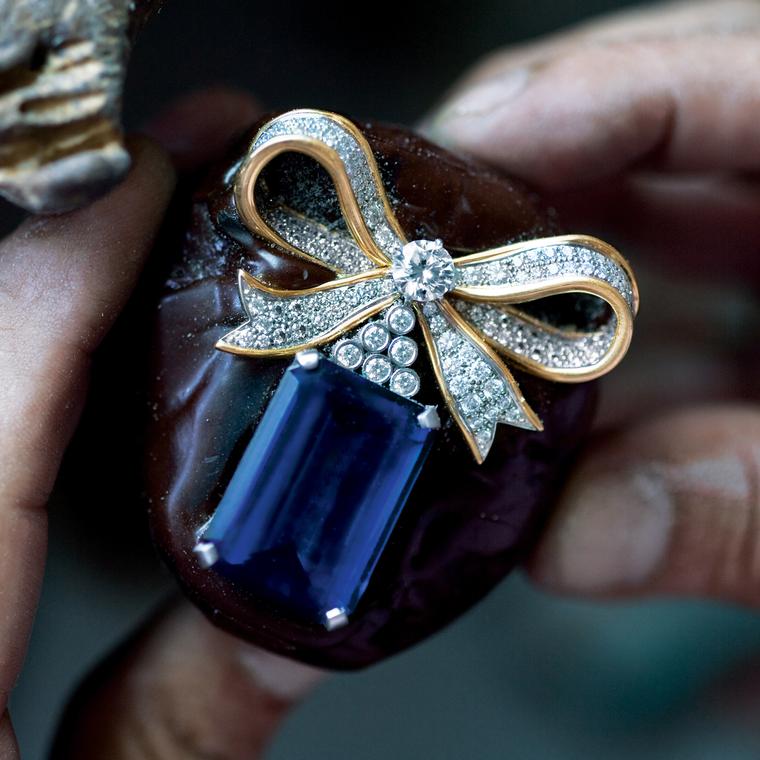 Unknown to the world only a generation ago, tanzanite has firmly established itself in the firmament of precious gemstones thanks to its alluring rich blue and deep lilac hues. Shortly after it's discovery in Tanzania, it was ushered into the limelight by Tiffany & Co, known for its interest in unusual new gems. Tiffany had previously brought commercial success to kunzite in 1902, named for the Tiffany gemologist Georg Kunz and in 1910 morganite, that was named in honour of its famous client John Pierpoint Morgan. In 1974 Tiffany also introduced us to the bright green of  tsavorite gems . Read more about the history of Tiffany & Co here.
The history of tanzanite
A newcomer to the world of precious stones, tanzanites were not discovered in commercial quantities until half a century ago, near the foothills of Mount Kilimanjaro in the remote region of Merelani in Northern Tanzania. Compare that to diamonds, the earliest of which were believed to have been found in India in the 4th century BC, and emeralds, which date back to the ancient Egyptians, and this baby of the gem world has achieved star status in a very short space of time.
Mined in a single location, tanzanites are often referred to as the "gemstone of a generation" because this generation are likely to be the only ones able to buy from the "first flush", or primary deposit, of gemstones unearthed in Tanzania. It is believed that the mines will be depleted in around 25 years, which means it is becoming increasingly difficult to find large tanzanites in the most coveted deep-blue colour.
Tanzanite and Tiffany
Tanzanite had its first taste of fame when Tiffany began using it in its designs just a year after its discovery – the first jeweller in the world to do so. A gem-quality variety of the mineral zoisite, Tiffany thought the name wasn't catchy enough and renamed it tanzanite after its country of origin. In one ad dating from the 1970s, below, a selection of tanzanite rings is pictured backdropped by a photo of zebras grazing, accompanied by a powerful message: "The loveliest blue gemstone discovered in over 2,000 years, tanzanite can now be found in significant quantities in only two places in the world. In Tanzania. And Tiffany's."
A Tiffany ad dating from the 1970s extolling the beauty of "the loveliest blue gemstone discovered in over 2,000 years". Tiffany was the first jeweller to use tanzanites in its designs just one year after their discovery. 

Wendy Yue weaves an alluring gold web set with diamonds and sapphires with a 6-carat tanzanite stone at its heart that has trapped a pink sapphire insect. The ring comes in three parts to be worn as a tanzanite solitaire or with both sides of the web structure.  $20,800.

New York jewellery designer Temple St Clair uses untreated tanzanites in her collections in shades of pink, yellow and green, and is drawn to the richness of their colours in their natural state (18-carat Deco bracelet with natural tanzanites and diamonds $195,000). 

Shot by acclaimed photographer Peter Lindbergh, Sarah Jessica Parker models the 423.56-carat Namunyak Tanzanite auctioned by Kat Florence. All proceeds were donated by Florence to build a school in Nepal.

Natural unheated tanzanite in a rich shade of blue, like this 29.23-carat stone in Doris Hangartner's collection of unique gems, is incredibly rare. 

Part of Swiss jeweller Chopard's Red Carpet collection, the deep-blue pear-shaped tanzanite in this one-of-a-kind necklace weighs a whopping 150 carats.

A Tiffany craftsman putting the finishing touches on a one-of-a-kind tanzanite brooch, tied with a diamond bow.
The tanzanite colour scale
Ranging from deep velvety blue to light purple, tanzanites, like all gemstones, are not uniform in colour. Zurich-based gemmologist and jewellery designer Doris Hangartner loves working with all the hues. "With its violet or purple component, it has an uplifting quality," she points out. "The most prized tanzanites are vibrant, rich, deep blue with hints of purple. They shouldn't be too dark but have a sumptuous blue hue."
The paler purple varieties come from a more recent find in Tanzania and are described by Hangartner as having "an intriguing delicate colour". Whilst the most prized are the deep blues, she says that "colour is a personal preference. The vibrancy of a tanzanite fascinates me more than, say, the calmness of a sapphire. It is an incredibly alluring gem."  
Is all tanzanite heat treated?
The vast majority of tanzanite – approximately 80% – comes out of the ground brownish in colour and is heated to burn away the muddy tones, leaving only blue, violet and pink hues. Described as "gently heated" rather than "heat treated", tanzanites are exposed to temperatures of around 500-800oC for an hour at most to reveal their blue colour, while heat-treated gems like rubies often come close to melting point to achieve a more vivid hue.
Some rare tanzanites come out of the ground blue or violet, which can usually be attributed to natural heating when the gems are still buried in the Earth. Very occasionally, a tanzanite will display no indication of heating whatsoever, making them the rarest of all tanzanites. It is through an involuntary heat-treatment that the Masai of Tanzania first discovered tanzanites. After a bushfire, the Masai were amazed to see that what were previously brown stones had turned a beautiful, vibrant blue.
New York jewellery designer Temple St Clair uses untreated tanzanites in her collections and is drawn to the richness of their colours in their natural state. "Recently, I have fallen in love with pure, unheated tanzanite," she says. "The pinks, yellows and greens bring a gorgeous, almost mysterious, glow to my pieces, particularly since they are set in yellow gold."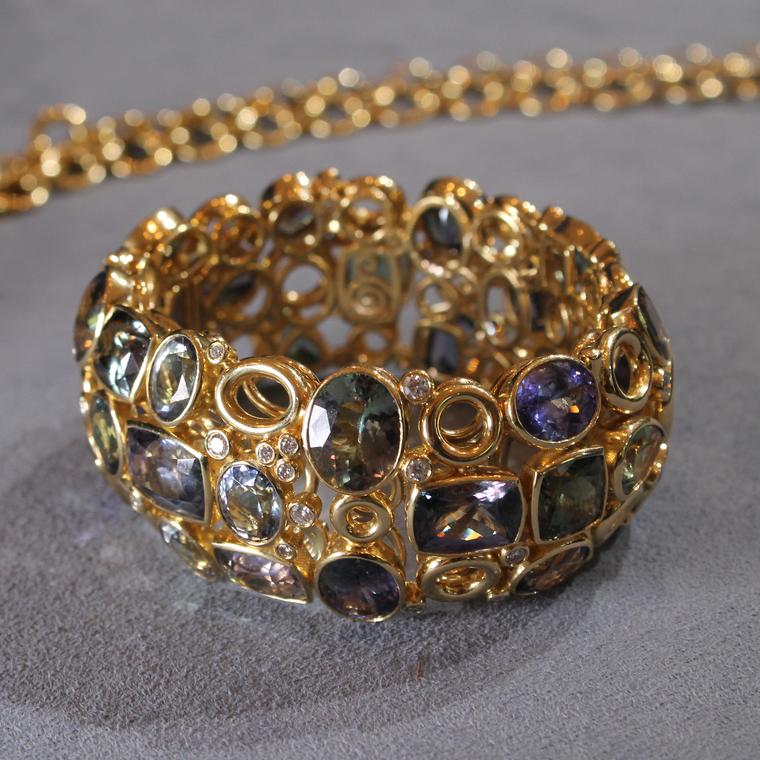 The largest tanzanite in the world
The biggest tanzanite ever discovered was a 16,839-carat rough. Weighing more than 3.2kg, it was mined in 2005 by TanzaniteOne and named Mawenzi after Mount Kilamanjaro's second highest peak. However, London-based designer Kat Florence believes she has worked with one of the most beautiful tanzanites in the world: "At the time, the 563-carat Namunyak tanzanite was the largest flawless Royal Velvet Blue ever discovered. I recut the stone to 423.56 carats, set it into a necklace and sold it at auction, donating the proceeds to build a school in Nepal."
Intriguingly, tanzanite is a trichroic gemstone, which means that it displays three different colours when viewed from different angles. Florence describes how "the Namunyak Tanzanite was royal velvet blue when viewed from the top, deep purple from the side and pink red from the other side". In a photo shoot worthy of its regal status, below, Sarah Jessica Parker was shot by acclaimed photographer Peter Lindbergh wearing the gem – the largest tanzanite ever sold at auction – before it went under the hammer in Hong Kong, where it achieved just over $300,000.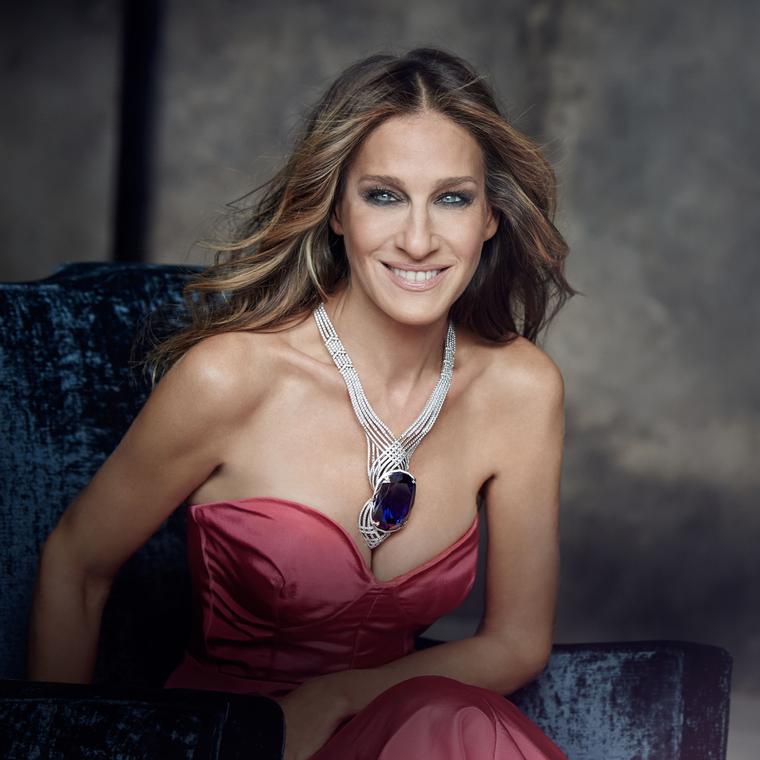 How to tell a top-quality tanzanite
Said to be 1,000 times rarer than diamonds due to it only being mined in one location, how can you tell a great tanzanite from an inferior gem? Kat Florence says that a tanzanite has to be eye clean, with a deep, rich colour saturation, to classify as top quality, and Doris Hangartner agrees, adding that "the best have beautiful hints of violet/purple".
"Fine tanzanite has the deepest, richest combination of blue, violet and sometimes even burgundy shades," echoes Temple St Clair. "Depending on how the stone is oriented during the cutting of the different facets, different variations of these colours will show. The very finest tanzanites, the pure blue variety, have a rich, bright electric-blue colour."
Hangartner also points out that, since tanzanite is not as expensive as other coveted blue gemstones, for example Kashmir sapphires, the cost of an excellent cut is reasonable. "Look for very well cut gems with good proportions and depth," she recommends.
Updated by Maria Doulton March 2018