A decade ago, the idea of being able to print anything other than a flat sheet of paper seemed utterly far-fetched, yet breakthroughs in technology now mean that we can print a variety of 3D objects at home - including solid gold jewellery.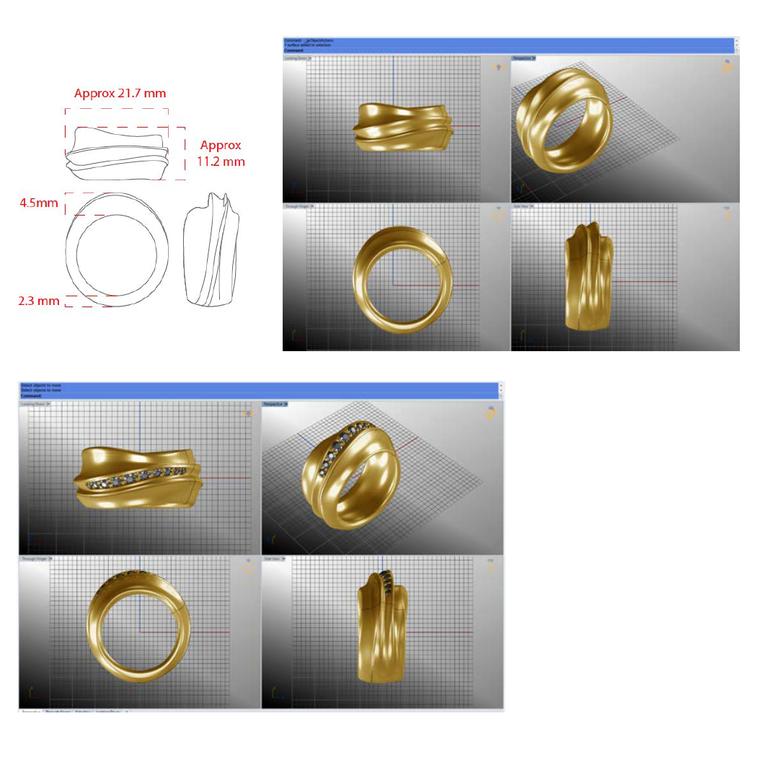 The industry has been working with 3D technology in fine jewellery for some time, and you may unwittingly have jewels in your collection that have been created using an aspect of this technology called CAD, an acronym for computer-aided design. CAD allows jewellers to make sketches using computer programmes rather than by hand, which can then be fed into 3D printing machines that will use lasers to build 3D models of the jewel. These highly accurate and to-scale models will then be cast in precious metals. 
"It isn't about reducing time or cost, it's about creating a piece that would be extremely difficult to make any other way," explains British jewellery designer David Marshall, who has a store on Davies Street in London's Mayfair. "We can reach a higher level of perfection in designs with symmetry and detail. Another benefit with CAD is that you can print out the design in wax, allowing your client to view the piece and make any necessary alterations before casting it, thereby achieving an even better final piece."
Nearly all jewellery designers now use some elements of CAD, including royal warrant-holder Mappin & Webb, which celebrated its 240th anniversary with Wildfell, a sculptural collection of fine jewellery created using 3D technology. The heritage jewellery house has been using CAD for several years and, last year, stepped up its commitment to 3D printing by buying its own machinery. 
"It has meant that we are able to create 3D models for new collections, which challenge the boundaries of design, form and function," says Mappin & Webb creative director Elizabeth Galton. "Our Wildfell collection and forthcoming Fonteyn collection incorporate complex curves, undulations and shapes. Our cutting machine has enabled us to realise such designs that would not otherwise be achievable through more traditional jewellery-making methods. Having the machine in-house within our London workshop has also strengthened our bespoke service capabilities."
The next stage of this technology cuts out the middle steps of wax models and casting to print directly in precious metals, which is now possible thanks to direct metal laser sintering machines. The concept is the same for precious metals, with lasers delivering precise zaps of heat to powdered gold, solidifying it, layer by layer, until the finished jewel appears.
While the printing of solid gold jewellery - silver and platinum powders are set to follow soon - is not yet widely used, it does open up the possibilities of jewellery design. And with each piece still needing to be finished by hand, it is reassuring to know that the goldsmith is yet to be replaced by a laser-wielding robot.  
This design sheet from Mappin & Webb shows how using 3D technology creates complex shapes.