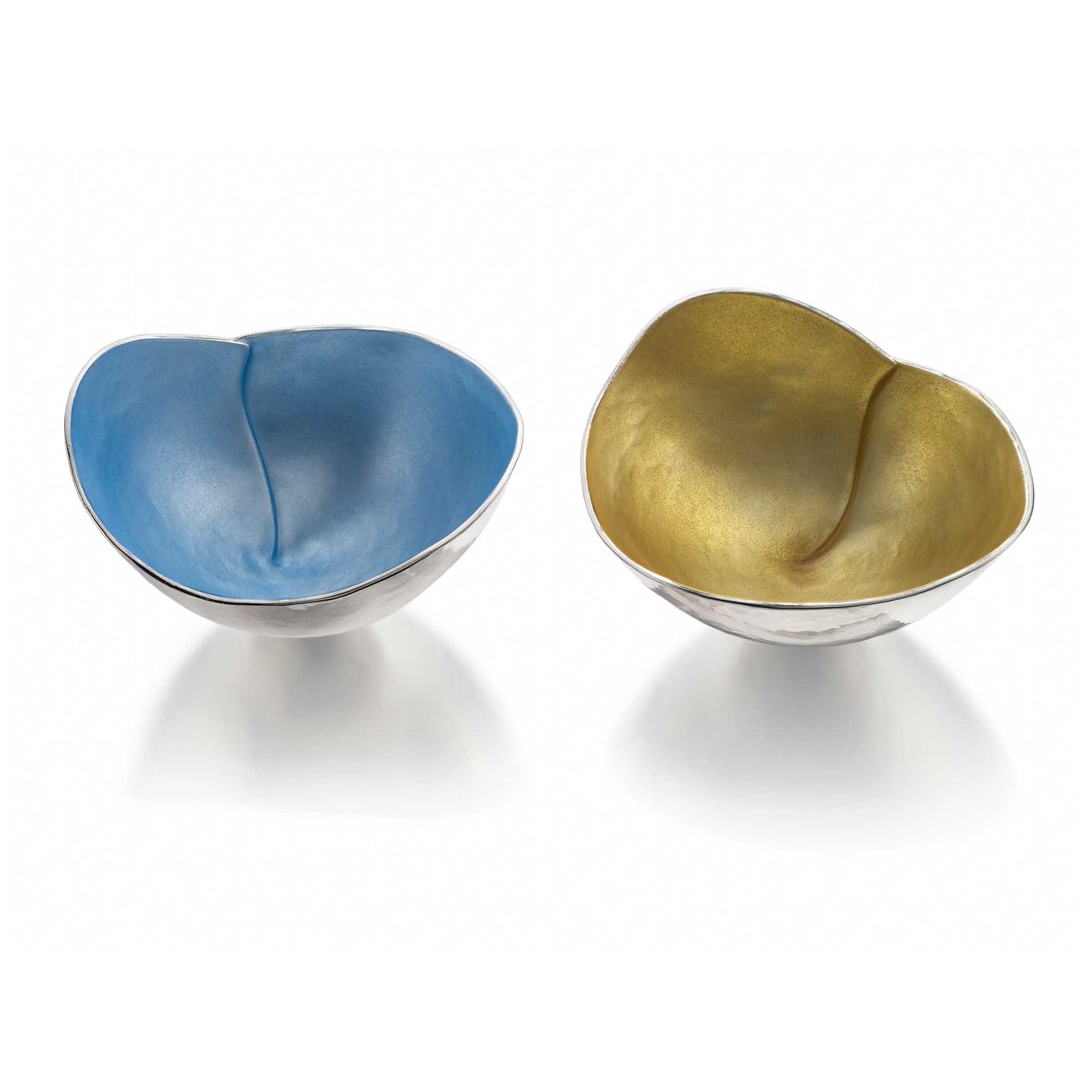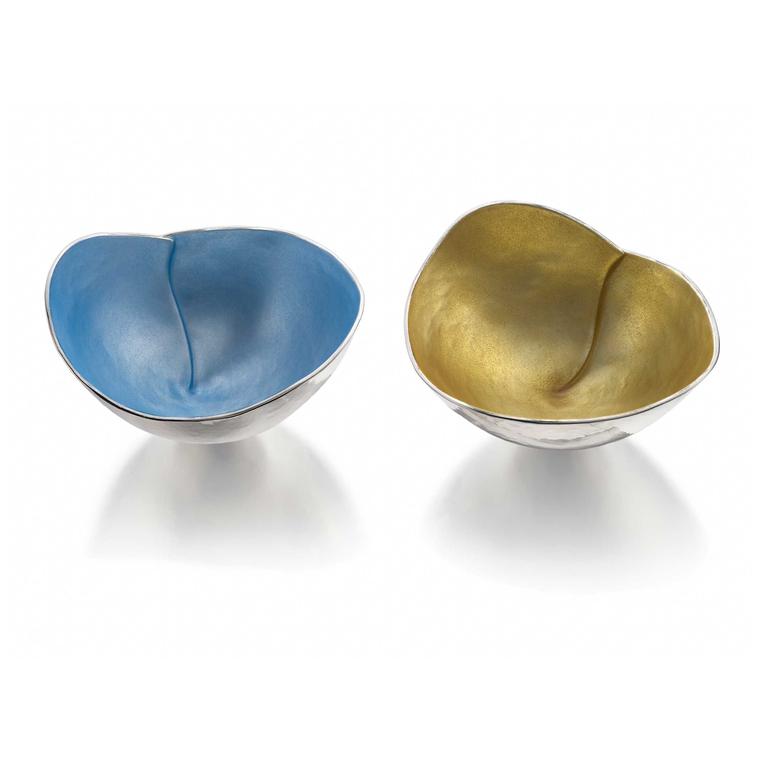 By Maria Doulton
Mappin & Webb and silver go hand in hand. Celebrating its 240th anniversary this year, this historically significant English silversmith has supplied the finest Mappin & Webb silver to royal households around the world.
Founded in Sheffield in 1775, Mappin & Webb has been holder of royal warrants since 1897 and currently holds two royal warrants for silverware to both Her Majesty the Queen and his Royal Highness the Prince of Wales.
Although silver can often be associated with fusty, dust-gathering table ornaments sitting on a doily, thanks to Mappin & Webb a new wave of silversmiths is showing us just how appealing this precious metal can be. Mappin & Webb has worked with Goldsmiths' Fair and Contemporary British Silversmiths to hunt down 14 of the most talented silversmiths in the country, bringing them together for a Celebrating Silver exhibition. Showcasing and selling 60 unique objects, from silver vases and bowls to picture frames and silver spoons, the creativity and skill shown in each of these creations is exceptional.
Read more about Goldsmith's Fair here
What I find so exciting about Celebrating Silver is the coming together of world-class design and impeccable craftsmanship, brought to life in that noble metal. While we are surrounded by great design, when you add in the durability, and tactile and visual appeal of silver, never mind its precious nature, you really have something special to treasure for generations.
What's more, many of these objects are conceived to be used every day. The cute Adi Toch silver teapot would add pleasure to each morning, while the Rebecca de Quin silver letter openers transform parking fines and bank statements into a daily delight.
Elizabeth Galton, creative director of Mappin & Webb and the force behind this project, says: "Mappin & Webb has such a long history of working with silver that it made sense for us to celebrate our 240th anniversary by going back to our roots. Each of these silversmiths has been chosen for their ability to make silver relevant to a new generation, and each one surprises with their creativity and talent."
Read more about Mappin & Webb here
David Mills of Goldsmiths' Hall, the ancient guild based in the City of London, reminds us that England is the heart of the silver world thanks to university courses, apprenticeships and initiatives such as Celebrating Silver. Which makes this show perhaps the finest gathering in the world of contemporary silver design.
I was particularly impressed by the Elizabeth Peers silver bowls, with their coloured enamel interiors. As with all the items, each is entirely made by hand, one by one, so every piece is entirely individual. Nan Nan Liu's serenely beautiful Frozen Layers silver bowls remind me of an Arctic landscape reflected in a still sea and are like nothing I have seen before. Nan Nan patiently cuts out each layer of silver and then painstakingly solders them together.
Benjamin Ryan's tantalisingly simple tea caddy spoons and Esther Lord's majestic Zigzag silver vases are at the cutting edge of design, while Abigail Brown's highly tactile and huge silver bowl made up of bulging shapes, Mary Ann Simmons' Nested Square dishes, and Juliette Bigley's Split bowls are as much sculptures as useful objects.
Alistair McCallum shows impressive mastery of the Japanese technique of layering silver, called Mokume Gane, and explained the slow and methodical process of preparing the metals to then create the wood, grain-like effect. His silver beakers will add an original elegance to your dinner parties, as well as making champagne taste even better than when drunk from a glass flute. 
Kathryn Hinton facets everyday objects to create a jewel-like effect, while Rauni Higson's Love Spoon and Kyosun Jung's Water Lily vase are both arresting in their design, but so very feminine with their floral inspirations.
In the hands of some of the world's most talented silversmiths, the ordinary becomes extraordinary.
Celebrating Silver runs from 29 June to 25 July at Mappin & Webb, 132 Regent Street, W1B 5SF and then from 22 September to 4 October (closed 28 and 29 Sept) at Goldsmiths' Fair in London.
All the pieces featured in the exhibition can be purchased here. For enquires, please telephone Mappin & Webb Regent Street: 020 7287 0033.
The final stage of Mappin & Webb's production process is the hand polishing of all silverware, shown here in a picture from 1959.

Many of the pieces are conceived to be used every day, including this LittleBeak teapot by silversmith Adi Toch.

London-based silversmith Rebecca de Quin's silver letter openers.

2009 Podolsky Prize winner, Nan Nan Liu creates unique pieces using silver, like this Frozen Layers silver bowl collection.

Award-winning Benjamin Ryan's double-domed Caddy spoon, alongside Rauni Higson's Love spoon, whose other works include a 72-piece canteen of cutlery commissioned as a royal wedding gift.

Award-winning silversmith Esther Lord's large Zigzag silver vase.

Award-winning artist-silversmith Juliette Bigley's Split bowls, and artist-silversmith Abigail Brown's silver bowl.

Royal College of Art graduate Mary Ann Simmons' Nested Square silver dishes are as much sculptured works of art as they are useful objects.

Alistair McCallum established his first workshop in London in 1979 and has worked as a silversmith ever since, creating pieces like this silver beaker, using the Japanese technique of layering silver called Mokume Gane.

Kathryn Hinton facets everyday objects to create a jewel-like effect, exhibited here in her faceted dish.

Silversmith artist Kyosun Jung's Water Lily silver vase.

Elizabeth Peers Over the Ocean collection of pierce bowls in Britannia silver and enamel.