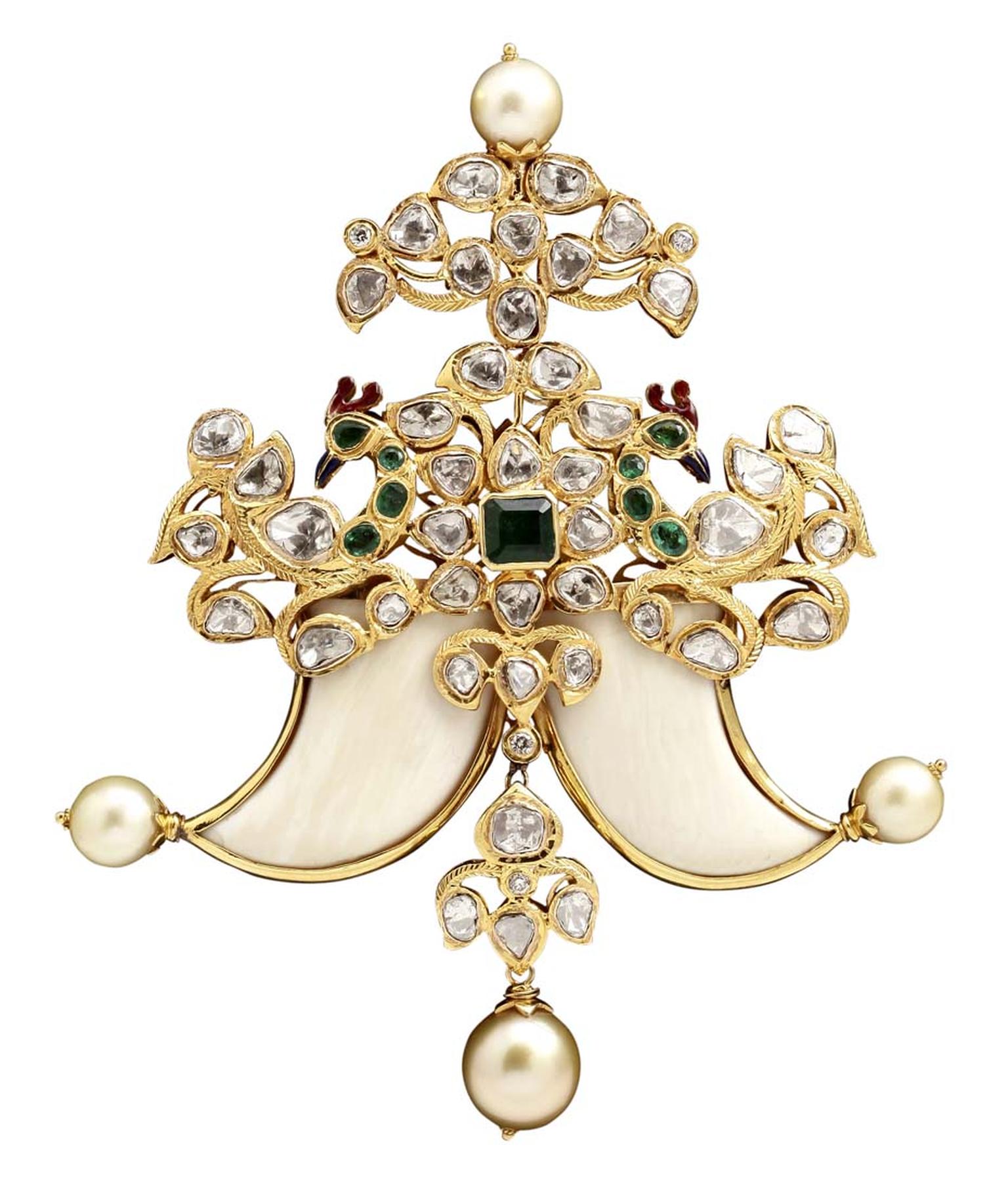 Since the days of the Maharajas, gemstones and jewellery have been worn in India as a display of power, wealth and stature. The decline of the dynasties led to the emergence of modern business tycoons, who eschewed elaborate jewellery in favour of more subtly bejewelled accessories. But on their wedding day, every groom still loves to feel like a king for the day, dressed in elaborate turbans, finest brocade sherwanis lined with gem-studded buttons and multi-string beaded necklaces.
The groom's turban - a symbol of royalty - is usually decorated with ornaments. A kalgi incorporates herons' feathers to form a plume that sits above  a gemstone-studded turban pin, while the grander version, a sarpech, recreates the shape of a feather in gold and precious stones. 
While many grooms opt for a tuxedo, Indian sherwanis, nehru jackets and Bandhgala suits have a regal appeal. A set of sherwani buttons - six large buttons for the front panel and six small for the sleeves - are a common sight on grooms. Bejewelled buttons, such as Farah Khan's enamel and diamond designs, can often be spotted embellishing a kurta - a knee length shirt worn with slim pants - at simple religious ceremonies.
Brooches are back in fashion for Indian grooms. From single pin brooches to elaborate paisley and animal brooches, men are having fun experimenting. Gemstone and polki studded kalgi brooches by Amrapali and Birdhichand Ghashyamdas are perfect examples. Most kalgis offer a dual pin these days, which means they can be converted into a brooch after the wedding. 
Indian royalty, business tycoons and Bollywood stars are often spotted on their wedding day wearing traditional accessories, from elaborate sherwanis with polki and enamel studded buttons to turbans with elaborately crafted kalgi or sarpech. Traditional Indian jewellers such as C. Krishniah Chetty, Hazoorilal, Gem Palace, Golecha Jewels, Sunita Shekhawat, Amrapali and Ganjam are all expert in dressing the Indian groom.
Weddings and traditional events aside, shirts and suits are the order of the day for most Indian men, which makes cufflinks the perfect wedding gift. From ethnic styles with enamel and kundan polki work by Amrapali to contemporary cufflinks by Bina Goenka and Farah Khan, India is justifiably famous for its elaborate cufflinks: enamelled, studded, colourful and with plenty of bling!
Golecha's vintage-inspired brooch featuring diamonds, rubies and emerald drops set with a large central pearl.

Golecha's emerald brooch featuring uncut diamond and kalgi.

Golecha's Parrot brooch with pearl and emerald tassels.

Actor Abhay Deol wearing an Amrapali emerald and kundan polki double pin brooch at Indian International Jewellery Week 2012.

Amrapali's diamond and ruby elephant-inspired kalgi.

Intricate flower cufflinks by Amrapali, studded with rubies and diamonds.

A model sporting a nehru jacket with a multi-string pearl necklace featuring kundan polki and gem-set brooches by Anmol Jewellers.

A model at the IIJW 2013 wearing a double pin brooch from the Amer collection by Birdhichand Ghanshyamdas.

Bina Goenka's pearl and diamond cufflinks.

A vintage peacock ring worn by kings, in yellow gold and set with rubies, by C. Krishniah Chetty and Sons.

A Navratna turban with its sacred combination of nine gemstones by C. Krishniah Chetty and Sons.

Diamond cufflinks with pastel blue and white floral enamel by designer Farah Khan.