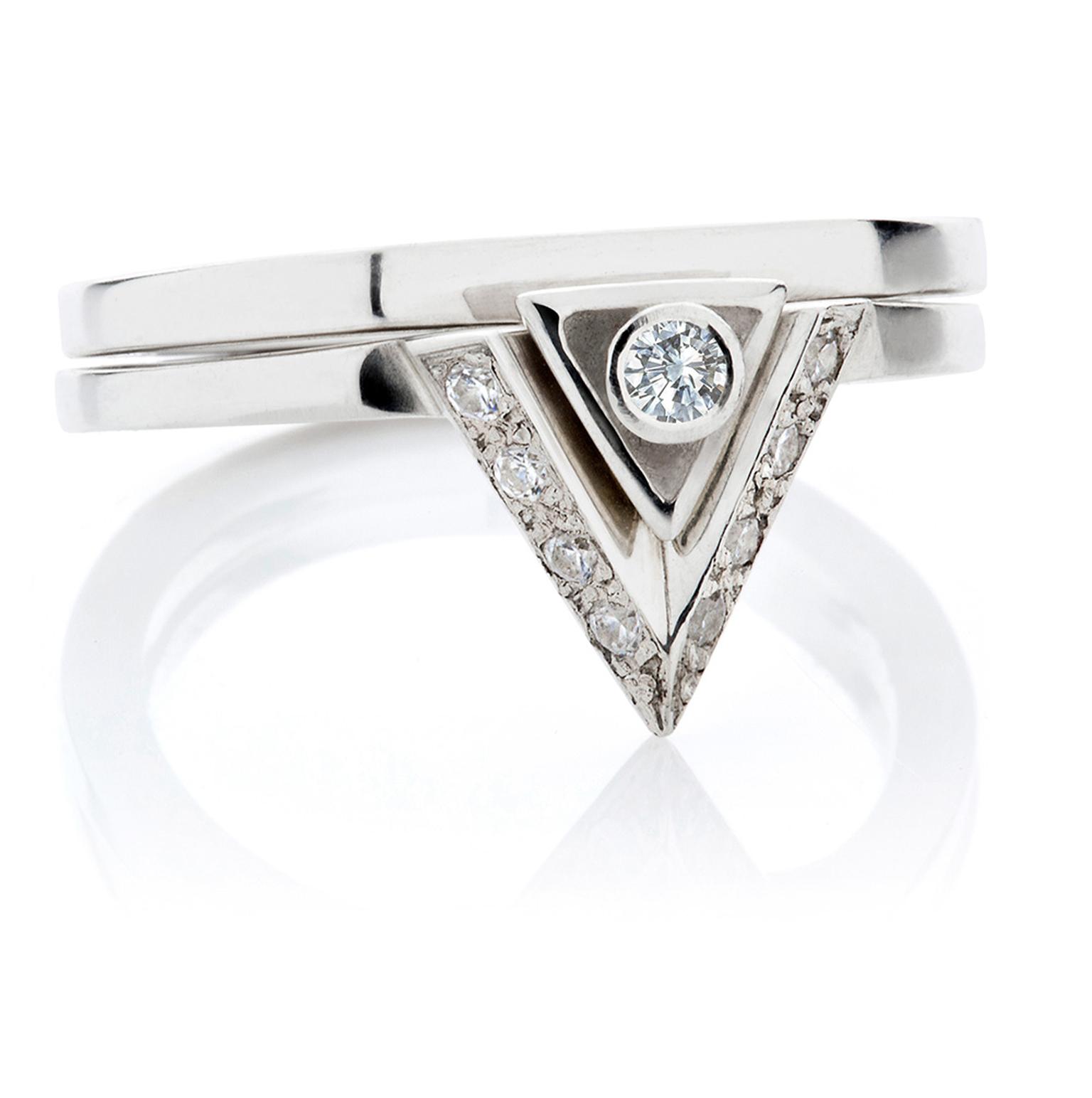 Fairtrade and Fairmined gold arrived into the UK just over a year and a half ago (read Maria Doulton's story about the launch here), and already the Fairtrade jewellery industry is thriving.  Two high-profile brands have started incorporating Fairtrade/Fairmined gold into their designs. A growing number of independent jewellers are committing themselves to the cause by using only ethically sourced gold in their creations. And one eco warrior with a very famous surname has been papped wearing Fairtrade jewellery, raising awareness virtually overnight. 
Livia Firth, wife of British actor Colin, was the first famous face to wear Fairtrade gold jewels on the red carpet, on the night her husband won his Oscar for The King's Speech, sending out a very clear message: Fairtrade rocks. Stars have been lining up to take part in Livia's Green Carpet Challenge - now in its third year - which has seen Lily Cole, Cameron Diaz, Meryl Streep and Carey Mulligan, among others, spreading the eco-friendly word by wearing only ethical fashion and jewellery on the red carpet. Anna Loucah and CRED Jewellery, who collaborated on Livia's jewellery for the Oscars, might not be high-street names yet, but their paparazzi moment has certainly helped spread the Fairtrade message.
The first jeweller to launch a range of fairly traded engagement rings and wedding bands, CRED spearheaded the Fairtrade jewellery movement. Founder Greg Valerio was instrumental in the introduction of the Fairtrade and Fairmined mark for gold after campaigning tirelessly for change in the jewellery and mining industries. The go-to brand for classic engagement and wedding rings, CRED has studios in East London and Chichester and an online store featuring other brands that share Greg's vision: to create jewellery that has the principles of Fairtrade at its heart as well as satisfying a desire for beauty and wonder. The CRED Vintage cushion-cut 1ct diamond ring (£6,450) certainly does that. Inspired by vintage lace, it features dainty scroll detailing and a generously sized, ethically sourced diamond.
The wonderfully named Olive & Reg is a start-up ethical jewellery business that has helpfully gathered together some of the finest names in Fairtrade jewellery in one place. They've got big brands, including CRED, onboard, some of which have created pieces exclusively for their online boutique. Jessica Poole's non-conformist designs are among them - her Majestic Sapphire ring (£2,900) is intended for those looking for an alternative to a diamond, while her Twist Diamond ring (£1,800) is a Fairtrade gold wedding band that has been souped-up with sparkles. Ingle & Rhode is another Fairtrade jeweller that sells its own designs online - or you can visit their showroom in Mayfair, London. Their popular Vintage range starts at £2,500.
There are plenty of independent jewellers who are working alone to create unique Fairtrade jewellery with a strong visual aesthetic. For Fairtrade and Fairmined rings with a fairytale feel, check out April Doubleday and Diana Porter. April's 4 Claw Ring with Waves in 18ct white gold (from £1,650) and Diana's white gold band set with three diamonds (from £1,163) are seriously romantic. Winner of the prestigious British Jewellery Association 2012 Award, Erica Sharpe's designs are inspired by nature. Her elegant Swan ring (£1,190; stone extra), in 18ct Fairtrade and Fairmined white gold, features two birds gracefully encircling a central marquise-cut diamond. Avant-garde designer Hattie Rickards' creations are altogether more edgy. Hattie specialises in original pieces with an ethical backbone, and her designs constantly surprise. She recently completed a commission for a spectacular natural grey, rose-cut diamond engagement ring (POA). Set in Fairtrade yellow gold, the 7.48ct grey diamond is mesmerising.
If you're thinking beyond diamonds, designer Rachel Helen recently launched her whimsical Briar Rose bridal collection, which includes a pair of beautiful, textural rings - shaped to form the appearance of rose thorns - that nestle comfortably together and can be set with the jewel of your choice (from £800). There's no need to break with tradition altogether, however - many Fairtrade jewellers are designing engagement rings that are contemporary classics. Foundation, a luxury online ethical jeweller, has created a range of classic solitaire engagement rings, available in Fairtrade/Fairmined gold, with surprising details - turn the Calliope (from £1,500) on its side and the diamond rests in a neat U-shaped setting. And Pippa Small's "wobbly" wedding bands, made from Bolivian Fairtrade and Fairmined yellow gold, look a little lived-in, something that will appeal to vintage fans.
With prominent luxury jewellers such as Stephen Webster and Garrard starting to use certified Fairtrade/Fairmined gold - Stephen travelled to Peru in January 2011 to experience first hand the difference Fairtrade makes to small-scale and artisanal mining communities and recently created a bridal range crafted entirely from ethically sourced gold - and high street jewellers Beaverbrooks and Ernest Jones currently trialling Fairtrade wedding ring collections, the tide appears to be turning. Is the future of jewellery Fairtrade? We hope so. 
Diana Porter 18ct Fairtrade white gold ring with three 0.10ct diamonds (from £1,163)

Ingle & Rhode Vintage engagement ring collection with central diamond (from £3,000) in Fairtrade white gold.

Jessica Poole Majestic Sapphire ring in Fairtrade white gold (£2,900).

Jessica Poole Twist pave diamond ring (£1,800) in 18ct Fairtrade white gold

Erica Sharpe Swan ring in 18ct Fairtrade/ Fairmined gold (£1,190; stone extra)

Hattie Rickards 7.48ct grey rose-cut diamond engagement ring (POA)

Pippa Small "wobbly" wedding band in 22ct Bolivian Fairtrade yellow gold (£POA).

Rachel Helen Briar Rose engagement and wedding ring (from £800), available in Fairtrade 18ct yellow and white gold and the stone of your choice

Stephen Webster Two in One engagement ring set in 18ct Fairtrade white gold with a 2ct Forevermark diamond and pave diamonds (£37,000)

CRED bridal collection featuring Twist Solitaire engagement ring (from £1,150), available in 18ct Fairtrade white or yellow gold

Foundation Calliope solitaire engagement ring (from £1,500), available in 18ct Fairtrade white, yellow or rose gold

How to distinguish Fairtrade/Fairmined gold