Diamonds are not just a girl's best friend. Our selection of engagement rings for gay couples reveals an ever-increasing array of well-designed rings with a masculine hand firmly in mind.
Like all great ideas, diamond engagement rings for men are not new. Historically, only men wore diamonds as symbols of power and Mughal noble men draped themselves liberally in diamonds.
Independent-thinking jewellers were the first to start designing rings for same-sex couples, and London-based, award-winning designer Shaun Leane was a pioneer. "I actually designed my Interlocking rings for a couple of guys in 1999 - way before civil partnership even existed. I was influenced by my work with
Alexander McQueen on his runway shows and wanted to bring that aesthetic to jewellery. The couple wanted commitment rings so I made them each a white diamond ring and then later they came back for black diamond versions that slot together to create one ring. They loved the concept and symbolism of the interlocking feature as well as the mix of white diamonds with the masculine strength of black diamonds. That's how these rings were created and the black and white diamond combination is still one of my best sellers."
Encouraging men to wear diamonds requires a totally new approach. "I make diamonds masculine by designing the overall piece with a man in mind, then I use the diamonds to highlight the form," explains Leane. "The masculinity of the piece overrides the materials. It was Alexander McQueen who taught me not to be restricted by the material."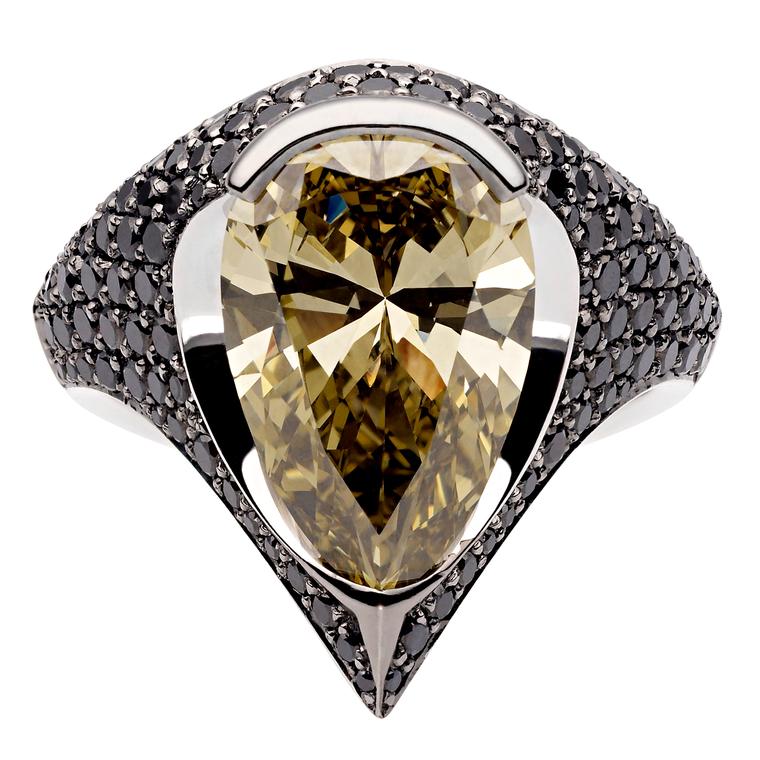 In Leane's experience same-sex couples tend to be traditional only in the fact they wear their engagement rings on their left-hand. Often the couple will have different rings reflecting their personalities, one usually more understated than the other. Leane also reports a rise in bespoke engagement rings for gay couples and has found ways to make diamonds increasingly masculine. He cites as an example a 5-carat cognac pear-shape diamond surrounded by black diamonds that is half-way between a cocktail and engagement ring.
Looking at more mainstream jewellers, Tiffany was the first international jewellery brand to - shall we say - come out of the closet. The "Will You" campaign launched in winter 2016, featured a handsome same-sex couple. Beyond a wide selection of gold and platinum bands, Tiffany offers diamond-set engagement rings. The Etoile band  features a random scattering of diamonds discreetly set deep into the band for a romantic take on the night sky. The simple Flat platinum ring, with a single small diamond with milgrain borders at either edge of the band, is another popular choice. Tiffany on Bond Street reports that it has sold several of the far flashier Schlumberger Sixteen Stones bands (below) in larger sizes in both gold and platinum to same sex couples. Tiffany also has on hand a range of matching engagement rings sets.
Bespoke diamond engagement rings with a masculine edge are on the rise for gay men, such as this 5-carat cognac diamond by Shaun Leane.
As for choice of metal, De Beers reports that white or blackened gold is the most popular option for men's engagement rings. The Talisman collection with rough diamonds in dusky browns, muted yellows and milky white diamonds is popular with gay couples as the low-wattage sparkle and hammered gold give a
rugged look with an ancient feel to it. For a butch look, opt for the Azulea model with a single small diamond bezel set into a pitted thick gold band while the Brio, left, as its name suggests is brighter and bolder with a one-carat diamond blazing out of the white gold band. 
Traditions vary around the world as Costan Eghiazarian of Salzburg jewellery Aenea explains: "In mid-European noble families there is a culture of both men and women wearing an engagement ring in yellow gold with two white diamonds and a coloured stone or vice versa. More conventional gay couples opt for this longstanding design but I offer a wider range of rings for different tastes." In fact, so committed was Eghiazarian to catering to his gay friends' marital needs, that he started his jewellery business Aenea. 
French jeweller Boucheron has seen its now iconic Quatre ring adopted by men as engagement or wedding bands. The strong geometry and clean lines work particularly well on men's hands in the wider versions with black gold details and a thin band of diamonds. Likewise, the minimalist lines of Messika's Move Titanium rings are unisex by nature and the titanium and black diamond version is perfect for an edgy engagement ring look.
Leane predicts a growing offer of men's diamond engagement rings as gay couples become more comfortable with the idea. "I have been making jewellery for 30 years and in last 10 years I have seen a transition as men take baby steps towards fully embracing diamonds. First it was black diamonds then they moved on to the understated chic of emerald and baguette-cut diamonds but now I am seeing a more fearless approach as men embrace the beautiful full sparkle of brilliant-cut and princess-cut diamonds." So don't hold back guys, diamonds are for everyone, forever.