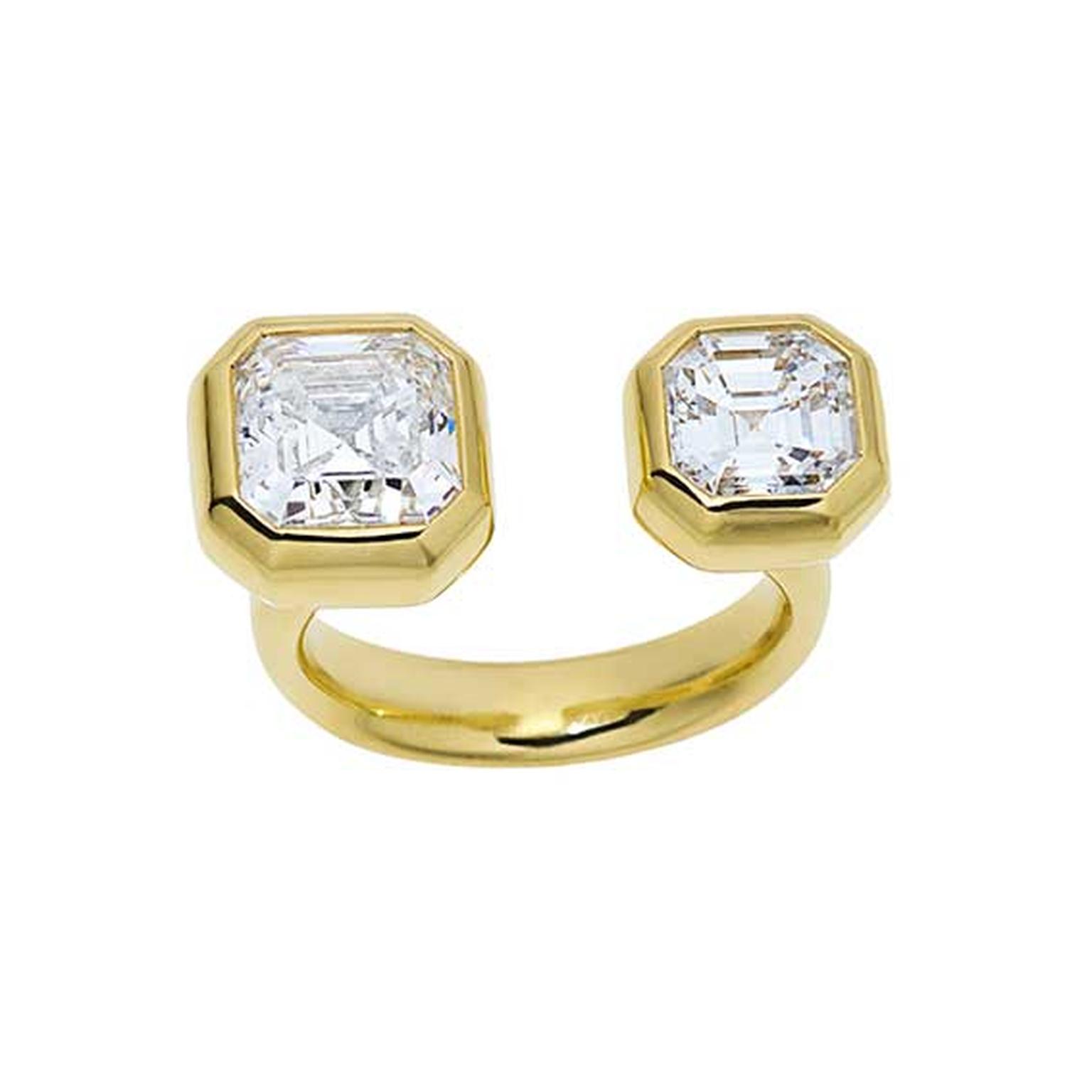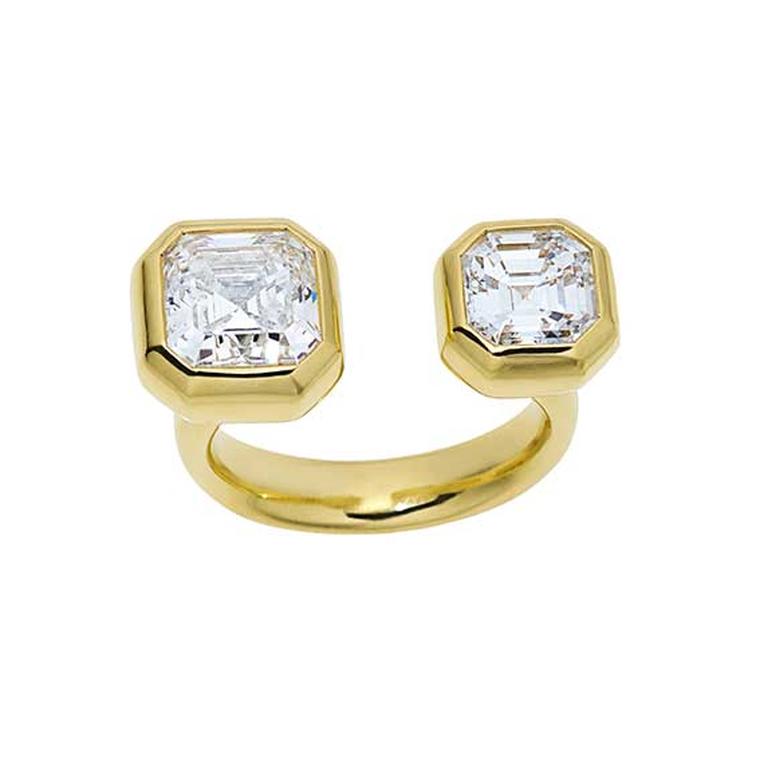 By Åse Anderson
Hunting down unusual engagement rings can seem like a daunting prospect, but fear not, we have done the legwork for you by gathering together a selection of beautiful designs by some of the most talented jewelers in the US. After all, no two brides are the same, so who is to say that all engagement rings need to look alike?
If a classic solitaire doesn't quite cut it, don't be afraid to look beyond the traditional bridal collections for out-of-the-ordinary styles, which are perfect for brides who want unique engagement rings that reflect their personality.
See more unusual engagement rings here
Launched in 2008 by design duo Stephanie Wynne Lalin and Jenny Klatt, NYC-based Jemma Wynne reflects the unique esthetics of its founders. Taking inspiration from the diversity of New York, the designers compare their jewelry to a cashmere hoodie: luxurious and elegant but with a relaxed femininity that makes it easy to wear. This beautiful between-the-finger diamond ring came second in the bridal category at the Couture Design Awards, proof that avant-garde designs are now firmly ensconced as acceptable engagement attire.
Read more about Jemma Wynne at Couture here
Pamela Love also unveiled a souped-up diamond-set version of her Luna ring at Couture. In yellow gold with two diamond-studded crescent moon shapes flanking the center stone, it is the perfect design for those who want unusual engagement rings that won't cramp their cool, edgy style. The majority of Pamela's jewels are created in her Manhattan studio using ethically sourced gemstones and recycled metals.
Michelle Fantaci studied goldsmithing in Florence, Italy, before setting up her eponymous jewelry line in her native New York in 2007. Her Maharaja Puzzle ring, set with a rose-cut diamond, would make a stunning engagement ring. It fits together seamlessly with other rings in the collection, including a gold ring set with a smattering of eye-popping green emeralds - solving all your wedding band and eternity ring-buying dilemmas in one fell swoop.
See more engagement rings with coloured gemstones here
With the possible exception of the round brilliant-cut diamond floating in its center, there is nothing traditional about Paola van der Hulst's Tonali diamond ring. Encased between two sharp curves of two-tone metal - one end is matte yellow gold while the other is diamond pavé-set white gold - the stone almost appears to be suspended in mid-air.
Born in Mexico City to a Mexican mother and Dutch father, Paola worked in finance in London before returning home to launch her jewelry brand just two years ago. Her pieces are handcrafted in Mexico City, while the country's rich cultural heritage often forms the starting point for her unique engagement rings. The Tonali collection (meaning "luck" in Nahuatl) was inspired by the curvature in the pre-Hispanic Nahuatl dialect, as well as the symbols and textures in Aztec jewelry.
See more brilliant-cut diamond engagement rings here
Another ring that eschews traditional engagement ring connotations is the aptly named Escargot ring by Sophie Bille Brahe. With a spiral diamond pattern, which does indeed mimic the contours of a snail's shell, this is the perfect engagement ring for those who like their jewels to make a bold statement.  
Crafted from traditional yellow gold and diamonds but with an open-ended design that puts it firmly in the realm of unique engagement rings, this Sethi Couture ring is unusual without being too "out there". Sisters Pratima and Prerna Sethi believe that jewelry should be effortlessly worn and cherished every day, not tucked away in a box.
See more yellow gold engagement rings here
And surely that's what we all want from an engagement ring: for it to reflect our unique style and personality so that it becomes almost an extension of ourselves that we are happy to wear every day, forever more. 
Sophie Bille Brahe Escargot ring with a centrally set diamond surrounded by a halo of further diamonds.

Pamela Love gold ring with diamond-encrusted chevrons flanking a central rose-cut diamond.

Open gold ring set with diamonds by Sethi Couture.

Maharaja ring with a pear-shaped rose-cut diamond by New York-based Michelle Fantaci.

Paola van der Hulst Pinky Baguette Tonali ring in matt yellow gold and brushed palladium white gold set with diamonds.

Bespoke Asscher-cut diamond engagement ring, handmade in New York by Jemma Wynne.