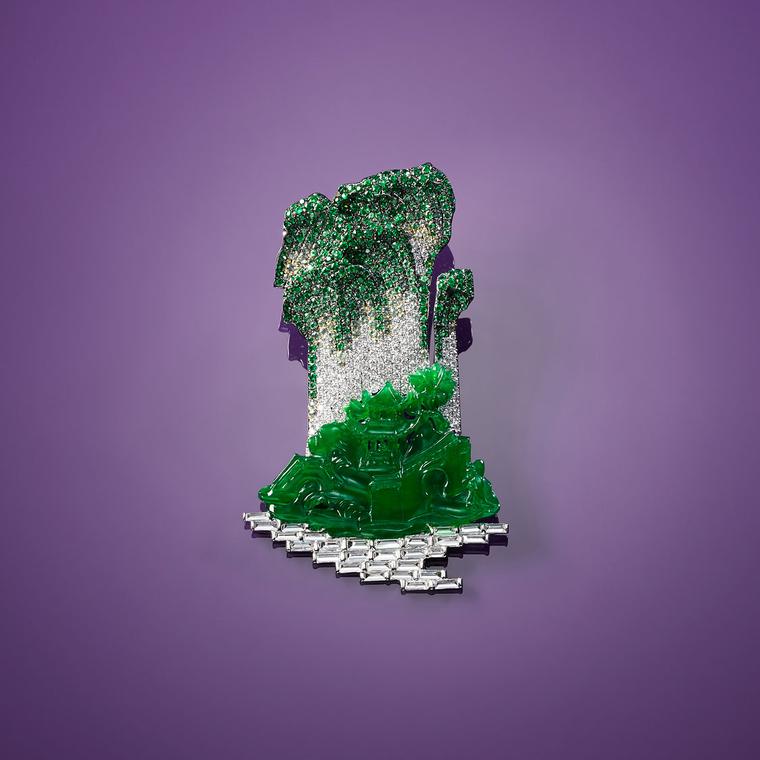 By Francesca Fearon
The latest jewellery auction record to be smashed was for a 120 carat Burmese ruby and diamond necklace, designed by Edmond Chin. Going under the hammer at Christie's Hong Kong for a cool US$13,006,656, Hong Kong is fast establishing a reputation as a centre for breaking world auction records.
"We are thrilled," says Edmond Chin, "I think it is a reflection of the effort put into sourcing the best rubies we could find over a five-year period." Every element of this subtle and innovative necklace is articulated in a novel fashion, "lending it tremendous flexibility while maintaining the position of the stones so that, when worn, it reads as a double riviere of rubies separated by a slanting row of diamonds." 
Chin began designing unique jewellery during his five-year tenure in the jewellery and jadeite department at Christie's Hong Kong. Whenever a great coloured gemstone would come up for sale, which would require a setting to be designed, it became a guessing game among Christie's clients as to whose design it was. "Eventually they figured it out, although I have no distinct style," he admits. "My designs could be classic or natural, or ultra-modern." 
Read about the rise of jadeite in jewellery design
He has a highly intuitive understanding of precious stones and enjoys experimenting with different techniques, introducing antique elements and creating a startling range of unique jewellery styles. "I am always thinking of ways of changing the way a jewel is made. I think technique should be so subtle that you are lost in the beauty of the result," he says. 
Singapore-born Chin comes from what he describes as a "jewellery crazy family". He started collecting South-East Asian jewels when he was just 16, and curated an exhibition of the finest pieces in Singapore in 1991 called Gilding the Phoenix. It featured Sinhalese and Straits Chinese jewels, Victorian gems and tiaras, and Chinese jade. The fine jewellery collection is now held in Singapore's Asian Civilisations Museum. 
The exhibition led him to Christie's Hong Kong, which he joined in the mid 1990s, where he identified the potential taste the Chinese have for precious stones. According to Francois Curiel, president of Christie's Asia, within three years Chin's sales in Hong Kong were bigger than those in Geneva.
In 2000, Chin left Christie's and established his own company, Etcetera Hong Kong, to showcase his stunning, one-of-a-kind jewels. At his 10th anniversary, Francois Curiel described what sets Edmond Chin apart: "He is untraditional, both in his aesthetic sense and technical approach. Yet his jewels have that classic twist, which makes them timeless - they are never aggressive or so contemporary that they will fall out of fashion." 
It seems the bidder who spent US$13 million has made a very good investment indeed.
Edmond Chin's Burmese ruby and diamond necklace, which sold for US$13,006,656 at Christie's Hong Kong. Image: Courtesy of Christie's

Edmond Chin openwork white diamond and platinum bracelet. 

A pair of contrasting platinum pearl earrings from Edmond Chin featuring an aubergine coloured pearl, a platinum coloured pearl and diamonds.

Pink and yellow diamond chandelier ear pendants from Edmond Chin jewellery.

Edmond Chin bracelet with blue sapphire, glass jadeite and white diamond.

Edmond Chin ruby and diamond ring. Image: Courtesy of Christie's

Emerald and diamond bangle from Edmond Chin. Image: Courtesy of Christie's

Edmond Chin landscape jade brooch with green tsavorite, green sapphire and white diamond.