With the announcement of Princess Eugenie's marriage to Jack Brooksbank, and the first sightings of her padparadscha sapphire engagement ring, the world will be asking: just what is a padpardscha sapphire? 
A padparadscha is the rarest of all sapphires and arguably the most beautiful and instantly recognisable for its pinkish-orange colour. While padparadschas range from pink to orange hues, often described as spanning from sunrise to sunset tones,  the finest display a fiery sunset colour, reminiscent of a tropical dusk.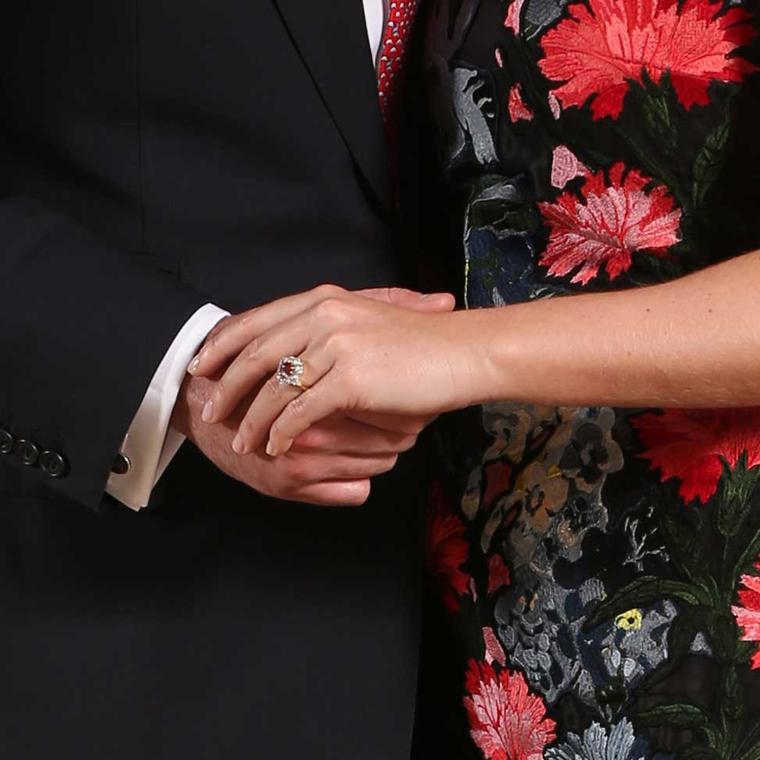 Prices for non-heat-treated stones of a good quality can soar to more than $50,000 per carat, easily rivalling rubies and emeralds of the same size. At a guess, Princess Eugenie's ring is around five carats so, Mr. Brooksbank will likely have paid over £100,000 for the the rarest of all sapphires. 
A similar size padparadscha sapphire ring (below) can be found at Hirsh, London, a family-run jewellery house that is known for its selection of sapphires. This ring is 4.05 carats and Jason-Paul Hirsh also reckons Princess Eugenie's ring is around 5 carats. Hirsh explains: 'if price is an indicator, our ring (below) is £48,000 and that is for a heated padparadscha, if Princess Eugenie's is unheated then it would be at least £100,000 in that size.'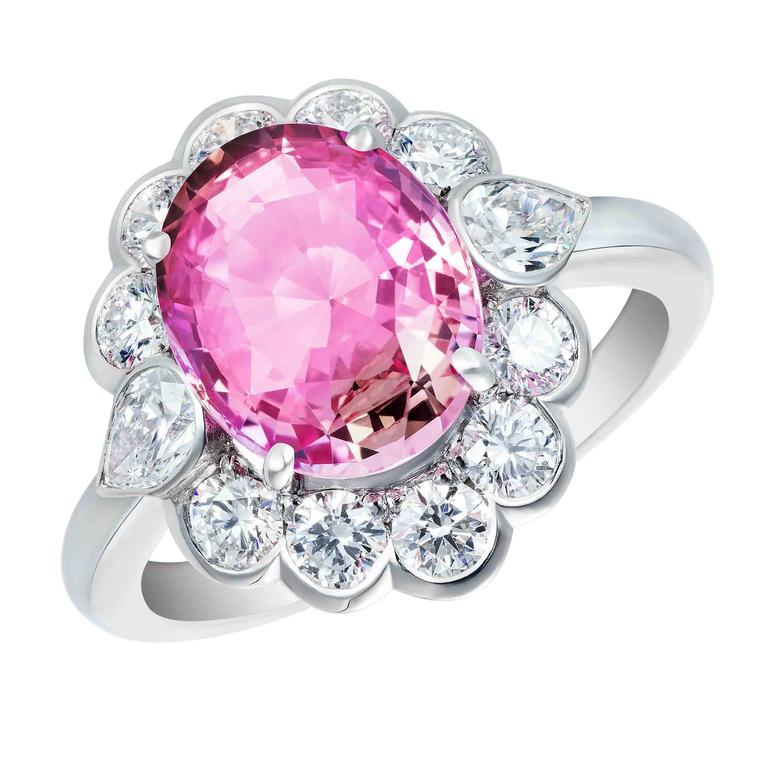 'Heating affects clarity more than colour,' adds Hirsh, 'by finishing off what the natural earth has not. Generally they will be heated as rough, often at the mines, in a furnace at approximately 300 degrees. Beryllium treatment is what needs to be avoided. Most resellers have no idea what this is and the market is flooded with these stones, the beryllium alters the colour and is used to make the padparadscha colour. We would never buy a beryllium-treated gemstone as it is not natural. The layman can not tell the difference between any of these treatments and it comes down to disclosure and in our case Gubelin SSEF or GRS certification.'
The most valuable padparadscha sapphire that we have seen to date is David Morris' ring shown at Paris Couture in 2016 (below) with a price tag of just over one million euros. This is not Princess Eugenie's ring but serves to demonstrate just how valuable these padparadscha sapphires are, particularly in this most desirable orangey-pink tone and if they are un-heated.  
In choosing a padparadscha sapphire, the Queen's granddaughter has shown the world that she has a sophisticated taste in jewels. Though sapphires come in a rainbow of colours from the more popular blue to colourless, pink, yellow, purple and even mauve, the soft pinkish-orange colour is the choice of connoisseurs.   Expect the padparadscha sapphire to be in big demand as Eugenie's ring sparks a sapphire fever and let's get started with a selection of some of the more beautiful ones that we have seen recently:
Chaumet Liens high jewellery ring in white gold featuring 142 brilliant-cut diamonds and a 5.29ct padparadscha sapphire.

Tiffany & Co. Blue Book Collection padparadscha sapphire ring with diamonds set in rose gold and platinum (£305,000).

The Soleste sapphire ring is one of Tiffany's signature styles, and this unenhanced 4.22ct padparadscha sapphire looks radiant. 

Hirsh London trilogy ring featuring a 1.12ct padparadscha sapphire ring, surrounded by two round brilliant-cut diamonds.

Cartier Solar ring with a 10.04ct padparadscha sapphire and brilliant-cut diamonds, set in platinum.

The Hirsh Princess 4.05 carats padparadscha sapphire ring is similar in size to Princess Eugenie's ring. The padaparadscha is heat treated and retails for £48,000. An un-heated padparadscha will sell for the double the price. 

Chaumet ring from the Joséphine collection featuring a cushion-cut padparadscha sapphire and diamonds, all set in platinum.

Omi Privé padparadscha sapphire ring with a central 7.18ct stone, flanked by two half moon diamonds, all set in platinum.

Omi Privé Padparadscha sapphire and diamond three-stone ring with an 8.16ct cushion Padparadscha sapphire accented with 0.75ct of half-moon diamonds and 0.70ct of brilliant diamonds set in platinum and rose gold (US$122,500).
While the name padparadscha is derived from the Sanskrit word for lotus flower. In ancient cultures, the padparadscha sapphire was seen as a symbol of purity, beauty and enlightenment, and most would agree that the Princess Eugenie's ring has an aura of serenity and calmness.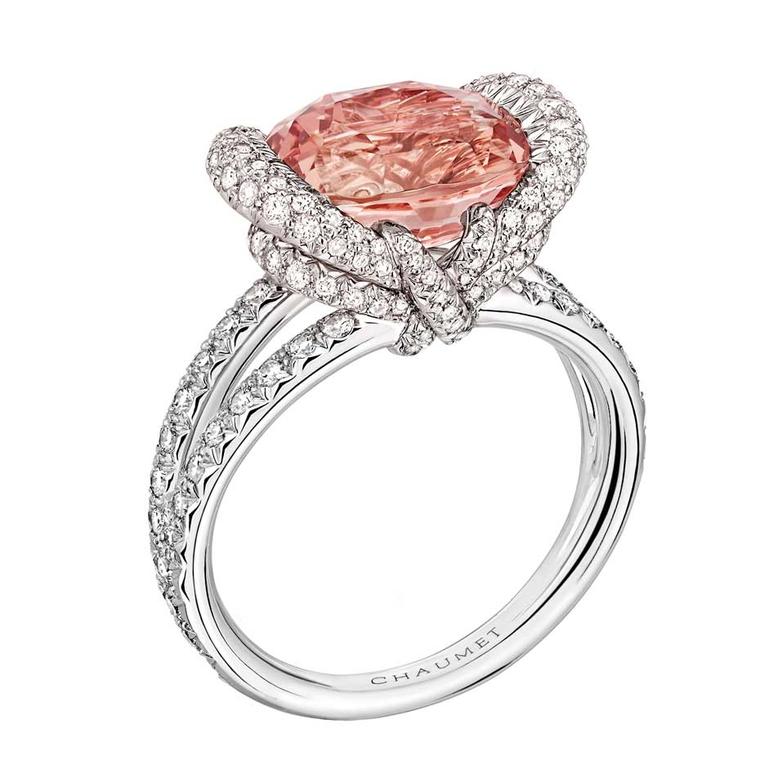 Though the design of Princess Eugenie's ring is very traditional with a single stone surrounded by a row of diamonds, the choice of the centre stone is highly original and tells us that Eugenie is not afraid of doing things her way. Her mother, the Duchess of York, may have chosen a similar design for her ruby engagement ring, Eugenie's is far more unusual and adventurous.
Sapphires are one of the most suitable gems for engagement rings given their hardness and the wide variety of colours they come in. Rubies are in fact red sapphires which is why they are so well-suited to the everyday rigours an engagement ring must endure. Read more about sapphire engagement rings here. 
Sri Lanka is home to the stunning and rare padparadscha sapphire. Mining on Sri Lanka dates back at least 2,000 years and the island is sometimes referred to as Gem Island or the Jewel Box of the Indian Ocean because of the wide variety of gemstones it yields. However, the South Asian country is best known for the cornflower-blue Ceylon sapphire and the padparadscha sapphire, both of which are mined in Ratnapura (Singhalese for "gem town"), around 100km from Colombo.
Read more about hunting ceylon sapphires in Sri Lanka
Like rubies and sapphires, padparadschas are part of the corundum family with a Mohs hardness of 9, making them ideal for setting into sapphire jewellery. Its hardiness also makes it a great choice of centre stone for engagement rings.
Padparadscha sapphires are usually paired with white gold or platinum as these metals complement the gem's soft hue. The Soleste sapphire ring (below) is one of Tiffany's signature jewellery styles and here it looks radiant set with an unenhanced 4.22ct padparadscha sapphire framed by a double row of white diamonds.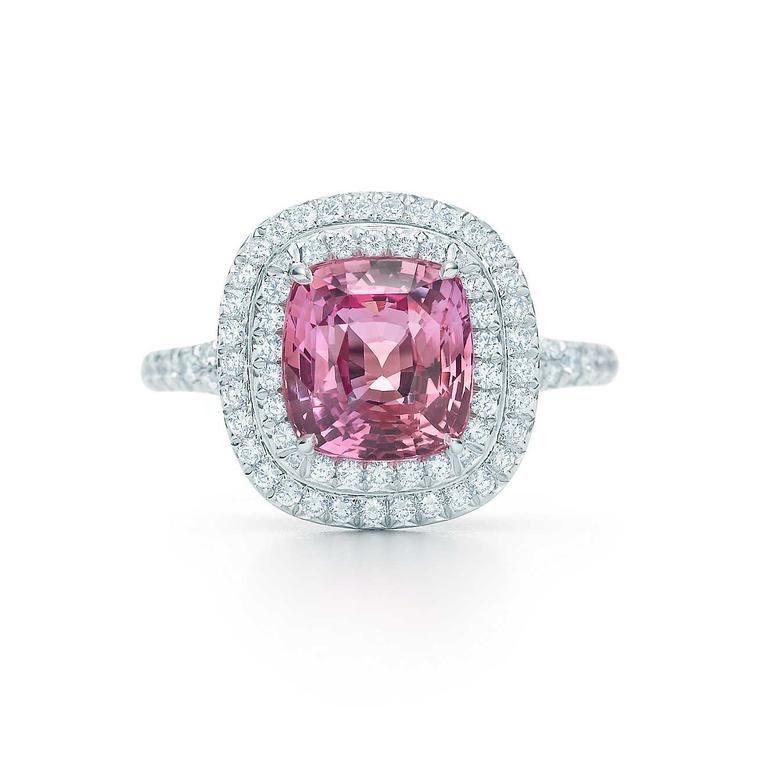 Omi Privé president and designer Niveet Nagpal is a huge fan of padparadscha sapphires and these coloured gemstones are a regular feature in Omi Privé jewellery collections. He says: "Padparadschas are the most rare of all sapphires because they are a perfect blend of pink and orange, which rarely occurs in nature. The large majority of all sapphires are heat treated to enhance the colour, but many padparadschas are unheated, and those are the rarest of all." Omi Privé offers several padparadscha sapphire rings including one that boasts a 5.73ct oval-cut centre stone set in platinum and rose gold.
Colour saturation, which is normally highly prized in coloured gemstones, is less essential in the padparadscha sapphire, with the most valuable stones boasting a delicate, almost iridescent mixture of pink and orange. Clarity, on the other hand, is extremely important as the light colour emphasises any inclusions in the gem.
While pinkish-orange sapphires have also been found in Madagascar and Vietnam, most gem experts agree that the only real padparadschas hail from Sri Lanka. Padparadschas from other countries usually have to be heat treated to bring out a colour that is closer to a rich papaya-like hue. There is also an on-going debate as to whether the sapphire suffix at the end of the tongue-twisting name should be omitted or not.
It is rare to find good-quality padparadschas of more than two carats, and any stone above five carats is considered a world-class gem. These exceptional stones are often cut into oval, emerald or cushion shapes to maximise on the size.
The world's largest padparadscha sapphire is most likely a 100.18ct oval-cut gem on display at the American Museum of Natural History in New York. However, even at smaller sizes, the stone's unforgettable colour will leave a lasting impression on anyone who comes across it.
As Niveet Nagpal puts it: "To own or even view a true padparadscha that is brilliant, well cut and void of any major inclusions is a treat that most people will never have the opportunity to enjoy."
Read about rainbow jewels here.
Original research by Ase Andersen.