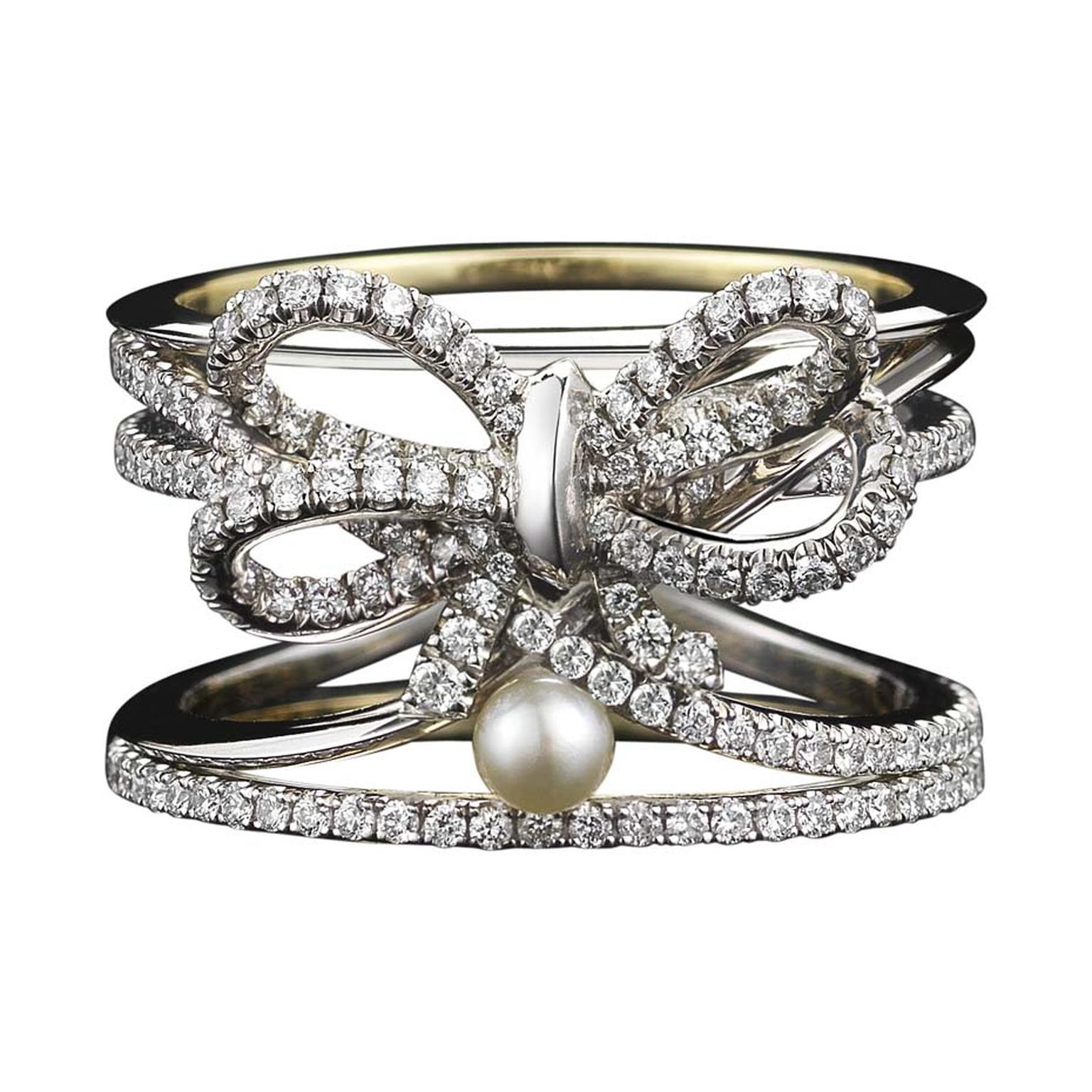 By Anthony DeMarco in New York
Alexandra Mor is known for her signature motifs and personalised approach to her haute couture creations. For the new year, the New York-based designer is taking these concepts to a larger audience by introducing a jewellery collection that celebrates marriage for modern brides with specific tastes and opening her first branded salon.
The diamond celebration collection isn't typical bridal jewellery. In fact, Mor is adamant about separating this collection from the bridal jewellery that permeates the market. This is a full line of jewellery made not only with diamonds but with a variety of coloured gems that could be given and worn for many special occasions. The collection also contains Mor's signature details, such as 'floating' diamond melee and knife-edge wire trim. It includes oval-shaped sapphire and diamond rings, black studs and pearl bracelets. Brilliant-cut and Asscher-cut diamonds are used liberally.
Mor often works with her clients to create a special and unique piece of jewellery. For couples getting married, this means working with the bride and groom to design the perfect wedding jewellery.
"Not all brides want a generic piece anymore. They want to feel unique," Mor explains. "Most usually don't talk about budget. They talk about size, clarity and colour, and from there I talk to them about design. The bride is left with the experience of having something with her voice and her personality. It's priceless. It's empowering. It's the first journey of the couple creating a life together."
Couples and others interested in Alexandra Mor creations will soon have a new place in which to browse her pieces and meet the designer to create that perfect piece of jewellery. Mor recently entered into an exclusive relationship with Dorfman Jewelers in Boston, which includes an Alexandra Mor salon in-store. It is scheduled for a late-April opening.
The relationship between Gerard Riveron, executive director at Dorfman, and Mor began last October and quickly blossomed. "She arrived just on time in my professional life of 40 years in the jewellery industry to put a new smile on my face," says Riveron, "and helped me dismiss boring, repetitive, meaningless corporate jewellery." Riveron is serious about his statement - Mor's salon will be in the space previously occupied by Van Cleef & Arpels.
Alexandra Mor limited edition sautoir earrings with 22 brilliant, radiant, oval, marquise, trillion-cut and baguette fancy-shaped diamonds, complimented by four yellow princess-cut diamonds.

Limited edition platinum Alexandra Mor Asscher-cut diamond eternity band. Available from 4ct to 15ct.

Alexandra Mor's limited edition black diamond stud earrings are available in yellow or white gold, encircled by round diamonds.

One-of-a-kind Alexandra Mor ring features 22 blue sapphire trapezoids and a 4.02ct brilliant-cut diamond, surrounded by six round diamonds set in platinum on yellow gold.

Alexandra Mor one-of-a-kind ring, set with a 2.14ct brilliant-cut diamond, encircled by diamond melee.

Alexandra Mor limited edition London earrings, set with 14.36ct blue topaz, suspended from a pair of brilliant-cut diamonds.

Limited edition Alexandra Mor pearl-mesh and diamond cuff bracelet.

Alexandra Mor one-of-a-kind platinum ring featuring nine blue oval-cut sapphire cabochons and an oval-cut floating diamond.

Limited edition three-stone platinum Alexandra Mor ring with a 2.10ct Asscher-cut diamond flanked by matching Asscher-cut diamonds.The centre diamond is surrounded by melee diamonds, with a double band of 'floating' diamond melee wires.

Limited edition wide eternity band featuring brilliant-cut diamonds, with Alexandra Mor's signature details of 1mm melee bands and knife-edged wire.

Alexandra Mor limited edition yellow gold Snowflake stud earrings set with 5ct diamonds.

Limited edition necklace featuring 2.00ct Asscher-cut diamonds encircled with Alexandra Mor's signature details: 1mm knife-edged wire with a bezel-set diamond chain, comprised of brilliant-cut diamonds paired with 12 evenly spaced round diamonds.