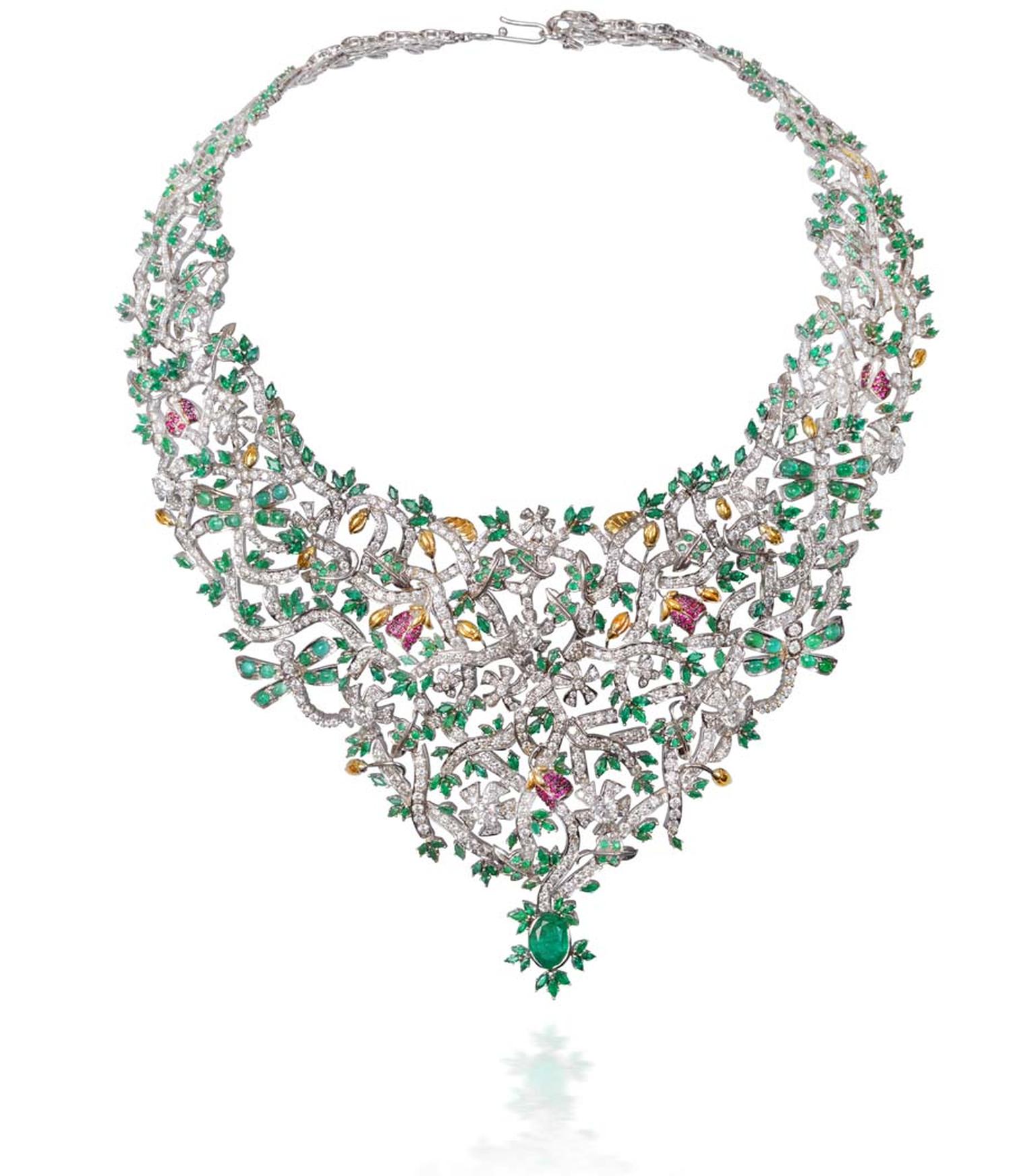 When Gemfields, the world's leading supplier of responsibly sourced coloured gemstones, forged a creative and philanthropic partnership with Nanhi Kali, a project that reaches out to over 90,000 underprivileged girls in nine Indian states, Project Blossoming was born.
The collaboration saw ten leading Indian jewellery houses create one-off masterpieces for Project Blossoming using Gemfields' Zambian emeralds and Mozambican rubies to support Nanhi Kali's educational prospects for disadvantaged Indian girls. On 6 June 2014, these exquisite creations will be auctioned by Christie's in Mumbai, India. If the auction fetches even a fraction of its estimated rupees, a minimum of 2,000 girls could be given the requisite academic, material and social support to push forward their education for a year.
With its headquarters in London, Gemfields has existing relationships with several jewellery houses in India and it has undertaken numerous sustainable educational projects in Zambia and Mozambique. For Project Blossoming it handpicked 10 brands that share its passion to contribute towards the education of girls. "We tried to get a mix of jewellery houses from different Indian regions to spread awareness about this project throughout the country," says Rupak Sen, Regional Marketing Director for Gemfields in Asia.
Project Blossoming has also brought on board Chitrangada Singh as its Brand Ambassador, a mature, intelligent and well-educated Bollywood actor with a strong inclination towards the welfare of the girl child. Her celebrity association is intended to take the noble message across the globe.
All pieces designed for Project Blossoming depict the concept of blooming in some way. Take, for instance, Mirari's Cherry Blossom parure - a matching set of earrings and double-lined necklace that is detachable so the lower line can be worn independently. The flowers in the piece are studded with pink and orange sapphires, Zambian emeralds form the twigs, and diamonds outline the petals to give a feeling of settled snow. Ruby-studded cherries hold the flowers together. A pair of matching earrings completes the exquisite suite, which is estimated to fetch INR: 3,600,000 - 4,350,000 at the Christie's Mumbai auction.
Mira Gulati, the designer behind Mirari, is grateful for her association with Project Blossoming. "It is a cause very close to our heart," she says. "We are proud to be doing our bit and associating on a global platform that amalgamates the creative energies of the jewellery industry."
Two lots of earrings will go under the hammer this June, including a spectacular set by Talwarsons that feature a pair of extremely rare emeralds as their centrepiece. A neckpiece by Tibarumals Jewellers is a rich assortment of iridescent emeralds nestled in a bed of sparkling diamonds.
Crafted with diamonds, emeralds and rubies, Abaran's necklace is a mirage of delicately entwined leaves and buds, while Lala Jugal Kishore Jewellers' traditional Kundan pendant is studded with a charming baroque pearl fashioned as a beautiful bird.
For those looking for an elegant brooch, watch out for Hazoorilal's piece made of yellow diamonds, emeralds and rubies ,which can also be worn as a hairpiece.
Project Blossoming has something for every collector in India and beyond and we wish the auction every good fortune.
Mentioned in this article: