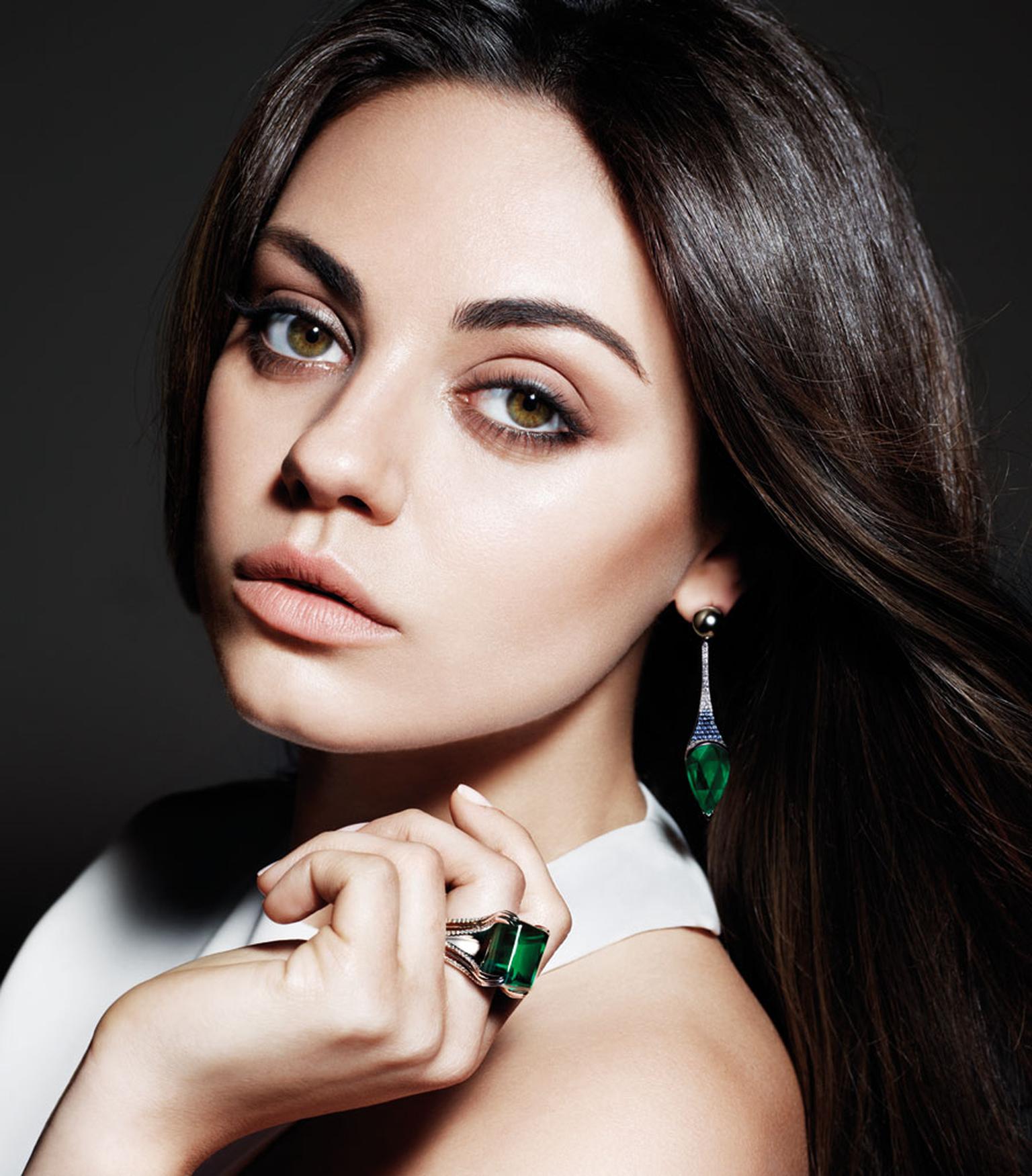 Gemfields the word's leading coloured gemstone producer, has unveiled one of the biggest fine jewellery collaborations the world has ever seen. Working with 36 leading international designers, Gemfields' goal is to demonstrate the unique beauty of rare coloured gemstones and to draw attention on a global scale to the fact that you can own precious gems with a completely clear conscience.
Gemfields has an eye not just for coloured stones in their raw form but for different gemstone cuts and the innovative ways in which they can be displayed. "Our goal with this one-of-a-kind collection was to assemble a wide range of international designers who could bring our gemstones to life in a modern, timeless way," explains Anna Haber, marketing director of Gemfields. Each unique stone was the starting point from which the designers created their bespoke jewels. "The brands, from up-and-comers to very established fine jewellery houses, used our emeralds, rubies and amethysts in very different shapes, sizes and forms; from fancy cuts to organic slices," says Miss Haber. "The result is truly an assortment fit for today: these are precious gems with a storied history that perfectly express a woman's individuality."
Getting such a breadth of talented designers on board was a stroke of genius. Determined to change the way consumers perceive coloured gemstones and banish their "traditional" connotations, Gemfields gave its collaborators free reign to experiment, and the results are across-the-board magnificent. Dominic Jones' warrior-chic earrings have heaps of spiky emerald attitude, while the classic Chinese influences in Dickson Yewn's perfectly square ruby ring give cultural significance to his ultra-contemporary design. And Nam Cho's emerald bangle - a striking mix of small, sparkling pavé emeralds and big, bold cabochons - shows that different-shaped coloured gemstones can be used in exactly the same way as diamonds to create interesting contrasts.
"It's a real luxury to own jewellery and gemstones. If you're in a position to do so, you're fortunate. Given that, I think it's important to pay attention to what you're wearing and where it came from," says Gemfields' newly crowned ambassador, the actress Mila Kunis, who recently visited the Gemfields emerald mine in Zambia.
This ethical backbone underpins Gemfields' attitude to gemstone production. Specialising in emeralds and amethysts from Zambia and rubies from Mozambique, Gemfields is committed to making every step of the gemstone extraction process transparent and protecting the surrounding local communities and natural landscape from which the gems are sourced. Gemfields owns shares in three different mines and can trace the origin of each stone it sells from mine, through to polishing to the final finished stone. This is a rare bonus in the world of coloured gemstones, where traceablity is an issue in the convoluted and rarely transparent supply chain. With a Gemfields emerald, ruby or amethyst, you can be sure that the stone was mined in a sustainable and ethically responsible manner and that its entire chain of custody complies with good business practices. 
The 36 international designers that Gemfields collaborated with on this unique project are Alexandra Mor, Amrapali, Anndra Neen, Bina Goenka, Coomi, Dickson Yewn, Dominic Jones, Duffy, Fabergé, Farah Khan, Fernando Jorge, Hannah Martin, Hoorsenbuhs, Jasmine Alexander, Jayce Wong, Jordan Askill, Kara Ross, Kimberly McDonald, Mappin & Webb, Monica Vinader, Nam Cho, Natasha Collis, Octium, Parulina, Penny Winter, Robinson Pelham, Shaun Leane, Solange Azagury-Partridge, Stephen Webster, Sutra, Svetla, Gem Palace, Theo Fennell, Wendy Yue, Wright & Teague and Zaiken.
Gemfields London launch with Mila Kunis and international jewellery designers, March 2013 London.

Amrapali necklace in 23ct and 18ct yellow gold with 240.15ct of Gemfields Mozambican rubies, 34.47ct of diamonds and 96.28ct pearls.

Mila Kunis at the Moscow Premiere wearing Gemfields Mozambican ruby studs and Gemfields Mozambican ruby ring by Katerina Maxine.

Bina Goenka evening bag, created in collaboration with Gemfields, set with Gemfields Zambian emeralds, Mozambican rubies and Zambian amethysts in yellow gold.

Gemfields' Dickson Yewn ring with a 4ct Mozambican ruby and 1.40ct of diamonds. Michelle Obama wore a similar ring set with jade that brought Dickson Yewn's name to a wider audience.

Gemfields' Dominic Jones earrings with 12ct of Zambian emeralds bring edgy design to the Gemfields collection of jewels by contemporary designers.

Gemfields' Farah Khan earrings with 20.58ct of Zambian emeralds and 9ct of rubies.

Gemfields' Fernando Jorge earring with 11ct of Zambian emeralds and diamonds.

Gemfields' Hannah Martin amulet made with baisse taille enamel and a 1.34ct emerald from Zambia.

Gemfields' Zambian 26ct emerald ring by New York jewellery designer Alexandra Mor.AlexandraMorSugarloafCabEmeraldring

Gemfields' Hoorsenbuhs ring with 7ct of emeralds from Zambia.

Jordan Askill's brooch with 11ct of Gemfields Zambian amethysts.