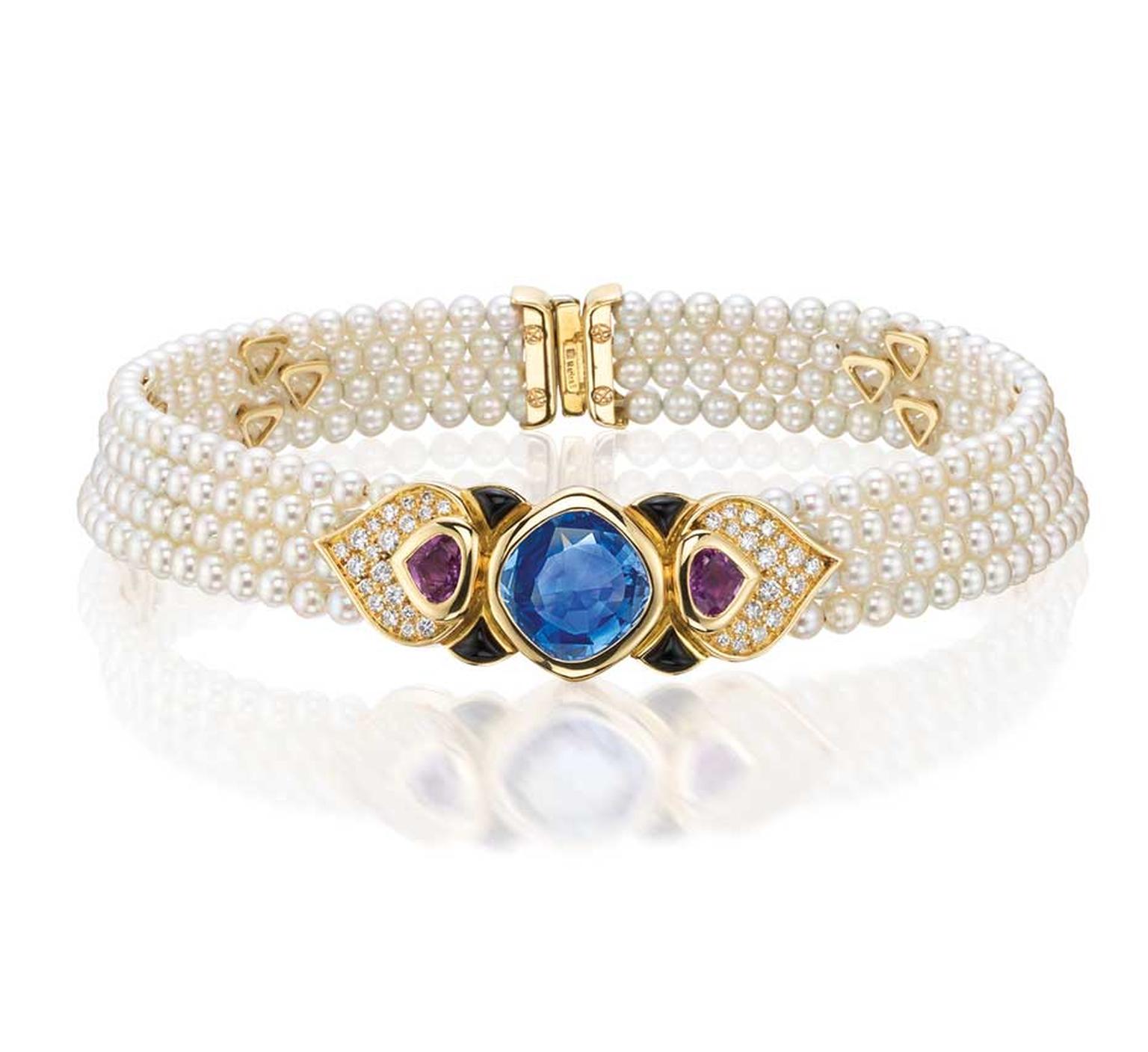 By Ase Anderson in London
This autumn buyers will have a chance to get their hands on the stunning necklace worn by Alicia Keys when she performed in front of an audience of millions at last year's Super Bowl. The diamond-set torque necklace is part of the Legendary Luxury Jewellery Collection designed by Marina Bulgari for her eponymous luxury label Marina B, which will go on sale at Bonhams Hong Kong this November.
Shaped as a sprung collar with the designer's signature wavy diamond pattern on the front, the Kar torque necklace has a pre-sale estimate of £8,600-15,600. Grammy award winner Keys actually wore the collar upside down during her Super Bowl performance so it wouldn't restrict her vocal chords
The granddaughter of Bulgari founder Sotirio Bulgari, Marina B is renowned for her individualistic approach to jewellery design. Having started her career at the family company, Marina set up her own business following the death of her father in the late 1970s. Her bold yet elegant designs epitomised the decadent and vibrant 1980s, and three years ago the brand was relaunched by US-based Windsor Jewelers.
Marina's distinctive jewels play with the architectural contrast between geometric lines and gentle curves, often incorporating white diamonds and coloured gemstones. Celebrity fans of the brand include screen legends Sophia Loren and Elizabeth Taylor as well as contemporary style icons such as Jennifer Lopez, Amy Adams, Mila Kunis, and Taylor Swift.
A similar torque necklace to the one worn by Sophia Loren at the 1993 Oscar ceremony will also go under the hammer at the auction on 26 November 2014. With a pre-sale estimate of £15,600-23,450, the tapered sprung necklace is another classic Marina B jewel, set with a cushion-shaped sapphire and two pink tourmalines in the designer's signature cut.
The most valuable jewels in the line-up are a sapphire and diamond Marina B necklace with matching earrings. Sold as a set, the Amelia suite's estimated £305,000-390,000 price tag reflects the fact that the necklace alone features more than 100 carats of natural Ceylon sapphires.
Another auction highlight is the ruby and diamond Georgina ring with a 10.54 carat Burmese ruby surrounded by marquise and Asscher-cut diamonds.
Prospective buyers and fans of Marina B's jewellery will have a chance to see the pieces prior to the auction as the Marina B Legendary Luxury Jewellery Collection is currently on a global tour of Europe, America and Asia.
Graeme Thompson, head of jewellery at Bonhams Asia, says: "We are delighted to be offering this wonderful, sumptuous and rare collection of Marina B jewellery. Her designs are iconic because of their architectural boldness combined with the use of vivid coloured gemstones contrasting with white diamonds. Undoubtedly Marina B was one of the pioneers of 1980s creativity and this is a rare opportunity to own one of the jewels she designed."
Mentioned in this article: