1 What is a chronograph?
Although you may never use it for anything more complex than timing a boiled egg, chronograph watches are one of the most popular complications to emerge from the Swiss watchmaking valleys.
A chronograph is essentially a watch with a built-in stopwatch. One glance at the Omega Bullhead Rio 2016 graphically illustrates this fusion as well as reminding us of its sporting heritage. As the stopwatch morphed from handheld device to wrist-worn timekeeper, the pushers migrated from the top of the case to the side, giving us the look of the modern-day chronograph we are all so familiar with, even if not all of us are entirely sure of its usefulness.
Show your superior knowledge by being able to identify a chronograph from a chronometer. A chronograph will always have extra pushers, normally at 2 and 4 o'clock. A chronometer merely refers to the precision of the watch tested by an external agency so, confusingly, a chronograph can also be a chronometer.
2 How do chronographs work?
Depress the top pusher above the crown and the long, slender pointed central sweep hand resting at 12 o'clock jumps into action to time seconds elapsed using the scale on the inner edge of the bezel. On normal watches this is the eternally active seconds hand. Minute and hour totaliser discs - usually located at 3 and 9 o'clock respectively - allow you to time events beyond a minute long. Click the top pusher again and the hand stops, allowing you to take note of the reading. Click the bottom pusher and all three chronograph hands (central sweep, minute and 30-minute totalisers) snap back to their resting positions.
3 Straight up or with further complications?
The reason men like chronographs is that, like Lego, they offer so many different combinations and variants on the plain old timekeeping function. The most straightforward chronograph has a modular movement, which means an additional module has been placed on top of the main timekeeping mechanism, creating a mechanical sandwich, which is why chronographs are on the chunky side. More sophisticated models, which also tend to be slimmer, such as the legendary Zenith El Primero – billed as the world's most precise automatic chronograph – have a stopwatch function integrated into the actual movement.
For those taking timing even more seriously, a flyback chronograph, such as the Panerai Luminor Submersible 1950, zips the seconds hand back to neutral in lightning time with its flyback pushers on the left-hand side of the case. Each refinement of this sort does, of course, add to the price. Before ergonomics came into play, early chronographs had the pushers in this position as it was deemed more comfortable to locate them where they wouldn't dig into the wrist.
To time events simultaneously, such as a two-horse race, a split-second chronograph is the one for you. In this type of chronograph there are, in fact, two seconds hands, invisibly stacked one on top of the other. Activate a third pusher, often on the other side of the case, and the top hand will stop, recording the time of horse number one, while the hand underneath will carry on tracking horse number two's progress. Closer to home, for a couple who have different boiled egg preferences, it's the difference between runny and firm.
Chronographs get seriously geeky when circular slide rules are printed onto the bezel or inside the outer rim of the dial. Bankers can use them to convert zloty to yen and car enthusiasts to time the average speed of a car – providing their eyesight is sharp enough to read the ant-footprint size numbers.
If horological extremes are your thing, how about the elegant gold single-pusher Vacheron Constantin Harmony chronograph? Not only does it niftily hide a single chronograph activating button into the winding crown, the red markings allow you to time your pulse.
4 Know your history
Many famous watch brands, including TAG Heuer and Omega, made their name last century as makers of precision stopwatches, vital to both sports and industry alike. They were made in large quantities and it is perhaps because of their accessible price point and functional and rugged nature that they are still so appealing to men.
Lois Moinet invented the very first chronograph in 1816. A later version developed by Nicolas Mathieu Rieussec in 1820 to time horse races included a minute and seconds discs onto which a drop of ink marked the exact time elapsed – hence the name chronograph.
But there is more to it than simple mechanics, and there is clearly something about a chronograph that reaches deep into our subconscious. Perhaps it reminds us of the days when men were real men and their watch was their greatest ally. Breitling aviators relied on the circular slide rules embedded in their chronographs to calculate to the last drop the amount of fuel left in their fighter jet's engine. The devil-may-care panache of Steve McQueen is embodied in the blue dial of the square TAG Heuer Monaco, and Paul Newman is forever associated with the Rolex Daytona.
5 Today's icons
Legendary names associated with this most macho of luxury watches include the iconic Rolex Daytona, TAG Heuer Carrera, Zenith El Primero, Audemars Piguet Royal Oak or Breitling Chrono-matic, which, not by chance, also happen to be some of the most enduring watch models of the past decades. Their designs still evoke the original precision instruments that inspired them.
Modern variants that take the aesthetics of the chronograph to new heights include the Bulgari Octo Velocissimo in titanium with a sleek black DLC coating and Parmigiani's Tonda Metrographe in stainless steel, which marries performance with a crème de menthe dial, all packed into a handsome barrel-shaped case. Ralph Lauren's Automotive chronograph mimics the dashboard of a vintage Bugatti car, right down to the burl wood detail, while Louis Vuitton's Tambour Regatta Navy takes timing to water and includes a 10-minute countdown function complete with an acoustic signal.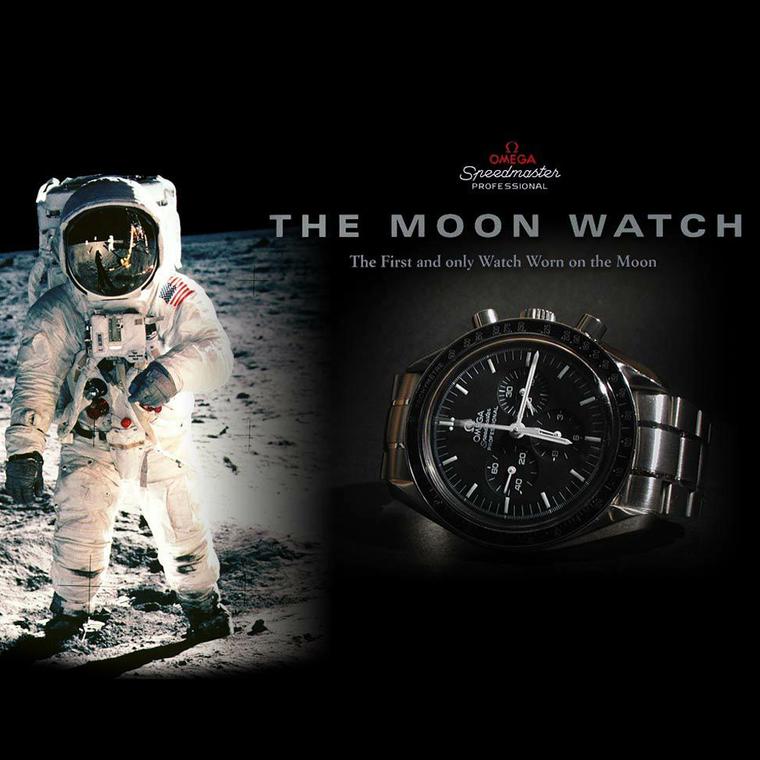 Perhaps a chronograph's finest moment was thanks to the Omega Speedmaster when, in 1970, having suffered a disastrous systems failure, the Apollo 11 astronauts used a Speedmaster to carry out vital calculations to get back to earth safely. Which is why, even today, NASA equips its astronauts with mechanical Omega Speedmaster chronographs because, should all the high-tech equipment fail, a sturdy mechanical watch is the one instrument that will not let them down.
But then again, maybe the reason men love chronographs is much simpler: they love pushing buttons.
Omega's Speedmaster watch landed on the Moon on the wrist of astronaut Buzz Aldrin in July 1969.