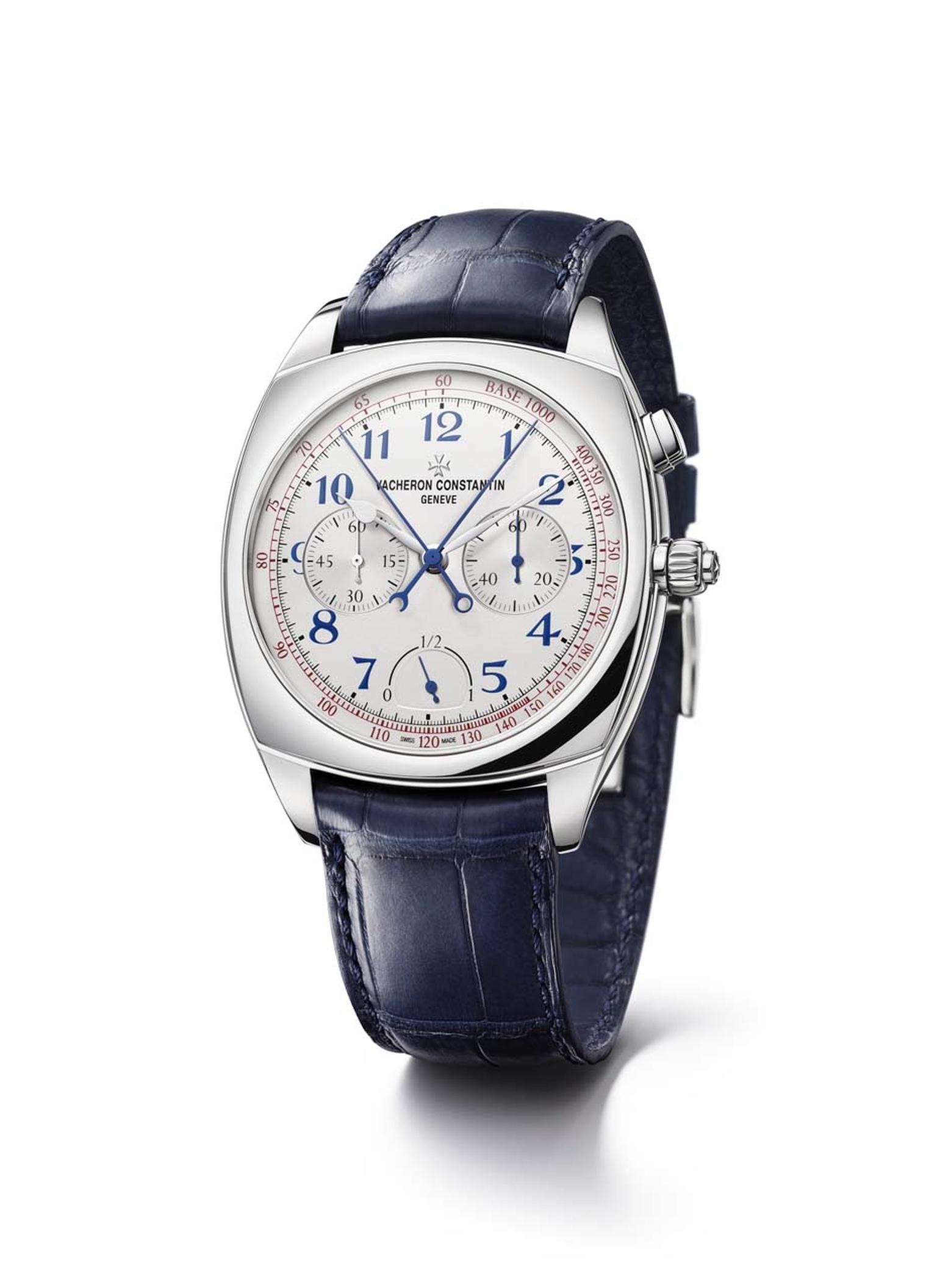 By Rebecca Doulton
Vacheron Constantin can proudly assert its stature as the oldest watch manufacturer in the world, manufacturing non-stop since it was founded in Geneva in 1755. And with 260 years of watchmaking activity under its belt, Vacheron Constantin watches wanted to celebrate this milestone with the unveiling of a new collection called Harmony.
The leitmotif, if you like, of the entire collection is the reinvented cushion-shaped case with an emphasis on the new calibres, developed especially for the monopusher chronograph models. Inspired by one of Vacheron's first pulsometer chronographs of 1928 with a cushion-shaped case, the profile of the new 2015 Harmony case is a triumph of design.
Somehow, the watch, which has a square bezel, a round watch glass and a curved case middle, appears to change shape and volume, depending on which angle you look at it. In one position, it looks more round than square, in another, the square geometry prevails and, in yet another, it appears perfectly plump and cushion-shaped. The design team, under artistic director Christian Selmoni, spent years perfecting this "shape within a shape" and Harmony proves a very fitting name.
Read about Vacheron Constantin on our list of best men's watches
The first references in the Harmony collection are all limited editions, and three of the seven models showcase one of the manufacturer's most celebrated complications: the monopusher chronograph. Instead of having two pushers to start, stop and measure elapsed time, a monopusher chronograph has one - it is considerably harder to make and infinitely more elegant than two protruding knobbles on the side of a case.
The Harmony Ultra-Thin Grande Complication Chronograph is the pièce de résistance and makes its mark in the ultra-thin category by setting a new world record for the slimmest self-winding - or automatic - movement, measuring just 5.30mm and housed in an 8.40mm cushion-shaped platinum case. (The Piaget Altiplano Chronograph, which also vindicates its status as the world's thinnest chronograph, is a 4.65mm hand-wound movement, not an automatic movement like the one inside Vacheron's new watch.) 
Read about the revival of the Vacheron Constantin pulsometer watches
The Harmony Tourbillon Chronograph model unites the elegance of the monopusher chronograph with the delightful display of a tourbillon shaped like the Maltese Cross - Vacheron Constantin's emblem - whirring at 12 o'clock.
The Harmony Chronograph pays tribute to its 1928 forebear with a monopusher chronograph and a pulsometric scale, a feature of many historical medical watches. Women have not been overlooked and a smaller-sized double pusher chronograph forms part of the Harmony collection in soft rose gold with diamonds on the bezel.
Travel has become an integral part of our lifestyle and a dual-time function is one of the most useful allies on board. As part of the Harmony collection, two dual-time models for men and one for women join the inaugural party.
All three monopusher chronographs beat to the pulse of new, high-tech, in-house calibres, and all seven inaugural models have been lovingly hand-engraved with "fleurisanne engraving" or arabesque motifs on the balance cock, the chronograph bridge and the oscillating weight. And naturally, all the watches bear the prestigious Hallmark of Geneva. Happy Birthday Vacheron Constantin watches.
Read about Vacheron Constantin on our list of top 10 women's watches
Vacheron Constantin Harmony Chronograph is a double-pusher chronograph housed in a 37mm rose gold case with a diamond-set bezel.

Celebrating 260 years of non-stop watchmaking activity, Vacheron Constantin has created the Harmony collection, which references a historic chronograph from 1928 and includes the same blue-painted numbers on the dial.

Vacheron Constantin Harmony Dual Time watch for men comes in either a white gold or rose gold 40mm case. Equipped with an automatic movement, the gold rotor is decorated with an arabesque motif. Both versions are limited editions of 625 pieces.

Travel has become an integral part of our lifestyle and a dual-time function is one of the most useful allies on board. As part of the Harmony collection, two dual-time models for men and one for women complete the inaugural party.

The Vacheron Constantin Harmony Tourbillon Chronograph combines two complications in one and runs on the newly developed hand-wound calibre 3200. This monopusher chronograph features a tourbillon shaped like the Maltese Cross at 12 o'clock.

Endowed with a generous 65-hour power reserve, this mechanical hand-winding complication movement is composed of 292 parts, all hand-decorated in keeping with the rules of the watchmaking art.

Harmony Chronograph calibre 3300 is a contemporary incarnation of the original 1928 Vacheron Constantin chronograph. It displays the hours, minutes and small seconds at 9 o'clock, along with a monopusher chronograph function, pulsometric scale and power reserve indication. In tribute to the 1928 model and to historical medical watches, it bears a pulsometric graduation painted in deep red around the rim of the dial and intended to calculate the pulse on a 30-beat scale.

The Vacheron Constantin Harmony Chronograph comes in a 42mm rose gold cushion-shaped case and is limited to 260 pieces.

Like all Vacheron Constantin's 260th anniversary Harmony watches, great care has been taken over the decoration of the movement. The balance cock has been hand-engraved with an original design taken from one of Jean-Marc Constantin's first pocket watches of the 18th century.

Vacheron Constantin's new Harmony Ultra-Thin Grande Complication Chronograph shows off the lean profile of its case, which measures a record-breaking 8.4mm. The 42 x 52mm platinum case contains the newly developed calibre 3500 and its 459 parts can be admired through the transparent sapphire caseback.

The ultra-thin chronograph features a gold peripheral rotor hand-engraved with a 260th anniversary pattern.