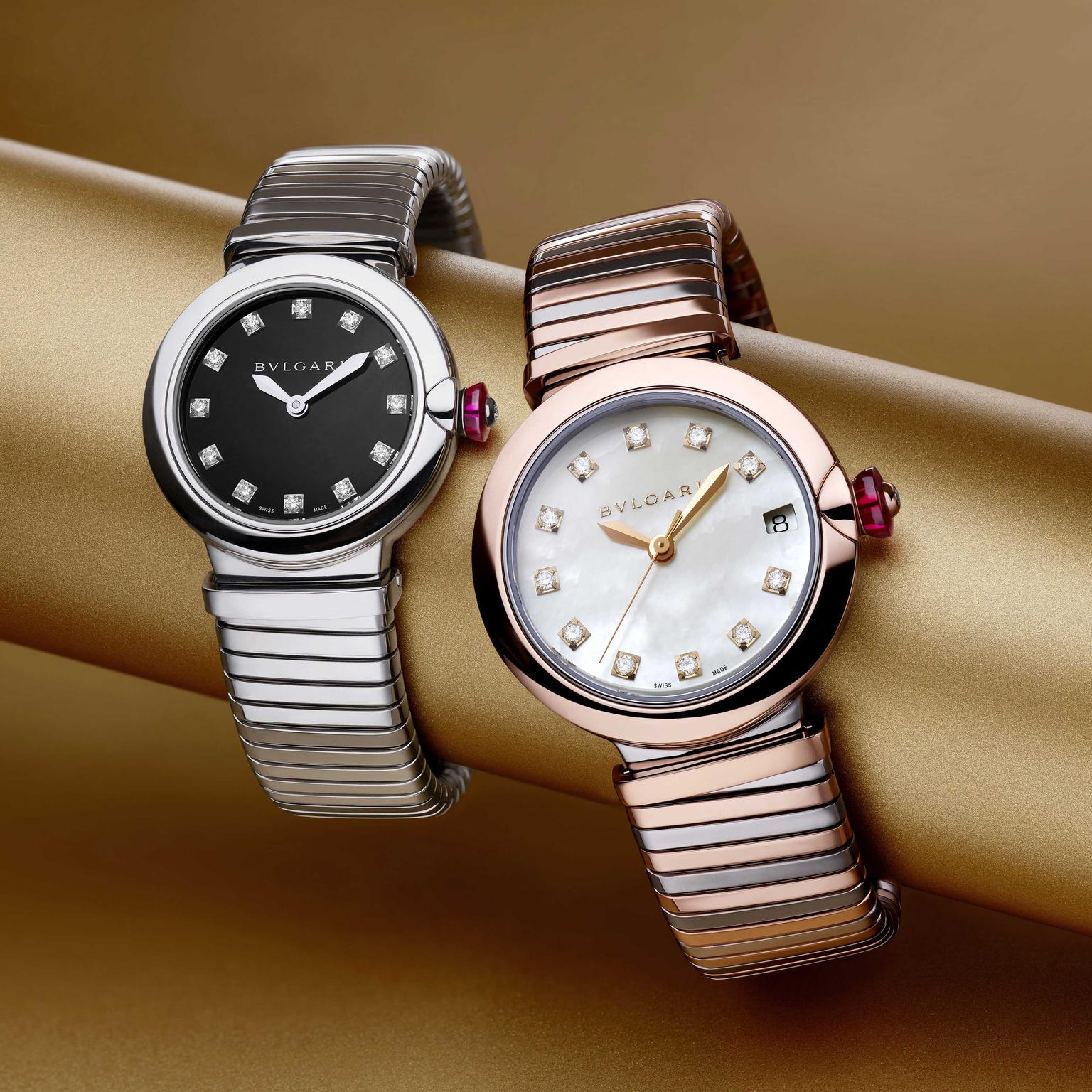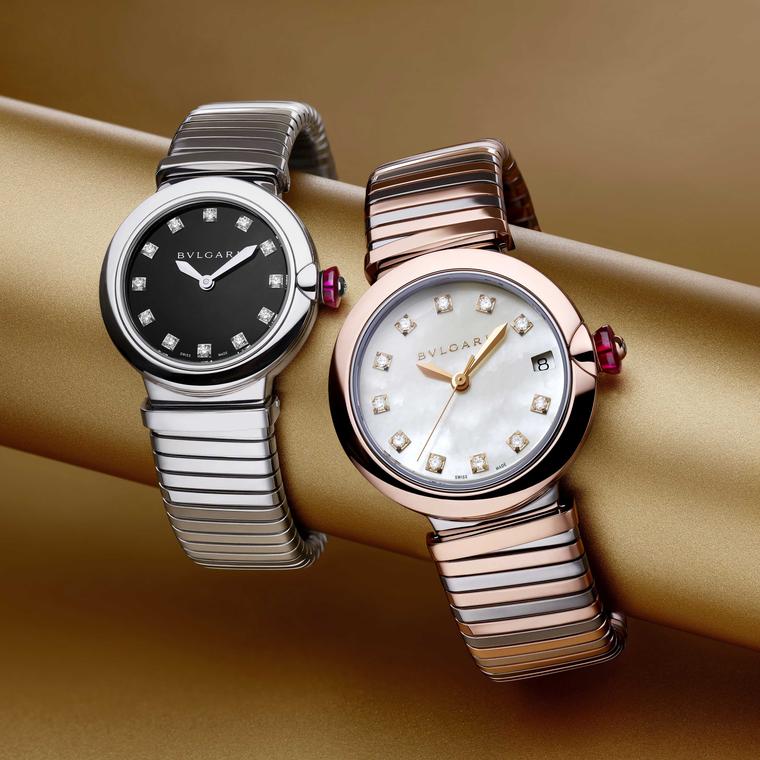 The Lvcea watch, from the Latin 'lux' for light, was first launched by Italian jeweller Bulgari in 2014 and has swiftly become one of the house's most successful women's watches. Today, the Lvcea is presented on a Tubogas bracelet uniting two Bulgari design signatures in one sharp design.
A very Italian approach to watches sets Bulgari apart. The Lvcea is as much about time keeping as wearing a beautiful object because it was conceived to be as desirable as any of the house's famous jewels thanks to sculptural volumes, skillful crafting of precious metals and an opulent use of rich colours.
Inspired by the timeless beauty of Ancient Rome with its unflinching symmetry and purity of lines, the Lvcea is both classic yet contemporary. This rigorous design approach is tempered with a richness of detail and sensitive use of colours and diamond accents that have made the Lvcea such a success.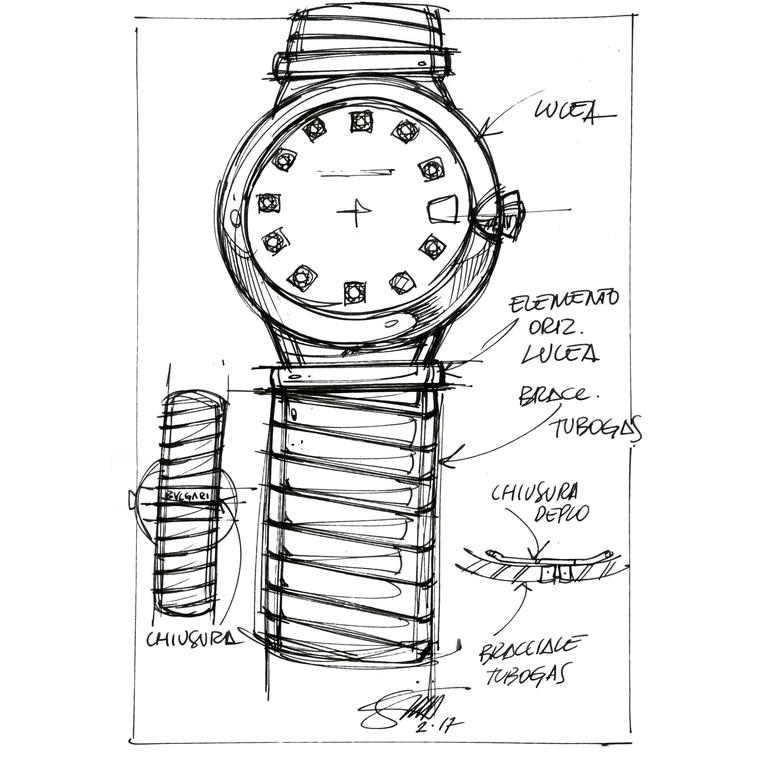 And now with the arrival of the Lvcea Tubogas, Bulgari melds its Roman design heritage with the Tubogas bracelet.  But what exactly is the Tubogas? Named for the humble gas pipe, the springy, coiling Tubogas bracelet was first seen in jewellery in the 1870's where the serpent form, a staple of jewellery since Ancient Egypt, found a new look. Mimicking a stylised and very minimalist serpent, the mystifyingly clever construction of the Tubogas allows rows of smooth, springy, snake-like coils to wind up the arm.
In the early 20th century, it was treated to the Art-Deco vogue for paring down and miniaturizing large-scale and often industrial designs to their essential form. The coil was further refined and in the 1940's Bulgari added a watch dial and thus the first Tubogas Serpenti watch was born (above). A subsequent wave of design innovation in the 1970's saw Bulgari incorporating the Tubogas into funky new jewels. Ever original, Bulgari juxtaposed the utilitarian coil with ancient coins and richly-coloured precious gems and gold (below) for a new look of Greco-Roman industrial chic.
Anyone who has ever tried on a Tubogas is struck by the flexibility of what looks like a solid coil. So how exactly is the Tubogas made? Slinky and sensous, the coil is formed by two long bands of gold or steel with contoured edges. The two bands are wrapped around a solid core to interlock and conceal the inner structure that is later removed. There neither soldering nor hidden articulations, just the natural flexibility of the metal, achieved by the specialist goldsmiths who carry out this task by hand to create just the right tension.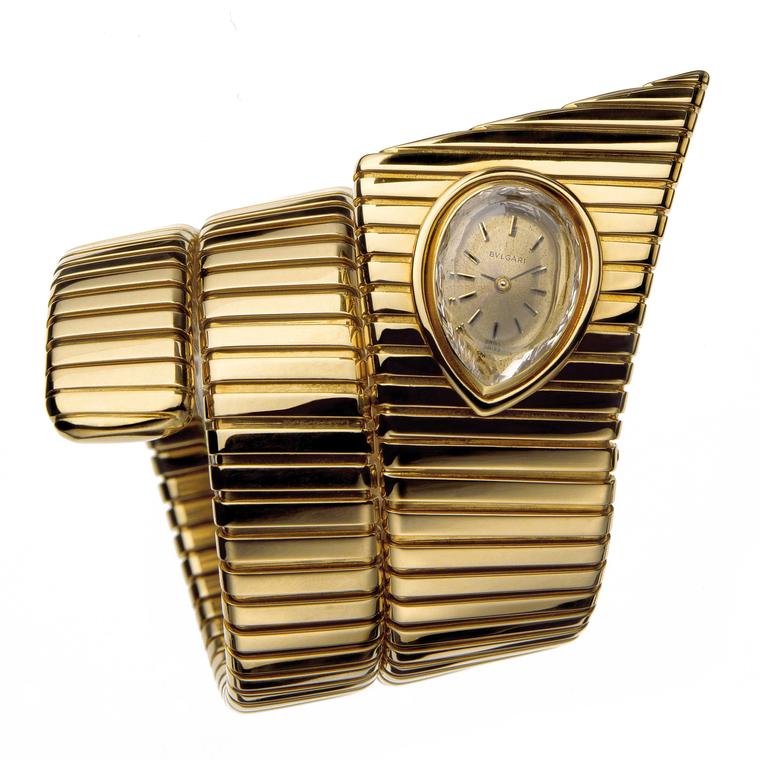 The mechanics are well-taken care of thanks to Bulgari's own Swiss manufacturing facility where each watch is made. The Lvcea Tubogas comes in two sizes: 28mm and 33mm with a stainless steel Tubogas bracelet and black lacquer dial or a stainless steel and rose gold Tubogas bracelet with a white mother-of-pearl dial. The most opulent is a 33mm rose gold model, with diamonds around the bezel and on the bracelet.
The iconic Tubogas bracelet in alternating bands of rose gold and stainless steel adds a new look to the Lvcea watch with a shimmering mother of pearl dial and diamond hour markers in 33mm size and powered by an automatic-winding caliber. Price: €10,600

A sketch of the Bulgari Lvcea Tubogas from the Roman's jeweller's design studio showing how the iconic Tubogas bracelet is incorporated into the Lvcea case.

The 33mm Bulgari Lvcea Tubogas in 33mm with a rose gold and stainless steel bracelet is powered by an in-house made mechanical automatic-winding caliber and has a date window at 3 o'clock and a cabochon-cut gem set under the crown. Price: €10,600

Industrial high jewellery chic by Bulgari as modelled by Zhong Chang wearing a Tubogas yellow gold choker from the 1980's set with an ancient coin, a yellow gold choker with sapphires, cultured pearls, rubies and diamonds from 1987 and a necklace in gold with diamonds made in 1993.

This Bulgari Tubogas watch in yellow gold was in production in 1972 and shows how the coiled gold bracelet has evolved and adapted to the styles and tastes of different decades. 

This Bulgari Tubogas bracelet watch in yellow gold was made circa 1955 an early example of Bulgari adding watch dials to this distinctive gold bracelet. Note that the watch itself is by Jaeger-LeCoultre, who at the time provided movements for other brands. 

Bulgari's new Lvcea Tubogas comes in two sizes with either a black lacquer dial on a stainless steel bracelet or mother of pearl dial on a rose gold and stainless steel bracelet.  Price: €5,350 for steel and €10,600 for gold and steel. 
The larger size is powered by an in-house mechanical automatic-winding caliber and has a date window. The smaller sizes are quartz  and all have diamond hour markers and a pink cabochon-cut gemstone set into the crown.