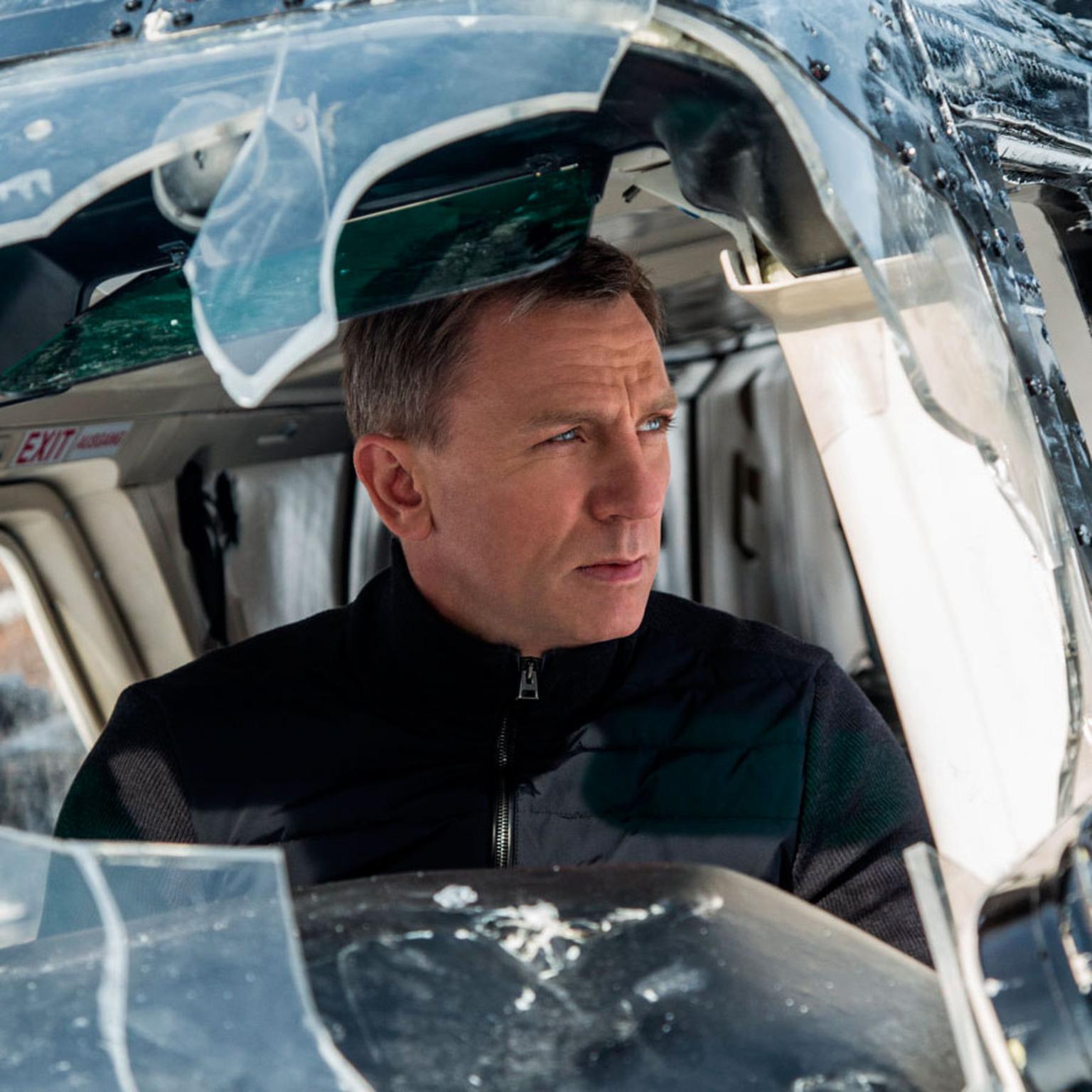 Never say Never Again
It looks like Daniel Craig has not given up his license to kill after all and will be returning for the 25th Bond movie. After four films as 007 and his comment that "I'd rather slash my wrists" than play James Bond again, things didn't look promising for Craig's return. But after much speculation, the latest news is that producer Barbara Broccoli has convinced Dr No to play Bond for the fifth time and is courting Adele to sing the film's theme tune.
Omega Commander's Watch: saluting Bond's​ naval past
Is serendipity at work again or was last week's presentation of the Omega Commander's Watch a stroke of marketing genius in anticipation of the latest news touting Craig's return?
Like his creator Ian Fleming, who served as a Naval Intelligence Officer during WWII, James Bond was a Commander in the Royal Navy - before becoming an MI6 agent - and wears his official uniform in a trio of films, played by three different Bond actors. The first Bond in naval regalia was Sean Connery in You Only Live Twice (1967), followed by Roger Moore in The Spy Who Loved Me (1977) and Pierce Brosnan in Tomorrow Never Dies (1997).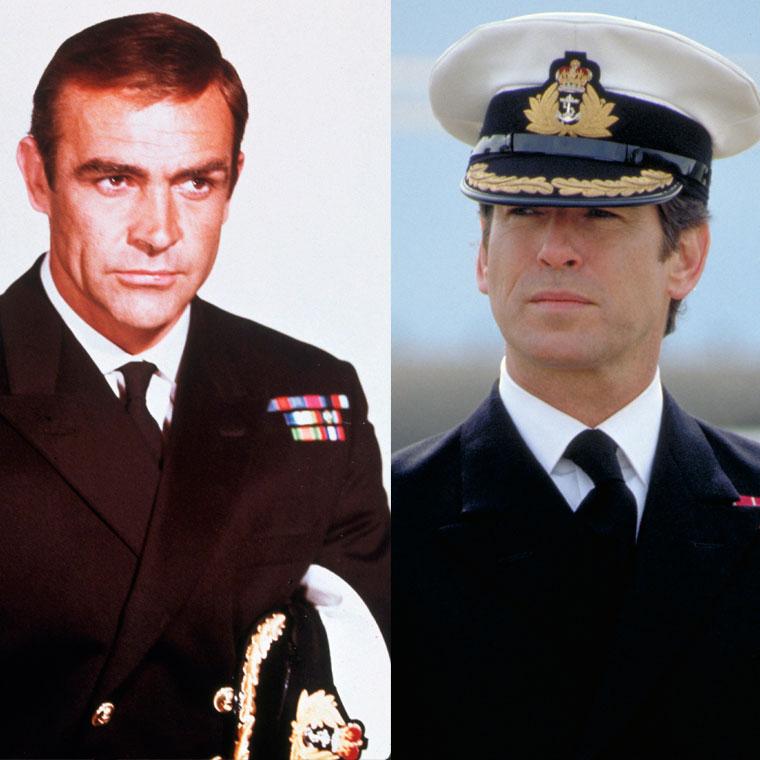 Celebrating the ensign colours of the Royal Navy, Omega launched its Commander's Watch in July 2017, a 41mm model of the Seamaster family decked out in red, navy and white colours. The original Seamaster of 1957 was an instrument watch and, thanks to its rugged and resilient qualities, issued to military divers around the world. This new model features a red rubber and blue ceramic bezel to time Bond's underwater dives.  A 007 gun logo counterweight on the central seconds hand and a red number 7 in the date window will appeal to Bond fanatics, as will the stripes of the Commander's naval insignia on the rotor of the automatic movement.
NATO straps are very popular at the moment and this blue, red and grey NATO strap harks back to Bond's military training. Contrary to popular belief, the NATO strap has nothing to do with the North Atlantic Treaty Organization. It is, quite simply, a cheap, resilient, expandable, waterproof nylon strap with a basic buckle that was the standard watch strap issued by the British Ministry of Defence in the early 1970s to British soldiers.
A key moment for watches in Casino Royale when Vesper Lynd tries to identify the brand of watch James Bond is wearing. Vesper Lynd: Rolex? James Bond: Omega. Vesper Lynd: Beautiful.

A cool and collected Daniel Craig in Skyfall sporting an Omega Seamaster watch.

Sean Connery as 007 checking the time on his Rolex Submariner watch with a striped nylon strap during Goldfinger, the third Bond film.

The Rolex Submariner watch, released in 1953, worn by Sean Connery in the Bond film Dr No.

The Seiko Liquid Crystal TV Watch featured in Octopussy in 1983 allowed Bond to admire more than just the time.

Pierce Brosnan was the first Bond to strap on an Omega Seamaster Professional 300m quartz watch complete with a laser beam and remote control for detonating devices in GoldenEye.
James Bond and Omega
Omega secured a franchise to time the spy's missions in 1995 and to make sure audiences were aware of the change, a dialogue between Vesper Lynd and James Bond - as she tries to guess the watch brand he is wearing in Casino Royale - leaves no doubt as to where 007's loyalties lie.
Vesper Lynd: Rolex? 
James Bond: Omega. 
Vesper Lynd: Beautiful.
A magnetic alliance: Bond and Omega Seamaster 300M
Omega upped the ante for the 2015 film Spectre and produced two watches for the much-loved spy, both of them from the Seamaster family. As an ex-Royal Navy man, a watch that is associated with diving made tactical sense. Omega's Seamaster collection has been going strong since 1957 and, like the Rolex Submariner, was designed specifically for divers and professionals who worked underwater.
Rugged, water-resistant and legible, the Omega Seamaster watch has been beefed up over the years and can now tackle depths of 300 metres. Perhaps even more useful for a spy in our magnetically contaminated world, the watch is resistant to magnetic fields greater than 15,000 gauss (equivalent to the radiation emitted by an MRI machine).
Rolex: the original James Bond watch
Although most of us will remember Ursula Andress emerging from the Caribbean in a white bikini, watch buffs will have spotted the Rolex Submariner - reference 6538 - on Sean Connery's wrist in Dr No in 1962. Rolex was the original 007 watch and it was a perfect match - the world's first dive watch, a resilient yet elegant piece to accompany the rugged yet elegant secret agent on his adventures. Connery wore the Submariner throughout his seven screen appearances, and it became so associated with Bond that collectors today still refer to this model as the James Bond Submariner watch.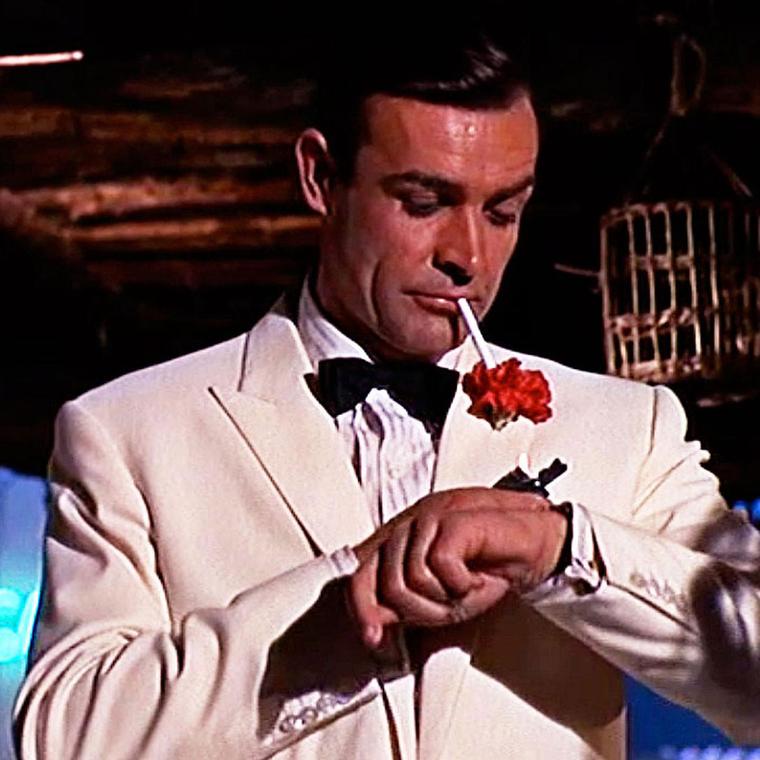 Author Ian Fleming was meticulous about the kind of timekeeper his secret agent should wear: "He could not just wear a watch. It had to be a Rolex," he said in his book Casino Royale, convinced that "a gentleman's choice of timepiece says as much about him as does his Savile Row suit". Rolex watches appeared in nine of the James Bond sagas, forming a vital part of his identity and style manual.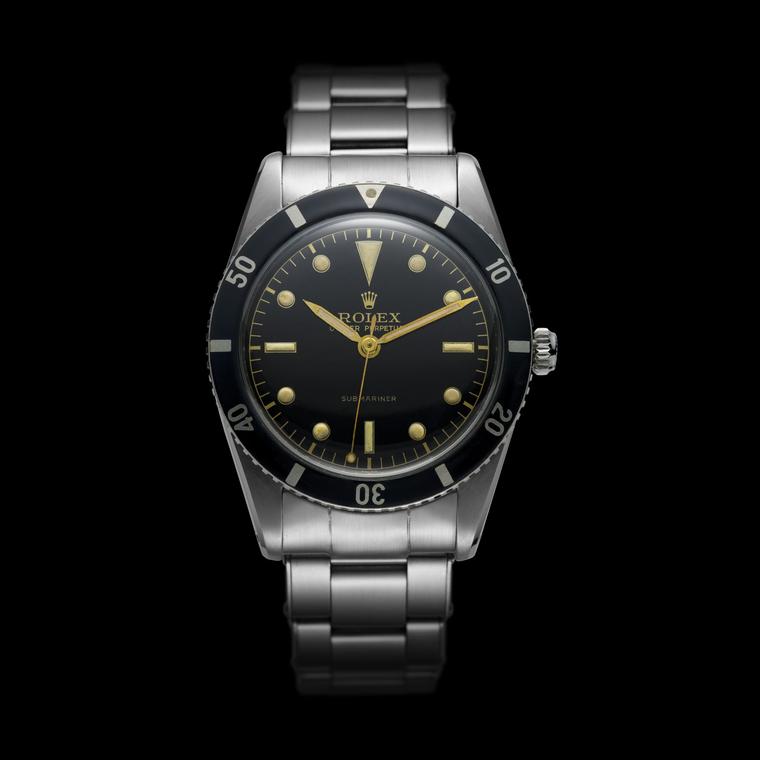 Fleming was a Rolex man to the core, turning up on the set of the first three Bond films in impeccable style wearing a bow-tie and his ever-present Rolex Oyster Perpetual Explorer.
The era of the techie gadgety timepiece
In tune with the quartz era that marked Roger Moore's reign as Bond, a couple of techie, digital Seikos and a glowing red Pulsar digital watch made their way on to the spy's wrist, including the Seiko Liquid Crystal TV Watch featured in Octopussy in 1983, which allowed Bond to admire more than the time.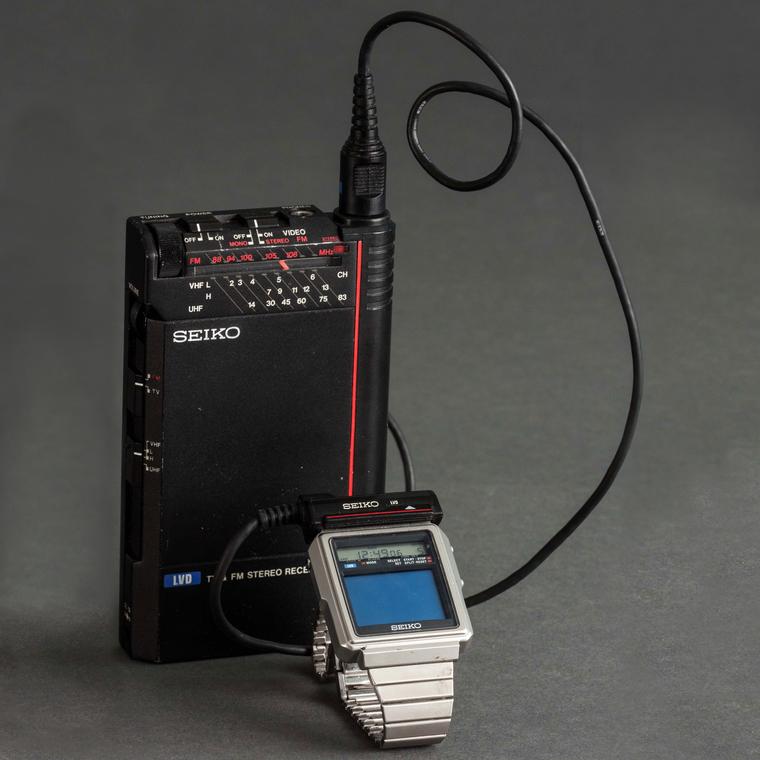 What might seems strange to us today is the fact that Rolex never capitalised on the James Bond association, didn't offered the producers a watch and even refused to pay for product placement. Some watch buffs speculate that James Bond's Rolex actually belonged to Albert Broccoli, who lent it to the actors for the duration of the filming.
Bond straps on an Omega for the first time
In 1995, Omega won a bid to become the MI6 agent's official watch. While Rolex purists pulled out their hair and clamoured for literary justice, Omega detailed its long history with the British military and, in particular, the Royal Navy Divers in the 1960s. Pierce Brosnan was the first Bond to strap on an Omega Seamaster Professional 300m, complete with a laser beam and remote control for detonating devices, in GoldenEye.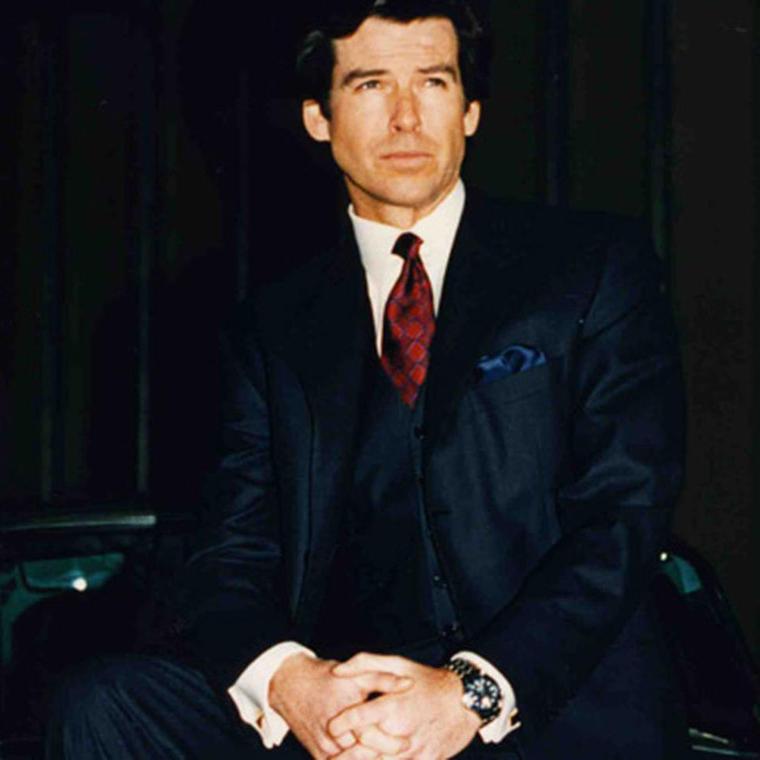 When Daniel Craig stepped into Bond's shoes in 2006, he wanted to change the dependency of his character on gimmicky tools and show the true mettle of the new, hyper-fit Bond. In Casino Royale, Craig wears two Omega models: a blue Omega Seamaster 300m chronometer and a sleek, black Seamaster Planet Ocean 600m Co-Axial chronometer on a rubber strap that helps extricate him from deep underwater trouble.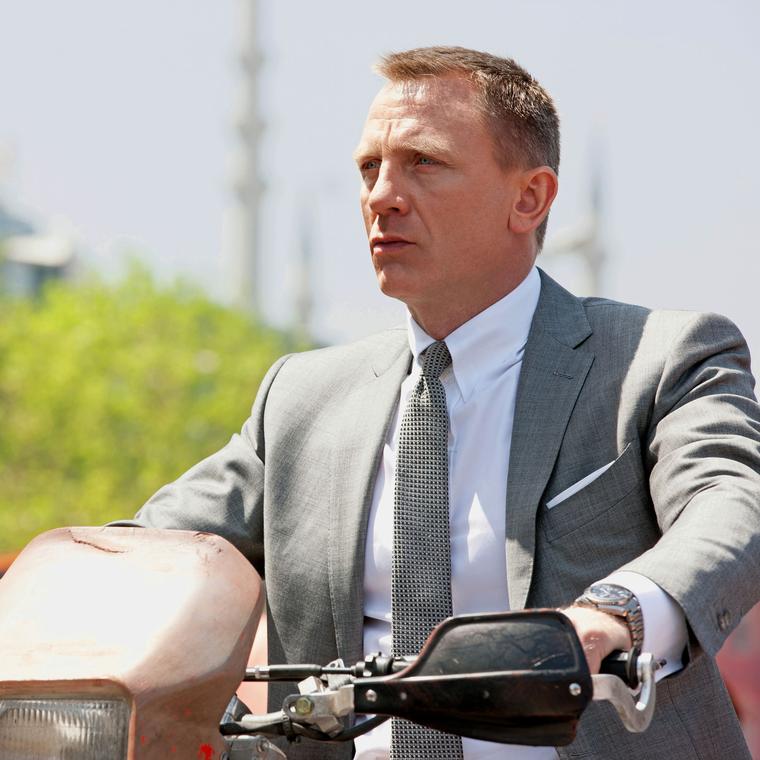 Fast cars, women, Dom Pérignon, vodka martinis and timepieces are all staple accessories of the world's favourite spy, but has Bond stopped switching watch brands as fast as he did his women? Is the new Bond slightly less promiscuous and ready to engage in a long-standing relationship with his girl and his watch? And what would Fleming have to say about this?
Read about the history of Rolex watches here.