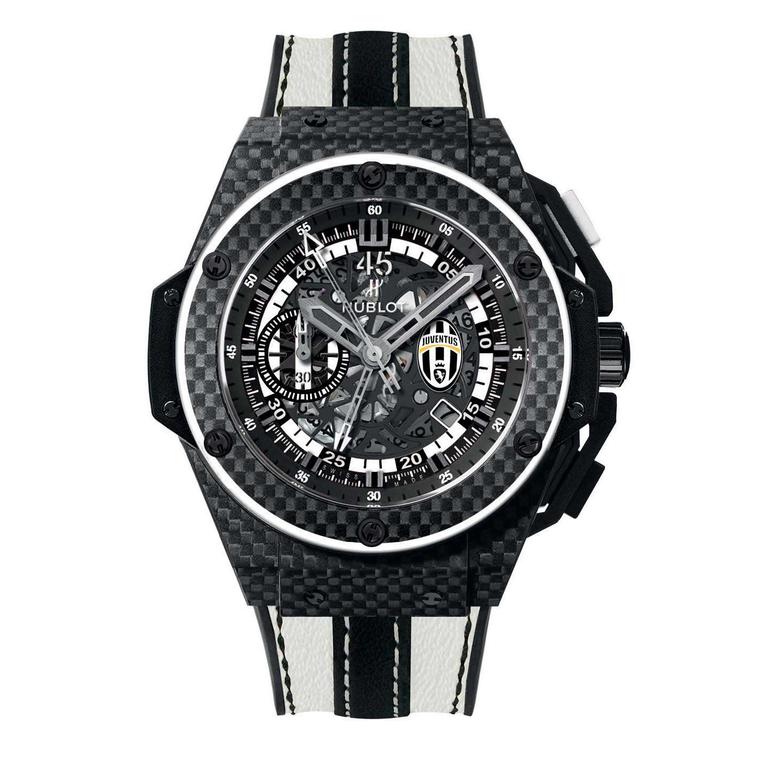 By Rebecca Doulton
With Father's Day just around the corner, football watches may just be their idea of the perfect gift. And with the final of the UEFA Champion's League, pitching Italy's Juventus against Spain's Barcelona, marking the end of the 2015 season, a football watch may just placate the withdrawal symptoms. Let's take a look at some of the most outstanding football watch alliances.
It is estimated that around one billion people watched the FIFA World Cup 2014 final between Argentina and Germany, and guess who was plugging its brand on the sidelines? As the Official Timekeeper, Hublot watches - the Swiss brand with lots of bang that loves a crowd - became a household name across the globe. This was not Hublot's first time at the rodeo as, since 2006, the brand has fostered partnerships with some of the world's leading players and clubs. Hublot has made official club watches for Bayern Munich, Paris Saint-Germain, Manchester United and Juventus, and are sported by legendary football players such as Pelé, and trainers such as José Mourinho  - aka The Special One - and Roy Hodgson of the England football team.
The King Power automatic chronograph Hublot watch - calibre HUB4245 - in a commanding 48mm case is the centre-forward player and has been customised for each football club. With its central 45-minute counter, it is specifically designed to time the two halves of a match. Presented in a range of high-tech materials, from titanium to carbon fibre, these men's watches also feature ceramic cases with hallmark black rubber details, which have marked the brand since its inception. Eager to cover all fields, Hublot even managed to strike a deal with the Dallas Cowboys football team - the first luxury brand to ride the wave of the lucrative world of American football. To celebrate the alliance, Hublot released three custom-designed limited-edition timepieces, including Classic Fusion ladies' watches, with the Lone Star of Texas set in diamonds.
Once Jean-Claude Biver got his Hublot team secured in first division, he was asked to work some of his marketing magic with TAG Heuer watches, recruiting fresh, attractive talent to promote the brand. Cristiano Ronaldo, the Portuguese superstar, joined the TAG Heuer team in 2014 and has inspired this sporty green and black 42mm Formula 1 CR7 chronograph. The green details on the TAG Heuer watch dial and the NATO strap, like the green grass of a football pitch, look good against the matte black titanium carbide bezel displaying the tachymetre. The chronograph, which is accurate to a tenth of a second, displays the precision elapsed seconds in a small counter at 6 o'clock, while the current seconds counter at 3 o'clock is decorated with the CR7 logo.
Gunners fans will no doubt have spotted the trio of JeanRichard watches dedicated to the legendary Arsenal football club. All three men's watches, with the iconic 44mm cushion-shaped cases that characterise the brand, have been decked out with the club's canon emblem and red kit colour.
Roberto Mancini, ex-Manchester City trainer and now head of Inter Milan, joined forces with Richard Mille watches to create the ideal partner to help him direct his team from the bench. Mancini wanted an instrument to time the exact number of minutes remaining during stoppage time - a period of time decided by the referee when important tactical decisions must be made. The RM11-01 flyback chronograph is, like all Richard Mille watches, a feat of high-tech engineering and materials and, in addition to calculating elapsed times, features a month and date window on the skeletonised dial.
Argentine Leo Messi, four-time Golden Ball Ballon d'Or winner and highest goal scorer in Barcelona's history, has been an ambassador for Audemars Piguet watches since 2010. Three 41mm Royal Oak Chronograph limited-edition football watches in steel, rose gold and platinum will delight both fans of the player and devotees of Audemars Piguet's iconic Royal Oak watch. Designed by Gérald Genta in 1972, this Audemars Piguet watch was the first luxury sports watch housed in an imposing stainless steel case, with an eight-sided bezel and exposed screws, which cost more than the gold model. But I don't suppose that would ever have been an issue for footballers of the stature of Leo Messi, who is esteemed by many to be the world's best football player.
Voted the world's best football player in 2012, and considered by many to be the greatest player in history, Leo Messi has been an Audemars Piguet watches ambassador since 2010. Honouring the living legend, Audemars Piguet launched the Royal Oak Chronograph Leo Messi Limited Edition in steel, pink gold and platinum.

JeanRichard watches Aeroscope Arsenal FC Limited Edition chronograph features a sandblasted and black DLC-coated titanium case and a red honeycomb-patterned dial with a rotating Arsenal "Gunners" canon.

Hublot watches Classic Fusion Dallas Cowboys chronograph comes in a 45mm titanium case and features the American team's star at 5 o'clock on the skeletonised dial, to celebrate its five Super Bowl wins.

Hublot watches King Power "Special One" was made for football coach José Mourinho. The 48mm dark blue carbon fibre case and other blue details reference the trainer's signature colour. Inside the imposing case is an automatic Unico Manufacture flyback chronograph with a 72-hour power reserve.

TAG Heuer watches Formula 1 CR7 Cristiano Ronaldo chronograph is presented in a 42mm black titanium carbide-coated steel case and bright green accents, which evoke the colour of a football pitch. The chronograph, time and date functions are powered by a quartz movement, which is water-resistant to 200 metres.

Richard Mille, founder of Richard Mille watches, and Italian trainer Roberto Mancini.

Royal Oak Leo Messi chronograph from Audemars Piguet watches in a 41mm steel case forms part of a trio of Leo Messi Limited Edition chronographs released in 2012. The steel version - a limited edition of 500 watches - features a tantalum bezel and a brushed anthracite dial.

Richard Mille's RM11-01 Roberto Mancini flyback chronograph was custom-built for the trainer with a special instrument to time the exact number of minutes remaining during stoppage time.

Superstar football player Cristiano Ronaldo is also a TAG Heuer watches ambassador. Shown here with the CEO of TAG Heuer Jean-Claude Biver. 

Hublot watches Classic Fusion Pelé chronograph comes in a 45mm black ceramic case and is equipped with an automatic skeletonised chronograph movement, with a figure of Pelé and his autograph on the movement's rotor. 

Hublot watches King Power Juventus chronograph flaunts the Italian team's black and white colours. The 48mm carbon fibre case contains an automatic skeletonised chronograph movement with a central 45-minute counter.