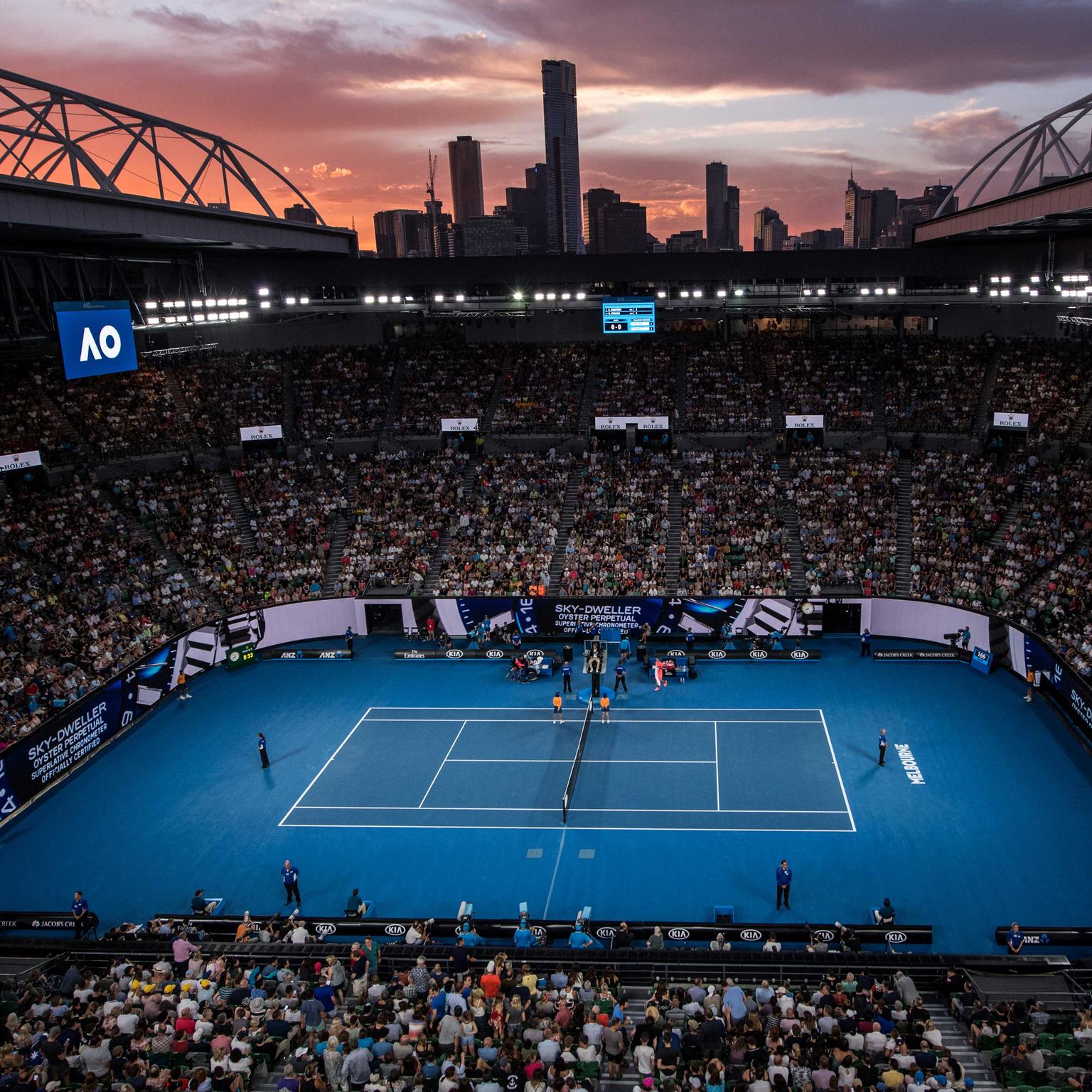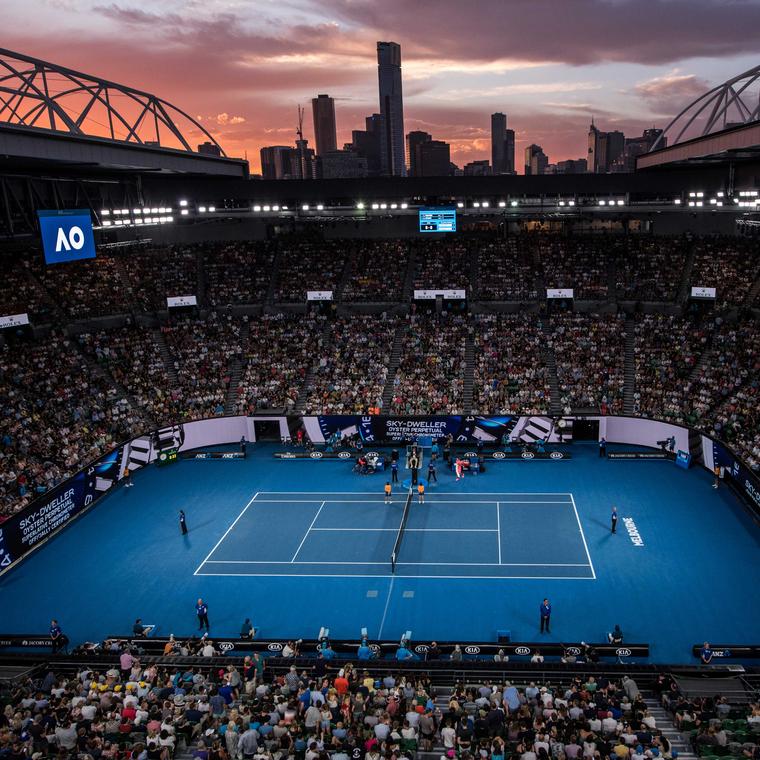 When Roger Federer hit the final winning shot at the 2018 Australian Open at the Rod Laver Arena, tennis history was rewritten. Not only was this Federer's 6th Australian Open win but his 20th Grand Slam victory, confirming him to be the most successful tennis player of all times.  And on his wrist, his trusty Rolex.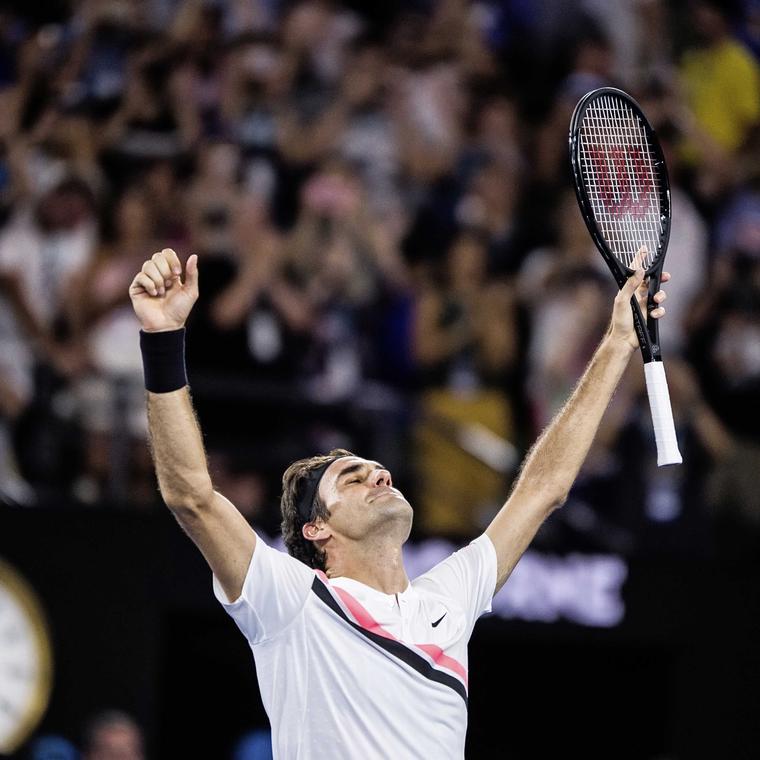 But the Rolex of choice of Roger Federer has changed over the years and being a a Rolex 'Testimonee' since 2001, he has accumulated a healthy selection to choose from. But it was a more modest white dial, steel Rolex Oyster Perpetual Datejust II on his wrist in 2009 when he first was able to raise the Wimbledon trophy as he broke Pete Sampras' Grand Slam world record. Since then, Swiss-born Federer has sailed past all tennis records. And as he kissed the Australian Open's Norman Brookes trophy in Melbourne, it was a black-dial Skydweller in white Rolesor gold and steel (price £10,600) that he had on his wrist. But always a Rolex.
Unlike Rafael Nadal, who wears his Richard Mille watch during the match, off-camera Federer's  Rolex is handed to him after the match.  Despite not playing with the watch on his wrist,  Federer explains his attachment to the brand: 'Then came 2009. I had just won the French Open for the first time that summer and I was going to Wimbledon trying to break Pete Sampras' all time Grand Slam® record. When I did win and broke the record, in an epic five set match against Roddick, I couldn't believe it. I couldn't break the whole match until the last game, and that gave me victory. When I was finally able to lift the trophy, I was wearing my Rolex on my wrist. When I look at the watch, I remember that day very vividly.'
The Australian Open 2018 was also a major milestone for Rolex tennis timekeeping. Rolex has been Official Timekeeper at The Championships, Wimbledon since 1978 and since then the famous Rolex crown and the clocks have become a stalwart presence at these two major tournaments. Rolex marked the fortuitous wins with a press release that says: 'Since his maiden Grand Slam tournament victory at Wimbledon in 2003, he (Federer) has exemplified sporting greatness. His status goes beyond the tennis court he has graced with distinction for two decades. Alongside fellow Rolex Testimonees from other sporting elds – golfer Arnold Palmer, skier Jean-Claude Killy and racing driver Sir Jackie Stewart – he stands with the best of the best.'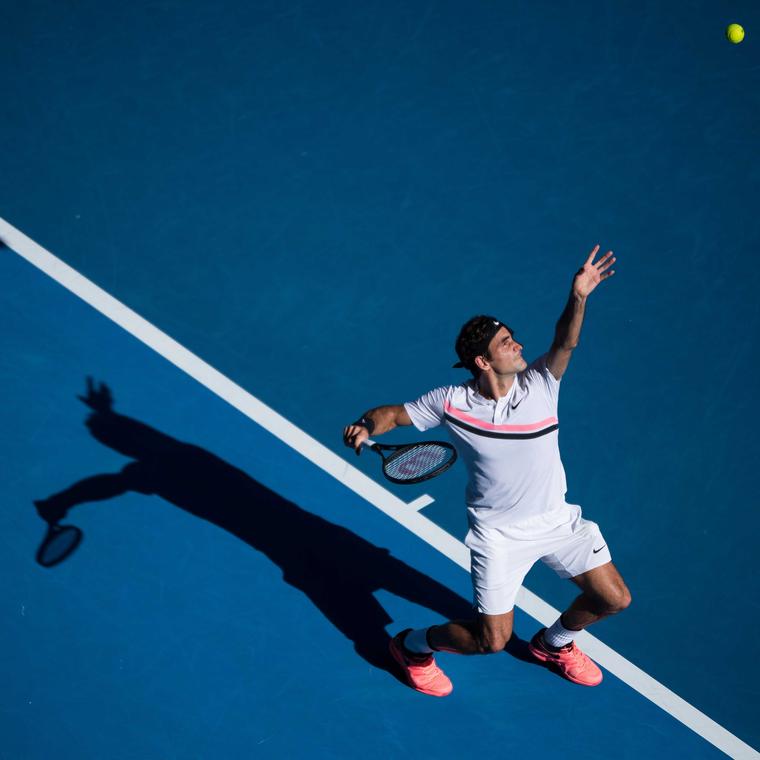 And there was more to celebrate that weekend as the day before, Caroline Wozniacki, another Rolex Testimonee claimed her first Grand Slam title as she triumphed over Simona Halep to be win the women's singles. As well as her first Grand Slam win, Wozniacki retrieved her No. 1 slot in the world rankings, that she first held in 2010 before slipping down in the rankings due to injuries. As she raised the Daphne Ankhurst Memorial trophy on her wrist was a dazzling Rolex platinum Daytona 116756TBR with pave diamond dial and baguette-cut diamond bezel (Price £113,950).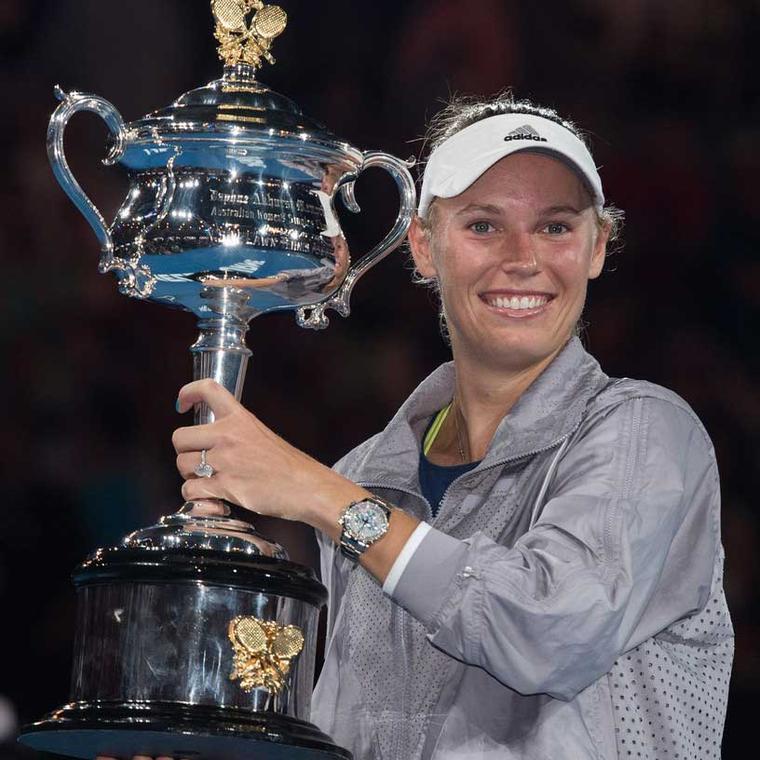 Rolex confirm this model (below) is currently available in the UK with a price of £113,950 though retailers here have closed waiting lists for a Federer look-alike SkyDweller priced at £10,600.
With her Rolex flashing in the stadium lights, an emotional Wozniacki raised the trophy saying saying: 'I'm just taking a second here to hug Daphne.' Jewellery lovers will have also noticed her Cartier Juste une Clou diamond-set gold bracelet as well as her 8.8-carat oval-cut diamond engagement ring (bottom) by Hamra Jewellers of the USA, recently given to her by her fiancé NBA star David Lee. She was also wearing a Tiffany diamond key pendant in white gold, confirming Woznaicki has a soft spot for jewels and particularly diamonds. 
Rolex Testimonee Caroline Wozniacki in the Australian Open womens finals during the tense final against Simona Halep. Wozniacki slipped on her platinum and diamond Rolex Daytona 116756TBR after the match. 

Close-up of Caroline Wozniacki at the Australian Open 2018 wearing a gold, diamond-set Cartier Juste une Clou bracelet and a diamond ring that appears not to be her 8.8-carat diamond ring given to her by her fiancé David Lee in November 2017 but a lighter, slimmer ring on the other hand. 

Tiffany Keys Enchant Heart pendant in platinum featuring a pink diamond butterfly set in rose gold perched upon a white diamond key similar to the one seen on Caroline Wozniacki during the Australian Open 2018.

From Caroline Wozniacki's Instagram page a picture of her 8.8-carat engagement ring from her fiancé David Lee, the NBA player who proposed while the athletes were on holiday. Caroline was not wearing the ring during the Australian Open matches but flashed it while collecting her trophy. 

Caroline Wozniacki flashes her Rolex platinum Daytona 116756TBR with pave diamond dial and her 8.8-carat engagement ring as she collects the Australian Open women's singles cup. 

Roger Federer makes history with his sixth Australian Open title and his 20th Grand Slam men's singles title, the most Grand Slams won by any tennis player. 

Roger Federer kisses the Australian Open 2018 Norman Brookes trophy on 29 January 2018 wearing his white Rolesor gold and steel, black dial Rolex Sky-Dweller after defeating Marin Cilic. 

Aiming sky-hihg, Roger Federer serves to Cilic at Australian Open 2018 in the match that made history. Though Federer does not play wearing his Rolex SkyDweller, he always puts on his watch immediately after the match. 

Aerial view of the Australian Open 2018 as Roger Federer and Marin Cilic play the men's Grand Slam final on centre court. Rolex has been Official Timekeeper at tennis tournaments since it first took up the role at The Championships, Wimbledon in 1978.
She wasn't wearing the engagement ring on court but she was wearing on her right hand another, flatter diamond ring that is probably more manageable while holding a tennis racket. Below is a picture Wozniacki on her Instagram account of her diamond engagement ring shortly after David Lee proposed to her in November 2017 while on holiday.  With jewels and watches of this calibre, tennis is becoming an ever more glamorous game.