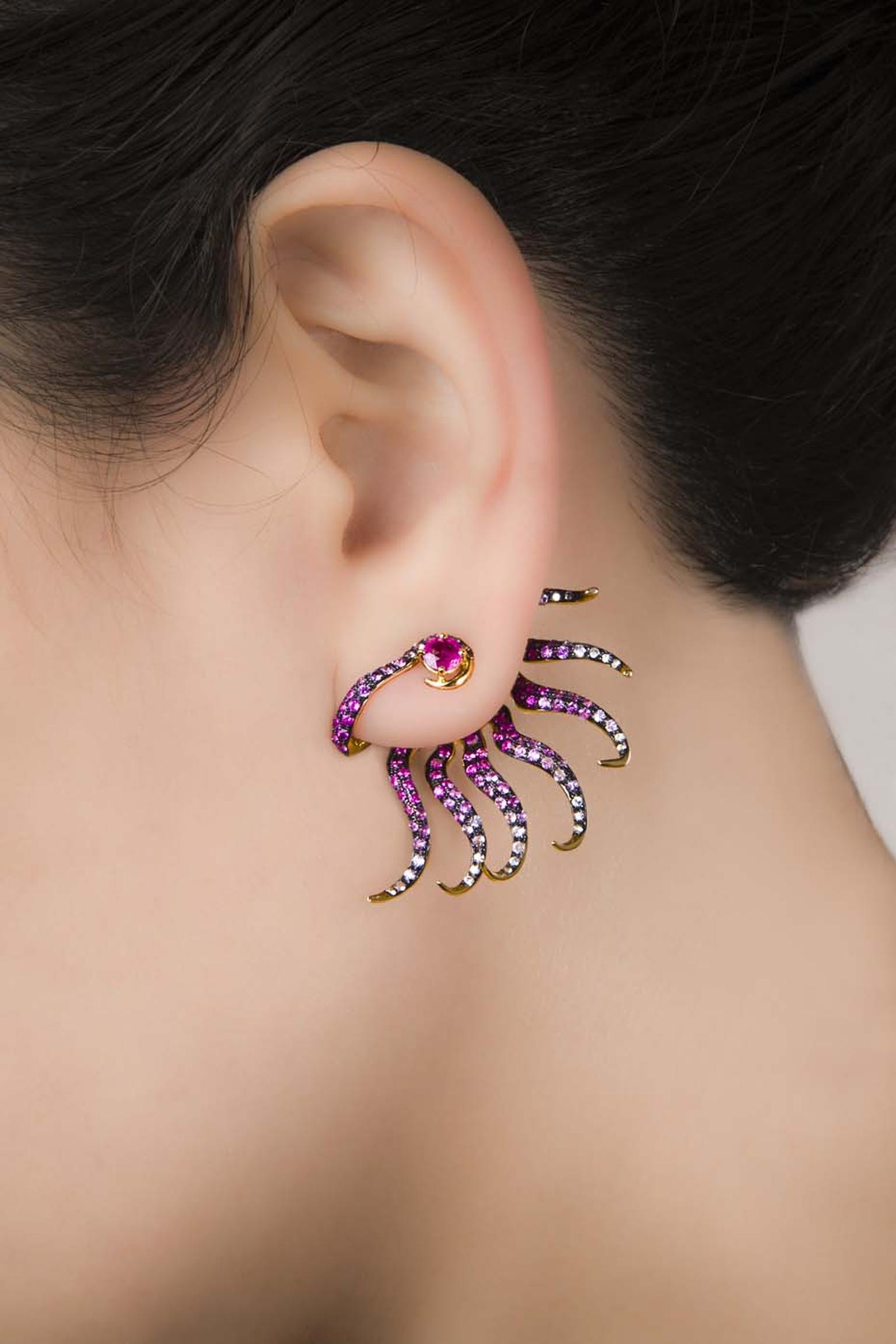 By Victoria Engelmann in London
Jewellery is the obvious go-to gift choice for Valentine's Day, but if your lady prefers something a little less ordinary then we have compiled the perfect selection of jewels to choose from, designed by independent designers with a unique and uncompromising style.
Leyla Abdollahi creates wearable statement pieces that demand to be noticed. Elegant and edgy, her Nymph of a Rose Draped Spring earrings are part earring, part ear cuff, with white and pink sapphires and rubies fanning out from behind the ear.  
Elena Votsi's 'Eros' collection combines glamour with rock and roll. Her Passion earrings turn the traditional heart and arrow design on its head, with elongated and sharply defined hearts held in place by twisted arrows pavéd with black diamonds.
Fernando Jorge's new Fusion collection finds the perfect balance between style and sensuality. His Fusion ring in rose gold, featuring a thinly cut amethyst set with rubies and rhodolites, is a bold mix of textures and colours and a guaranteed show-stopper.
The Calla lily - which is said to mirror the curves of a woman's body - becomes a feminine form that wraps around the finger in the hands of Emily H London, sparkling with hundreds of pavé set emeralds and white and yellow diamonds.
There is a tale behind each of Jasmine Alexander's jewels, and if Valentine's Day involves popping the ultimate question, her platinum Blood Lines ring hides a darkly romantic propostion. At first glance, it has the appearance of a conventional wedding ring. However, inside the band, a single vein of bezel-set rubies symbolises the unison of the lovers' blood. The trail of rubies ends with a large ruby heart, which is visible through the peaked window on the exterior of the ring.
Putting a kinky spin on lockable love bracelets, Borgioni has created a Skinny Handcuff bracelet in rose gold, decorated with pavé rubies - perfect for the Valentine who shies away from anything cutesy. And French-Canadian designer Edéenne has come up with a playful surprise for your Valentine. Open the hidden catch on her Aladdin's Lamp ring and out tumble three tiny diamonds, representing three wishes.
Timothy Roe Fine Jewellery pink heart ring (£750).

Édéenne's Aladdin's Lamp ring has a hidden wooden lid, which, when opened, reveals three hidden diamonds.

Ear cuffs are a fashionable alternative to earrings. This Diane Kordas Vine ear cuff was worn by 'Game of Thrones' star Natalie Dormer on the Screen Actors Guild awards red carpet in LA last month.

Fernando Jorge Fusion Tall ring in rose gold with rubies, rhodolites and amethyst.

Cupid's arrow snakes up the finger on Jasmine Alexander's Amor ring in gold and diamonds.

Part earring, part ear cuff, Leyla Abdollahi's Nymph of a Rose Draped Spring earrings feature white and pink sapphires, rubies and gold.

Jasmine Alexander's Blood Lines ring in platinum features a trail of pavé-set rubies leading to a large ruby heart, which can be seen through the peaked window on the outside of the ring.

Noor Fares Macabre earrings with coloured gemstones.

Solange Azagury-Partridge's Diamond Fringe ring moves with the wearer.

Lito pink gold ring, set with an octagon-cut aquamarine and oval-cut rutilated quartz.

Elena Votsi Twisted Love black diamond earrings, available at Kultia.com.

Borgioni's Skinny Handcuff bracelet in pink gold, set with pavé rubies, puts a kinky spin on traditional love bracelets.