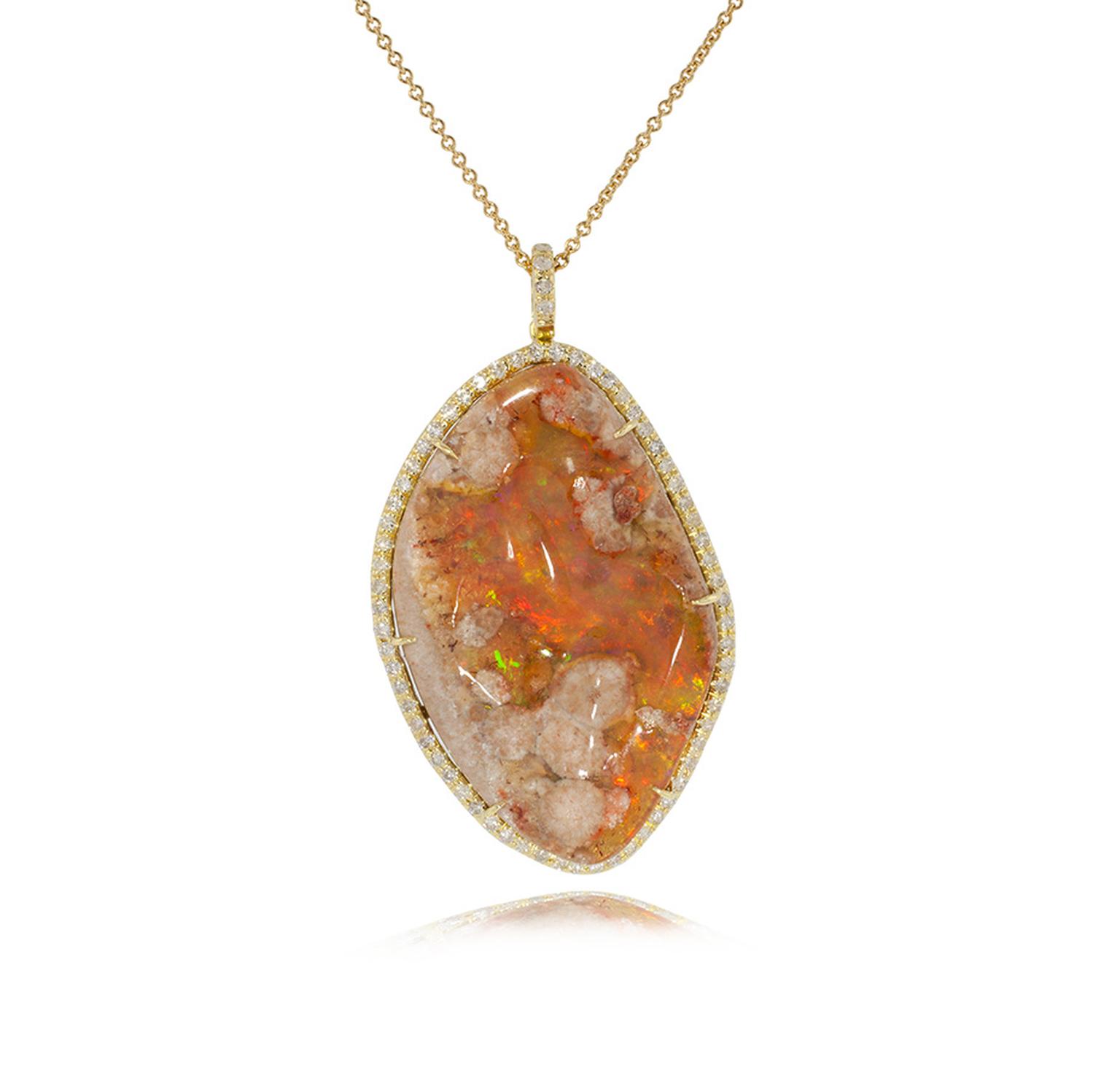 Fine jewellery has long been associated with superlative-grade stones cut to perfection. But for those who prefer something a little more organic without sacrificing on luxe, there is a new tribe of jewellers who are enhancing what Mother Nature gave us.
Canadian-born jewellery designer Pippa Small has carved out a cult following with her striking organic necklaces, rings and earrings, often unmistakably set in soft, butter-like gold. Each covetable piece is designed in London and crafted in Rajasthan by a team of highly skilled goldsmiths and stonecutters. Working on craft initiatives with indigenous communities such as the San Bushman of the Kalahari and the Batwa Pygmies of Rwanda, Small merges her anthropological roots with her desire to showcase stones in their natural form, championing their imperfections rather than erasing them.
Another to follow suit is Kimberly McDonald, for whom the seeds of fine jewellery design were sown early in life. "I like to think of each creation as an extension of what nature has given us," says McDonald of her pieces, which are crafted from agates and geodes and complemented by untreated materials such as recycled diamonds, raw emeralds and reclaimed gold and wood.  
Raw stones are not the only material that is blazing a trail through the traditional world of fine jewellery. New York-based Monique Péan is known for her use of highly unusual materials, including sustainable fossilized walrus, woolly mammoth ivory and dinosaur bone. Focusing on precision of form as well as colour and construction, Péan's creations make for an altogether fresher take on investment-worthy jewellery, drawing inspirations from places as far-flung as Peru and French Polynesia.  
Also incorporating ivory into her work is Silvia Furmanovich, who cites nature as her greatest source of inspiration. Ancestral techniques and contemporary inspirations unfold into unique pieces in gold, used in combination with ivory, coral, turquoise, woods and precious stones.
If it's rarity that appeals, Jacqueline Cullen crafts exquisite pieces from Whitby jet - a prehistoric black fossil some 180 million years old. Most commonly associated with Victorian mourning jewellery, Whitby jet is now exceptionally scarce, with raw samples painstakingly harvested from cliff faces where forgotten mines lie dormant. Jacqueline celebrates rather than disguises the inherent flaws and inclusions of Whitby jet, allowing the natural beauty of the material to speak for itself.
Underscored by a deep appreciation of the Earth's natural bounty, these designers are creating a powerful new aesthetic in the world of fine jewellery - one that sees the beauty in the imperfect.  
Kimberly McDonald geode and diamond cuffs in gold.

Kimberly McDonald earrings featuring Yowah opal (92.4ct), graduated white diamonds and brown rose-cut diamonds in white gold with a black rhodium finish.

Jacqueline Cullen hand-carved Whitby Jet ring set with black diamonds.

Monique Péan bracelet featuring cream fossilized woolly mammoth ivory, opal and serpentine surrounded by diamonds set in gold.

Monique Péan cream fossilized walrus ivory earrings featuring striped agate, black Guatemalan jade and white diamonds.

Monique Péan fossilized Walrus cuffs.

Pippa Small Tibetan ring featuring a topaz (15ct) surrounded by brushed gold.

Pippa Small rough crystal Tibetan ring in yellow gold (£5,500).

Pippa Small bracelet featuring mixed uncut stones in yellow gold (£5,000).

Silvia Furmanovich gold, diamond, grenade and shell earrings.

Silvia Furmanovich pearl, diamond and turquoise leaf cuff set in gold.