Reverse, upside down, inverse – whatever you choose to call this gem-setting technique, turning stones on their head is a look that demands attention. Like spikes bristling on punk-era leather jackets, setting a gemstone so that the culet sits face up is an instant act of rebellion. It's a look that I associate most with Hemmerle, the avant-garde jeweller from Munich that has been reverse-setting gemstones for more than 15 years.
"It was an experiment that led us to realise that the technique gives our pieces a very contemporary feel," explains Christian Hemmerle. "We draw inspiration from nature's textures; from cacti and succulents to pineapples, durians and arbutus. The look is young, edgy, empowering and sophisticated whilst also adding texture and depth."
JAR, the famously reclusive jeweller from Paris with similarly subversive style codes to Hemmerle, also uses reverse-set gems to bring a provocative look to his jewels. In 2015, a pair of JAR earclips (below), reverse set with aquamarines, sold to an Asian collector for $187,500.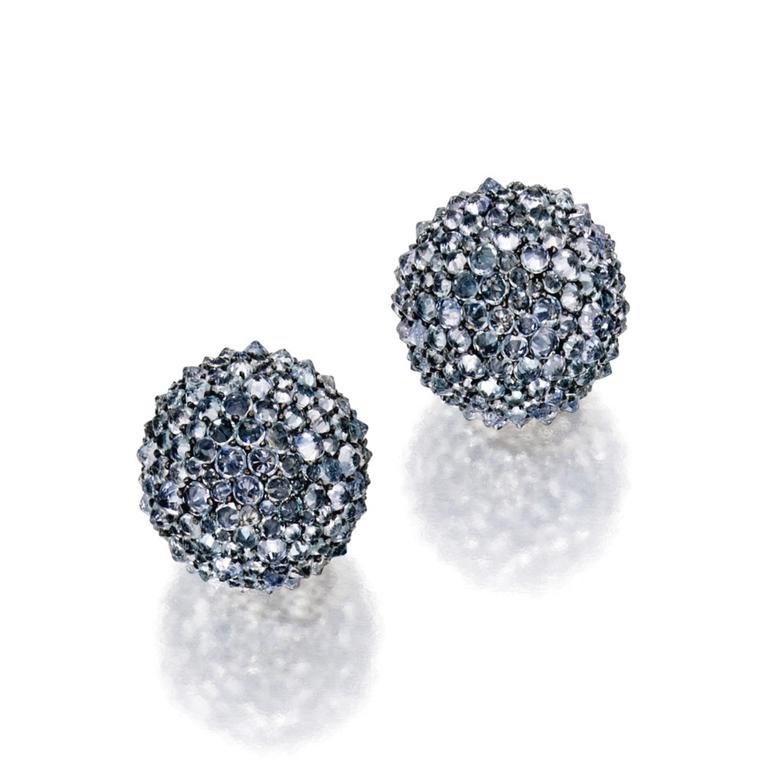 In 2000, JAR designed a ring for Ellin Barkin's marriage to Ron Perelman. They divorced five years later, and the ring was sold at Christie's New York in 2006 in an auction of the jewels given to Barkin during her marriage. A radical new take on a traditional wedding band set with four rows of inverse diamonds, it sold for $156,000.
Barkin's ring doesn't look especially comfortable, which is one of the first questions I asked Stuart McGrath, a sculptor turned jewellery designer from Dublin who often uses reverse-set gems in his designs for his brand Armoura. Don't they dig into your fingers? "You know you're wearing them, but they're not uncomfortable," he says. "There's no 50 Shades of Grey 'pain and pleasure'  idea going on here."
McGrath's designs have an armour-like quality and when I asked about the inspiration behind them, he points me to the battlements in ancient Italian cities with spikes facing outwards to ward off attackers. "These embellishments combine to give an amulet effect or perhaps a warning, like a Catherine wheel, the old weapon of war."
Weaponry comes to mind when you try on one of Ara Vartanian's double-finger rings, reverse-set with diamonds – another of the Brazilian jeweller's design signatures. But you can achieve a softer look, too, says New York's Nam Cho. "While they bring an edgy, youthful and fun vibe to my designs, they still retain sophistication and luxury."
Two of the most beautiful examples I have seen recently have been launched as part of high jewellery collections. Bulgari's Festa jewels celebrate the Italians' fondness for throwing a party. Among the fun designs, which include lollipops and cakes, was the Storm ring (top of article). Beneath a 15.05-carat D Flawless emerald-cut diamond Bulgari has set clusters of reverse-set gems. A more sober take on a festa, but quite the party piece all the same.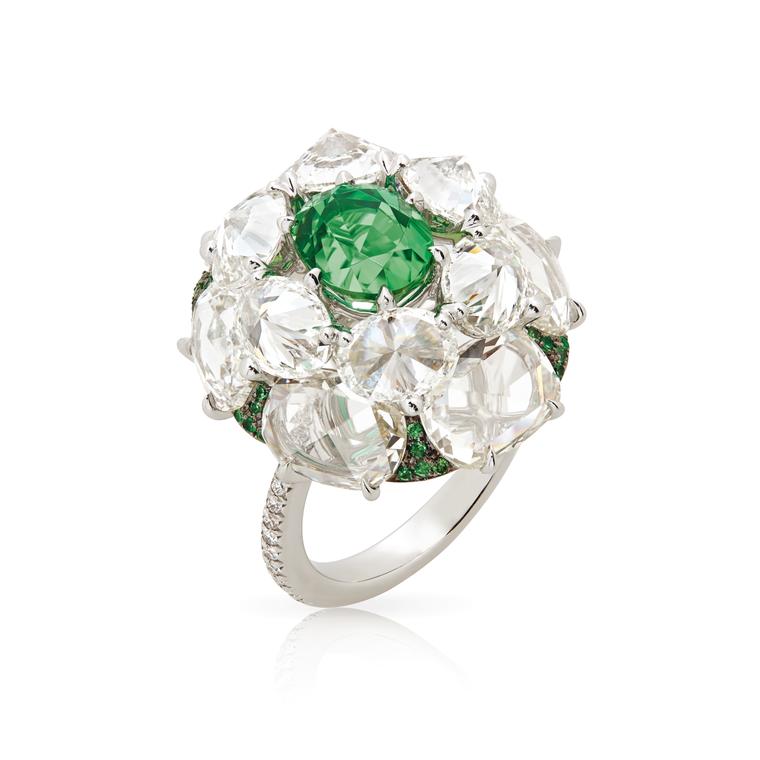 Nirav Modi's Electric Green ring is set with a Kornerupine, a rare gem in a vivid-green colour rarely seen in this type of stone. Surrounded by reverse-set diamonds – alluding to the fact that this gem's name sounds remarkably like the prickly porcupine? – the design is softened with the addition of rose-cut diamonds at the base of the ring.
You might ask the question, doesn't reverse setting a gem defeat the point? Taking a faceted diamond, cut specifically to maximise its sparkle, and turning it upside down seems at best counter-intuitive, at worst a waste of money. But what you lose in surface area you make up for in interest, says Christian Hemmerle. "The setting adds an unexpected depth as light is reflected from many different angles due to the increased exposed surface area. The brilliance becomes intensified and the end result displays a more complex array of colour tones."
Last year, East London jeweller Bear Brooksbank launched a Couture collection called Fur & Claw. Inspired by the wild black bear that is her namesake, she has set a reverse-cut black diamond between a band fashioned into a bear's most lethal weapon, complete with scratch marks, in her black diamond ring.
The design works so well because of the visceral reaction we have when we encounter reverse-set gems. "Immediately you question what it is you are looking at," says Brooksbank. "They are sharp and tactile. My clients are still intrigued by black diamonds and this adds further intrigue."
This season, Stephen Webster has added to his Jewels Verne collection with a gold Crab Pincer pendant and ring. Clasped between the crustacean's claw is a freshwater pearl, while the pincer itself is encrusted with round diamonds and reverse-set yellow sapphires. Like Brooksbank's bear claw, Webster has turned gems upside down to mimic a creature in the animal kingdom with a spiky reputation, and that is exactly what the reverse setting says to me. Bristling with attitude, you have to be a bit of a rebel to use it in your designs – and to wear it.