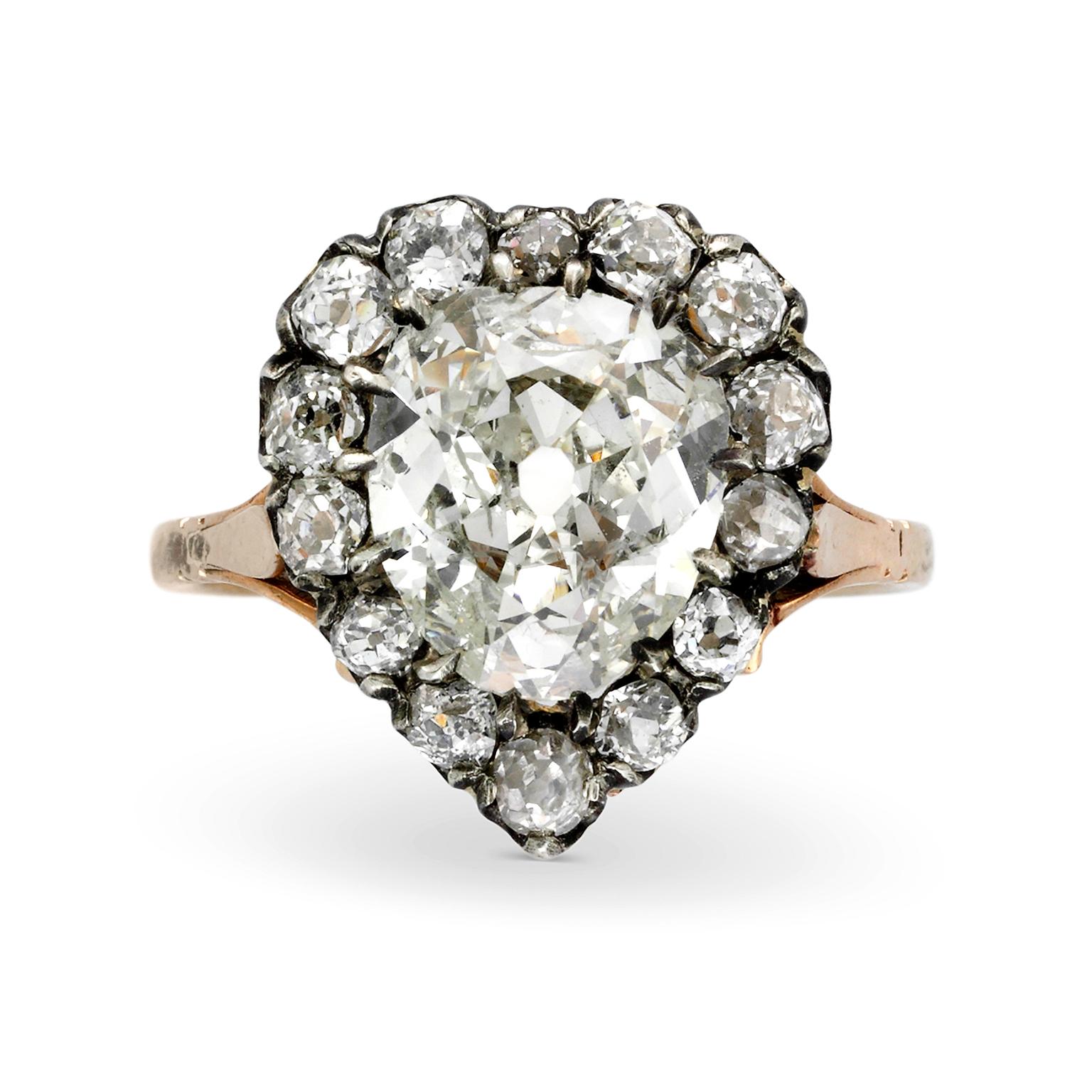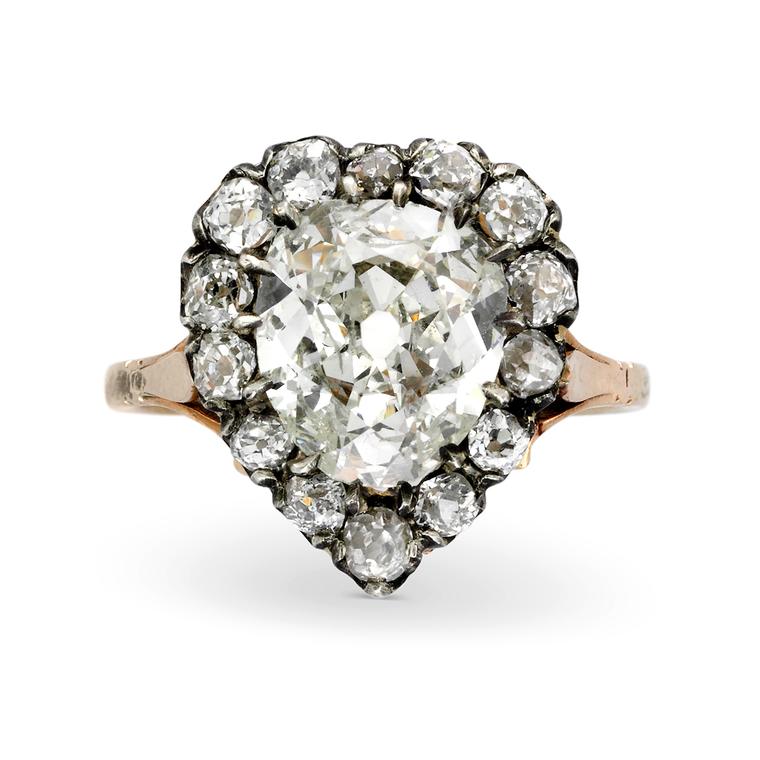 Whether getting married in a Tuscan villa in vintage Venetian lace, or on a beach in a flowing lilac slip dress, over the past 10 years, more and more women are vowing to display their individuality, from the wedding destination to the flowers, dresses, jewellery and, most importantly - their engagement rings. In this two-part feature on antique engagement rings, we will take a look at the styles of these earlier time periods in this issue, and then open up a treasure chest of Edwardian/Belle Époque and Art Deco styles in our next installment.
The term alternative has become the new normal for engagement rings. This has led to period and antique rings gaining in popularity, not only among seasoned collectors but with women looking for something a little bit different, which speaks of their personality and often their individual relationships. 
Authentic, platinum-set diamond Art Deco engagement rings have been going strong for many years, and they continue to be the largest category of antique rings to which women most often say "I do". But women of varied demographics have also fallen head over heels for earlier styles, which offer meaningful motifs, coloured gemstones, and symbolise a couple's undying love for each other, just like the time period in which they were first given.  
The idea of being part of the status quo is no longer appealing. The contemporary woman has learnt that bigger is not always better; being different is much more satisfying. Cyrus Shennum, co-owner with his wife Rhianna of Bell and Bird, which specialises in top-end period jewellery, explains: "Women continue to look for antique rings that are distinctive and unlike anything their friends own. Late Georgian, early Victorian engagement rings offer them styles that they won't see coming or going."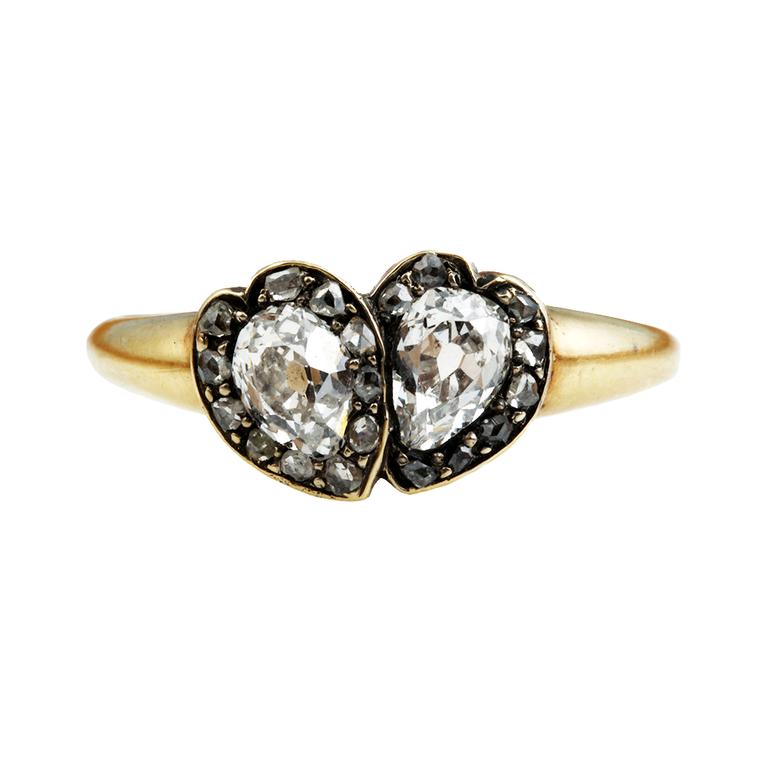 "We don't recommend Georgian closed foil-backed settings for everyday rings, due to the fact that they don't allow excessive exposure to water and are more fragile. However, the later open-back Georgian and early Victorian rings that have lasted and are in excellent condition are among the options from which women can select," he continues. Cyrus cites that "earlier cut diamonds were faceted for different light sources, such as gas and candlelight" and appeal to women who desire, what he describes as, a "softer" sparkle than modern diamonds. There are myriad rings to consider when looking at late open-back Georgian/Regency pieces and those throughout the entire Victorian period - in silhouette, coloured gemstones and symbolism.
It is always a must to ensure that you choose antique rings that are durable and of a style that you will love for a long time, if not forever. The added benefit of antique alternatives is that you can always upgrade and wear your first engagement ring on a different finger. Antique engagement rings such as these represent authenticity, rarity and a one-of-a-kind personality - here are a few styles to fall in love with.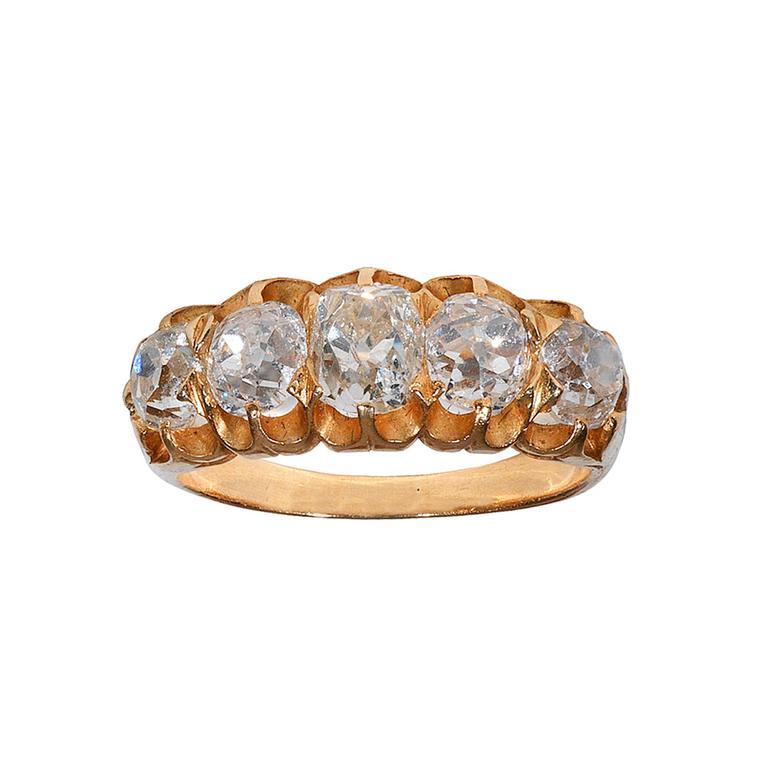 The five stone or half hoop 
This is a versatile style and one that is a definite contender for those who like "band" style rings and those that go east to west across the finger. For those who want an all-in-one engagement/wedding band, this is also the ring for you. If you prefer an earlier version of this style, look for open-back versions, which are designed with either old mine-cut or rose-cut diamonds in silver top collet settings over 18 carat gold. Victorian styles tend to be designed in yellow gold. These come in a variety of gemstones in addition to diamonds - the most suitable for engagement rings are rubies, emeralds and sapphires.  
The three stone 
Three-stone styles - for yesterday, today, tomorrow - became a popular choice for engagement rings in the 20th century, when these styles were designed in a variety of looks and gemstones. The most interesting of which were set with two of the same cuts on the sides and a completely different cut and colour for the centre stone.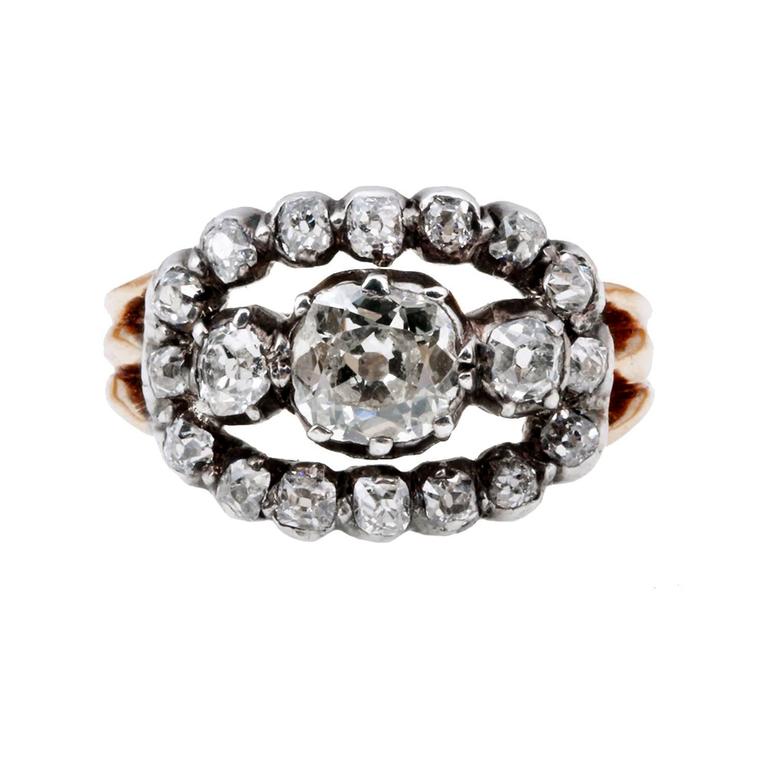 The cluster 
The cluster ring usually has a simple shank or one that is engraved - the centre can sometimes take a stylistic floral shape, or a more organic or chunkier version of a cluster. They date back before Georgian times and continue into Edwardian and the Art Deco periods, and become more refined as stone cutting and platinum come into the fore. Victorian styles feature either all mine-cut diamonds or a mine-cut centre with a rose-cut surround, or vice versa, as well as the big gemstones: ruby, sapphire and emerald.
But if you prefer an even more unique engagement ring, you can try a Persian turquoise centre stone, which pops against the softness of the mine-cut diamonds and the richness of the yellow gold.
The Victorian solitaire
The perfect option for a classic kind of woman who has opted for something a little different than the ubiquitous Tiffany six-prong setting. Victorian solitaires come in a range of diamond sizes and styles, from the small, high prong-set mine cuts on plain bands, to those that are much more distinctive with a crown or floral-like setting, and enamel or engraving on the shoulder and shank of the ring.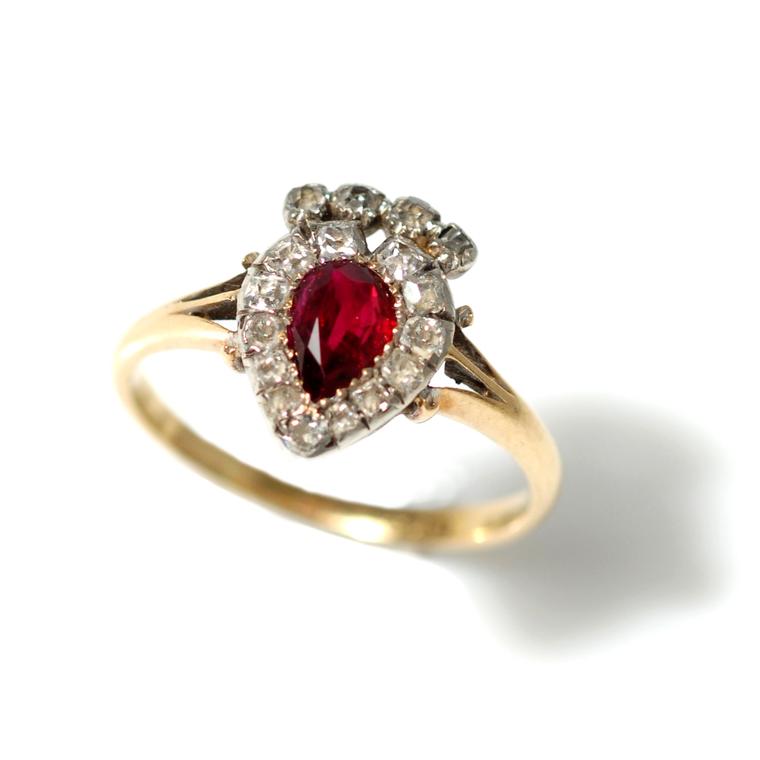 The single and double heart
"These were literally symbolic and were prevalent in engagement rings in Georgian and Victorian times, during the peak of sentimental jewellery," offers Cyrus Shennum of Bell and Bird. With romance and sentimentality back in style, these authentic antique rings are enjoying something of a resurgence. There are a number of options from which to choose - entwined hearts with connotations of continuous and everlasting love, or double hearts set side-by-side meaning two together as one. Double hearts with bows on top add to the meaning of being tied together. Some of the gems that appear in combination in these antique rings include diamonds for endurance, rubies for passion or love, and sapphires for fidelity. 
There are also single hearts with a crown, which mean either ruler of my heart or love triumphant.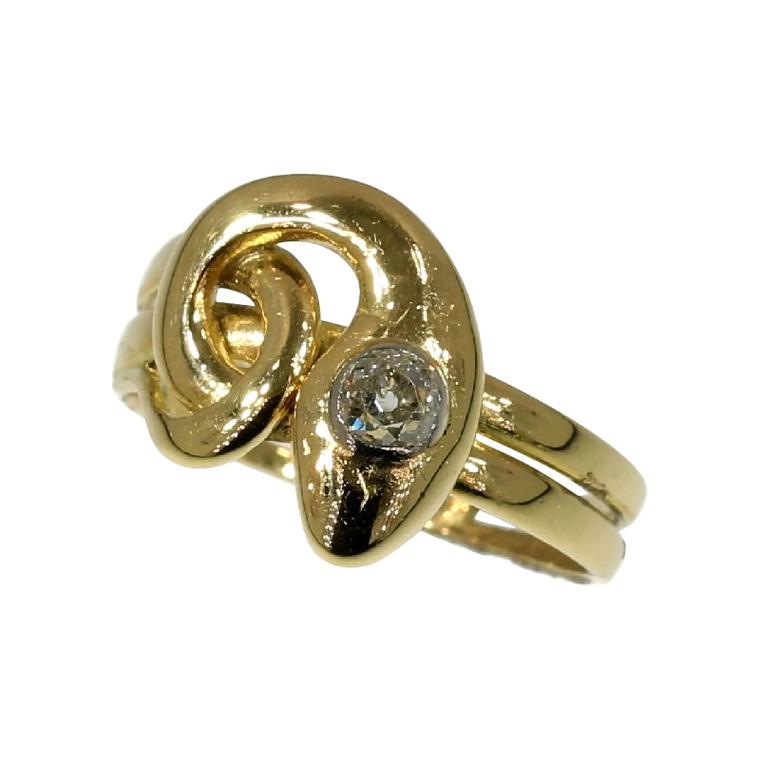 The serpent
When Queen Victoria became engaged to Prince Albert, he gave her a continuous snake ring, which signified eternal love, with an emerald, her birthstone, centred in its head. The serpent soon became the most romantic motif that would continue to mean everlasting love and would set a trend throughout England, and eventually throughout Europe and the United States. With today's jewellery designers continuing to interpret snake rings into their current collections, it's a hip and contemporary alternative to wear a rare antique single, double or triple-headed snake as your engagement ring.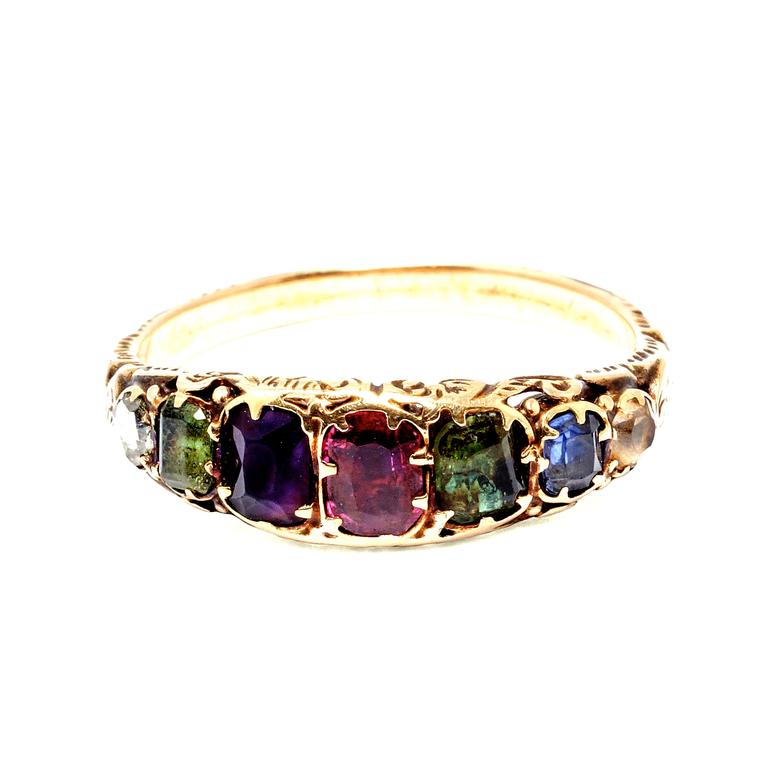 The acrostics
When thinking about acrostic rings, you should only consider those with open backs and later styles with engraved shanks, as opposed to those with delicate cannetille work. These rings were given throughout Georgian and Victorian times as promise and marriage rings, due to the fact that each letter of the first gemstone spells out a term of endearment, such as Regard, Dearest, Adore and Love. You can find them in east to west versions in which the gemstones are arranged across the finger, or in pansy motifs that have the added meaning of pensee, translating as "think", with pansies becoming associated with the phrase pensee et moi, translating to "think of me".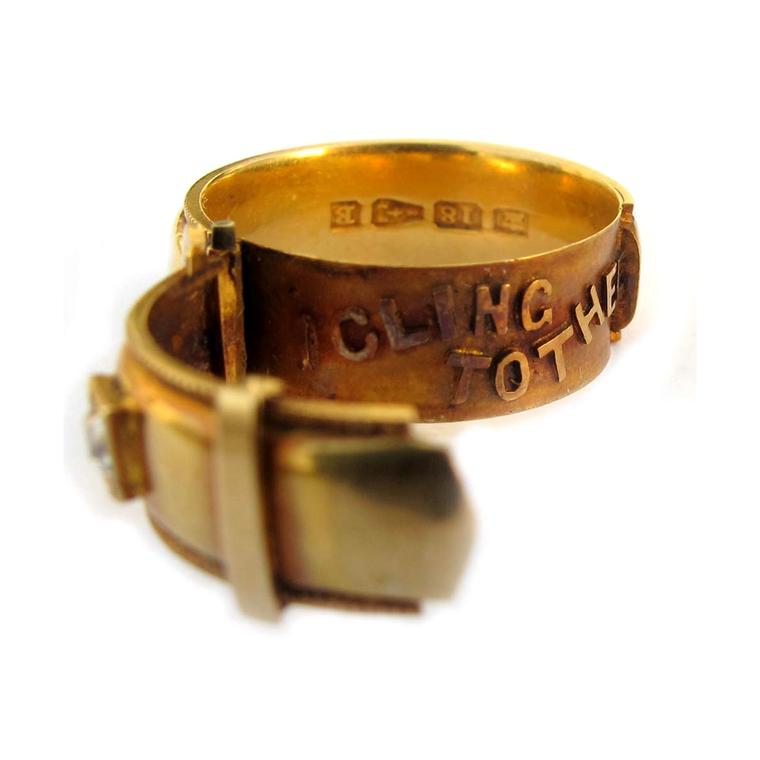 The buckle 
A less obvious choice for an engagement ring but equally meaningful is the buckle ring, which meant I am holding onto you tightly with my love and protection.
To find one with hidden messages such as the A.R. Ullmann Victorian ring, which opens up to reveal the phrase "cling to me", would be an engagement ring I would like to have and to hold. 
The fede gimmel 
The name stems from the Latin mani in fede, translating as "hands in faith", and gemellus twins, referring to the two hoops of the ring. During Renaissance and Medieval periods, these were given as betrothal rings. They made a comeback and resonated as wedding rings in the 18th and 19th centuries due to their clasped hands swiveling open to reveal one or two hearts. These are durable but it should be noted that the mechanisms are two to three hundred years' old, so might be a wonderful ring to have as a secondary engagement ring, or one that is worn on special occasions.
Bernardo Antichità Victorian, five-stone, old mine-cut diamond ring.

SJ Phillips Victorian, five-stone ruby ring with small accent rose-cut diamonds.

 A. Brandt + Son late Victorian, three-stone emerald and old mine-cut diamond ring.

Fourtane Victorian gold cluster ring set with a Persian turquoise centre and mine-cut surround.

Fred Leighton Victorian alternative cluster ring in silver top with open back.

Doyle & Doyle Victorian enamel and yellow gold ring with a mine-cut diamond solitaire.

Trivette Antique Jewellery Victorian crowned heart ring with ruby centre and mine-cut diamonds.

Bell and Bird Victorian silver-topped gold, double diamond mine-cut heart ring. 

Adin Antique Jewellery Victorian snake ring with mine-cut diamond head.

Erica Weiner open-back gold Regard ring with engraved work on the shoulders and shank.

A.R. Ullmann Victorian buckle ring, which opens to reveal the message "Cling to Me".

Simon Teakle single mine-cut diamond heart ring with mine-cut surround.