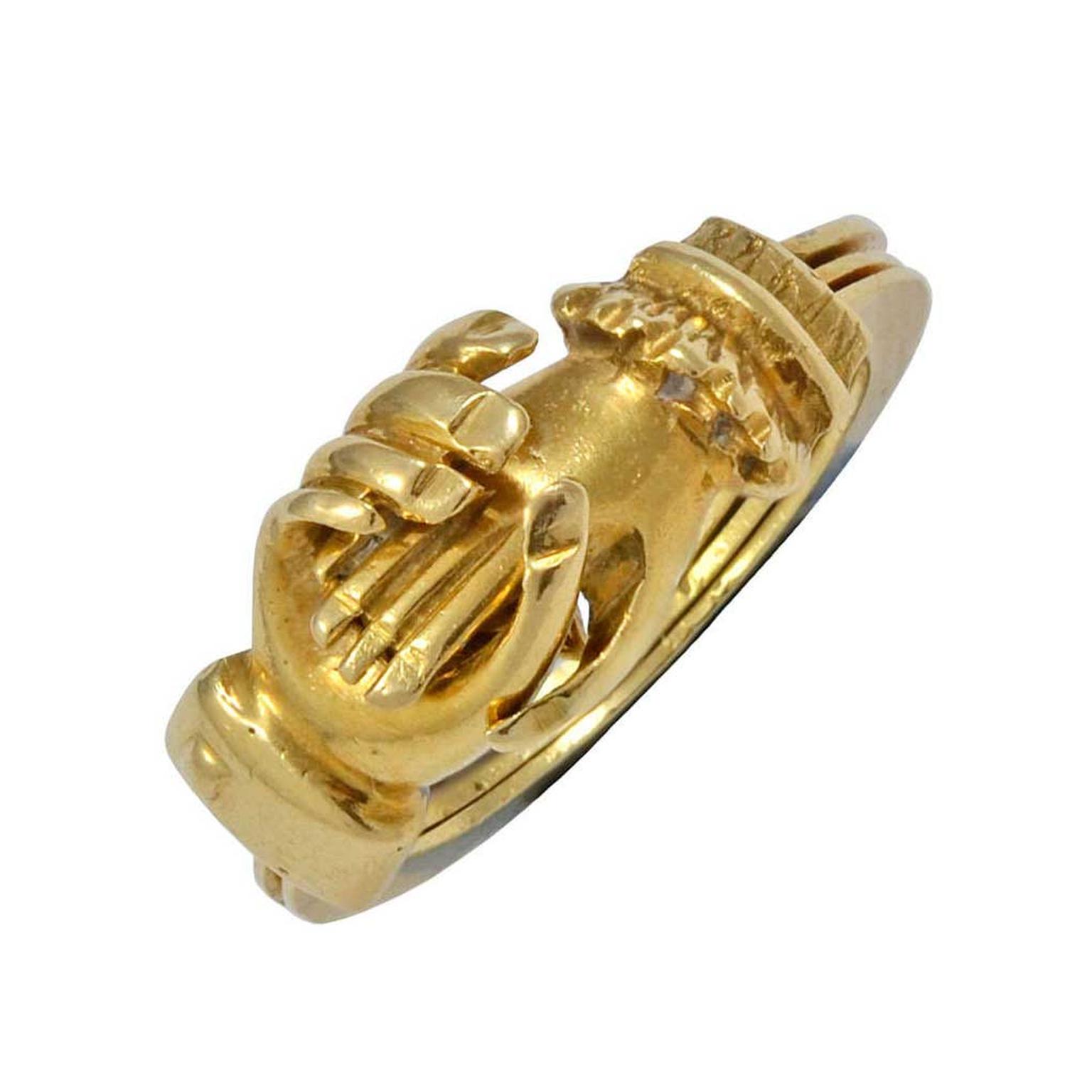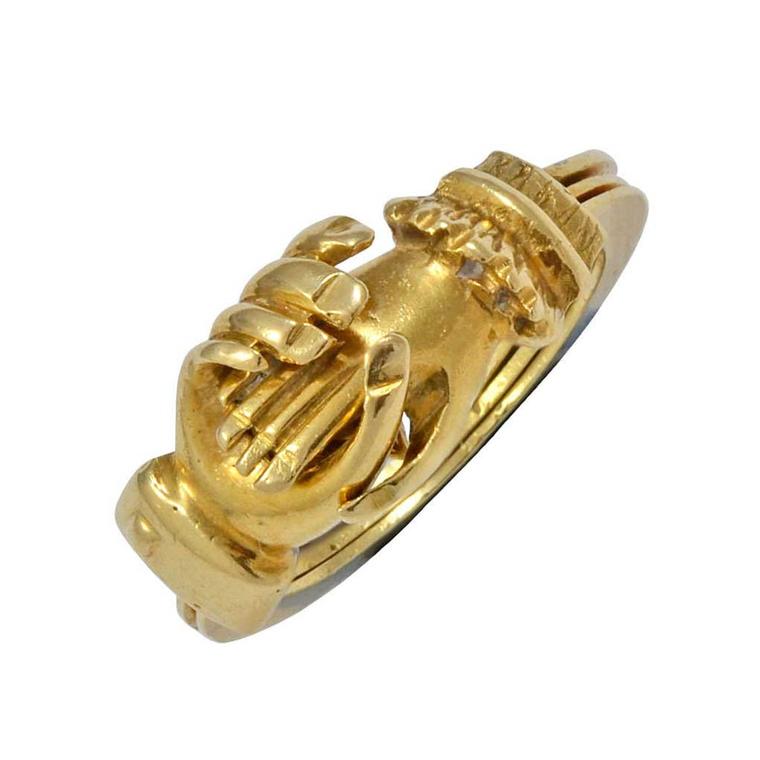 By Beth Bernstein
For the new generation of antique jewellery collectors, rings have become what charm bracelets dangling with significant motifs were to our mothers and grandmothers - the new cherished talismans and conversation starters, which offer an intimate glimpse into the wearer's life, beliefs and passions.
Read more about collecting antique jewellery here
Used as visual celebrations of the most memorable moments and emotional connections in a woman's life, rings commemorate birth, betrothal, friendship and mourning. In recent years, antique rings (18th and early 19th century styles) with symbolic or sentimental meaning have become one of the most collectible antique jewellery categories, coveted by both established connoisseurs and millennial enthusiasts alike.
According to Greg Kwiat, CEO of Fred Leighton, younger collectors gravitate mostly towards Victorian rings: "There is a great deal of symbolism and romanticism in the designs, which is also very modern and timeless." It is not surprising then that antique rings are attracting new audiences at a time when authenticity and the story behind the jewellery piece have become two of the main attributes.
Read more about victorian vintage rings here
In March 2015, the allure of antique rings influenced sales at Manhattan's Antique Pier Show, where a treasure trove of rare, museum-quality rings could be found. London-based Pat Novissimo of Lowther Antiques has become a go-to dealer for novice and seasoned collectors when exhibiting at US shows. "The tales behind various periods provides instant identification and leads to a conversation that will be passed, along with the ring, through generations." Novissimo explains.
In addition to the US and UK's small but well-stocked dealers, stores such as Fred Leighton and FD-Gallery in Manhattan, as well as Bentley & Skinner and Sandra Cronan in London, provide the magic and history of period and provenance. "One of our top selling styles for new generation clients are double gem-set heart rings entwined with a bow or a knot, emblematic of two hearts tied together as one," says Omar Vaja of Bentley & Skinner.
Collectors with set budgets have become regulars at Erica Weiner. Weiner, the namesake of the two Manhattan stores, and partner Lindsay Salmon says, "We cater to a younger clientele who want the unique personality that antique engagement rings possess. If the history of a certain ring resonates, they relate on a deeply emotional level."
Read more about buying vintage engagement rings here
Scouring shops, shows and markets is not the only way to get your antique ring fix. Surfing the web, checking out the many online auctions, and visiting sites such as Ruby Lane and 1stdibs is another way of scoring your antique rings. Shopping online and social media tend to go hand in hand for the millennial generation of collectors. 
Danielle Miele, a certified gemologist whose blog Gem Gossip is going into its seventh year, has reached 35,000 followers on Instagram, where her well-stacked fingers and hashtag #showmeyourrings has earned a cult following. She has contributed to generating a community of emerging and established "ringophiles". These women from around the globe are eager for the meaning of myriad motifs, and share photos, desires, stories and knowledge. Once a woman slips a piece of history on her finger, it starts to take on her own narrative and evokes an energy that makes her feel it was meant solely for her.
Bentley & Skinner Victorian moonstone and diamond double heart ring with the two pear-cut cabochon moonstones surrounded by old mine diamonds, with a diamond-set bow top, all in silver top yellow gold mount, with fleur de lis shoulders, circa 1880.

Berganza rare Georgian diamond, ruby, emerald and sapphire silver-topped gold giardinetti ring, set with an oval old mine diamond in a closed-back setting with an intricate scrolling openwork bouquet motif, split shoulders and a smooth bezel engraved to depict a patterned basket, with piercing to the shoulders and a solid ridged shank, circa 1760.

Sue Brown Fede Gimmel ring, open. Fede Gimmel rings resonated most as promise and then wedding bands during the 18th and 19th centuries, symbolising "We are joined together in our enduring love" or "I hold your heart in my hand".

FD Gallery diamond double heart ring, set with old cut pear-shaped diamonds  within a surround of old mine diamonds, mounted in silver and gold, circa 1840. The double heart motif, meaning two hearts coming together, was popular throughout the 18th and early 19th century for betrothal rings.

Sandra Cronan late 18th century ring with clasped hands and turquoise forget-me-nots on the sides of the shank and small heart locket suspended from the hands. The hands symbolises unity and fidelity and greeting. This particular ring could have been a promise ring or love token as the heart locket also has a compartment in which to hold a lover's lock of hair.

The Three Graces acrostic ring in 15ct yellow gold with the first letter of each gem spelling the word Regard: ruby, emerald, garnet, amethyst, ruby and diamond. This ring is in an early Georgian closed-foiled and closed-back setting. Other popular words spelled out by acrostic rings included dearest and adore. 

Three Graces 22ct yellow gold Poesy band circa 1700, hand engraved in the interior in italic lettering with "A true friends' gift". Poesy rings - bands inscribed with ashort verse of poetry or quotations – were inscribed on the inside of the ring as secret or hidden messages of love and friendship. 

Sue Brown Fede Gimmel ring featuring a portrait of male and female hands that open to reveal a gold heart on the central band, capturing the enduring romance of the early 19th century.