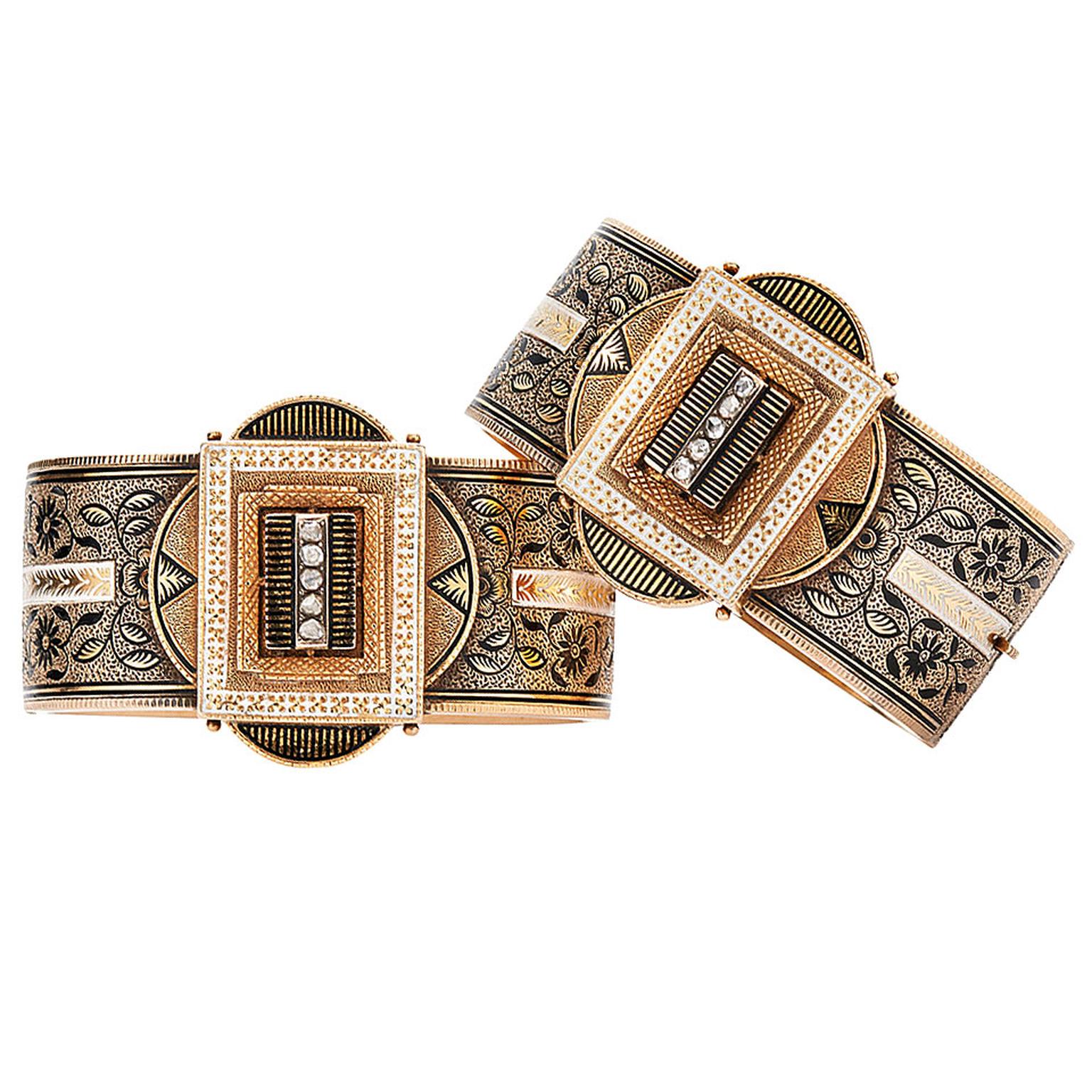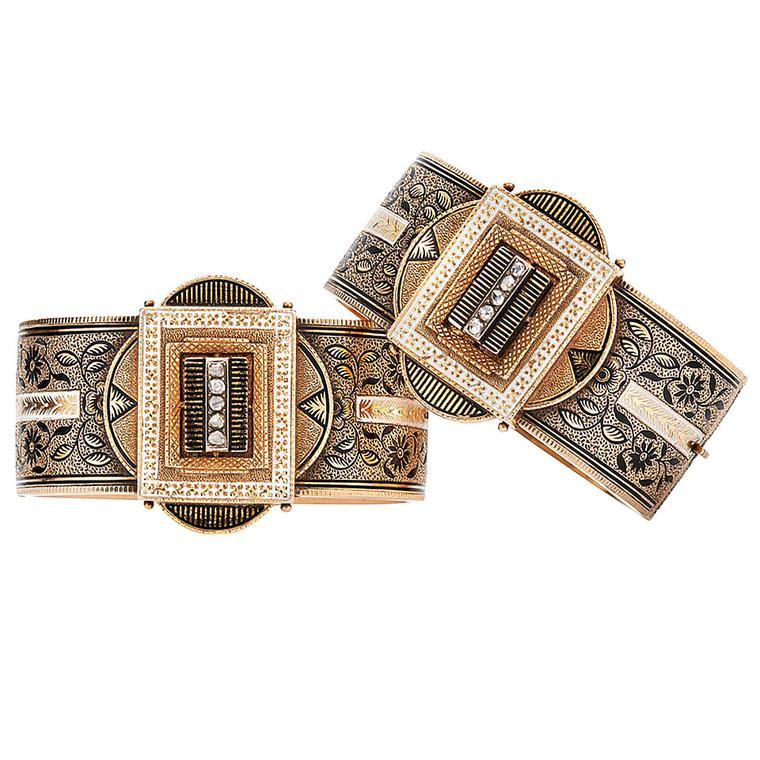 Big, bold and gold, Victorian and retro-period bracelets are making a comeback in 2016. Ultra-wide hinged bangles and flexible styles, which appear to cuff the wrist when clasped, act as timeless investment staples for collectors, and also make elegant vintage jewellery statements as we enter the New Year.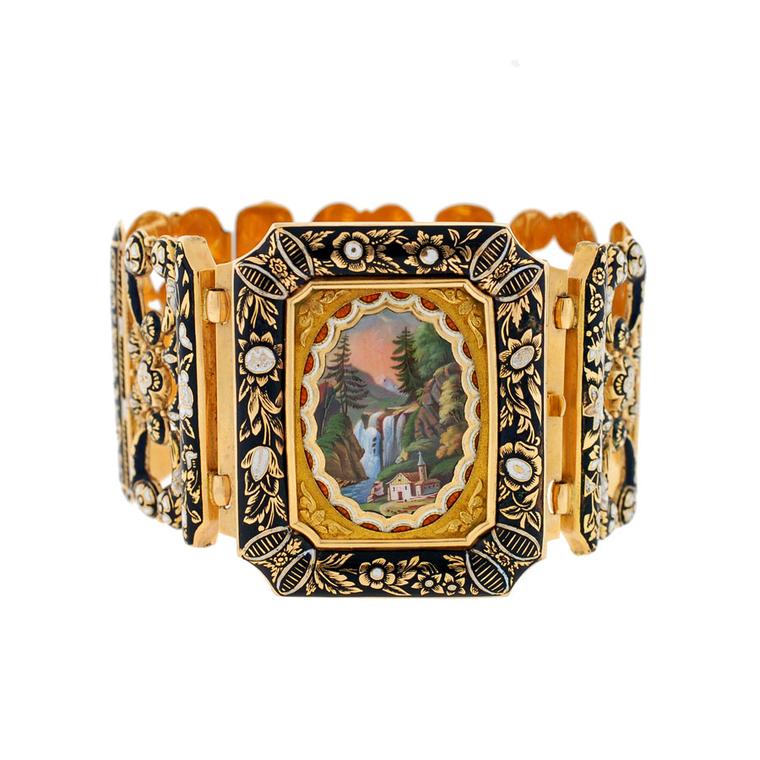 Although bracelets have been around for centuries, second only to rings as the earliest jewellery worn, it was the Victorian era that brought them back into vogue. This was due to diversity in design during the three Victorian periods: Romantic, Grand and Aesthetic. In addition to the popularity of charm bracelets, which would be re-introduced throughout the 19th through to the 21st centuries, influences such as the Industrial Revolution, The Grand Tour and Etruscan revival styles inspired hinged bangles in ultra-wide silhouettes, as well as narrower pairs that could be worn one on each wrist for both day and evening. 
These bracelets were created in both silver and gold, and included detailing such as floral and leaf motifs, overlays of birds and foliage in yellow and rose gold onto sterling silver, and meaningful and romantic engravings that told a story about love, hope, and other symbolic messages of the day. 
The Grand Tour, which took the well-heeled British to Greece and Italy, focused on jewellery that featured Pietra Dura micro mosaics that were made out of various coloured gemstones, as well as micro mosaics that were made out of glass with scenes depicting famed Italian sites, coral and shell cameos, and Etruscan details such as granulation, wirework and well-placed filigree. Enamelling also emphasised patterns and motifs, and some jewellery styles were set with seed pearls, turquoise and precious stones.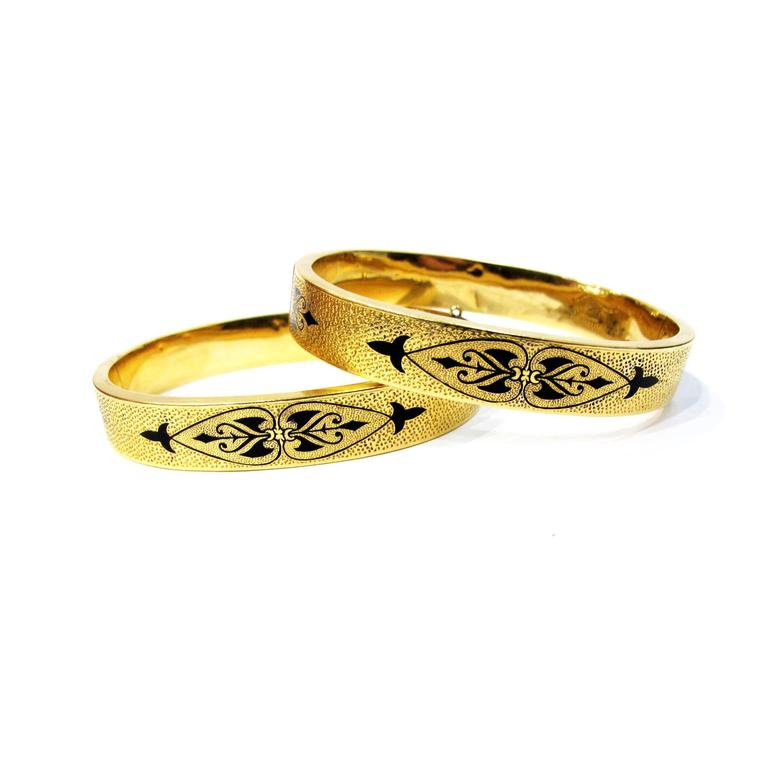 Bracelet pairs in various carat golds with feminine engravings and highlights of black enamel were known as wedding bracelets. One half of the pair would be presented by the groom to the bride upon engagement, and the other bracelet was given to and worn on the day of the wedding. These were often passed down to daughters and granddaughters. If you favour these styles and can find a pair that fit, then go for it! Many sets have been broken up at estate sales and they are becoming more of a challenge to find in pristine condition and desirable sizes. They look ultra chic when worn one on each wrist or stacked together on the same arm, with even a thinner diamond bangle in between.
Fast forward to the late 1930s through to the early 50s and, due to World War II, styles changed from the white-on-white platinum and diamond looks of the Edwardian/Belle Époque era to designs that were a combination of the earlier Victorian, more feminine looks, and the geometric silhouettes of the Art Deco movement. Platinum was restricted for use in the war, therefore rose and yellow gold took over as the metals of choice.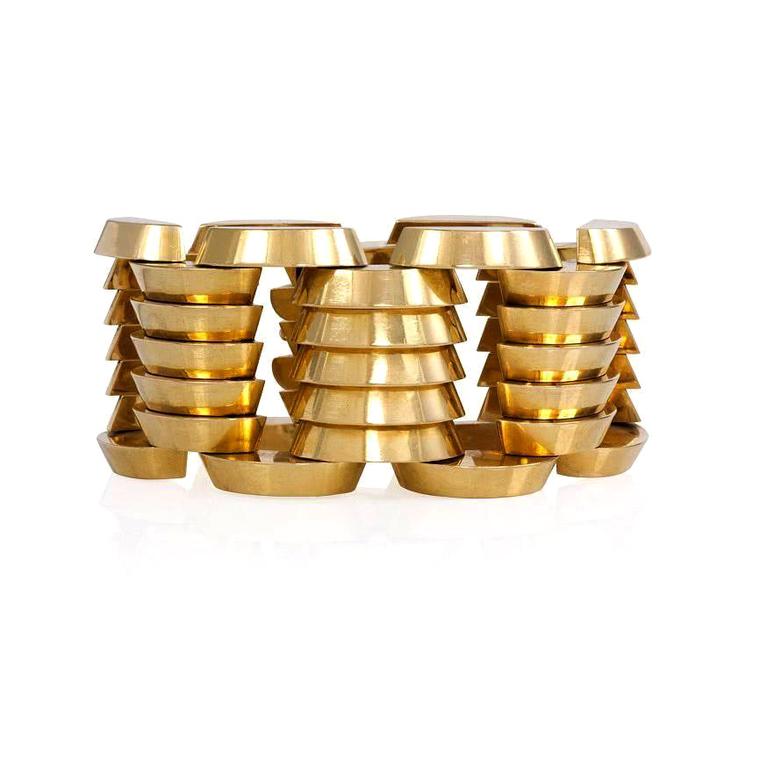 Jewellers of the day drew inspiration from the treads of assembly machines, as well as the treads of wartime tanks. These provided concepts for wide bracelets, which featured geometrical and oversized links, as well as those that were accented with rubies and sapphires, or synthetic versions of both, and either small diamonds or big gemstones such as citrines, aquamarines and amethysts. When materials were scarce and spirits needed lifting, it was a time of creativity, and to accessorise their masculine work uniforms, women entering the workforce needed a dose of glamour, similar to what they were seeing on Hollywood stars. 
Today, the Victorian and retro styles offer a more sophisticated alternative to the stacks of bracelets we have been seeing over the past few years. In addition, many signed pieces from the jewellers who created retro styles can be found today, including Boucheron, Van Cleef & Arpels, David Webb and Verdura, to name just a few. So whatever time period intrigues you, or if you are interested in purchasing a signed piece from a renowned jeweller, be armed with the type of styling that you are seeking, as well as the questions you need to ask.
Read more in our guide to collecting antique jewellery
A. Brandt & Son retro bracelet in rosy yellow gold with eight heavy scrolled links, circa 1940.

A. Brandt & Son Victorian gold bracelet with enamelled links and a larger centre link, circa 1850.

Bell and Bird set of Etruscan revival Victorian bangles in rose and yellow gold.

Doyle & Doyle Victorian gold bangle set with old mine-cut diamonds in an Etruscan revival design, circa 1870.

Pair of Gray & Davis Victorian hinged wedding bangles with foliate engraving and enamel tracery.  

Kentshire machine-age gold bracelet, circa 1945.

Kentshire antique gold, Moorish motif cuff bracelet, circa 1870.

Macklowe Gallery retro bracelet with diamonds and rubies in yellow and pink gold, circa 1940s. 

Spare Room Antiques Victorian yellow and rose gold buckle bracelet, with hallmarks for Birmingham 1882.

Victoria Sterling Lily of the Valley, rose diamond overlay and gold hinged Victorian bangle.

Victoria Sterling engraved, Victorian, sterling silver bangle with a naturalistic motif of pink gold flowers and leaves.

A pair of Fred Leighton black and white enamel tracery cuffs, featuring bird and floral motifs and rose-cut diamonds.