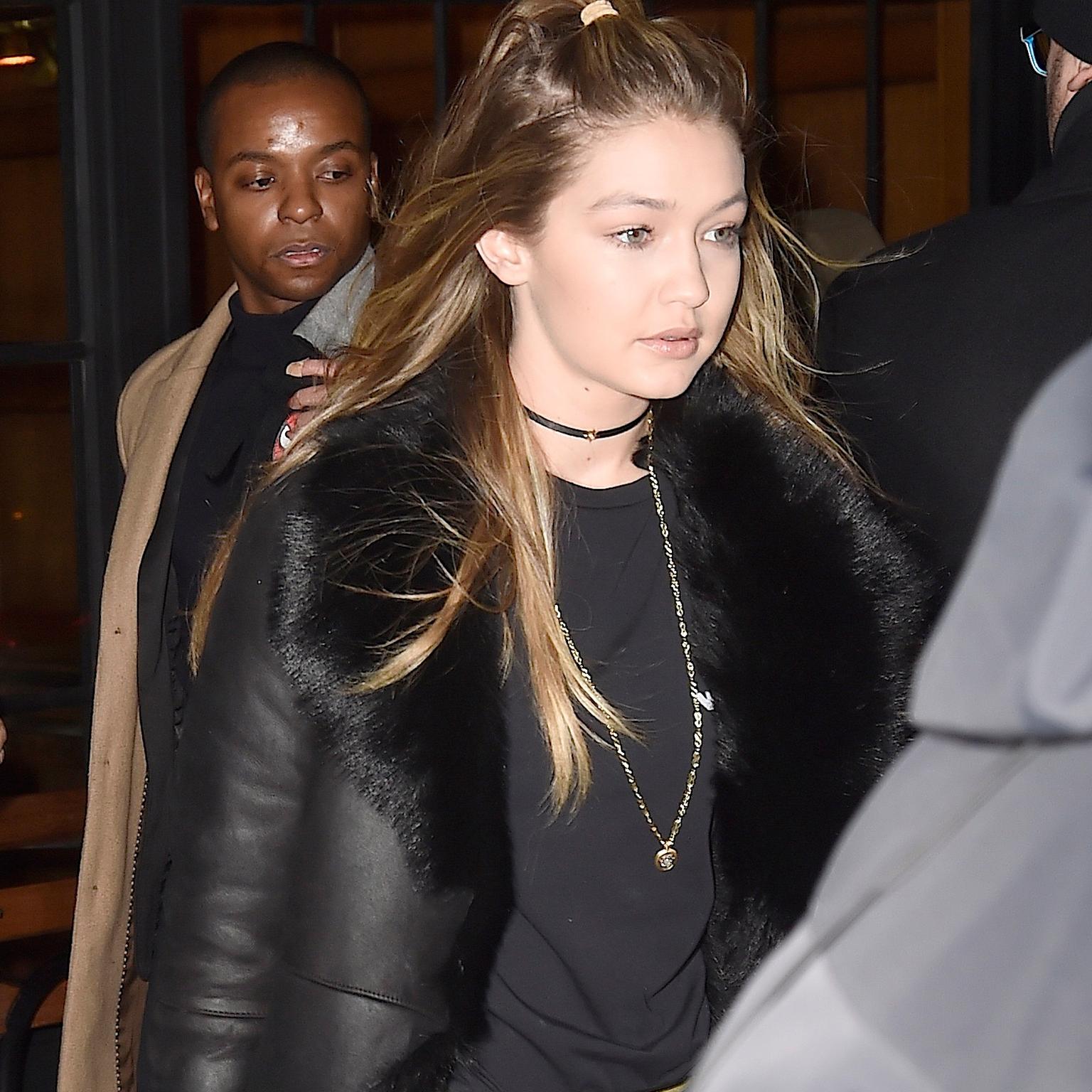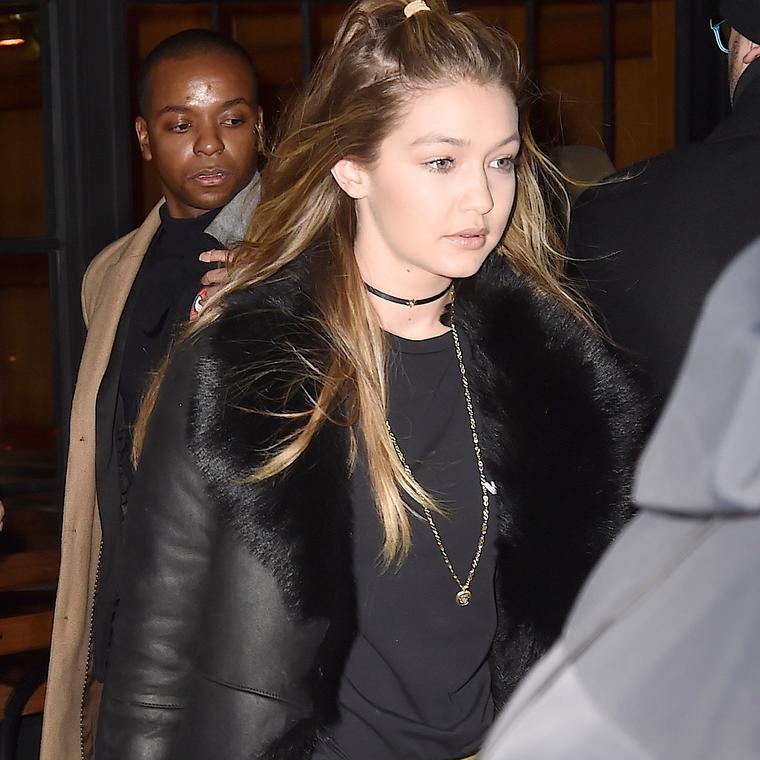 Last week, model of the moment Gigi Hadid was spotted wearing two Annoushka pendants. With these delicate Alphabet diamond necklaces, featuring a G and a Z, for boyfriend Zayn Malik, she showed how personalized jewelry continues to be a favorite for those wanting to wear a loved one close to their heart.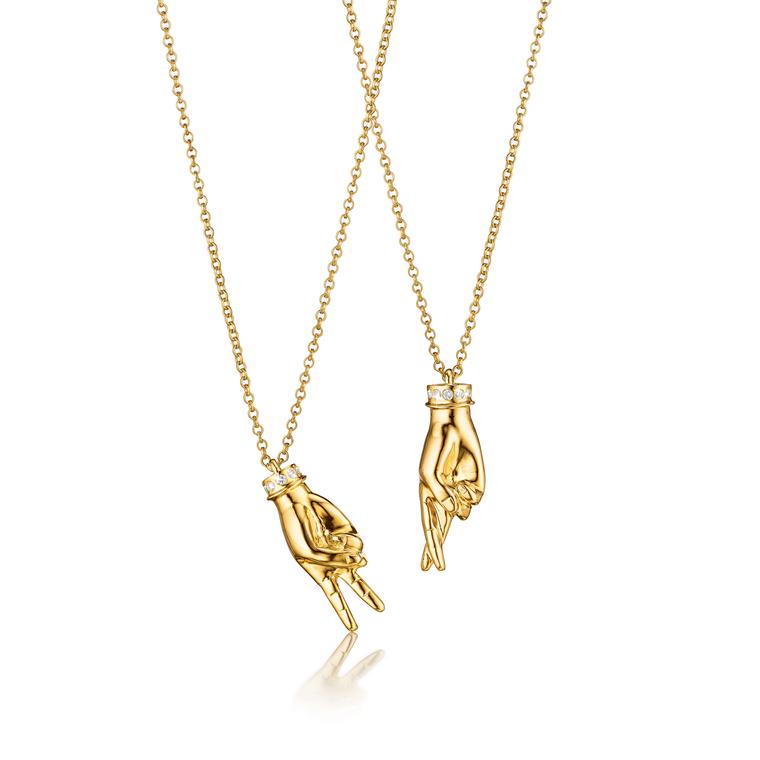 Before becoming jeweler to the stars in New York in the 1930s, Fulco di Verdura, the Italian aristocrat and jeweler, made his name working with Coco Chanel. He originally created his Verdura Sign Language pins for Hollywood greats such as Katharine Hepburn. Last year, the Sign Language motifs were re-introduced as pendants to celebrate the company's 75th anniversary.
Read about the meaning of hand motifs in antique jewellery here
Created from the original wax models, you can either pick your own initials or those of a spouse or family member for a unique, discreet twist on the jeweled initial. 
Or you could always seal Valentine's Day with a kiss in the form of the Nouvel Heritage Ton Baiser pendant. Simply upload a photo of your lipstick kiss mark to the Parisian jeweler's site, along with the name you would like engraved on the piece, and you will receive a personalized jewel in just four weeks. These Nouvel Heritage pendants come in diamond pavé, malachite or tiger's eye.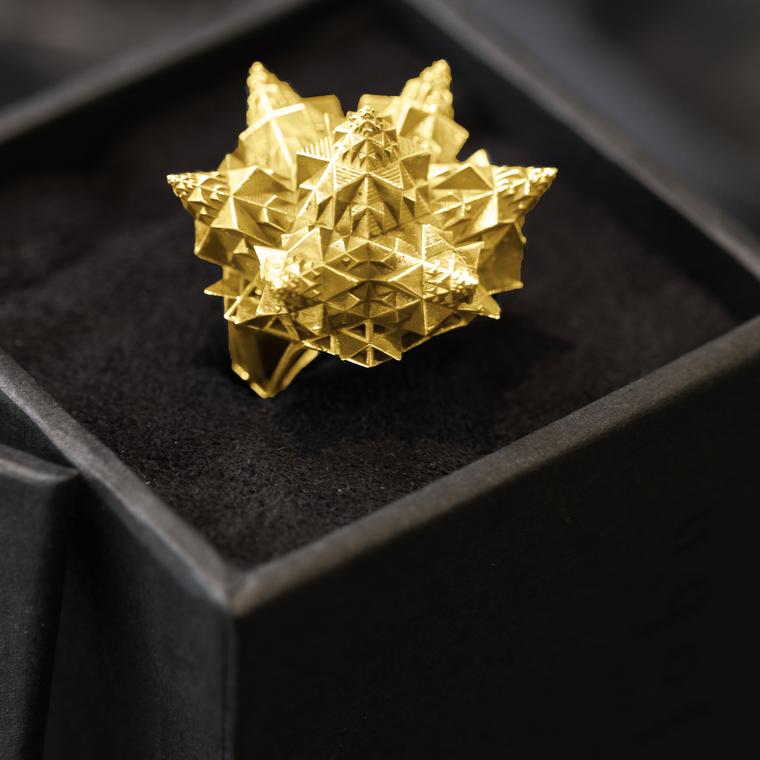 Another original idea is John Brevard's Thoscene collection. Create a unique cocktail ring by entering your loved one's date of birth on the dedicated site, and then watch as the modeling tools translate your astrological profile into a one-of-a-kind design. These personalized rings, available in gold, silver or resin, can be yours in just four to six weeks.
Receiving Elena Votsi's Eros envelope is like getting the most precious love letter imaginable. Its fun, statement-making size is balanced out by its simplicity - a simple gold silhouette with a pink sapphire trim. Los Angeles designer Cathy Waterman says it in diamonds, with her exquisitely detailed initial pendants. Letters and numbers in precious white pavé can be selected to represent a loved one's name or date to remember.
Jade Trau's Valentine's jewelry picks up on the signet ring trend with a modern, hexagonal silhouette, pavé diamonds, and the vintage letter of your choice. For endless customization, Loquet London's delicate personalized necklaces make for the perfect Valentine's gifts. Add your loved one's initials, birthstone or zodiac sign, and choose further heartfelt motifs every year. 
Antique lockets for life's special momentos
Special anniversaries can also be marked with additions to Monica Rich Kosann's classically beautiful charm bracelets. Whether it be a treasured photograph, favorite vacation destination or lucky clover charm, this special piece tells the story of your life and is destined to become a future family heirloom.
Annoushka Mythology Alphabet pendants ($660/£395) with the Classic Infinity gold chain ($3,200/£1,900, annoushka.com).

Gold and diamond "V" or fingers crossed pendants with a 34" chain ($10,500). Pendants can be bought separately ($6,500, Verdura).

John Brevard Thoscene collection statement ring, which is based on your unique astrological data ($4,500, johnbrevard.com).  

Elena Votsi playful Eros pendant, which can be engraved on request, in gold and pink sapphires ($24,800, modaoperandi.com).

Cathy Waterman pendants with a loved one's initials or a special anniversary, in platinum and diamonds (POA, ylang23.com).

Jade Trau Signet Hex ring featuring the initial of your loved one, in gold with white diamonds ($1,760, ylang23.com).

Gigi Hadid in Annoushka long gold chain ($3,200/£1,900) with twin Mythology Alphabet pendants ($660/£395), annoushka.com.