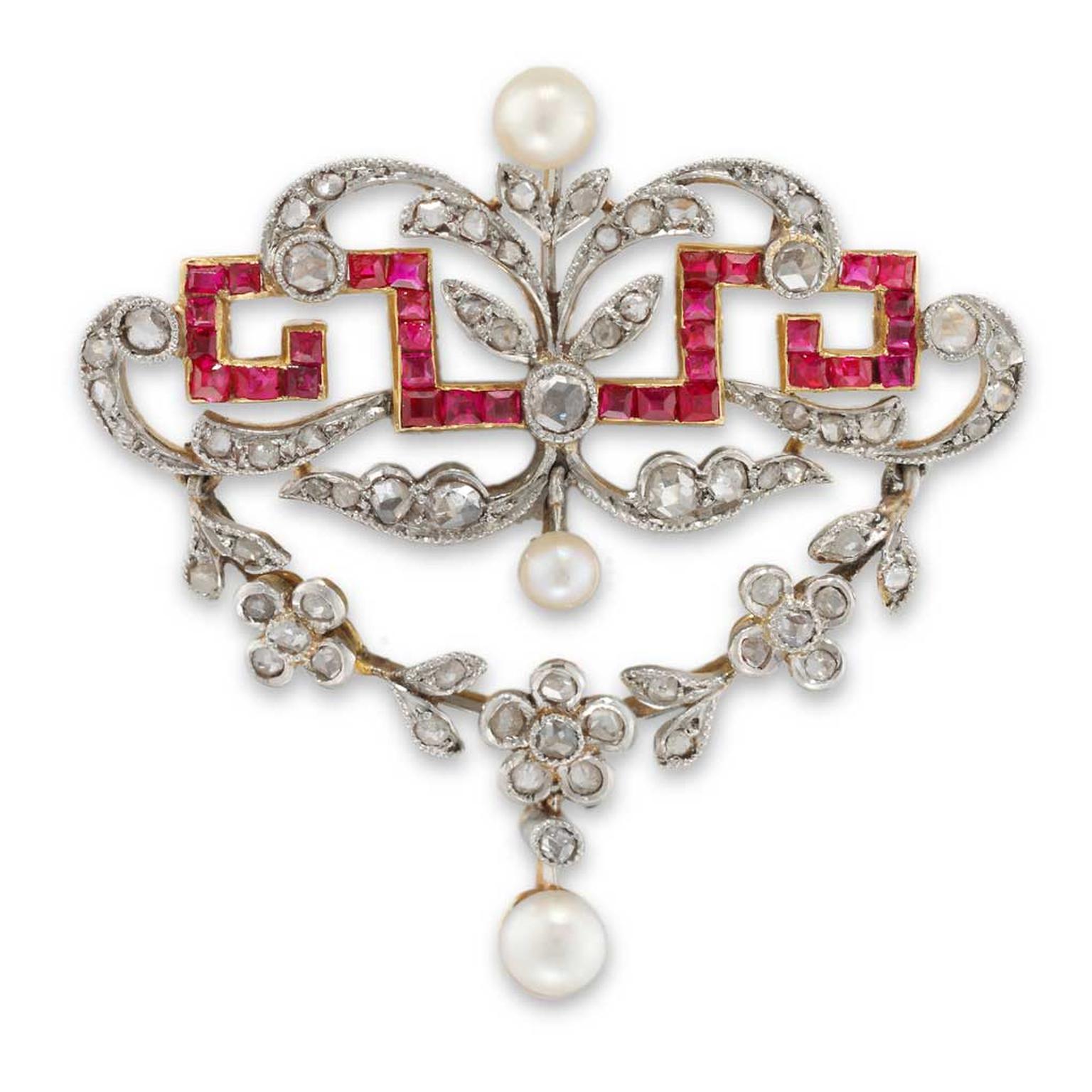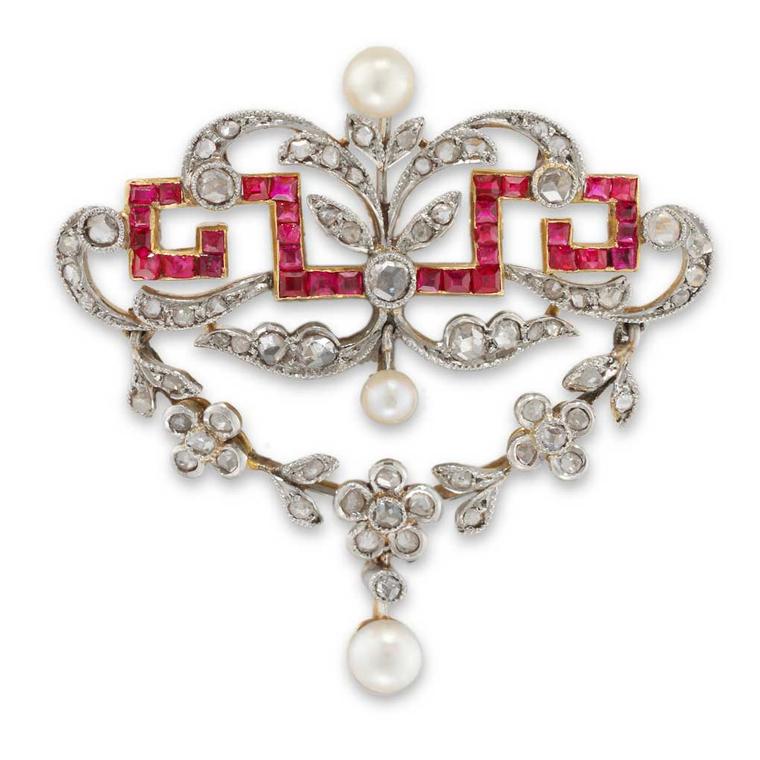 By Beth Bernstein
Collecting antique jewellery has become a current trend among women who desire one-of-a-kind, symbolic or sentimental pieces. And when it comes to purchasing pieces from the past, it is important to become familiar with the characteristics and styles of each period in history. Here we define the times from the 18th century onwards.
The Georgian period (1714-1830) is typified by floral and organic motifs, and silver fused to yellow gold. Rose-cut diamonds defined the era, as did flat-top garnets and coloured gemstones set in closed backs and mounted with foil to enhance their hue. Parures - matching antique jewellery sets - are now popular, as are antique necklaces, which can detach into either earrings and a brooch, or two antique bracelets. Also flourishing in the Georgian period were sentimental pieces including portrait and lover's eye miniatures, posy rings with poetic verse engraved into gold bands, and acrostic jewellery in which the first letter of the gemstones spelled out words of affection such as "Regard" and "Dearest".
The Victorian era (1837-1901) witnessed the heightened popularity of these sentimental love tokens, and also spans three important periods. The Romantic Period covers the earlier years when Queen Victoria married her Prince. Sentimental motifs continued to dominate: hearts, lover's knots, flowers, bows, crescent moons and serpents (which Queen Victoria wore as an engagement ring, signifying enduring love).
This era also marked a major change due to the Industrial Revolution and the discovery of the diamond mines in South Africa. Women of all social status were now able to wear fine jewellery. The Grand Period encompassed the two decades when the Queen mourned the death of Prince Albert. Dark, somber Whitby jet, onyx and deep garnets came into vogue, with mourning and memorial jewels comprising personalised rings and lockets. Revival Etruscan, Greek and Renaissance influences were also fashionable. The later Aesthetic Period reflected a return to lightheartedness with symbols of luck, good fortune and naturalistic forms.
Art Nouveau (1880-1910) represented a revolt against the industrial age in pure artistic expression with the rebellious use of precious and non-precious metals, combined with unusual coloured gemstones in depictions of nature - primarily insects, birds and floral motifs. Sensual and ethereal versions of the female form were also a recurring theme. Intricately detailed pieces displayed bold uses of colour, daring materials and several types of enamelling, such as plique-à-jour, in groundbreaking designs. The Art Nouveau movement began in France and influenced all of Europe and the United States, while overlapping with other periods. The pioneers included Rene Laliqué, Falize, Maison Vever, Georges Fouquet, and Tiffany & Co.
The Edwardian & Belle Époque era (1901-1915), the shortest period in the history of antique jewellery, reflected the elegance of King Edward VII and the delicacy of French Rococo décor. Platinum was introduced and influenced new settings for diamonds. The "garland" style of flowers and leaves, and millegrain, pierced and engraved metals gave jewellery of this period the appearance of airy lace and embroidery. Old mine-cut diamonds and natural pearls offered a monochromatic white look for earrings, brooches and necklaces.
Art Deco (1920-1939) reached its height in 1925 after the Decorative Arts Exhibition in Paris, and coincided with women gaining the right to vote in America. Industrial, linear and sleek, Art Deco captured the new world with streamlined forms - all white diamond and platinum looks, inspired by speed and skyscrapers. Influences from a global mix of cultures - Asia, Africa and Egypt - softened the geometric lines with stylised floral motifs and carved cabochons. Vibrant rubies and sapphires as well as onyx, jade, lapis and frosted quartz contrasted against diamonds and produced some of the most influential looks, which continue to inspire contemporary designers. Cartier, René Bovin, Raymond Templier and Tiffany & Co. were just a few of the prevailing jewellers.
The Retro period (1939-1950) came about due to World War II when platinum and gems became scarce. Jewellers turned to lower-carat gold and semi-precious or synthetic stones, and rose and yellow gold took on the feel of fabrics, lending fluidity and movement. After the war, brooches became all the rage, and aquamarine, citrine and amethyst are now fashionable again in large stone antique rings.
The mid-20th century (dating from the 1950s through to the 1970s) offered up the "cocktail party" as a stylish event throughout the US, and jewellery became more extravagant. Three-dimensional, whimsical and stylised animals set with vivid semi-precious stones also heralded this time frame, characterised by leopards and panthers from Cartier, Van Cleef & Arpels' winged creatures, and Serpentini jewels from Bulgari. These houses as well as Boucheron continued to shake up their earlier visions with new innovations, while emerging designers such as Paul Flato, Fulco di Verdura, David Webb, Jean Schlumberger and Elsa Peretti redefined vintage jewellery for a new generation. 
Macklowe Gallery Art Nouveau 18ct gold pendant by Lucien Gautrait. The pendant has a pear-cut pink sapphire, old European-cut diamonds and a baroque pearl drop, and shows an emergent woman with flowing hair and outstretched arms in a euphoric opium-induced state.

FD Gallery's Art Deco onyx, coral and diamond pendant by René Boivin.

Wartski's ruby and diamond-set pendant, the flame of calibre-cut rubies burning from a diamond-set vessel, suspending a pear-shaped brilliant-cut diamond, symbolises the flaming torch of love - an attribute of Venus and Cupid. The body of the jewel is set with diamonds (forever), the flame formed from rubies (for passion). Circa 1900.

The Spare Room's Georgian acrostic ring with the first letter of each gemstone spelling "Dearest": diamond, emerald, amethyst, ruby, emerald, sapphire and topaz. The precious stones are in a cannetille or elaborate gold wirework setting.

Georgian rose-cut, diamond-foiled, closed-back earrings from Glorious Antiques. 

Macklowe Gallery's mid-20th century platinum, diamond and ruby bracelet with a row of 44 marquise-cut diamonds with an approximate total weight of 13.40 carats, accented by two outer rows of round-cut rubies. Circa 1960.

Sandra Cronan's diamond-set "waterfall" earrings, set with multiple pear-shape diamonds, cascading from baguette diamond-set tops. Mounted in platinum. Circa 1940.

Erica Weiner Victorian 9ct rose gold bracelet of two interlocked hearts crowned by a lovers' knot. The hearts - one set with turquoise cabochons, the other with seed pearls - are flanked by bead-set seed pearl trefoil and horseshoe adornments. The various decorative motifs employed on this bracelet invoke sentiments of good fortune, perpetuity, and the promise of love.

Bentley & Skinner's Edwardian diamond garland necklace with articulated openwork frame embellished with tied ribbon/bows and foliate motifs, set with single- and rose-cut diamonds, highlighted by seven circular-cut diamonds. Circa 1910.