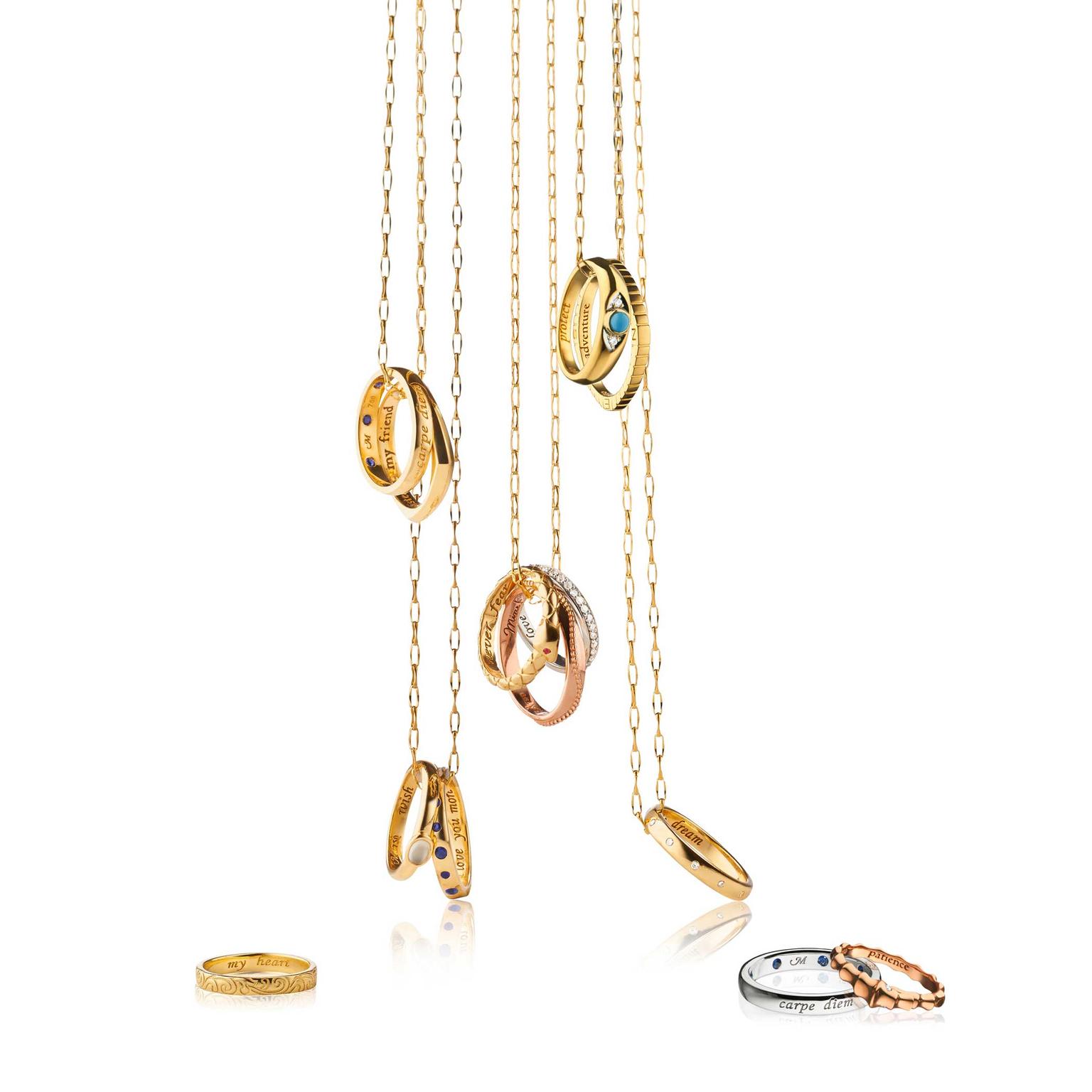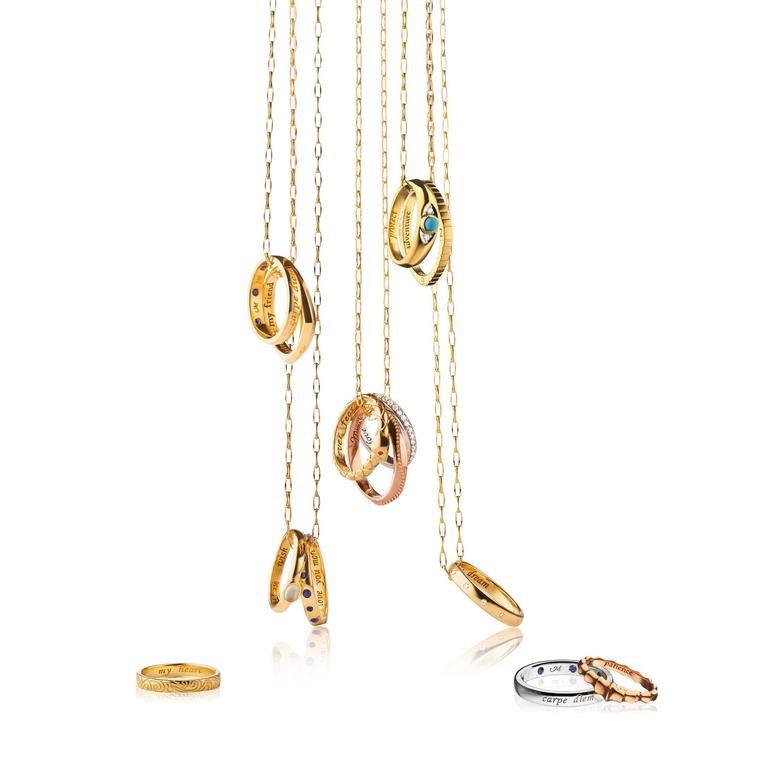 By Beth Bernstein
Certain motifs in jewellery have been passed down throughout centuries, and today's small independent designers, as well as renowned houses, are creating unique jewellery that gives a nod to the past while ushering them into the present. Inspired by historical pieces, this is antique jewellery re-imagined with originality for a new generation of women.
Read more about collecting antique jewellery here
Designers appreciate that not all women who like the look, legends and lore of vintage jewellery want to purchase something pre-worn. The Monica Rich Kosann Poesy Ring collection is based on "making influences of the past relevant for today". The rings, interpreted as pendants, can be worn as one or in multiples around the neck. A snake motif reads "no fear" engraved on the inside, while an owl is inscribed with "wisdom", and a gold ring is engraved with "silver linings". Kosann was inspired by the posy bands inscribed with poetry and given as gifts from Renaissance through to Georgian times. She explains, "I updated the sayings to those that would more likely be exchanged today, and into necklaces in the way a younger woman would naturally wear her boyfriend's ring."
Speaking of rings, a number of independent designers are bringing back the signet in modern contexts, adding their own alluring touches, and motifs on the shanks and around the profile, such as those found in Susan Cohen's circa 1700 chunky gold styles. Jewellery designers including Carla Caruso, Lori McLean and Samantha Knight are also creating versions of signets to continue the tradition of wearing family initials.
Sentimental motifs from the Georgian and Victorian eras are also seeing their way into extremely modern contexts in takes on "lover's eye" miniatures and various hand motifs. Gabriella Kiss' gold Love Token rings feature hands engraved with the word Amitica, meaning friendship, and an eye with a tear engraved with "Nil Nisi Cruce" on the band, meaning nothing without suffering.
Watchful eye rings are also being created in chunkier gold and with an ultra-hip hand-finishing at Nvit Blanche by designer David Hines. While many jewellers are showing alluring padlocks and lockets, the Sevan Biçakçi padlocks are most notable for craftsmanship, imagery and detail, as are the Arman Sarkisyan lockets in high carat gold, which give a nod to European nobility.
There are also designers who are betting on luck. One of the newest collections of Cartier jewellery, Amulette de Cartier, includes coloured gemstone necklaces symbolising luck and various wishes that are a take on an evil eye-shaped talisman, which was believed to protect against bad fortune in myriad cultures.
As Jacques Arpels of the renowned Van Cleef & Arpels was quoted as saying, "To be lucky, you must believe in luck". And to be a collector of these new takes on antique jewellery, one must believe in the powerful symbols we have seen develop into the heirlooms of tomorrow.
Samantha Knight signet ring with hand-engraved initial in 18ct gold.

Susan Cohen circa 1700s winged heart ring signifying "Protector of Love" in 18ct gold.

Gabriella Kiss tearful eye ring from the Love Token collection, engraved with "Nil Nisi Cruce" on the band, meaning nothing without suffering.

Nvit Blanche watchful eye ring designed by David Hines, created in chunkier gold and with an ultra-hip, hand-finished feeling.

Arman Sarkisyan's award-winning Sacred Heart locket in high carat gold, which opens to reveal a flaming heart-shaped rubellite surrounded by an engraved burst of light.

Amulette de Cartier pink gold pendant in onyx with diamonds, designed to symbolise good luck.

Delfina Delletrez's Secret Hands ring, in white gold with black and white diamonds, opens to reveal a hidden ruby heart ring.

Monica Rich Kosann posy ring pendants can be worn as one or in multiples around the neck, and have various meanings and symbols that take on a more current vibe.