I received my first piece of Elsa Peretti jewellery, a silver Bone cuff, for my 16th birthday. It was 1976 and, although Peretti originally designed it in 1974 for Tiffany & Co., it continued to be the piece - the item that all my friends wanted. I dreamed about owning a piece that was so chic - something my ultra-hip and fashionable 38-year-old mother wore, as well as celebrated women of the time, including Diana Vreeland, Liza Minnelli and Sophia Loren.
Who is Elsa Peretti?
Elsa Peretti not only understood the changing roles in women's lives, but how to capture a wide audience with her sculptural silver designs for Tiffany. She was a trailblazer for the modern woman. Her jewels were highly wearable and related to the times she lived in and to the women, like her, who wanted a look that was bold and made a statement. Elsa Peretti jewellery was also an alternative to the diamond-encrusted pieces that could only be worn for evening or by the grand dames of society.
The iconic Bone cuff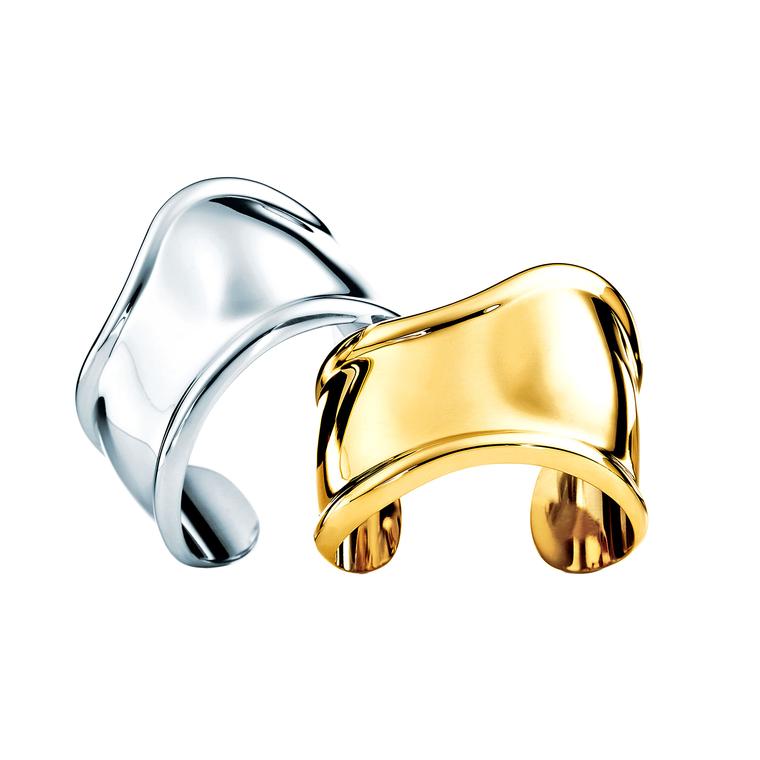 While all of Peretti's designs gave a nod to recognisable motifs, which she translated into more abstract forms, the Bone cuff was perhaps her most iconic design. It still graces the wrists of many style-setting actresses such as Rosamund Pike, Rachel Weisz and, most recently, Naomi Watts. These leading ladies have worn this cuff to various red carpet events in recent years - proof that Peretti's original pieces have as much modern and timely appeal as when she first designed them.
Born in Italy and educated in Rome and Switzerland, Peretti initially made her living teaching French. In 1969 she become a fashion model in New York and Barcelona and was also beginning to create her own jewellery - American fashion designer Giorgio di Sant'Angelo commissioned pieces for a fashion show, which were an instant success. Around the same time she met Halston, who became a long-time friend and collaborator, and designed pieces for him before being hired by Tiffany & Co. in 1974, introducing the Elsa Peretti collection.
Peretti's legendary Open Heart
Peretti was a role model for the new simplicity and the powerful woman: her fluid-shaped pieces with undulating surfaces danced the night away at Studio 54, while professional women sported her Bean and Bottle pendants to accessorise and personalise their more tailored work suits. Another piece that would become legendary was Peretti's Open Heart pendant, which was worn by Renée Zellweger in the 2001 film Bridget Jones's Diary. In the film, a 30-something singleton played by Zellweger is ever-hopeful about love and keeps her heart open - just like the pendant she wears.
The range of Elsa Peretti for Tiffany jewellery entitled Diamonds by the Yard also hit iconic status and was actually named by Halston and worn by Liza Minnelli to her first wedding. The Elsa Peretti jewellery case in Tiffany's 5th Avenue flagship store was designated a Tiffany landmark, and the designs are not only available in Tiffany stores worldwide, but are also in the permanent collections of the Museum of Fine Arts in Boston and Houston.
And as for me, I still wear my Bone cuff.
Beth Bernstein is the author of If These Jewels Could Talk: The Legends Behind Celebrity Gems, ACC Artbooks, published October 2015, which tells the stories behind Liza Minnelli and Diana Vreeland's Bone cuffs, Peretti's Open Heart pendant as featured in Bridget Jones's Diary, as well as other narratives of the jewels of Tiffany & Co.
The sensuous contours of Elsa Peretti's Bone cuff, available in gold and sterling silver, are ergonomically shaped to hug the body. Image: Josh Haskin

Introducing clean lines and bezel-set diamonds, Elsa Peretti reinvented the traditional diamond necklace when she designed the Diamonds by the Yard collection for Tiffany. Image: Josh Haskin

As the light catches each bezel-set diamond on this Elsa Peretti for Tiffany diamond necklace, from the Diamonds by the Yard collection, they appear to dance around the neck. Image: Josh Haskin

Credited as one of Elsa Peretti's first jewellery creations, the bottle has become synonymous with the designer. This Bottle pendant in sterling silver features a small opening at the top. Image: Josh Haskin

The open heart is one of Elsa Peretti's earliest designs and is also one of her most celebrated. The Italian designer has continued to reinvent the design over the years, including this simple but elegant pendant with a diamond in sterling silver. Image: Josh Haskin