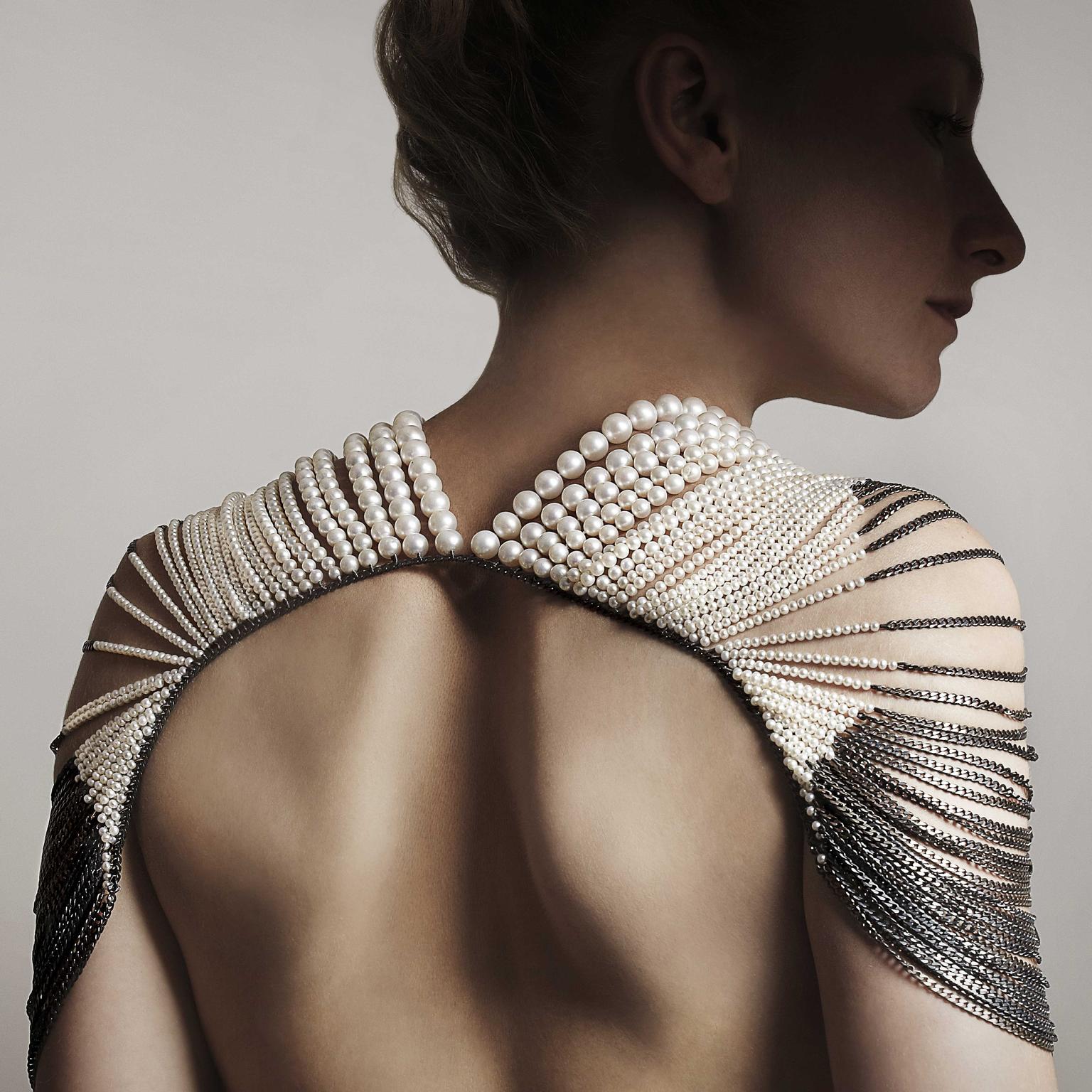 Melanie Georgacopoulos has shown us pearls in a whole new light by faceting, drilling, slicing, stacking and dicing them into unexpected forms. Ever seeking effortless beauty, she describes herself as fearless, minimalist and curious. Her deceptively simple creations are of breath-taking originality. I spoke to Melanie to find out more about the multi-cultural life of this singular Greek-born designer who now lives in Hamburg, Germany with her husband and two small children.
How did you come to design jewellery?
My mother is French but I was brought up in Greece. I studied at the Mokume School of Jewellery in Athens where for three years I learnt about ancient Greek jewellery production techniques. I left Greece when I was 20 years old and to expand my horizons I went to study sculpture at the Edinburgh College of Art where I explored design on a bigger scale. At the age of 25, I completed my studies by enrolling on the jewellery course at the Royal College of Art in London.
Looking back, it makes sense that I was interested in jewellery as we have such a strong tradition of gold work in Greece. I remember school trips to the Archaeological Museum in Athens and seeing all the gold masks and objects made using granulation, filigree, reticulation techniques. It was all part of our tradition, that I took for granted but when you leave and meet people from all over the world you realise how much is instilled in you from a young age. My childhood in Athens gave me a lot of knowledge without realising it.
Why did you decide to work with pearls?
I started with pearls by chance, out of pure curiosity. In my first year at the Royal College of Art, I was focussed on exploring materials as well as design but there was no common point between the two. I was designing lots of round things so my tutor Hans Stofer said: 'Why don't you work with pearls?'
I knew nothing about pearls back then, if I did, I probably wouldn't have sliced one in half. I bought my first pearl and I sawed in two. I did not expect it to look like a tree trunk inside; that's the wonder of ignorance!  I was fascinated and decided to dedicate my 2007 graduation show to pearls. I didn't think I was going to stick with pearls but my first collection was so successful that I carried on. As a recent graduate, to support myself,  I went to design for the jeweller Antoine Sandoz while in my spare time I worked on my own creations.  After three years I still had so much interest in my pieces that I decided to launch my own brand focussed on pearl jewellery.
Since then pearls have stuck. It has happened very organically and more based on creative decisions rather than business ones. I have realised over time that I am more interested in the creative side, always driven by challenging myself to try out new things. Over the last two years, my  latest challenge has been using mother of pearl and moving in to this unexplored area.
What has been the greatest recognition of your career?
The highlight has to be working with TASAKI, a very important Japanese pearl and jewellery company that trusted me enough to create a joint brand together called M/G TASAKI  (above). I don't know if I can ever top that. It keeps me interested and  I have learnt so much from them. Working with a large company after having to do everything yourself balances well with my creativity. And I love the fact that the audience and their huge reach are completely different from my personal work.
I design unusual pieces for them and they always say yes. I have designed deceptively simple jewels for which their very talented craftsmen have found production solutions. What's more our joint brand engages with a younger audience so the price range is quite accessible. Fortunately the Japanese have a very special relationship with pearls so they have really embraced my unconventional designs.
Tell me more about your current Nacre MOP collection that uses mother of pearl?
Mother of pearl is a very interesting territory that I really want to explore. It may be an inexpensive material to start with but the craftsmanship plays such an important part, which is the opposite of a pearl. And in terms of scale, it presents new opportunities so I can make larger pieces: a pearl is at the most 15-20mm in diameter. Because I wanted to make a very different product from what I was doing for TASAKI it was a very easy decision to move on to mother of pearl (below).  This material, also called nacre, is so close to pearl yet so different and so under-used.
We are at a moment when people are looking beyond the conventional ideas of precious, making it a great time for jewellers of my generation to explore their own voice and create based on design and craft rather than just the rarity of material.
Your Sliced pearls were controversial - have attitudes changed since you first presented pearls cut in half?
After that initial slicing of a pearl in half, I did my research and saw that there was little contemporary design with pearls. Back then some people were shocked and intrigued by what I was doing but I also had a lot of clients who already had a classic pearl necklace and wanted something different. I came in at the start of the time when the idea of more individual jewellery was emerging, and it is a trend that has grown since then.
My clients have also started to be younger, as pearls become more mainstream and every high street is inundated with pearl jewellery so younger people are now wearing them and looking for new ideas. The same is happening in the world of fashion and it's why we see more designers like JW Anderson or Demna Gvasalia for those who won't be dictated to by seasons or trends but are following their own style. We have seen this translated into jewellery with things like mismatched earrings and an acceptance of a wider range of materials.
There is always an element of the unexpected in your work. Tell me about this angle. 
I want to surprise myself and my clients and it is exciting to have a reaction from people when they see your jewellery. With age and maturity you find what suits you best and what you are good at. I feel that my place is to discover new techniques and ideas and explore crossovers with other industries.  I love the idea of finding a balance between design and techniques to create an effortless beauty. 
Athens provided the original jewellery spark, but how have Hamburg, London and Tokyo influenced you?
Leaving London to come to Germany gave me a lot of perspective and clarity. I am very inspired by the German efficiency, craftsmanship and attention to detail. I am beginning to see how my work is becoming less fussy and more organised starting with design right through to production and even to how I function personally. It's good to step away from the London bubble and to realise there is a whole world to explore.
London will always have a special place in my heart and it is where my office is currently located. During my Masters Degree I was finally able to fuse together everything I had learnt. It was in London that I found my jewellery voice, created my brand, took risks and learnt to be fearless. London is so multicultural and open that you can do a lot of crazy things and find an audience for it.
Seeing how the Japanese work and their ability to focus doing one thing really well is inspiring. Their work is so flawless it is as if no human hand has touched the jewel. This has made me much more demanding with production and I am now looking for the equivalent in Europe.
Will it always be pearls?
I don't know but I feel there is still so much to do. After each collection I think it is the last one, but it is non-stop. When I run out of ideas I will stop but for the moment I feel there is a lot more I want to do with pearls and a whole world to explore with mother of pearl. For years I felt it was perhaps limiting that people only knew me for pearls but I realised that it's the exact opposite! I'm happy to be the pearl queen.
You can see Melanie's first solo show in Germany between 13-16 March at Munich Jewellery Week at Karin Wimmer Contemporary Art where she will be showing her 'Nacre' collection. Find out more here.