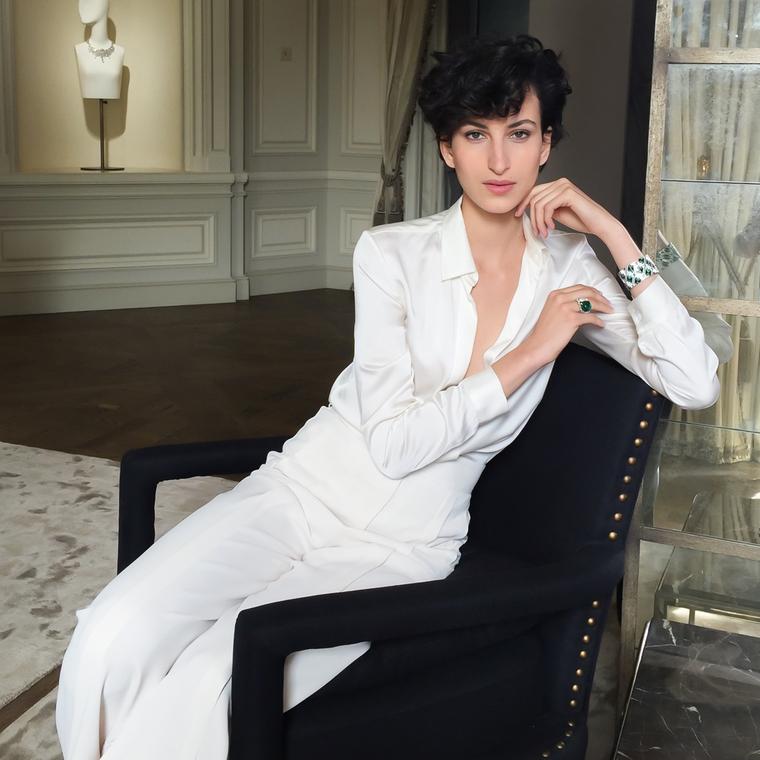 Giampiero Bodino has very clear views on the role of seriously valuable jewels today. Despite their mainly six- and seven-figure price tags, Bodino insists that each of his one-off jewels, however regal in their sumptuousness or rich in historical references, is made to be enjoyed and worn everyday - not something you hear often in the lofty climes of the world of haute joaillerie, where jewels are "for best" only or, at worst, alienating status symbols. And this sentiment is gaining ground as sophisticated women increasingly seek enjoyment and personal satisfaction from their wealth, whilst knowing that the best treasures are those that bring joy to the wearer.
 "I make jewels for the woman who wears them for her to enjoy," says Bodino in his deep, almost sotto voce tone, as he drapes a magnificent mandarin garnet Rosa dei Venti medallion around the neck of Renata, our model for the shoot.
Right on cue, Renata spontaneously coos with pleasure as the cool gold settles on her neck. She can't take her eyes from the mirror as she stares at the rich tangerine and pinky red hues beaming out from her chest. She is quite literally transformed by the sunset-glow of the talisman, and I can almost hear her purr with delight, her slender hand stroking the jewel.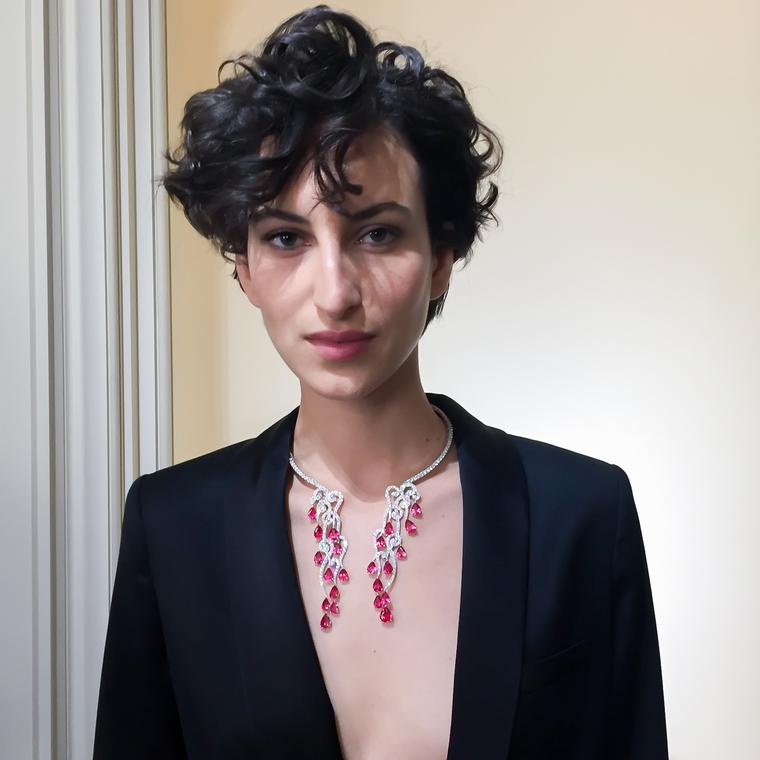 "Guarda, you shouldn't see the whole jewel," says Bodino, adjusting the shirt collar to partially cover the diamond and rubellite-dotted chain. "It's for you to wear how you want. It's not about telling people how much money you have, it's about having something beautiful."
"Senti, jewels should not be unapproachable or imposing," continues Bodino. "However valuable, they should be easy to wear. I do this by the way I combine the colours, how I make them very flexible and also versatile. When I design, I don't think about the value of the stones; I am always looking to make something beautiful."
Many of the new pieces are versatile, another key to making jewellery more relevant to today's woman. The Tesori del Mare spinel and sapphire necklaces started life as earrings.
"I had an idea to make some really big earrings and then I thought, what if she wants to wear them another way? So I made the simple choker, which you can clip them on to and make a necklace," explains Bodino. The centrepiece of another Rosa dei Venti mandarin garnet and spinel necklace can be unclipped and worn as a brooch, likewise the Passamaneria and Primavera necklaces.
Bodino's style is hard to pin down. Neo-baroque would fall short of describing his mercurial talent, but one thing that is certain is that he is constantly inspired by Italy, his beloved homeland. Be it the surprisingly modern geometric patterns of an ancient mosaic floor talking to us through the Mosaico cuffs or the richness of Renaissance fabrics and tassels, Bodino takes objects from Italy's treasure chest of history and turns them into jewels bursting with colour and light. The new Primavera rings and necklaces are as bright as a freshly tied spring bouquet, while the luminescent pink of tourmalines shines out with contagious optimism from the Passamaneria ring, bracelet and necklace.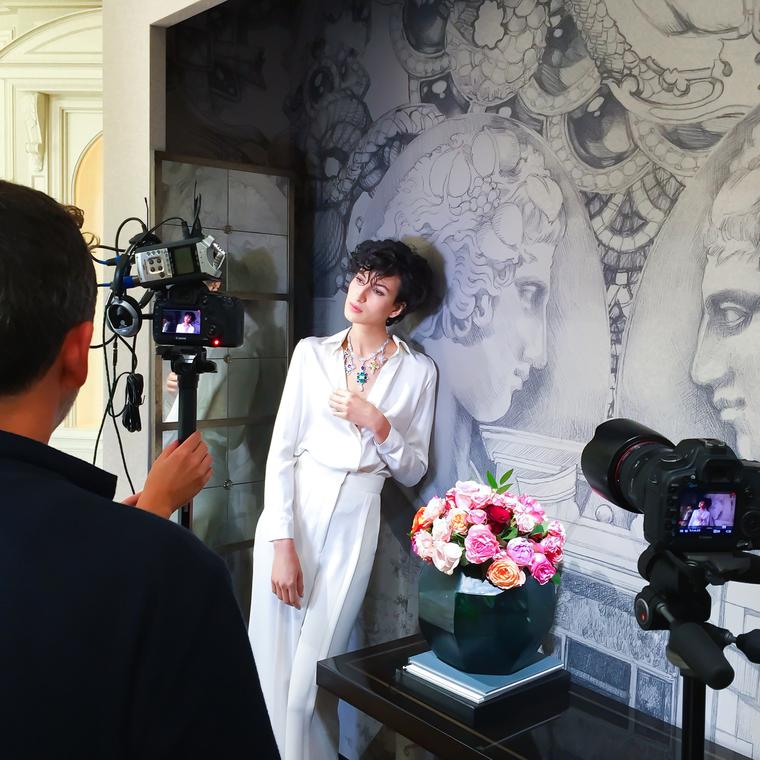 My favourite new piece is the transformable Rosa dei Venti necklace, with its five spectacularly brightly bejewelled crosses. It can be worn with less or more crosses, on a long or short chain, or pinned to a shirt, and is the result of the slow filtration of a memory in Bodino's mind.
"When I was a child, I remember going to the San Gennaro church in Naples and seeing the amazing crucifix necklace, a votive offering from a wealthy worshipper. I took this idea and slowly, over time, made it into this necklace." Distilling the beauty of an ancient icon into a shimmering mirage of candy-bright colour is pure joy to look at. This daring interpretation can only be the work of a highly confident creator.
Watching Bodino handle his jewels and putting them on Renata is to see the final link in the chain of creation. "Jewels really start to breathe when they are worn," he says, stepping back to admire Renata in the red spinel Tesori del Mare earrings. "They are molto carino, no?"
Italian jeweller Giampiero Bodino with model Renata Scheffer at the Ritz Hotel during Paris Couture Week.

Model Renata Scheffer wearing Giampiero Bodino's transformable Rosa dei Venti necklace with five detachable bejewelled crosses (POA).

Model Renata Scheffer wearing the Tesori del Mare transformable necklace by Giampiero Bodino, with two detachable earrings set with 22 red spinels (POA).

Model Renata Scheffer wearing the new Mosaico bracelet and Primavera ring by Giampiero Bodino.