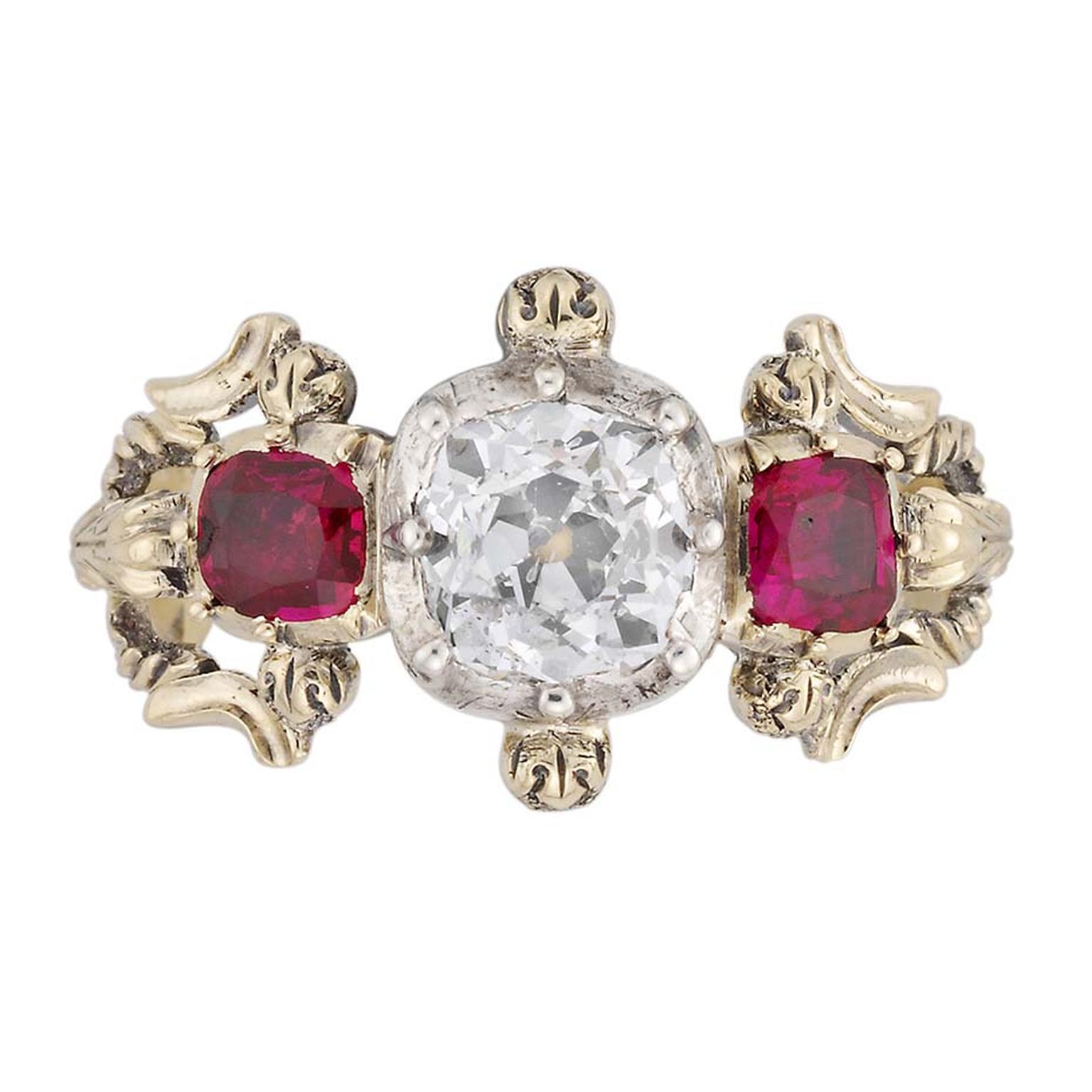 By Åse Anderson 
Victorian engagement rings are popular among brides-to-be who love the romantic aesthetic that pervaded designs of this era. The Victorians were spoilt for choice when it came to engagement rings, with many different styles emerging during Queen Victoria's six decades on the throne. 
Early Victorian engagement rings were usually big and elaborate, while those dating from the late 19th century were smaller and more intricate. Until the 1870s, diamonds were scarce, but the opening of the diamond mines in South Africa led to a fall in prices and these precious stones were increasingly incorporated into the antique engagement rings of the times. 
View our guide to buying vintage engagement rings
One thing that stayed the same, however, was the choice of metal, which remained yellow or rose gold. The romantic allure of rose gold appealed greatly to the Victorians, who liked to combine it with an array of coloured gemstones. Queen Victoria had a soft spot for opals, but other popular coloured gemstones included sapphires, rubies, emeralds, amethysts, garnets and turquoise. As large diamonds were something of a rarity at the start of that era, Victorian engagement rings often featured clusters of small diamonds, or coloured gemstones and pearls surrounded by diamonds. 
View a selection of our favourite rose gold engagement rings
If a ring featured a diamond centre stone, it was usually cut in the old mine cut, which dates back to the 1700s and resembles the modern cushion cut, albeit with more rounded corners. Another popular diamond cut was the 58-facet old European cut, which is the predecessor of today's round brilliant cut. 
Three stone engagement rings were popularised during the Victorian era with either a diamond or coloured gemstone in the centre, flanked by two smaller stones. Victorian brides were also often presented with acrostic rings, better known as Regard rings, which spelled out a message such as dearest, regard or love, using the first letter of different coloured gemstones. 
Learn more about acrostic jewellery here
Other popular styles included serpent engagement rings, like Queen Victoria's, in the shape of a snake - which was, believe it or not, actually considered to be a very romantic motif - and the half hoop ring where the top part of the band features an elaborately carved design set with gemstones. 
Jewellery shops selling antique-style engagement rings and websites such as 1stdibs are a good starting point for those looking to buy genuine Victorian engagement rings. With such a variety of designs, from simple and elegant to colourful and intricate, these antique engagement rings are perfect for those coveting something unique. 
A La Vieille Russie Victorian engagement ring in gold with a central-set Colombian emerald flanked by old-mine diamonds.

A classic Victorian design, this antique engagement ring features a cushion-cut diamond set in a handcrafted, oxidised, yellow gold and silver mounting, surrounded by a halo of diamonds. Available from 1stdibs.com.

This Victorian engagement ring in rose gold is set with four rose-cut diamonds on either side of the central solitaire. Available at 1stdibs.com.

A side view of A La Vieille Russie's Victorian engagement ring in gold, which dates from around 1890.

Bentley & Skinner diamond cluster Victorian engagement ring, dating from circa 1890, set with a large old-cut diamond in the centre of a gold mount, framed by old brilliant-cut diamonds.

A side view of Bentley & Skinner's diamond and ruby Victorian engagement ring, circa 1850.

An emerald sits in the centre of this three stone Victorian engagement ring from Bentley & Skinner, flanked by two old-cut diamonds in a carved yellow gold mount.

A side view of the Bentley & Skinner emerald and diamond Victorian engagement ring, circa 1880.

This early Victorian engagement ring, available from Berganza in London, features an oval, old-cut, natural, unenhanced Burmese ruby, encircled by a row of cushion-shape, old-cut diamonds. It dates from around 1850.

Old European-cut gold and diamond late Victorian engagement ring, which dates from around 1900. Available from Doyle & Doyle in New York.

Victorian engagement ring in gold, with an old European-cut diamond and black enamel detail, available from Doyle & Doyle in New York.

Emerald and diamond cluster Victorian engagement ring with a central cushion-shape, old-cut diamond encircled by a single row of square emerald-cut natural emeralds, dating from around 1880, from Berganza.