When Francesca Amfitheatrof was announced as the new design director at Tiffany & Co. two years ago, it was seriously big news - she was the first female design director in the company's 178-year history. But while her gender might have sent a few ripples round the globe, her subsequent collections of Tiffany jewellery have caused a tsunami.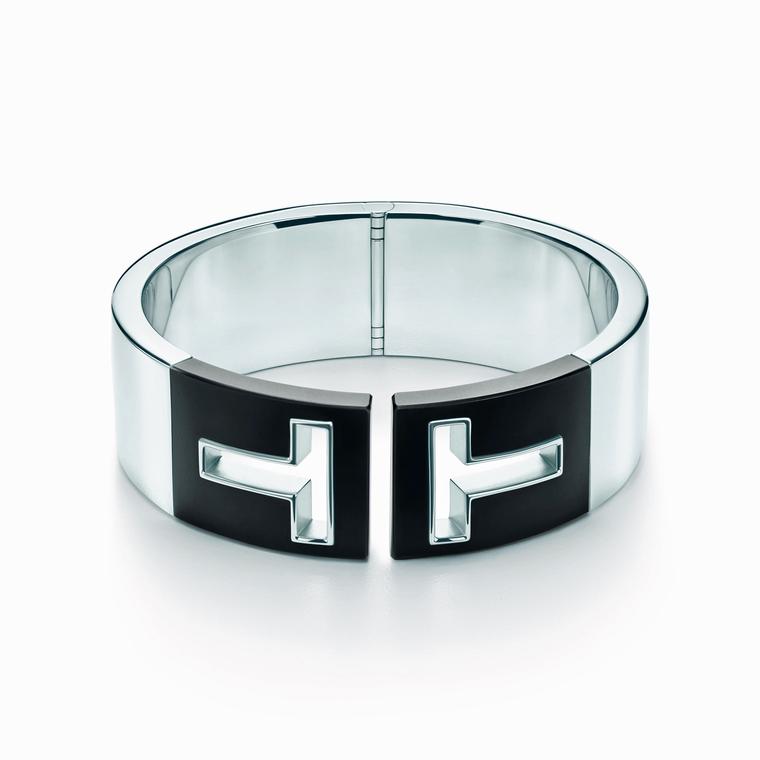 Amfitheatrof kicked off a new era at Tiffany with her first collection Tiffany T, which launched in August last year. She has described this debut line as "unapologetically modern, sculptural and bold", and with large T-shaped voids decorating the end of its chunky silver or gold Tiffany cuffs, it certainly made a statement. But the Tiffany T collection can also be subtle, tapping into the trend for delicate, precious jewels for everyday wear. Covert rose gold Ts link together to create bracelets, while elongated double-ended Ts curve into gentle Tiffany necklaces.
Read more about the Tiffany T collection
The ability to create such sensuous jewellery without compromising on delivering a strong design statement has become Amfitheatrof's forte. Her latest designs are chic updates on Tiffany classics, such as the Bow and Infinity collections, designed to tempt modern women who are ready to buy their own little blue boxes.
Tiffany's simple signature Bow necklace and earrings have been given a lifelike makeover, with looping, believable asymmetric bows updating what had previously been a collection restrained by 2D shapes. The clean, eight-shaped loops of the Infinity collection have been similarly modernised, with stretched loops that wrap around precious metal, fixing onto Tiffany rings and cuffs with diamonds and alternative metal colours used to highlight the contrast. 
Read more about the history of bows in fine jewellery
Amfitheatrof, who was in league with the Young British Artists crowd after graduating from London's Central Saint Martins and the Royal College of Art, has also been working her magic on Tiffany's luxury jewellery collections. This April marked the launch of her first Tiffany Blue Book collection - the company's annual offering of couture jewels, so named as it started life in 1845 as a catalogue with a cover to match the jeweller's iconic packaging. The oceanic selection of Tiffany jewellery is utterly breathtaking, instantly whipping you away to the azure waters that inspired the collections through graduating blue tourmalines, sapphires and spinels, smooth tanzanite and chrysocolla cabochons, sparkling aquamarine and shimmering black opal.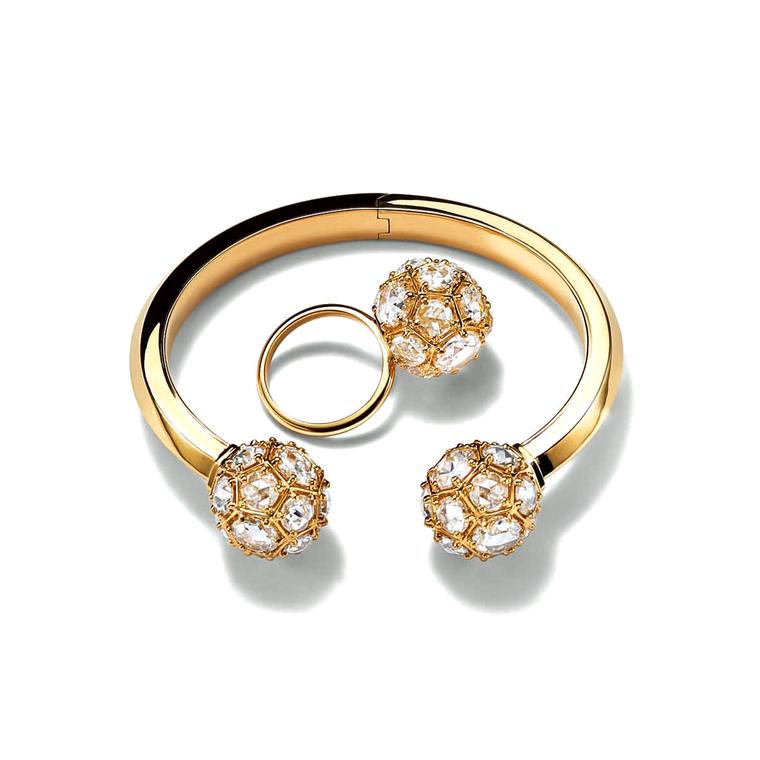 Amfitheatrof has also unleashed her brand of luxurious modernism in high-end diamond jewellery within the Tiffany Masterpieces 2015 collection, which launched in August. For this range, she trapped diamonds in cage-like settings, placed them among rock crystal and chains, broke up pavé pendants with irregular black onyx squares, and brought an almost pixel-like geometry to a platinum necklace set with round and marquise-cut diamonds.
Read more about the 2015 Tiffany Masterpieces collection
Where Amfitheatrof's easy affinity with trends and keen hunger for newness will take Tiffany next, we can only imagine, but with such a strong start we can't wait to see more.  
Read about Tiffany jewellery at the SAG Awards
With new collections such as Tiffany T and the revamped Tiffany bows, design director Francesca Amfitheatrof has given Tiffany & Co. a thoroughly modern makeover.

The graphic form of the T is crafted beautifully in this Tiffany T cutout hinged cuff in sterling silver with black ceramic.

18ct rose and white gold, diamond Tiffany cuffs from the new Bow collection.

The thrilling colours and fascinating diversity of a tropical coral reef are captured in two Tiffany cuff bracelets from the Blue Book collection, one with a central aquamarine and the other a magnificent rubelite.

Tiffany ring from the Blue Book collection set with a 21.66ct chrysocolla surrounded by sapphires in platinum.

The 2015 Masterpieces collection included this Tiffany bracelet and ring, which appear to trap diamonds in a cage-like setting. 

Tiffany onyx and diamond earrings reminiscent of the glamour of New York at dusk, from the jeweller's 2015 Masterpieces collection.