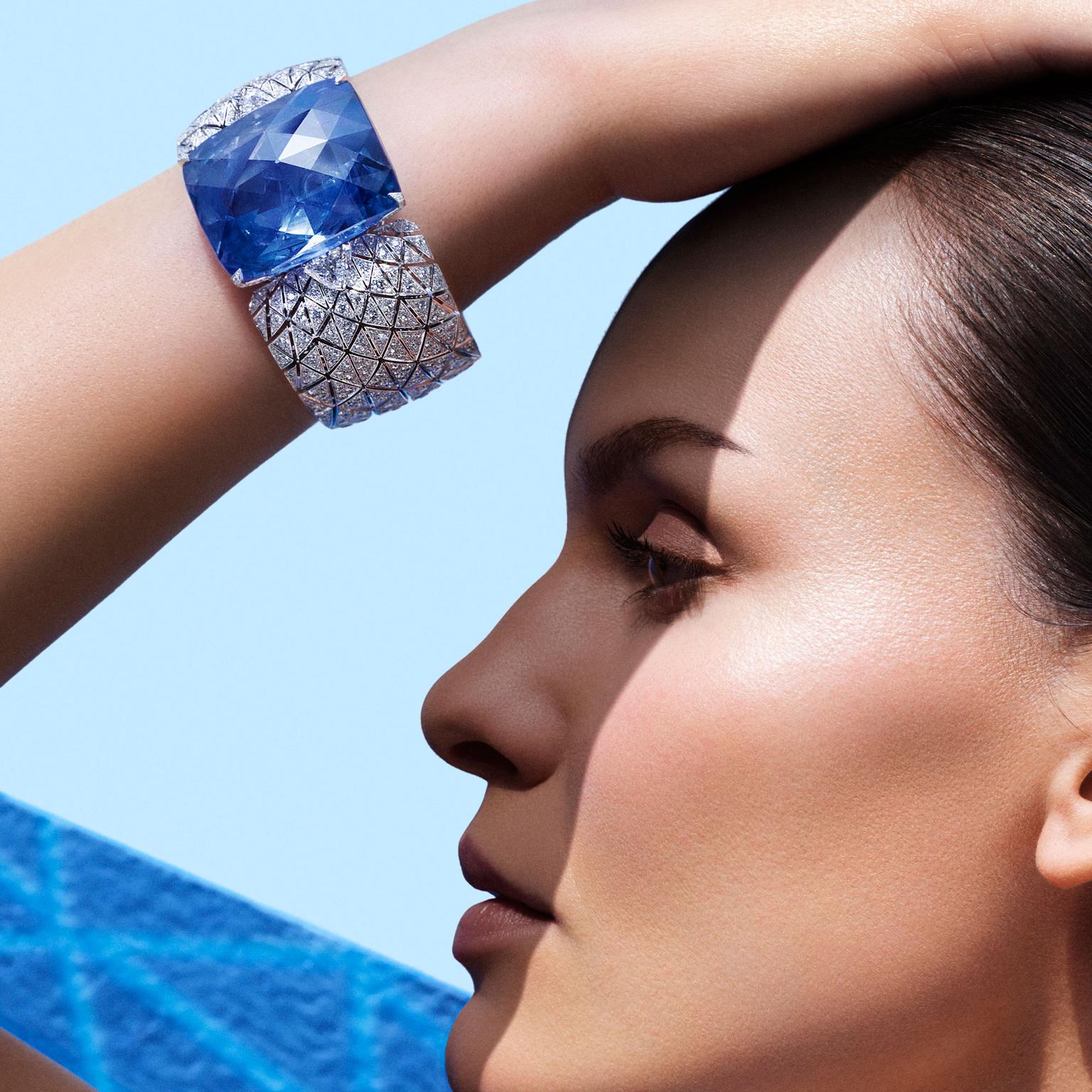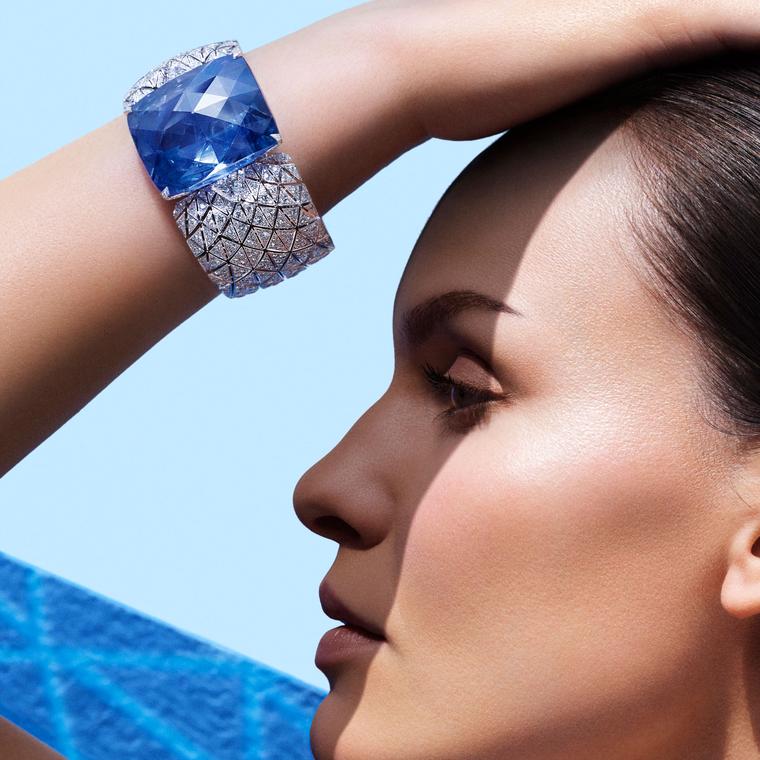 Etourdissant, which means "stunning" in French, is an apt name for Cartier's new high jewellery collection. Fabulously rich colours, extravagant designs and unashamed opulence are the design trademarks of this Maison, which never does things in half measures. The confidence that shines out from the design and execution comes from the accumulated assurance of 160 years of experience in making fabulous Cartier jewellery for the most demanding clients in the world, who think that they have seen it all.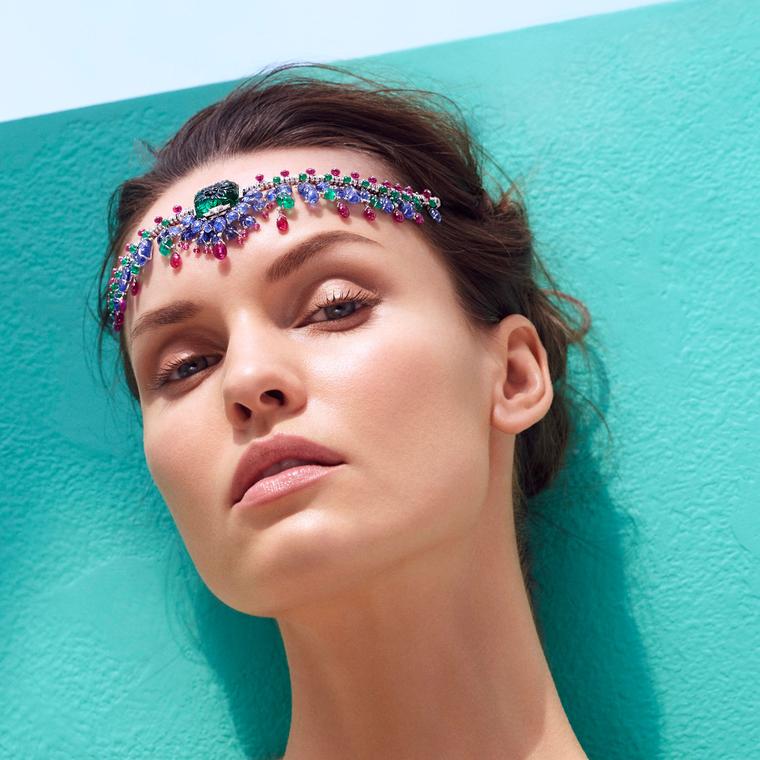 But each time, Cartier surprises us by bringing something new, by arranging precious stones and metal in novel and arresting ways. From cherry-ripe pink Mozambique rubies to subtle powdery-mauve chalcedony beads, each jewel shows a new facet to the intriguing allure of nature's most precious gifts. Unveiled under the summer sun of the French Riviera, by day these jewels bend light to their will and, as night falls, they glow like summer fireflies.
Read more about Mozambique rubies
Of arresting proportions and celestial beauty is the impressive 197.80ct sapphire at the heart of the Romanov diamond and rock crystal bracelet. A perfect summer day is forever captured in this velvety-blue sapphire that once belonged to the Tsarina Maria Feodorovna - the last grande dame of imperial Russia. Decades ago, this magnificent sapphire emerged from a mine in Ceylon and its eternal light is as bright as an endless summer sky.
Read more about the Cartier Etourdissant high jewelry collection
The Garance necklace brings together rubies and diamonds - two very traditional and regal stones - with a modern and relaxed informality. The loosely tied diamond rope sits on the neck with an ease that belies both its value and the great skill required to make diamonds flow around the body like fabric. The larger 5.00ct cushion-cut rubies are from Mozambique, while the smaller ones are Burmese, showing Cartier's determination to hunt down the very best gemstones from around the world and surprise with subtle chromatic nuances.
The black opal at the centre of the Lagon bracelet is full of mystery. Made of both shadow and light, this opal offers a tantalising combination of a deep darkness shot through with shards of colour. The enigmatic colour palette of this stone is echoed in the diamonds, emeralds and Paraiba tourmalines that surround it.
Read more about Paraiba tourmalines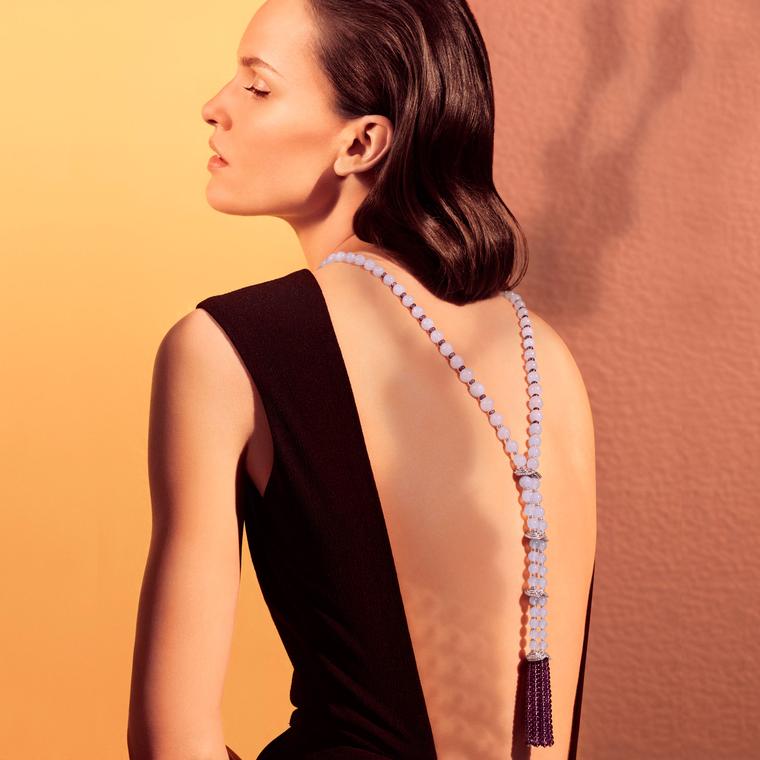 Cartier jewellery challenges tradition in the most elegant way. The long Violine lariat can be worn either caressing the back or as a necklace down the front of the body. Two strands of delicate-hued mauve chalcedony beads are united by platinum and diamond discs and end in two amethyst tassels. Easy to wear, this elegant Art Deco-inspired design shows its thoroughly modern colours.
So very Cartier, yet so very modern, is the Teinte bracelet with its ribbed stripes of coral, onyx, chrysoprase and diamonds. The geometry and colour combination is reminiscent of Cartier's Egyptian Revival jewels, which grabbed the world's attention in 1922 when Howard Carter brought to light the pharaonic treasures of Tutankhamun. An ancient theme finds new life in this timeless bracelet, bringing the past to life with arresting freshness.
And that is the essence of great high jewellery: just when you thought nothing new could possibility exist, the Cartier Etourdissant collection delights with thought-provoking design and magnificent stones, finding new beauty in unexpected places.
See more exciting high jewellery collections from Cartier
Cartier Etourdissant Garance necklace in platinum with two cushion-shaped rubies from Mozambique, oval-shaped rubies from Burma and brilliant-cut diamonds.

The beauty of the summer sun glistening over the Mediterranean is captured beautifully in these sketches of the Cartier Etourdissant Lagon bracelet.

Cartier Etourdissant Lagon bracelet with a 85.42ct black opal surrounded by sapphire and emerald beads, Paraiba tourmalines and brilliant-cut diamonds.

Cartier Étourdissant Violine necklace in platinum with chalcedony beads, amethysts and brilliant-cut diamonds. The necklace can be worn at the back or front.

Teinte white gold bracelet with onyx, chrysoprase, coral and brilliant-cut diamonds, from the new Cartier high jewellery Etourdissant collection.

Cartier Etourdissant platinum Hyderabad headband, which can also be worn as a bracelet or choker, featuring an 18.23ct carved octagonal-shaped Colombian emerald, sapphires, emeralds, rubies, onyx and diamonds.

Cartier Etourdissant Romanov bracelet in platinum, with a 197.80ct cushion-shaped, rose-cut sapphire from Ceylon, modified shield step-cut and brilliant diamonds. The sapphire can be replaced by a carved rock crystal.