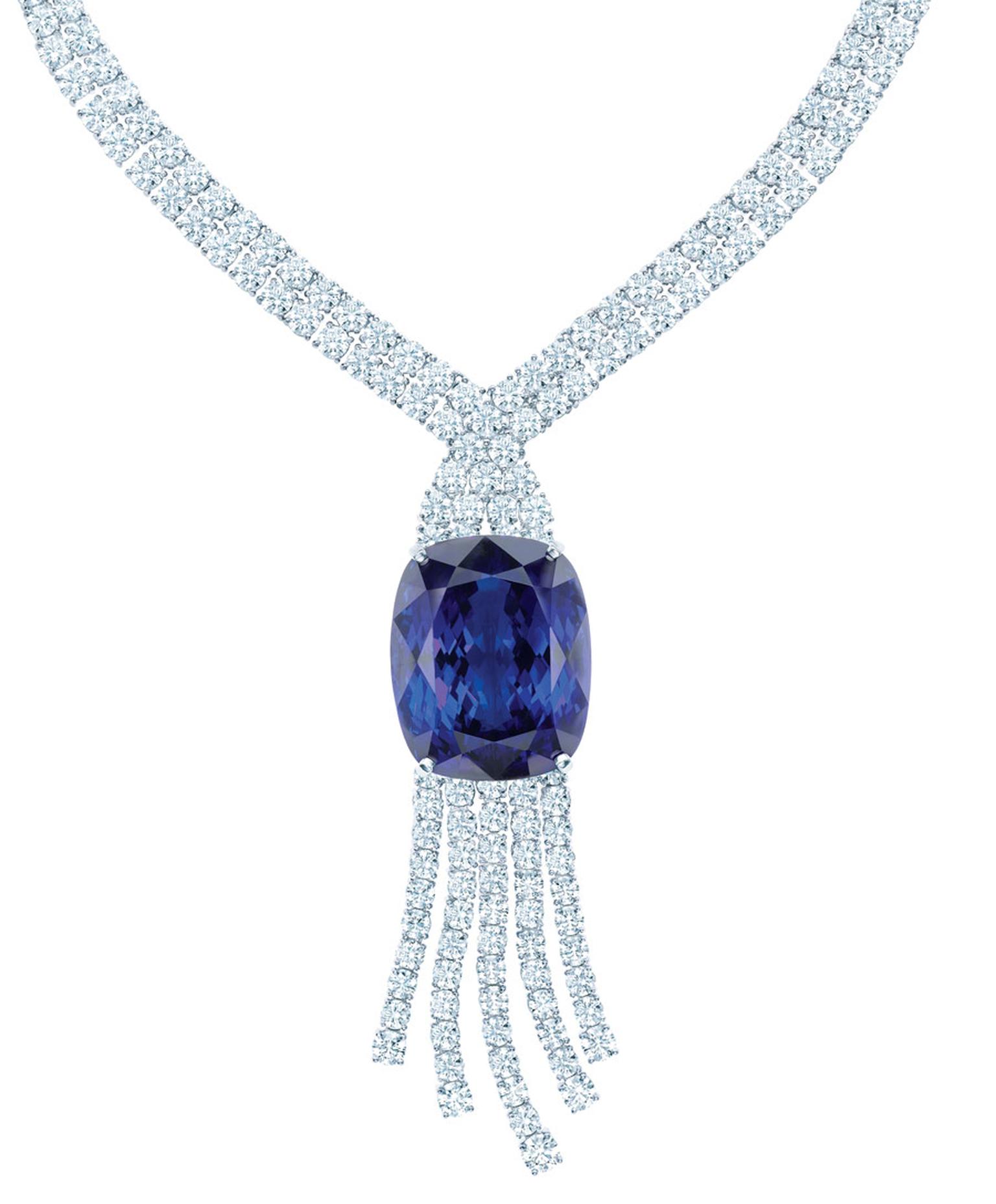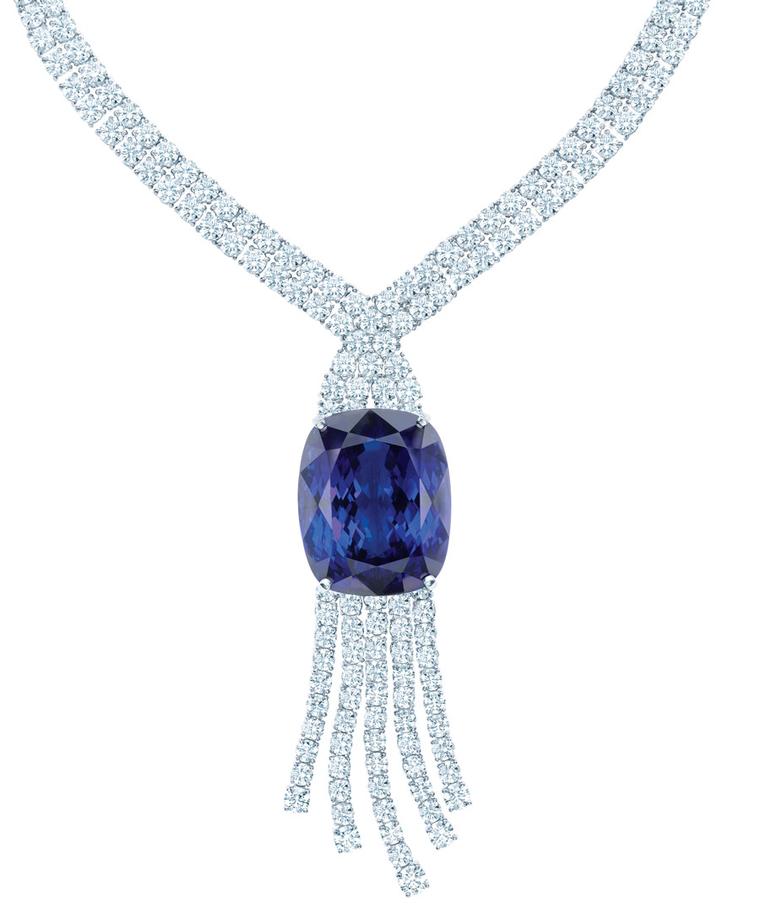 To celebrate its 175th anniversary, Tiffany & Co presents the "Legacy" collection of jewels featuring the gem stones this American jeweller introduced to the world. And so the focus is on spectacular coloured stones such as kunzite, morganite, tsavorite and tanzanite, all of which were first seen in Tiffany jewels. As you would expect of such a milestone anniversary, the stones selected for this collection are all outstanding and prime examples of their kind because of their colour, size and sheer beauty. Particularly impressive are the kunzite, morganite and tanzanite solitaires, all weighing 175 carats in recognition of the importance of this anniversary and set into necklaces that would most definitely get you noticed on the red carpet. 
Charles Lewis Tiffany (1812-1902) was a pioneer and an adventuring jewellery. His emporium in New York selling all manner of fancy goods and stationery soon became the place to go to see the newest and the most exciting and unexpected. From around the world he brought his clients the novelty of diamonds sold to him by European nobility fallen on hard times and then trumped the achievement by putting on show the Tiffany Diamond, the largest yellow diamond in the world. And there was more.  Daring designs that echoed the tastes of a new nation in an age of progress forged the Tiffany look that today we are all familiar with from the delicate plique a jour enamel dragonfly and nature-inspired jewels of the early 1900's to Schlumberger's extravagantly opulent designs of the 1950's to the highly succesful silver bracelets bristling with charms.
But it is coloured gemstones for which Tiffany is most famous as many stones in the colours in a jeweller's palette were first introduced by the daring gemologist Dr George Frederick Kunz (1856-1932).  "The story of how these gemstones were discovered and introduced is truly inspiring," said Jon King executive vice president at Tiffany & Co. "Our 175th anniversary is the perfect occasion to celebrate our heritage by showcasing these exquisite stones in one-of-a-kind jewels which so perfectly reflect Tiffany's brilliant design legacy."
And they certainly are fascinating stories as to bring a new stone to the display cabinets of 5th Avenue was an adventure not for the faint-hearted.  Travelling the world to find new stones to delight Tiffany's customers, a lilac-pink stone found in California was named for the ground-breaking gemologist Dr Kunz and kunzite was first seen in Tiffany jewels in 1920. Morganite, with a shimmering pink hue, was named for the famous banker John Pierpont Morgan who was a devoted customer of Tiffany and a great lover of gemstones. The stone was discovered in Madagascar and introduced into the world of jewellery by Tiffany in 1910.
Tanzanite was discovered in near Mount Kilimanjaro in Tanzania, hence its name, and introduced into jewellery by Tiffany in 1968. It's velvety blue colour with flashes of violet assured its acceptance and today it is still highly prized. Later in 1974 a rare type of green garnet was found in the Tsavo National Park near the border of Kenya and Tanzania. The vivid green tsavorite was named for its source of origin and first adorned jewels in 1974.
Also in the Legacy collection are enticing diamond creations featuring both pink and yellow diamonds as well as a very rare fancy vivid greenish blue diamond of 2.51 carats. Treat your eyes to this spectacle of colour from the jeweller that has brought colour and the optimism of America to the world of jewellery. 
Tiffany Anniversary ring with a round white diamond, 3.09 carats, G color, VS1, in platinum, bordered with pink diamonds in 18 karat rose gold.

Tiffany Anniversary platinum ring with a 9.99ct tanzanite and diamonds.

Tiffany tsavorite earrings with an openwork motif in platinum set with diamonds that suggests petals unfolding from a centre of sumptuous green. Tsavorite was discovered in 1970 in the Tsavo National Park in East Africa.

An artisan adds the finishing touches to the Tiffany anniversary tanzanite necklace.

Tiffany Anniversary ring with a 2.51ct oval fancy vivid greenish blue diamond, in a diamond and platinum setting.

Tanzanites highlight ornate open settings with their distinctive velvety blue color. Hinged bracelet and earrings of tanzanites, diamonds and tsavorites in platinum.

An artisan brings the Kunzite pendant to life.

The Tiffany Anniversary Kunzite pendant, oval, 175.51ct, set with diamonds in platinum on a diamond and platinum chain.

Tiffany Anniversary earrings of morganite briolettes, 54.54 total carats, with diamonds in platinum.

The Tiffany Anniversary Morganite necklace, cushion-shaped, 175.72ct, is "tied" with a ribbon-like diamond bow, centered with a 2.0ct Tiffany Novo® diamond and features a necklace of diamonds and platinum wire.

Tiffany Anniversary platinum necklace, set with over 175ct of tanzanites, complemented by a cascade of round brilliant diamonds.