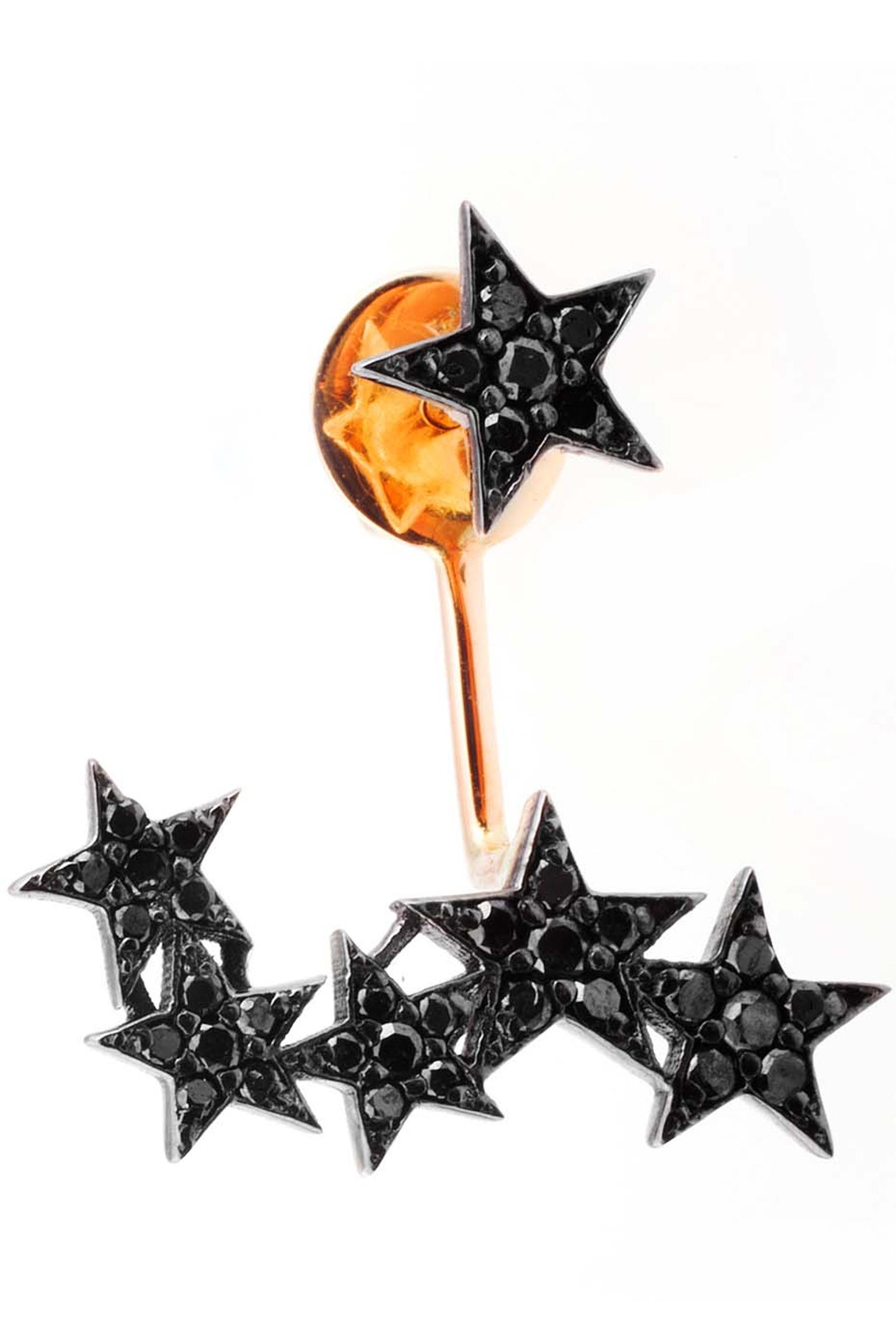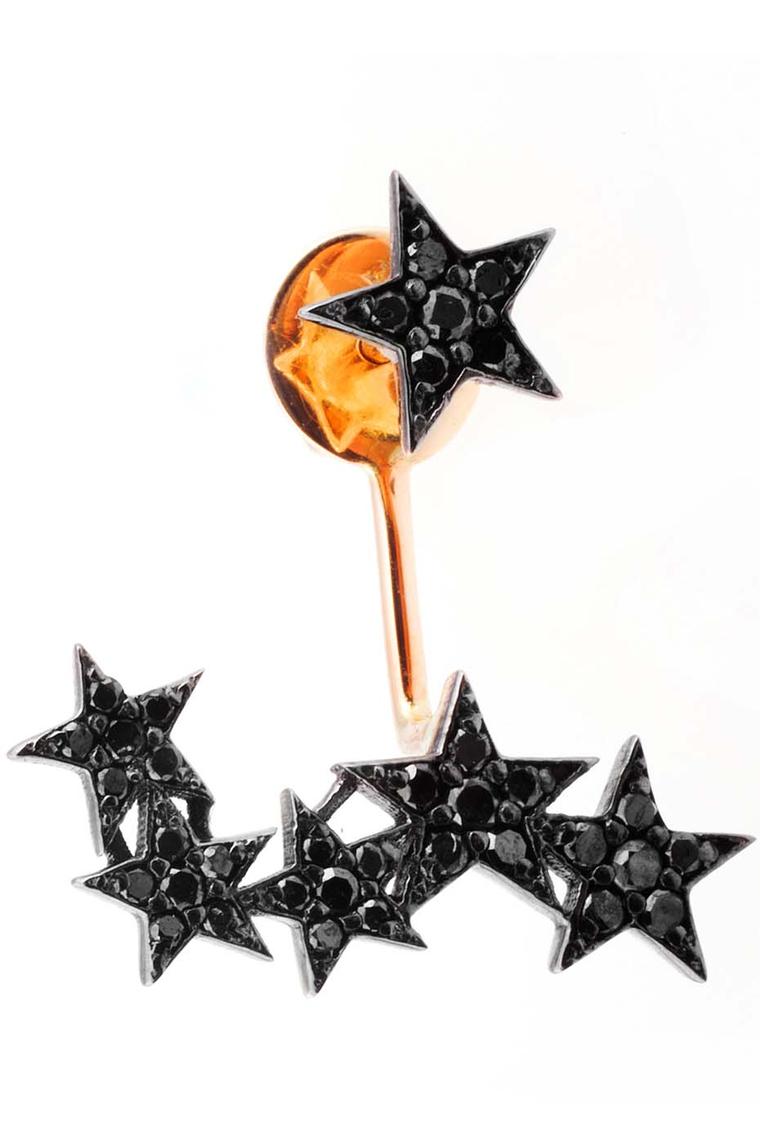 Earrings look very different depending on who's wearing them and narrowing our favourite earrings to just 10 was no easy task. Thankfully, we were able to whittle down our choices to 10 pairs that the entire Jewellery Editor team thought would suit us all perfectly.
Kismet's versatile Black Star earrings are an edgy pair of black diamond constellations that are leading the way with the new ear cuff trend.
Meanwhile, we also had to tip our hats to Amrapali's carved emerald earrings with hand-carved emerald stones featuring delicate floral patterns surrounded by uncut diamonds. While these involve traditional Indian carving techniques, the vibrant emeralds - ethically sourced by Gemfields -  and uncut diamonds create a fresh and contemporary feel.
Louis Vuitton's Acte V Metamorphosis high jewellery earrings need no introduction. Featuring a myriad of white diamonds in a distinctive V shape - a consistent motif throughout the collection -  the Acte V earrings are subtly traced in diamonds which come to the fore with dangling minty green chrysoprase drops.
Next up are a pair of earrings from German brand Hemmerle. Combining precious stones with more humble materials found in our everyday surroundings, Hemmerle uses aquamarines set into slices of jasper with concrete, copper and gold to create the most unconventional piece in our selection.
A no brainer for our top ten were Irene Neuwirth's one-of-a-kind rose gold earrings. With a stunning trio of mint chrysoprase, Mexican fire opals and Lightning Ridge opals surrounded by rose-cut diamonds, these are a true showstopper. 
For a versatile pair of earrings we could wear as easily with a t-shirt and jeans as with a little black dress, we had to choose Astley Clarke's elegant Connie earrings featuring a beautiful slice of ruby illuminated by a quartz top layer and surrounded by a double halo of pavé grey diamonds.
Brazilian jewellery designer Fernando Jorge's entire collection of earrings were a hit for The Jewellery Editor team, but his lilac rhodolite Fusion Drop earrings really stood out for his exquisite use of uniquely-cut lilac rhodolites interspersed with tonal amethysts and rubies.
Stephen Webster's Lady Stardust earrings might seem too edgy for women who would rather stay in on a Friday night with a bottle of red, but these glamorous chandelier earrings with geometric zigzags of white diamonds and amethyst are just the pair of empowering earrings to fuel your ego, even if they are worn on Friday night while sitting on the couch in front of the tube.
Similarly, Shaune Leane's Aerial earrings are another dramatic pair of feminine earrings featuring two marquise-cut Zambian emeralds sourced by Gemfields with a cascade of white diamonds.
Last, but certainly not least, are the jaw-dropping Chopard Red Carpet collection opal earrings worn by Cate Blanchett during the 2014 Oscars. With 62 white opals set in white gold with diamond pavé, aligned in a chandelier-style and totalling 33 carats, dare I say these were our favourite of the year?
Louis Vuitton Acte V Metamorphosis high jewellery earrings featuring chrysoprase drops and diamonds.

Cate Blanchett's Oscar 2014 opal drop earrings are from Chopard's new Red Carpet Collection and feature 62 white opals set in white gold with diamond pavé.

One-of-a-kind Irene Neuwirth earrings in rose gold with mint chrysoprase, Mexican fire opals, Lightning Ridge opals and rose-cut diamonds.

Shaun Leane's Aerial earrings feature two marquise-cut Gemfields' Zambian emeralds from which descend two fluid lines of white diamonds leaving a scattering of emeralds in their wake.

Amrapali Emerald earrings with floral carvings surrounded by diamonds.

Fernando Jorge Fusion earrings featuring lilac rhodolite interspersed with tonal amethysts and rubies.

Stephen Webster Lady Stardust chandelier earrings in white gold featuring geometric zigzags with white diamonds turning into ever deepening purple amethysts for a dramatic dip-dye effect.

Hemmerle

Kismet black diamond constellation earrings are the perfect piece to wear alongside their star necklace.