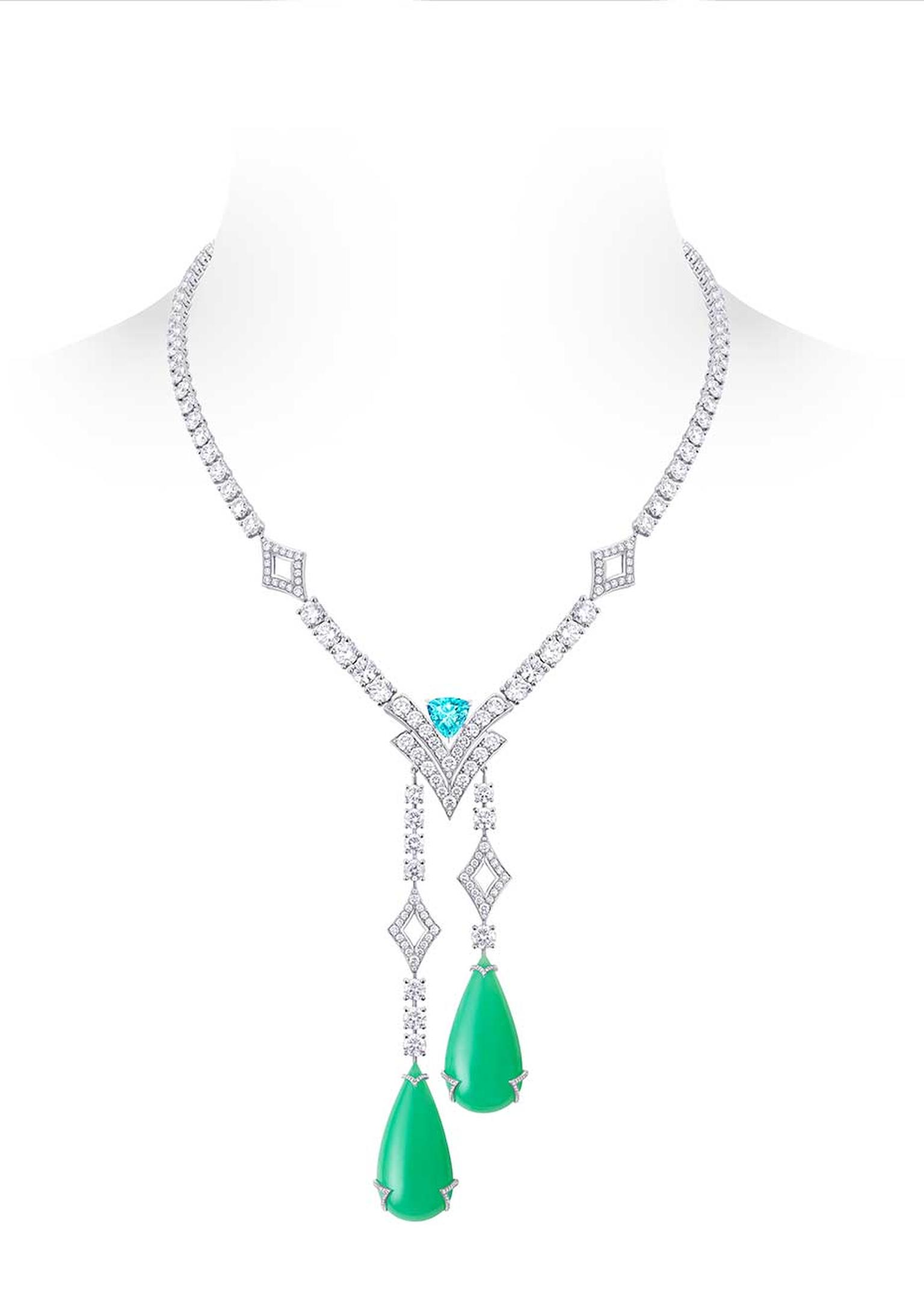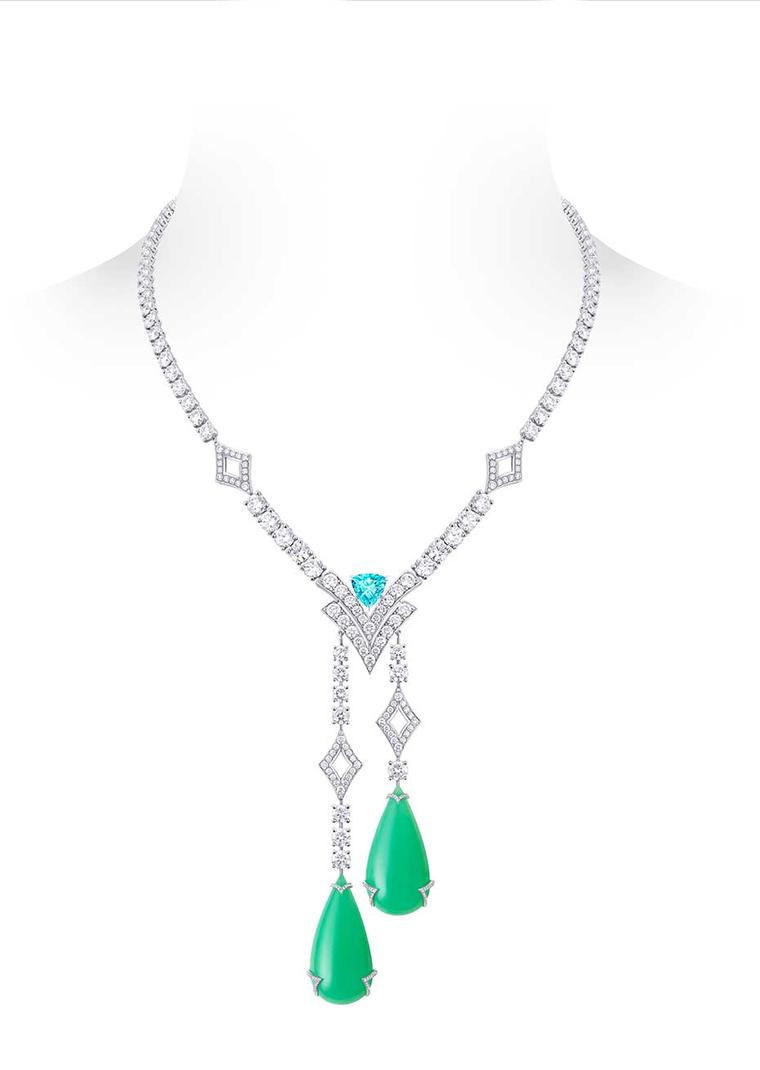 By Jordan Clary in Nevada 
There's a lovely lilt to the word chrysoprase. It just kind of rolls off the tongue like it belongs in a William Wordsworth poem, and the stone matches its name.
Chrysoprase varies from a soft sea green to a darker piny shade. The word comes from the Greek chrys, meaning gold or yellow, and prase, which refers to the colour green. The darker varieties of chrysoprase are sometimes called prase.
One of the more valuable varieties of chalcedony, chrysoprase contains small quantities of nickel, which gives it its green colour. Although there is a smoothness to the stone, it is actually made of minute crystals so small they cannot be seen as distinct particles even under normal magnification.
Chrysoprase is a somewhat delicate gem and can fade if left in direct sunlight. At about a 7 on the Mohs scale, it makes beautiful cabochons and beads. Louis Vuitton has harnessed its gentle beauty in its new Acte V high jewellery collection, with a stunning chrysoprase necklace featuring two pear-shaped cabochons contrasted with a bright blue tourmaline. Piaget has also taken advantage of how well it sits alongside blue gemstones in the new Extremely Piaget high jewellery collection, contrasting chrysoprase cabochons and beads with spheres of turquoise. 
Chrysoprase is found throughout the world. Some of the better-known deposits are in Queensland, West Australia, Germany, Poland, Russia, the United States and Brazil. Often the nickel inclusions will make unusual patterns in the stones, making each one unique.
There is something very soothing about chrysoprase jewellery. With its green colour, it is often associated with nature and prosperity, particularly in matters of the heart. It seems appropriate that one of its metaphysical properties is healing a broken heart. The colour makes you think of apple orchards on summer days and long walks on country roads.
Fernando Jorge Fluid Long yellow gold ring featuring diamonds and chrysoprase.

Fernando Jorge Fluid Doubled yellow gold earrings featuring diamonds and chrysoprase.

DeLaneau's Rondo Double Happiness watch in white gold, from the Strength collection, with a face hand-carved from chrysoprase.

Piaget Rose Passion earrings in white gold, with pear-shaped rubellites and chrysoprase surrounded by diamonds.

Irene Neuwirth diamond and mint chrysoprase locket necklace.

Farah Khan earrings in gold with diamonds, chrysoprase and South Sea pearls.

FRED Pain de Sucre ring in gold and diamonds with an interchangeable cabochon chrysoprase.

Piaget Extremely Piaget necklace in white gold set with 301ct of turquoise beads, 42ct of chrysoprase beads, a 23ct cabochon emerald, 15ct of pear-shaped chrysoprase, pear-shaped turquoise and brilliant-cut diamonds.

Carla Amorim Pistachio chrysoprase ring in pink gold.

Louis Vuitton Acte V Metamorphosis high jewellery earrings featuring chrysoprase drops and diamonds.

One-of-a-kind Irene Neuwirth earrings in rose gold with mint chrysoprase, Mexican fire opals, Lightning Ridge opals and rose-cut diamonds.

Louis Vuitton Acte V Metamophosis high jewellery necklace featuring two chrysoprase drops, a tourmaline and diamonds.