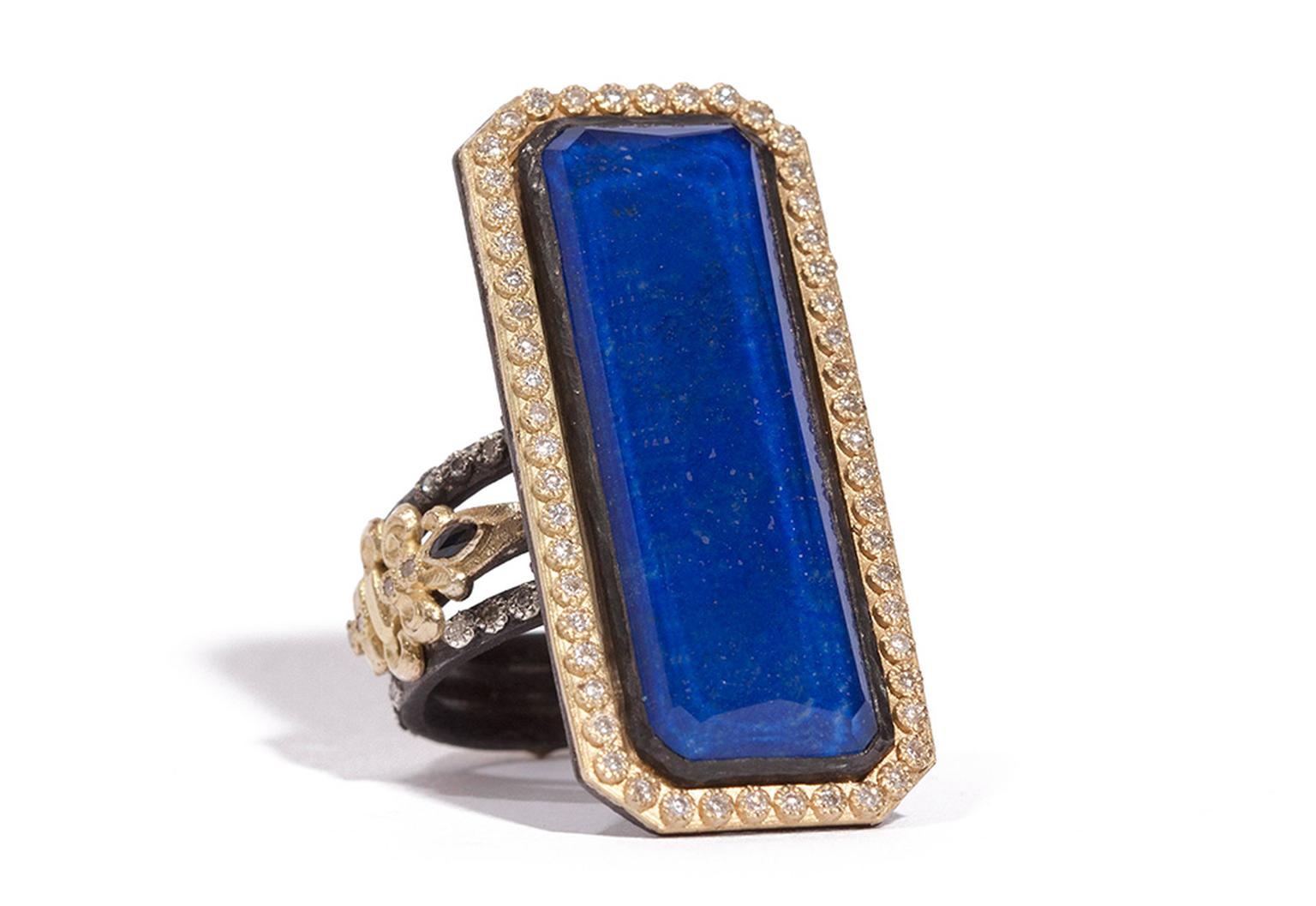 By Daisy Tinker
Long prized for its intense blue colour and alleged mystical powers, lapis lazuli has been used in jewellery making since as early as 31,000 BC.
For many years so little of this deep-blue gem was mined that it was extremely rare and expensive. Worn only by royalty, it became known as the 'stone of rulers'. Popular in Egyptian times, Tutankhamun's funerary mask was adorned with blue lapis petals and Cleopatra used a powdered form as eyeshadow. 
It wasn't until the 1990s and the discovery of a large quantity of lapis in the Badakhshan mines in Afghanistan that lapis lazuli became more accessible. Jewellers began experimenting with the stone, and its popularity soared thanks to its deep azure colour. Depending on the mix of minerals in each stone, lapis can vary in shade from purple to greenish. Intensely dark blue stones, with patches of white calcite and flickering pyrite, are deemed the best quality and are most often used in the creation of fine jewellery. 
In Paris last month, Van Cleef & Arpels launched its Pierres de Caractere Variations high jewellery collection, which gives pride of place to dazzling colour combinations and exceptional stones. For the Fleur de Lapis Lazuli brooch and earrings, the rough stones were selected so that each midnight-blue petal would match perfectly, each of which was re-cut in situ to ensure perfect symmetry. Several 'mischievous' jewels in Cartier's new Paris Nouvelle Vague collection show off the midnight-blue stone to dramatic effect, contrasted with green chrysoprase in a graphic, circular design.
Another beautiful example of this mesmerising gemstone can be seen at Astley Clarke, which captures its magical qualities in a delicate necklace strung with deep-blue beads of lapis lazuli, while Armenta employs the eye-catching colour in an Old World-style cocktail ring and matching bracelet. The mineral stone has also recently been used instead of a traditional watch dial, as seen at Louis Vuitton, Roger Dubuis and Ebel.
Believed to protect the wearer from the evil eye, lapis lazuli is also said to enhance the wearer's intellect. Whether the stone's mystic powers are fact or fiction, its beauty is undeniable.
Ebel Onde 36mm in stainless steel, with a lapis lazuli dial and alligator strap.

Percossi Papi earrings depicting a Phoenician ship, with a protective Isis eye and dolphins made with lapis lazuli, sapphires, emerald, ruby, amethyst and blue topaz. The hull of the ship is made from natural pearl micromosaic.

Cartier Paris Nouvelle Vague Mischievous ring in yellow gold, set with lapis lazuli, chrysoprase and diamonds, launched in 2013. 

Cartier Paris Nouvelle Vague 'Mischievous' earrings in yellow gold, set with lapis lazuli, chrysoprase and diamonds.

Cartier Paris Nouvelle Vague 'Mischievous' necklace in yellow gold, set with lapis lazuli, chrysoprase and diamonds.

Louis Vuitton's Tambour Bijou Secret watch in electric blue with a lizard strap, lapis lazuli face and diamonds, all set in white gold.

Astley Clarke Evil Eye lapis lazuli necklace by Astley Clarke Biography (£295).

Armenta lapis lazuli, diamond and sapphire ring set in gold (£12,495).

Van Cleef & Arpels Fleur de lapis lazuli clip from the Pierres de Caractere Variations collection with lapis lazuli petals and round and pear-shaped diamonds, set in white gold.

Limited edition Roger Dubuis Excalibur 42 with lapis lazuli dial, alligator leather strap and RD622 movement (£24,700).

Rose gold and lapis lazuli bracelet from Fernando Jorge (£2,300).

Rose gold and lapis lazuli earrings from Fernando Jorge (£2,895).