During these hard times, with Paris and much of the world in lockdown and designers, master jewellers and gem experts twiddling their thumbs at home,  we pay tribute to the home of high jewellery, its enduring legacy and look at some of its most recent, awe-inspiring creations.
The French jewellery industry has survived many ups and downs including wars, economic depressions and family feuds so the current covid-19 is just another test of its resilience. A handful of the historical houses including Cartier, Boucheron, Van Cleef & Arpels, Mellerio dits Meller (below) and Chaumet, have weathered many storms and in the last decade have been joined by  Chanel, Dior and Louis Vuitton.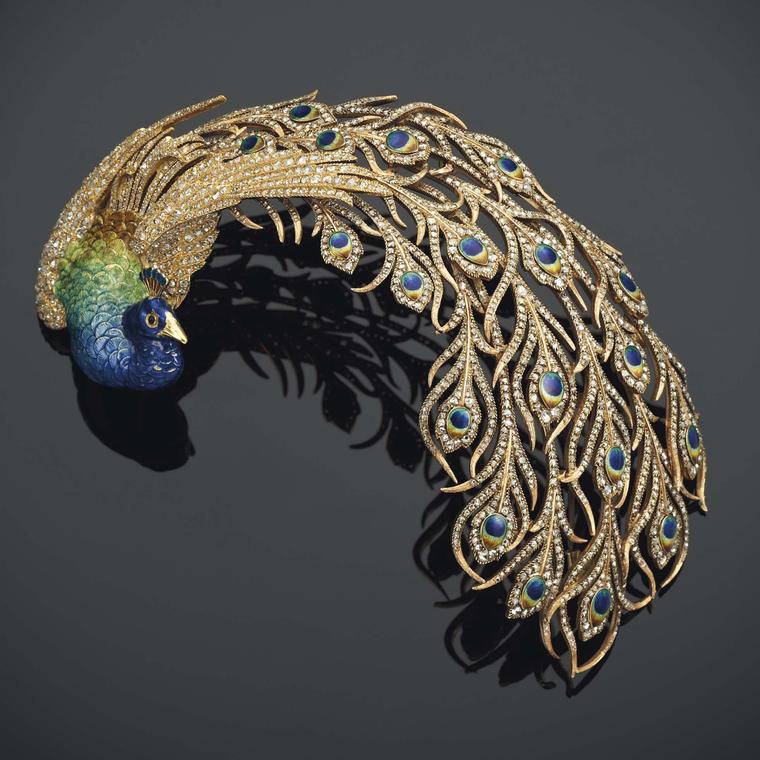 Place Vendôme is the home of haute joaillerie with an enviable array of the most illustrious names spread around the elegant square and surrounding streets such as rue de la Paix. But what sets apart the Place Vendôme area is that each maison is not just a luxurious sales room but many still have their own workshops or ateliers tucked away under the eaves at the top of their building or just around the corner. Haute joaillerie can be defined as a unique work of jewellery art and refers to one-of-a-kind creations made with the finest precious materials and the most exquisite attention to detail brought together with the highest levels of craftsmanship. 
Jewellers first flocked to Place Vendôme in 1898 from the colonnaded elegance of Palais Royale when the Ritz Hotel opened on north-west side of the square. The hotel was one of the first to provide in every room such novelties as en suite bathrooms, electricity and telephones attracting the wealthiest travellers in the world. From Maharajahs, to European royalty and later freshly-minted American millionaires and Hollywood celebrities, Place Vendôme became the epicentre of chic refinement. This flow of wealth allowed the jewellers to create ever more opulent and refined jewels and set the foundations for Place Vendôme to become the epicentre of haute joaillerie.
Each maison carefully guards and nurtures its house style, the origins of which are cosseted in air and humidity controlled archives. Here leather bound volumes of flowing handwritten script and delicate brush strokes of watercolour illustrations document a history of client orders, some going as far back as the 18th century. Keeping the tradition alive, the  houses weave strands of their rich past into current collections, each referencing key motifs, styles and manufacturing techniques. 
Boucheron had first dibs on Place Vendôme and Frédéric Boucheron chose the corner of square for his boutique because it received the most sunlight through its high windows that showcased to maximum brilliance the quality and size of its impressive gemstones. In honour of this key moment, Boucheron's latest high jewellery collection is called 'Vu du 26' and alludes to the maison's address at 26 Place Vendôme. The collection takes a flight of fancy around Paris creating jewels from different perspectives of the city including its architecture, history and even animals. A bird's eye view of the glass domes of the Grand Palais, the horses that adorn the Opéra Garnier, the cat that pads around the maison or the leafy fronds that decorate Doric columns (above) summon up a fascinating take on Paris through the eye of a jeweller.
See more Boucheron Vu du 26 here
Just up the road on rue de la Paix, the historic Cartier boutique has been in operation since 1899. Steadily built up since 1847 from humble origins by the grit and business genius of the Cartier family, by the late C19th the family firm become an international business under the command of the famous trio of the brothers Jacques, Louis and Pierre. 'Never copy, only create' was Jean-Jacques Cartier's mantra and the firm is still guided by this design vision and however innovative, each creation is imbued with a strong Cartier look.
Read more about the fascinating history of the Cartier Dynasty here.
Cartier's 2019 Magnitude high jewellery collection (above) ventures into new territory, one where highly precious gem stones are mixed with ornamental hard stones such as rock crystal, matrix opal and lapis lazuli. In this alluring new world, beauty is found in new combinations and nuances of colour, texture, tone and opacity. Cartier describes the collection as a bringing together 'with bold, creative panache materials that were never meant to meet,' yet still with a distinctive Cartier look. 
Discover Cartier's Magnitude high jewellery collection here. 
The whimsical world Van Cleef & Arpels is a realm inhabited by fairies whose delicate diamond wings appear to tremble in the breeze; ballerinas swathed in tutus of emeralds or sparkling butterflies that hover on the finger. So evocative are Van Cleef's jewels that the New York salon's window displays inspired George Balanchine's 1963 ballet "Jewels".  The 'zip' necklace, was first created in 1939. The baguette diamond teeth zip up or down to create the desired décolleté and the pull is usually a tassel of diamond or precious stone beads. Mystery settings are a house speciality, a labour intensive technique allows the stones to appear to float without any metal mounts visible.
For its latest high jewellery collection Van Cleef & Arpels looks back to 1951 when the house produced a stylised brooch of Romeo and Juliet. Presented at Paris Couture week in July 2019, Van Cleef & Arpels' Romeo and Juliet collection (above) whisks us to Verona where the fate of the star-crossed lovers is played out in precious gemstone. The collection of a hundred one-of-a-kind  jewels captures the drama of the off-spring of the feuding Montagues and Capulets.
See in full Van Cleef & Arpels Romeo and Juliet collection here. 
Founded in 1780, Chaumet has an illustrious history as purveyor of jewels to mark the grandest of occasions, including Napoleon's coronation. Today Chaumet is still the go-to jeweller for tiaras and its beautifully restored premises boasts a salon that showcases the original metal models some of the house's thousands of head-topping creations. Chaumet has graciously glided through centuries of fashions from Belle Epoque through to Empire and the later Romantic style that today it deftly distills into jewels with a thoroughly contemporary twist.
Discover more of Chaumet's rich history here. 
Les Ciels de Chaumet (above) embraces techniques beloved to the house such as knife-edge settings to create a thoroughly up to date collection that turns heavenwards for inspiration. Delicate birds captured mid-flight, celestial bodies and astral compositions of precious gemstones and showers of diamonds inspire a collection that is ethereal in its delicate beauty.
See more Les Ciels de Chaumet here.
Better known for her ground-breaking couture, Gabrielle Chanel, did in fact make jewellery in her own lifetime. She launched her first high jewellery collection, Bijoux de Diamants, in 1932 in the thick of the Great Depression. Even though most of the hugely valuable diamond jewels were in fact taken apart after the show, the maison continues to celebrate her passion for jewels. Each and every collection harks back to a particular moment or feature of her life which is why lions, pearls, stars, camellias, comets, feathers, wheat and ribbons – all beloved motifs of Coco - so often feature in Chanel's high jewellery collections.
See the original Pathé footage of the Bijoux de Diamants 1932 here.
The 2019 Le Paris Russe de Chanel high jewellery collection was sparked by the short-lived but intense 1920 romance Mademoiselle Chanel and the exiled Grand Duke Dmitri Pavlovich, a cousin of Tsar Nicholas II.
To Gabrielle, who never actually set foot in the country, the dashing Grand Duke was Imperial Russia personified who opened her eyes to the world of Russian symbols and designs and decorative arts that over time came to feed into her fashion designs and now a high jewellery collection. Russian folklore (above), Byzantine scarves, embroidered roubachka blouses and the famous Ballets Russes was the distant land Gabrielle conjured up in her fertile imagination.
Dior is one of the newcomers to the high jewellery scene but in no way does this hold back its creativity or daring. Led by Victoire de Castellane, a jolt of energy electrifies the traditional jewellery world since it launched its first collection 20 years ago. Audacious asymmetries of beautifully clashing stones, juxtapositions of stone cuts and clusters of crumbling chromatic puzzles create a unique and thoroughly modern look. The latest creations are Gem Dior (see video below) and Dior et Moi (above) that bring this fabulous collision of colour and artfully abstract compositions to dizzying heights.
Discover the bright world of Dior er Moi jewels here.
Louis Vuitton began making high jewellery in 2004 and by 2010 had its debut at the Biennale des Antiquaires in Paris.  With its own high jewellery atelier atop its Place Vendôme behemoth of a flagship boutique, the house has been creating one-of-a-kind collections on an annual basis. This year sees the Riders of the Knights gallops in and it is the first high jewellery collection by the recently appointed Creative Director Francesca Amfitheatrof. Strong women in history from Joan of Arc to Queen Elizabeth I have inspired this collection rich in medieval references and allusions to power and protective amulets.
Stay strong France, we are with you!
See more of Louis Vuitton's Riders of the Knights here.