Avakian's Gatsby earrings started their life on a high note when model Sara Sampaio chose a shoulder-grazing pink morganite pair as the finishing touch to her red carpet look at the Cannes Film Festival earlier this year. And since that stellar moment, the Gatsby Collection continues to shine.
But if we look back a little further, we see that the glamour of this collection was an inherited trait. Haig Avakian, Vice-President of the family run, Geneva-based house, explains: "The Gatsby Collection was inspired by the Kite high jewellery necklace and earrings that feature our typical geometric, sharp-angled stones with kite-shaped diamonds surrounded by pink diamonds. It is spectacular and many of our clients loved the look and wanted to buy it. But, as you can imagine, it is a very valuable piece. So we decided to find a solution."
"We set about making a piece that was high jewellery inspired but at the same time more affordable and something you could wear day and night with a price of between £15,900-£23,900. To imitate the kite-shape diamonds we decided to use white enamel and black onyx in the kite-shaped links of the earrings, along with different coloured precious gemstones with diamond details."
Mary J. Blige, pictured next to Haig and Edmond Avakian, looked every inch the star at the Cannes Film Festival 2017 wearing Avakian's kite high jewellery necklace and earrings. Photo credit: Katerina Perez

This version of Avakian's Gatsby earrings feature amethysts paired with enamel and diamonds, with a pearl detail for a fresh look you could wear both day and night.

As worn by Mary J. Blige on the red carpet at the Cannes Film Festival 2017, the kite-cut diamonds and geometric shapes of Avakian's high jewellery earrings inspired the new Gatsby earrings. 

This high jewellery kite-cut diamond sautoir is typical of Avakian's designs, which that stand out for their bold use of geometric shapes, strong colour combinations, movement and Art Deco influences.
And it appears that both the original high jewellery necklace and its younger sibling, the Gatsby Collection, are winners. In a double coup, both the Kite high jewels and Gatsby earrings walked the red carpet at the Cannes Film Festival 2017. As well as Sara Sampaio stepping out in the pink tourmaline Gatsby Collection earrings, rap queen Mary J. Blige faced the paparazzi wearing the original Kite necklace and earrings.
Haig explains how it happened behind the scenes: "Mary J. Blige is a close friend of ours and the unusual design of the diamond Kite necklace caught her eye as she was preparing for her big moment. She wanted to stand out from the crowd and, despite being approached by many jewellers, she chose Avakian.  The dress had something to do with it as it was high-necked so the long necklace contrasted well against the black and was perfect with her skin tone. The jewels just popped. She also wore the matching earrings and, because she has short hair and a long, elegant neck, they really stood out."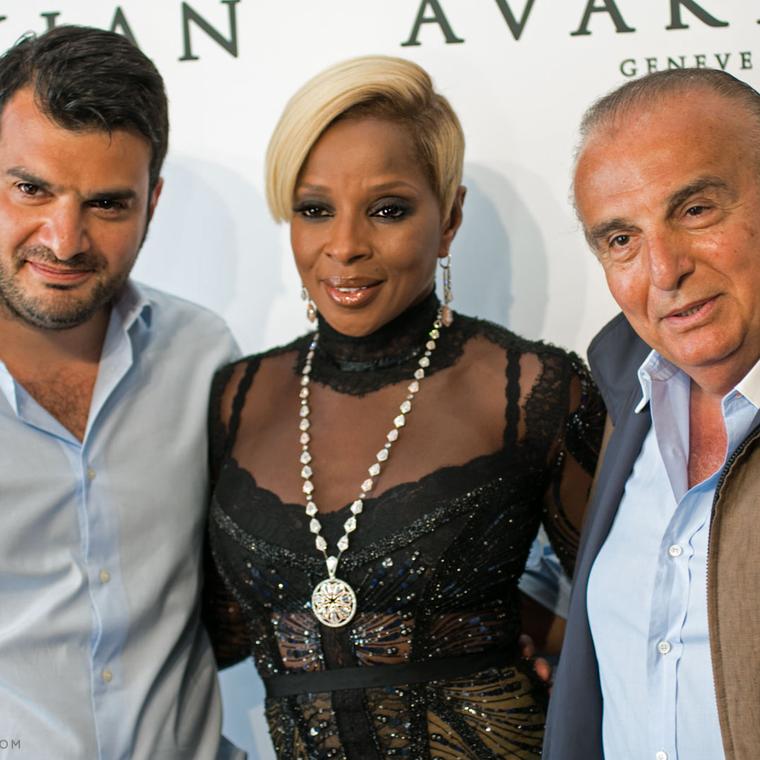 When creating the Gatsby Collection, balance was a key factor: "The Kite and Gatsby are similar if you look at them from a distance, but the Gatsby has a different colour scheme. Also, the Gatsby Collection earrings are a bit wider and more colourful so that they can be worn on the red carpet and still be seen. But we didn't want them to be too bulky: it is a fine balance between being large enough to be seen and remaining elegant and refined."
As for the look of the earrings and the name, Haig tells us: "A lot of our high jewellery pieces are Art Deco inspired. It goes back to my father being an engineer and his love of geometric shapes and stone cuts. We chose the name Gatsby because of the obvious Art Deco associations, but also as our way of paying homage to the old-school glamour of Hollywood."
Haig tells us that there is a reason that the Gatsby Collection began with the earrings: "We started with earrings as we see more demand for them than any other jewels. If a design is successful then we move into producing rings, bracelets and necklaces."
Haig works closely alongside his father Edmond, founder of the company.  While Edmond, based in Geneva, comes up with the ideas and does the initial sketches, Haig also takes part in the design, as well as overseeing the production process. "I was very much involved in the Gatsby design as, from experience, I know what length earrings work for us and how much flexibility to allow." All Avakian's jewels are produced in Italy at two workshops that the family has been working with for decades. "The Italians have great expertise on the technical side and know how to get movement into jewels," explains Haig.
Once the design was approved, Edmond and Haig sifted through illustrations of dozens of colour variations, including consulting their clients and employees for feedback. Samples were then made of the winning combinations and, when they hit the mark, the stones were sourced and sent to be specially cut to fit Avakian's unique designs.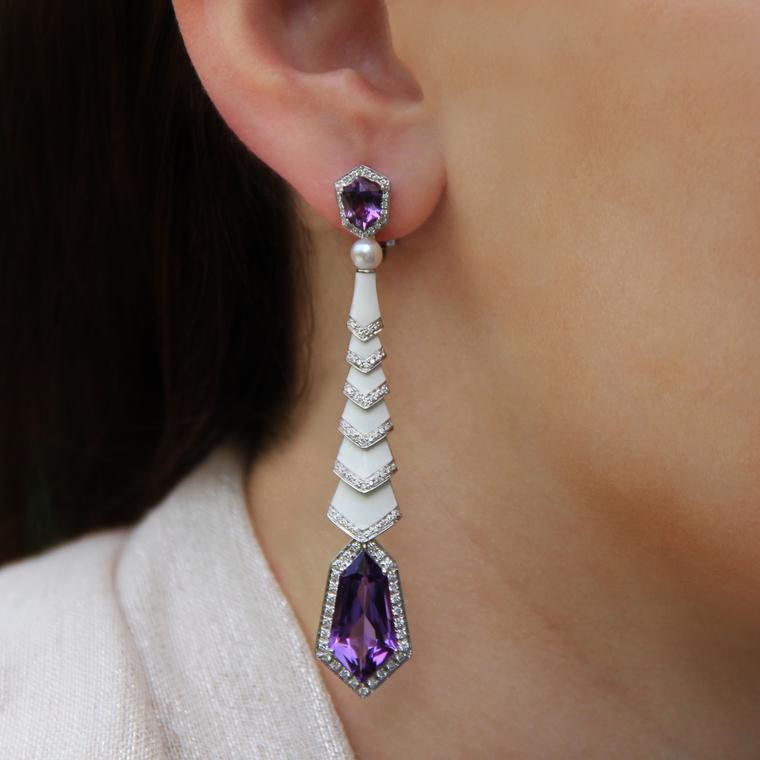 A sample of the earrings was made and every detail examined while an obliging woman wore them to see how they really worked when worn. Then, the old-fashioned way, each jewel was made by hand, one by one.
The Gatsby Collection earrings are available in four different variations: white enamel with pink morganite, as chosen by Sara Sampaio, or the white enamel with green tourmaline or amethyst. Bolder women will gravitate towards the black onyx design, contrasting with yellow citrine. And coming next are a red coral and white enamel version, as well as the crisp pairing of turquoise and white enamel.