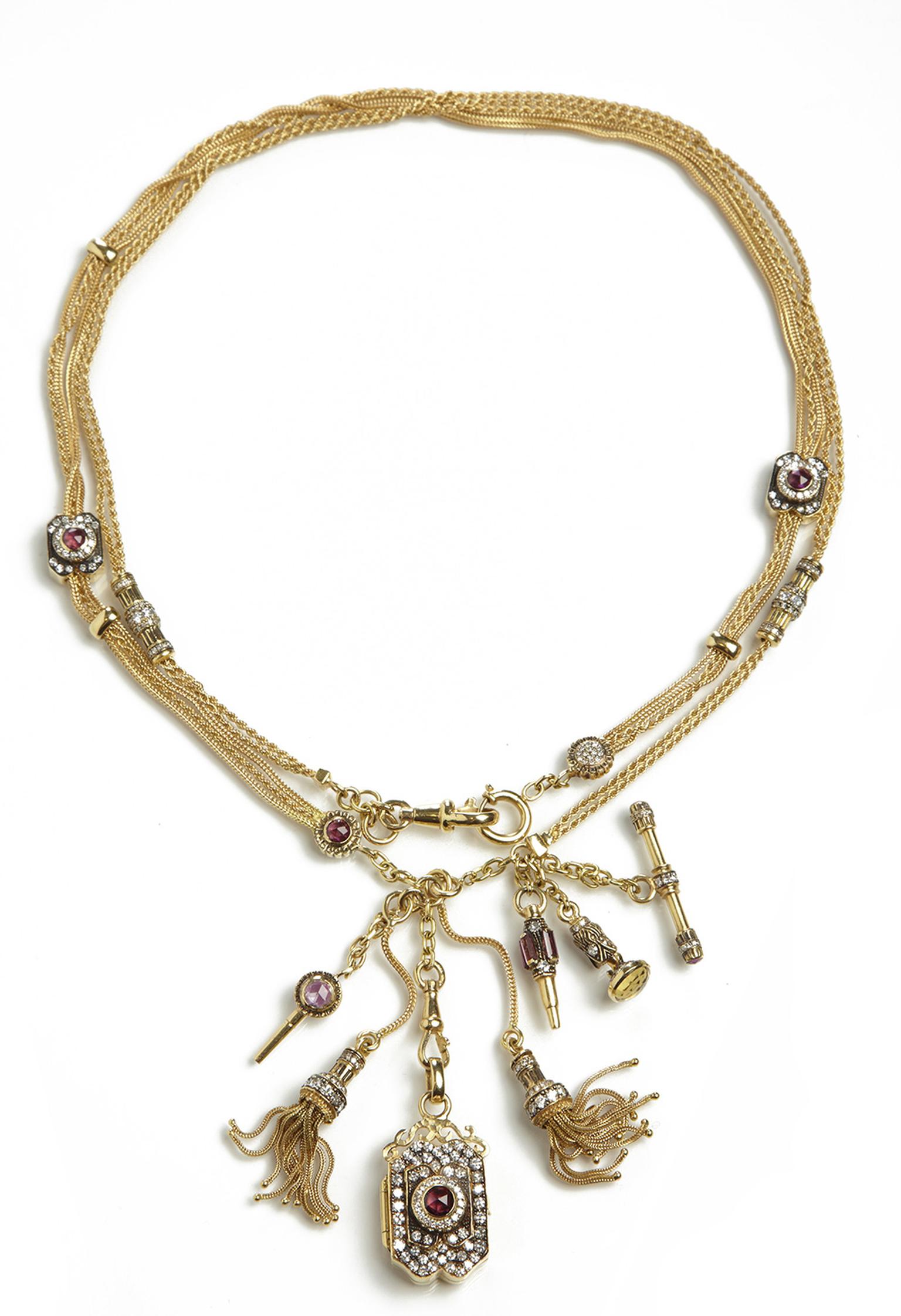 I like a jeweller who is emphatic that jewellery should be fun. Barely seconds into arriving at Annoushka's jewellery shop on South Molton Street, London, I was wearing a big grin and diamond necklace worth more than my house. That's because Selim Mouzannar, a third-generation Lebanese jeweller, insisted, with a wink, that I try on his Victorian-style diamond necklace. With no ceremony, white gloves or reverence, soon a pretty row of emerald-cut diamonds, surrounded by brilliant cuts, was beaming out from beneath my smile.

Catching glimpses of the fairy-light display around my neck, I tried to focus on the trays of necklaces and bracelets in front of me, which had made their way from Beirut to London as part of Annoushka's clever visiting-designers programme. My eyes fell on a bracelet bubbling with diamonds and white sapphires that simply couldn't be ignored. Also calling out to be touched were thick gold watch-fob chains, around which fluttered diamond-set hearts, soaring golden swallows with gem-dewed wings, golden tassels and watch winders. Oh, and that navel-length chain with a tsavorite-set horseshoe, which was so, so pretty but at the same time cool enough to wear with swagger. And what about those stacking rings and chunky gold-link bracelet that would have made Barbara Hutton slam on the brakes of her Buick?

A good hour later and, decked out like a five year old at a doll's tea party, I had finally had my fill of Mouzannar's jewels. Relinquishing the chains, the rings, the necklace and the diamonds, I felt that I had an understanding of what his jewels are about: fun.

But this doesn't mean that they are in any way flimsy, flippant or superficial. Quite the opposite. Each piece has a good, old-fashioned weight and solidness about it. These are jewels made the old-fashioned way by men dedicated to making precious things, as did their fathers and, possibly, grandfathers. Gold isn't skimped, stones are set with due respect and chains are very, very thick. 

But there is no musty nostalgia or saccharine-sweet retro pandering in Selim's jewels. His enticing mix of Ottoman and Victorian jewellery traditions are fresh and light and quite, quite irresistible. Next stop for The Jewellery Editor: Beirut.
Wood and silver Link bracelet by Selim Mouzannar for Annoushka. One of the links is set with sapphires (£5,600).

18ct rose gold and brown diamond Chain bracelet by Selim Mouzannar for Annoushka (£28,500).

Selim Mouzannar Heritage Bracelet in 18ct rose gold, set with 56.69ct of diamonds and sapphires (£65,800).

Selim Mouzannar Link Bracelet, created in sterling silver, diamonds, sapphires and tsavorites (£28,500).

Selim Mouzannar Link bangle in 18ct yellow gold, set with diamonds and sapphires (£23,900).

Selim Mouzannar Beirut Kyanite and Diamond Ring, crafted in 18ct yellow gold, diamond and Kyanite (£23,900).

Selim Mouzannar Beirut Halo ring in 18ct rose gold and diamonds (£2,900); 18ct yellow gold, rose-cut brown diamond and sapphire Moscou ring by Selim Mouzannar for Annoushka (£2,900).

Selim Mouzannar stands outside Annoushka's South Molton Street boutique in London, where his jewels were presented as part of a visiting jewellers programme.

'Fortune' pendant by Selim Mouzannar in 18ct rose gold with diamonds, amethysts and white sapphires (£21,000), named after Beirut's jewellery souk, which is located on the site of the old Ottoman horse stables.

Selim Mouzannar Fortune Diamond and Sapphire Ring, crafted in 18ct rose gold and set with diamonds and sapphires (£3,900).

Selim Mouzannar rose gold and diamond Crossover Ring, as worn by Rhianna in the April edition of Elle magazine (£7,500).