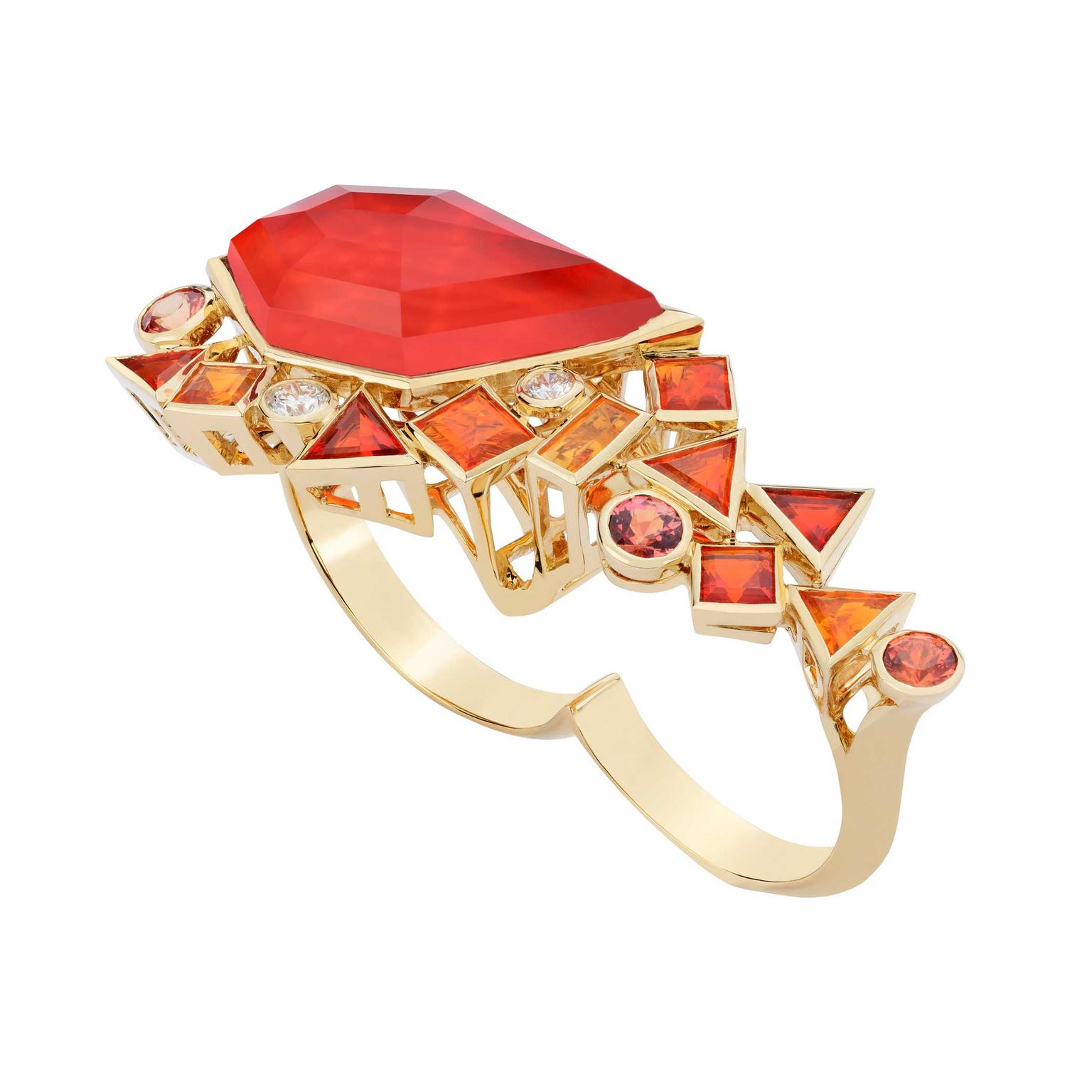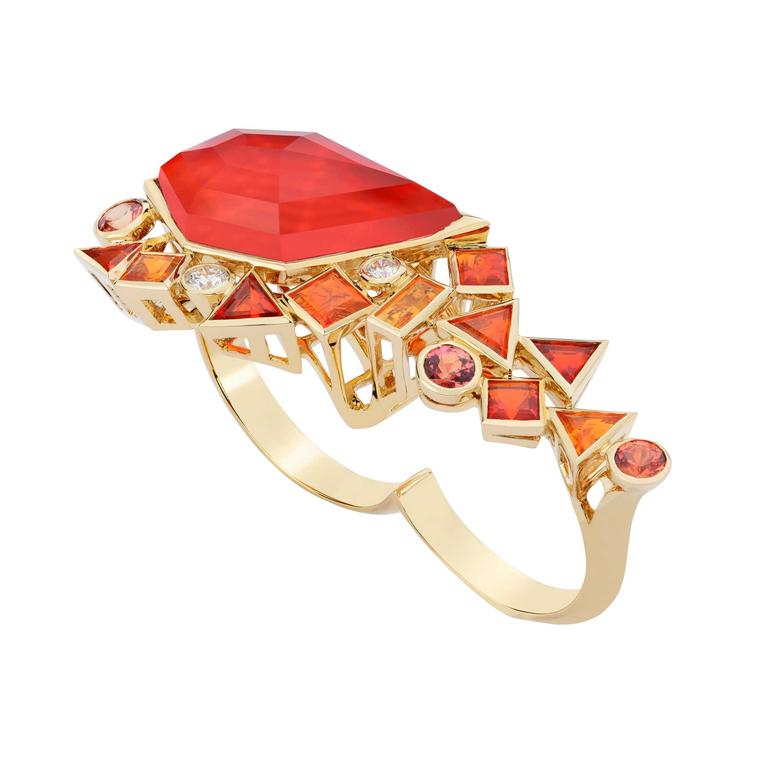 Correctly setting precious stones is an art form that should not be underestimated. There are craftspeople who spend their entire careers doing nothing but this delicate job, striking that exact balance between using enough metal to secure the stone, but not so much that it stifles the sparkle. 
In modern fine jewellery design, most precious stones are set with claws to keep the stone secure, while the minimal setting allows light to travel freely, illuminating the gem to its best advantage. However, this is not the only way to set a stone and an alternative technique called a "rubover setting" is popping up in new designs.
A rubover setting, or bezel setting as it is also known, places the gemstone in a circle of metal, which is then folded all around it to catch the hips of the gem at its widest point and lock it in place. When complete, the stone is surrounded by metal, creating a halo effect.
David Ashton, who has a boutique in London's OXO Tower, specialises in rubover settings to create fine jewellery pieces and cufflinks set with diamonds, sapphires, rubies, emeralds and pearls hugged into gold. Ashton, who originally studied as a scientific and medical instrument maker before turning goldsmith, has even developed his own tools to do the job.  
For Ashton, the advantages to rubover settings, in addition to the finished look of the jewels, are that they offer the precious stones more security and protection from dirt and damage, make them look larger, and are easier to wear as there aren't any claws to snag on fabrics or catch on hair.  
Rubover settings date back thousands of years, and it was a trip to the Cheapside Hoard exhibition of Jacobean and Elizabethan jewellery last year that inspired Stephen Webster to use the setting in his new Gold Struck collection, which stars a tumble of fancy-shaped coloured gemstones.
It is not the first time that Webster has used the technique; he has been working with rubover settings throughout his career, particularly in the 1980s. As styles changed he moved away from the setting, but was struck by how modern some sapphire rings with rubover settings looked in the museum collection and, as such, felt that now is the right moment to bring it back. 
One of the worries with rubover settings versus claws is that the sparkle of coloured gemstones can be muted by the additional metal surrounding them, but Webster says this needn't be the case if that magical balancing act between security and sparkle is achieved by an expert jeweller. "You have to understand what will overpower something," he advises.
When done correctly, rubover settings offer a smooth and less formal alternative to claws, and this ancient technique of enveloping gems in precious metal is feeling very modern indeed right now. 
Mattioli Nuvole aventurine fine jewellery ring in rose gold. 

Mattioli Nuvole mismatched lapis lazuli and aventurine earrings in rose gold.

Marco Bicego Lunaria fine jewellery earrings in yellow gold set with two dark aquamarines.

Margery Hirschey jewellery emerald ring in yellow gold.

 David Ashton Beach Rocks Urchin diamond studs in rose gold.

 David Ashton brilliant-cut diamond ring in platinum.

Alexis Dove jewellery bespoke green and purple sapphire beaten rings.

Biiju Egg Box fine jewellery ring with multi-coloured gemstones.

Stephen Webster jewellery Gold Struck Crystal Haze two finger ring in yellow gold with red coral quartz.