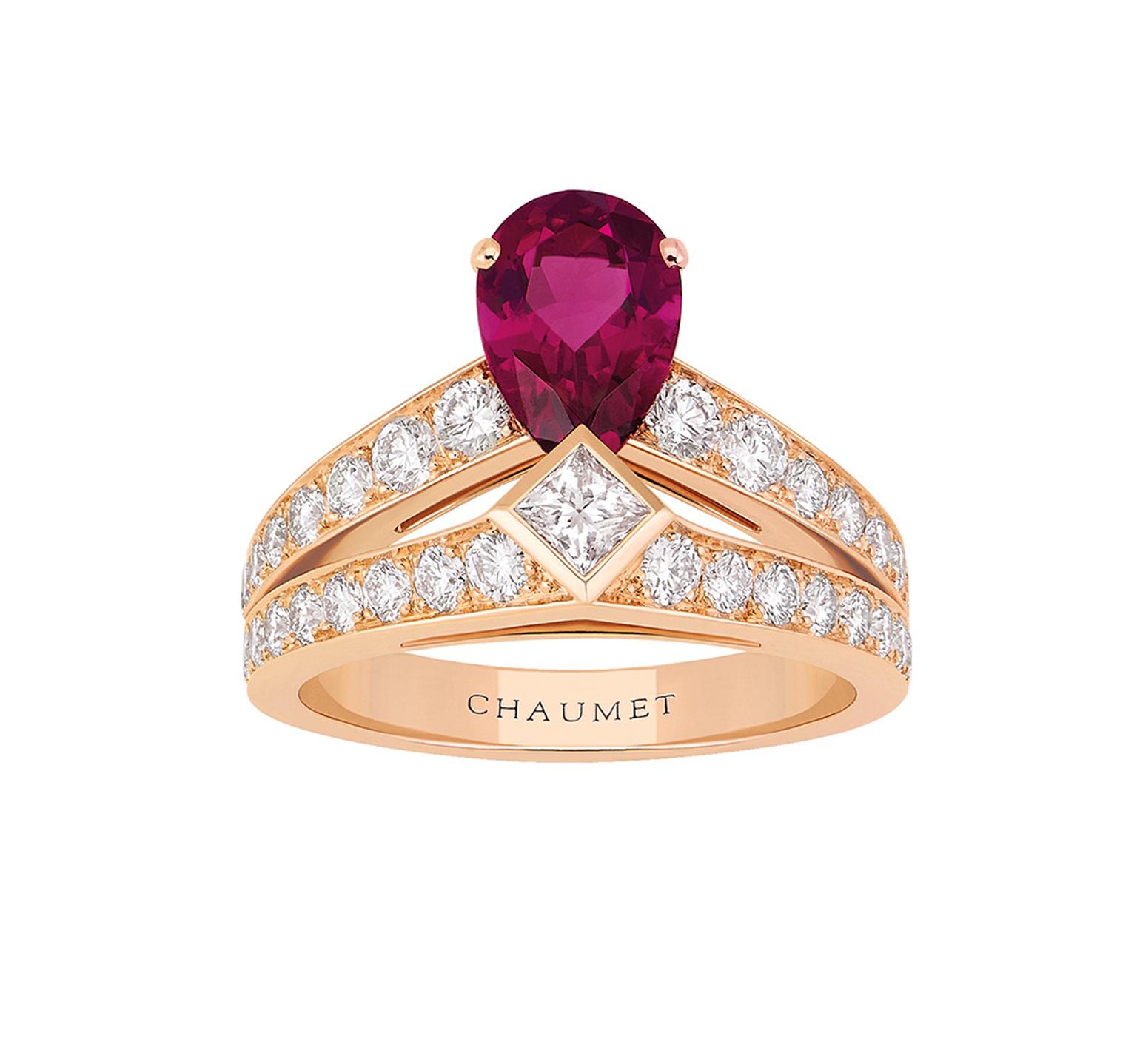 After Valentine's Day, 25 December is the most popular day of the year to propose, and if you're planning a Christmas engagement, here's some inspiration for you. As is traditional, we've got our eyes fixed on gold - think five gold rings and the three wise men, minus the frankincense and myrrh. But that's as far as the traditional goes. We have fine jewellery disguised as a delicious cocktail ring. We have out of the ordinary: cushion-cut and pink diamonds in one ring. And we have lots of rose gold  - this year's most coveted precious metal.
Rose gold has been one of 2012's biggest success stories, and it works especially well for engagement rings. Diamonds appear somehow cosier set into it, and - the converts will agree - it really does look warmer against the skin. Take Graff's signature cushion-cut diamond ring, set with pink diamonds on a rose gold band (POA). Heavenly. More wallet friendly options include Lalique's pretty Muguet ring, with its repeating floral motif and three pink sapphires (£795) and Chaumet's Liens ring in pink gold, featuring a diamond-set cross (£1,850) - both beautiful, wearable and, most importantly, original.
Coloured gemstones are also having a moment. Pink diamonds have really piqued the interest of jewellery aficionados, while engagement rings set with coloured stones have proved a popular alternative to the traditional white diamond. For a contemporary spin on colour, Niessing's Soft Square tension set diamond ring (£2,070) is set with a 0.14ct sherry diamond. Viewed from the side, the gem appears to be suspended in the rose gold band. Cartier's Trinity de Cartier Ruban ring is set with a pink lilac kunzite, nestled in a swirl of pink gold (£31,200), while Chaumet's Josephine ring (£8,302) is all about the deep-pink, pear-shaped rubellite. I'd happily wear either for the rest of my life. 
If your partner likes quirky, one-off designs, look to the organic, beautifully handcrafted jewels of Leyla Abdollahi, winner of the Lonmin Design Innovation Award for the second year in a row and one of Britain's hottest new fine jewellers. She uses colour in exciting new ways to create jewellery so delicious you want to own it all. Her yellow gold Melobosis ring contrasts a huge citrine with orange sapphires and has been designed so that it can be stacked with additional yellow and white sapphire-set rings. Magnificent. Aternatively, head to jewellery designer Alex Monroe - earmarked as one of Europe's coolest jewellers in The Times Luxx magazine this month - who recently launched Goldcrest Fine Jewellery, a high-end offshoot of the brand that is still very reasonably priced. His nymph-like Baby Diamond Eyebright ring (£1,500) is pure fairytale. 
Men, be empowered. Don't go for the safe option. Of course consider your partner's style, personality and the type of jewellery she normally wears, but ramp it up a bit. An engagement ring should be something that transcends all those things and shows that what you love about her most is her uniqueness. She'll appreciate it, we promise (and good luck!).  
Cartier Trinity de Cartier Ruban ring in pink gold, set with a pink lilac kunzite and fully diamond pavéd (£31,200), available at Cartier boutiques worldwide

Chaumet Liens ring in pink gold with a diamond cross (£1,850), available at Chaumet boutiques worldwide

CRED diamond cluster engagement ring in fair trade yellow gold, with a 3mm central white diamond surrounded by six diamonds (£1,250), available at www.credjewellery.com

De Beers Adonis Rose Pink Gold ring with bezel-set marquise diamonds, pavé round brilliants and a claw-set centre solitaire (from £6,850), available at De Beers boutiques worldwide

Niessing Soft Square tension set ring in rose gold, set with a 0.14ct sherry diamond (£2,070), available online at www.econe.co.uk

Lalique Muguet ring in pink gold, set wit three sapphires (£795), available at Lalique boutiques worldwide

Leyla Abdollahi Melobosis ring in 18ct yellow gold with a central citrine and orange sapphires (£1,440), available at www.leyla-abdollahi.com

Leyla Abdollahi Honey Melite ring comprosing a Melobosis ring in 18ct yellow gold with a central citrine and orange sapphires and two Melia rings set with yellow and white sapphires (£3,690), available at www.leyla-abdollahi.com

Boucheron Godron pink gold solitaire, set with a 0.32ct round-brilliant diamond (from £3,230), available at Boucheron boutiques worldwide

Graff signature pink diamond engagement ring, set with a 5.03ct cushion-cut diamond on a pink diamond rose gold band (POA), available at Graff stores worldwide

Diamond Wrap Ring by Astley Clarke Diamonds (£2,350), available at www.astleyclarke.com

Alex Monroe Baby Diamond Eyebright, set with a 0.25ct diamond (£1,500), available at www.alexmonroe.com