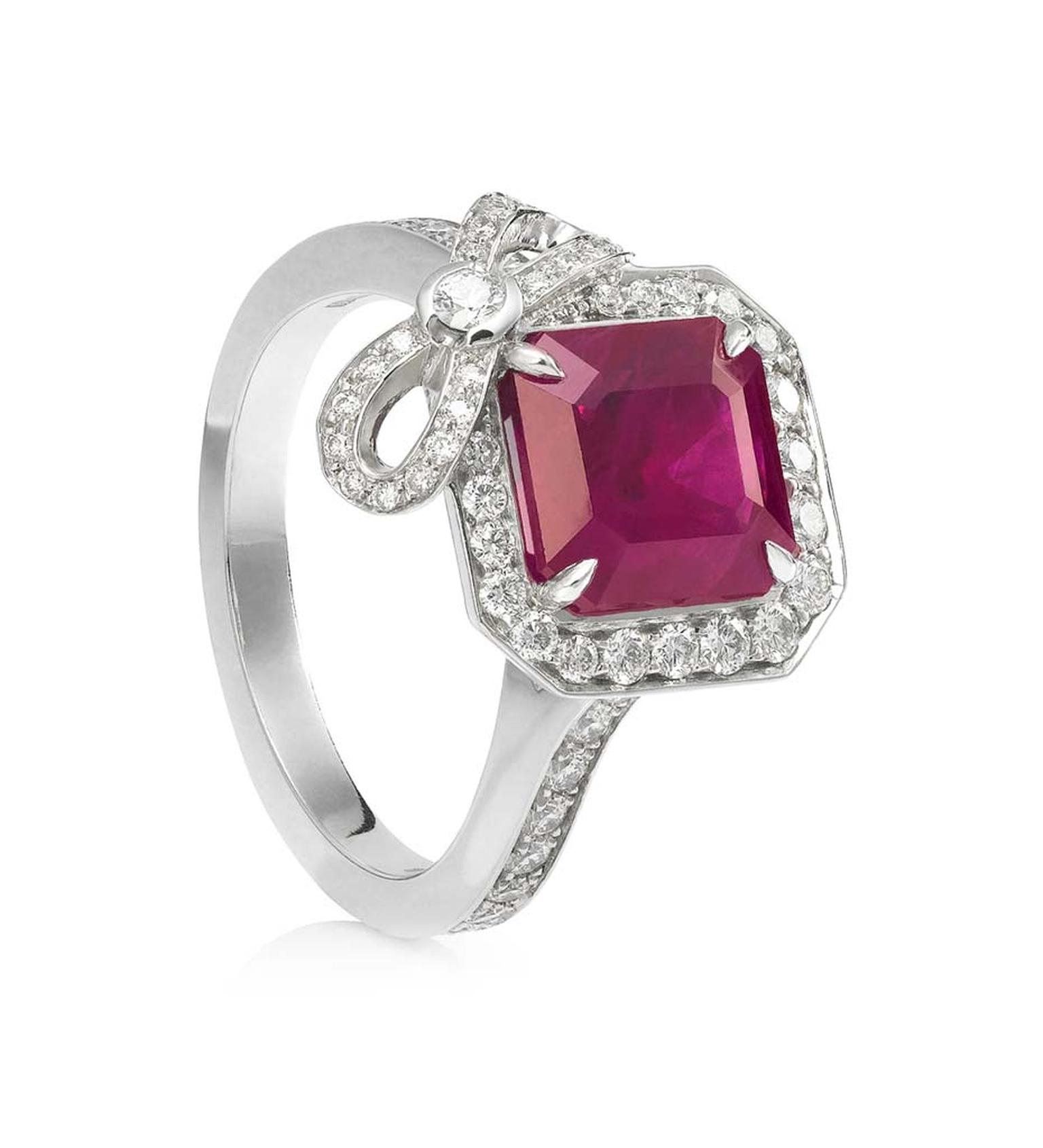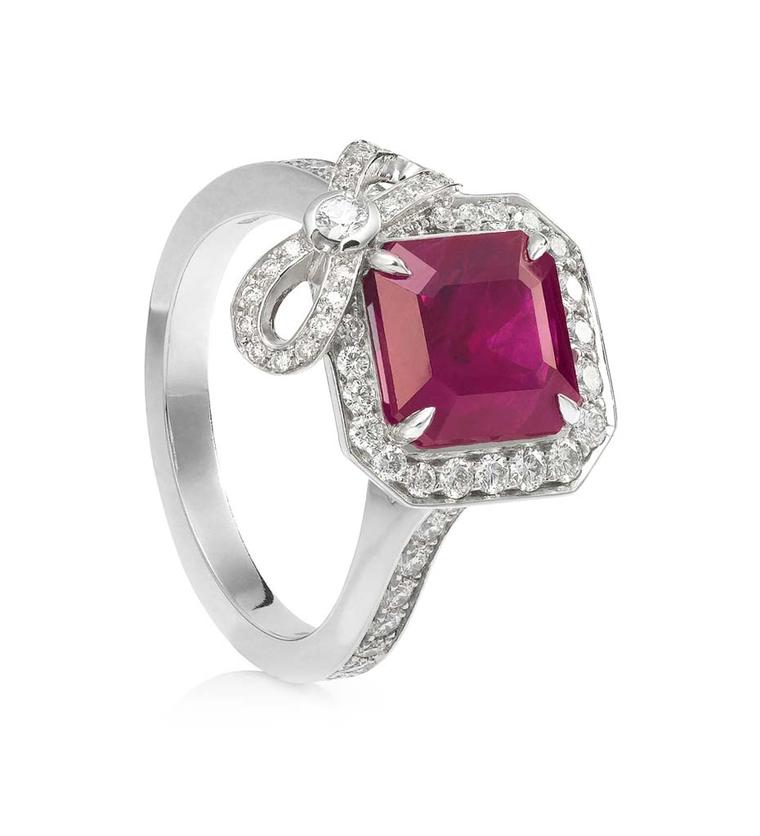 By Ase Anderson in London
When it comes to the most popular non-diamond engagement rings, ruby engagement rings are right up there along with sapphires. Luxurious and opulent, rubies come in many different shades, from blackish red to pale, almost transparent, pink. However, it is worth noting that stones at the lighter end of the colour spectrum are often classified as pink sapphires rather than rubies.
The ruby is the birthstone for July so it's the perfect engagement ring, or eternity ring, for anyone born in that month. Jessica Simpson's fiancé presented her with a 5.00 carat ruby engagement ring by Neil Lane in honour of her July birthday. And not to be outdone, her younger sister Ashlee Simpson also sports a 5.00 carat Neil Lane ruby and diamond engagement ring.
Measuring 9.0 on the Mohs scale of mineral hardness, rubies are the third hardest natural gems in the world, after moissanite and diamonds, which means they are durable enough to withstand the day-to-day bumbs and scrapes that your engagement ring will be put through. Almost all rubies today are treated, usually with heat, before the rough stone is cut. Untreated rubies of excellent quality are very rare and therefore extremely valuable.
The price of a ruby is mainly determined by its colour. Historically, the most sought-after shade is a vibrant red referred to as "Pigeon's Blood". Up until the 20thcentury, rubies were considered more valuable than diamonds, and even today high-quality stones weighing over 3.00 carats will fetch a higher price than a diamond of the same size. The distinctive, deep-red stones are among the most expensive, with fine quality rubies consistently breaking auction records. A 29.62 carat oval Burmese ruby and diamond ring, mounted by Cartier, was sold by Sotheby's Hong Kong earlier this year for over US $7.3 million, making it the most expensive ruby in the world.
Ruby engagement rings are a great alternative to traditional diamonds and designs range from classic solitaires to more contemporary styles.
If you're looking for an elegant solitaire with a modern twist, the Harry Winston engagement ring with a cushion-cut ruby and tapered baguette diamond side stones is simply stunning.
Just like diamonds, rubies are available in different cuts, from round and oval to pear and cushion-cuts. A pear-shaped ruby, like the one in Van Cleef & Arpels' Pushkar Solitaire, will elongate the finger for a refined, elegant look.
The fiery red tones of the ruby really come to the fore when contrasted with crisp, clear diamonds. Triangular diamond shoulders frame a deep red oval ruby in Asprey's extravagant ruby engagement ring. Similarly, the round brilliant diamonds in the ruby and diamond cluster ring from Ingle & Rhode enhance the already vibrant colour of the untreated Malawi ruby.
While rubies are mined all over the world, including Russia, Australia, India, Thailand and the US, around 95% of all rubies come from the Valley of the Rubies in Burma. They are renowned for their rich, saturated colour, and the Burmese gem in Bond Street jeweller Lucie Campbell's ruby engagement ring is no exception.
A delicate and romantic choice would be the ruby engagement ring from the Cannelé collection by Yorkshire-based jeweller Andrew Geoghegan. It features a pinky-hued brilliant-cut ruby surrounded by a halo of pink sapphires in a fluted rose gold setting. For a more unusual take on the ruby engagement ring, look no further than Mirri Damer's square ring, with seven moving buds set with rubies. Similarly, Boodles ruby and diamond Raindance ring is both contemporary and playful - the perfect choice for brides who are not afraid to break with tradition.
The ruby is recognised all over the world as a symbol of love, romance and passion. With so many elegant and unique designs to choose from, a ruby engagement ring is the perfect way to celebrate your love and commitment. 
Asprey ruby engagement ring in platinum framed with triangular diamond shoulders.

Boodles Raindance Classic ruby ring with three bands set with brilliant-cut rubies and diamonds in platinum.

Ingle & Rhode Cluster ruby engagement ring featuring an untreated oval-shaped Malawi ruby surrounded by brilliant-cut diamonds.

Mirri Damer gold square ring featuring seven moving ruby buds.

Lucie Campbell ruby engagement ring with a cabochon ruby set in yellow gold and a diamond band set in platinum and white gold.

Lucie Campbell Burmese ruby engagement ring in platinum flanked by brilliant-cut diamonds.

Harry Winston Classic Winston cushion-cut ruby engagement ring with tapered baguette diamond side stones set in platinum and a yellow gold setting.

Boodles Vintage Rosette cushion-cut ruby engagement ring in platinum surrounded by melée diamonds and a pretty diamond bow.